It's a Hilux from Toyota's Gazoo Racing department.
Since it was introduced locally in 2018, no other pickup-truck has managed to stand toe-to-toe with the Ford Ranger Raptor. It has the most suspension travel, the most powerful inline-4 engine, and its transmission even has the most gears.
When it comes to exterior aesthetics, macho-looking trucks like the Toyota Hilux Conquest, Isuzu D-Max Boondock, Mitsubishi Strada Athlete, and the Nissan Navara N-Warrior and Sport Editions have popped up to stand against the Ford pickup truck. But alas, all these good looking variants just can't hold a candle to the "large and in-charge" road presence of the Raptor. And in addition, they fall short of the Ranger Raptor's performance.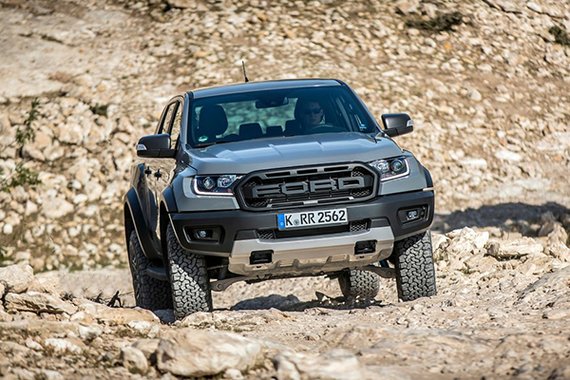 Like its namesake, the Ranger Raptor is a beastly machine
In two years' time however, that will change. That's because Toyota is currently developing the GR Hilux. Being a truck under the Gazoo Racing marque, this upcoming version of the Hilux isn't just for show. According to several reports, the GR Hilux will be using the 3.3-liter V6 engine currently propelling the Toyota Land Cruiser.
The said engine can make 268 horsepower and an impressive 650 Nm of torque. And of course, the GR Hilux will also be getting racing shocks with more suspension travel.
>>> Related: Rejoice! Toyota might be developing a GR Hilux in the near future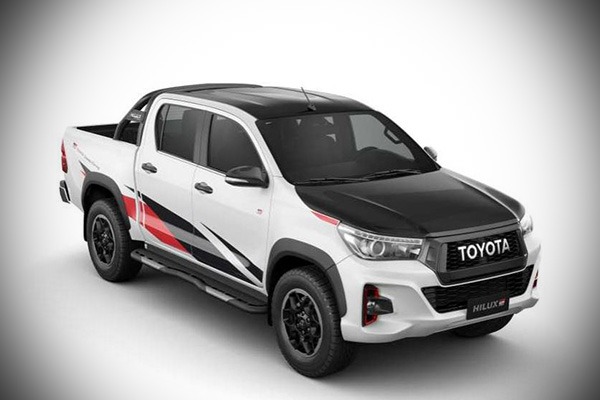 It might look like this but with more ride height, more ground clearance, and beefier off-road tires
The GR Hilux however won't be coming out until Toyota releases the next-generation Toyota Hilux and that won't be until 2023. Note that the new Hilux that Toyota Motors Philippines recently released is a facelift and not a new-generation model.
Appropriately enough, Ford isn't taking this challenge lying down. That's because there are reports floating around the internet saying that the American brand is also working on the next version of the Ranger Raptor. Some reports are saying that it'll be using the same 3.0-liter V6 from the F-150.
The said Ford V6 can produce a maximum of 255 horsepower and 600 Nm. If the report about the GR Hilux is true though, Ford better find a way to squeeze out more from the aforementioned engine.
Does this news excite you? For now though, take it with a healthy grain of salt
All of these however are not yet facts and are merely rumors. As such, we suggest waiting for more concrete information regarding the GR Hilux and the next-generation Ranger Raptor.
For more automotive industry news, keep reading here on Philkotse.com.
Know more about Toyota Hilux 2021

<p>The Toyota Hilux is a pickup with a globally known nameplate for being one of the reliable workhorse vehicles. It was 1968 when Toyota&#39;s pickup truck started building a reputation for being rugged and dependable, and it continues until today with the facelifted model launched in 2020. This popular pickup continues to evolve and slowly move upmarket after gaining luxuries. The most significant revolutionary jump of the Hilux happened in 2004 when the seventh-generation of the model was introduced. It was the first 21st-century iteration of Toyota&#39;s pickup. It is also the first generation to ride on Toyota&rsquo;s new Innovative Multi-purpose Vehicle architecture. It provided improved safety, better ride comfort, modern D-4D diesel engines, more interior space, and a more modern aerodynamic body. The current 8th generation offers a more refined and stylish design than its predecessor, but the tradition of being a tough pickup continues. It gets a much-awaited refresh in 2020 inline. Aside from improved looks, the Philippine iteration also comes with more powerful engine options. The Toyota Hilux is available in 4x4 and 4x2 variants. In the Philippines, the pickup truck is offered with diesel engines. It is available with automatic or manual transmission depending on the variant.</p>

Cesar G.B. Miguel
Author