How the Toyota RAV4 has changed since 1994
Five generations stemmed from an idea that only Toyota had the guts to turn into reality.
No news is more welcome for Toyota in these pandemic-besieged times: by February this year, 10 million RAV4 units have rolled off Toyota showrooms around the world.
A record 965,750 units sold in 2019 helped secure the compact crossover's place among other Toyotas boasting eight digits in global sales. The Corolla leads this elite club, with more than 49 million units sold worldwide as of 2019.
TOYOTA RAV4 (Adventure) | ENDLESS JOURNEY, CHASE THE UNKNOWN
When Toyota came up with the airy RAV-FOUR concept back in 1989, no one had heard of the term crossover. Four years later, a second pre-production version known as the "RAV 4" came about, which had features such as a torque-sensing limited-slip differential, four-wheel ABS, and a removable aluminum twin sunroof.
The project stalled at one point due to resistance within Toyota itself but was saved by the company's Japanese and European sales teams who had a pulse on the market. The rest, as the cliché goes, is history. Twenty-six years after it first came out, what were the changes that the Toyota RAV4 went throughout its five generations?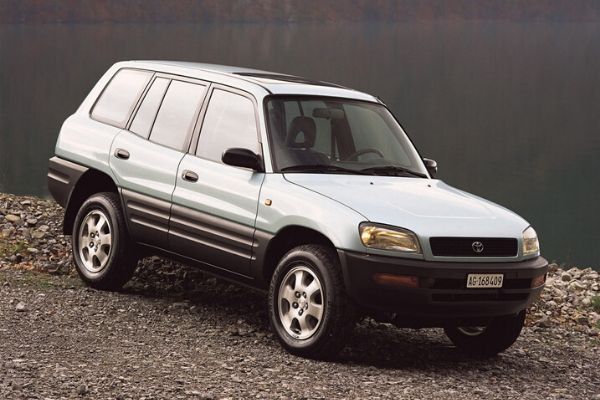 The RAV4 was the first crossover - long before anyone had even heard of the word
First Generation (1994-2000)
The RAV4 first broke cover in 1994, the first of its kind in offering an SUV's ride height and increased cargo space, with a compact car's maneuverability and fuel consumption.
Designated internally as the XA10, its name stood for Recreational Active Vehicle with 4-wheel drive, thanks to a lightweight monocoque chassis that gave it car-like handling, and permanent all-wheel-drive capability.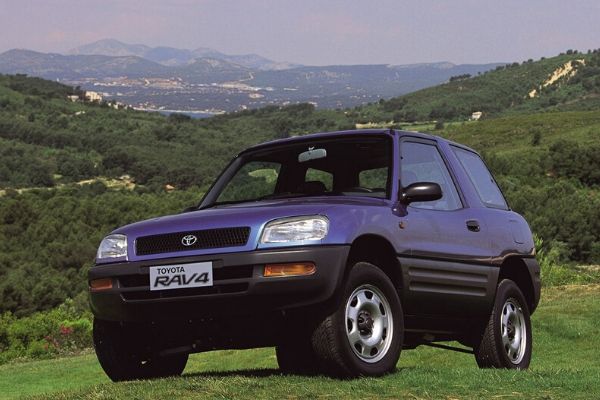 The first-generation model had a quirky look about it
The first shape it took was that of a five-seat, three-door model measuring 145 inches long, marketed as the "Fun Cruiser", with power coming from a 2.0L 16-valve gasoline engine that had 127 hp and 179 Nm of torque.
In 1996, a five-door variant was added, along with available front-wheel-drive. A three-door convertible version was offered, and an EV battery-electric model was even sold between 1997 and 2000.
>>> Related: List of all Toyota SUVs in the Philippines: Price list with Brief review
Second Generation (2000-2006)
By the turn of the millennium, Toyota had gained enough knowledge from the first model's foray into the market to develop a second generation, this time on its MC platform that shared elements from the Corolla and Carina.
Codenamed the XA20, this was the first RAV4 to be equipped with a VVTi engine (with a choice of 1.8 and 2.0L powerplants), as well as the first to offer direct injection diesel with a 2.0L oil burner that cranked out 116 hp.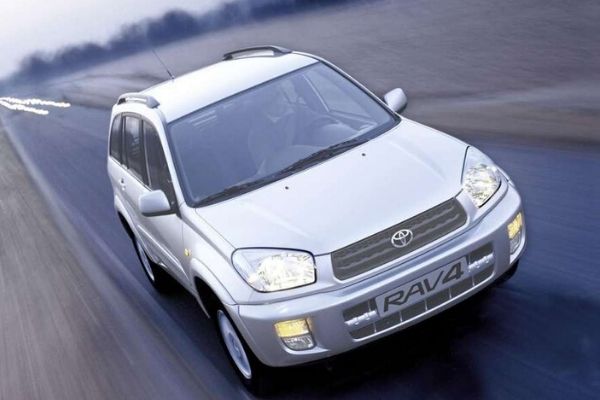 The second-generation RAV4 was the first to offer VVTi power
This new RAV4 also came in either 3-door or 5-door body styles, with slightly bigger dimensions than the first generation. Full-time AWD worked in concert with a center limited-slip differential, while a Torsen rear differential can be requested as a factory-installed option.
>>> Related: Latest changes in Toyota Rav4 Philippines price
Third Generation (2006-2012)
A different New MC platform served as the foundation for the third-generation RAV4, also known as the XA30.
Perhaps as a sign that Toyota was increasingly viewing the RAV4 as a family vehicle, only the 5-door body style was offered in our market, with the 3-door body version becoming a Japan exclusive.
Engine choices expanded drastically, including a gasoline V6 and a new 2.2L diesel. This was also the first time the RAV4 came with electric power steering, as well as a continuously variable transmission.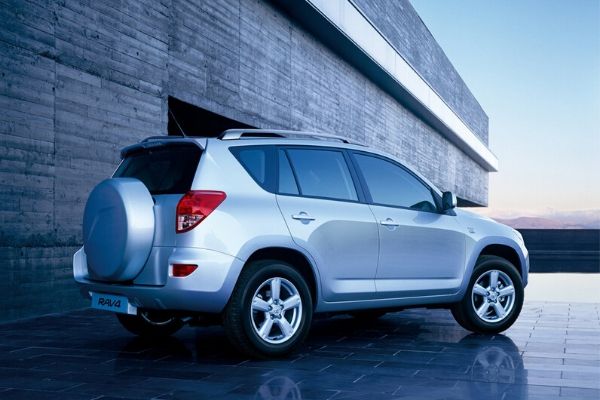 Only the five-door version of the third-generation RAV4 was made available in our market
Although the RAV4 continued to be marketed as a five-seater model, Japanese and North American models came with available third-row seating for children. A new electronically-controlled AWD system was installed, along with hill start assist and hill descent control.
>>> Related:
Fourth Generation (2013-2018)
This iteration of the RAV4 featured yet another extension to the model's length, which grew by 235 mm, yet adopted a standardized wheelbase across all markets.
With the XA40 designation, the fourth-generation model's sleeker looks would be influenced by the eleventh-generation Corolla.
Departing from the side-opening rear door on the previous versions, this RAV4 would use a rear liftgate, with the spare tire mounted underneath the body.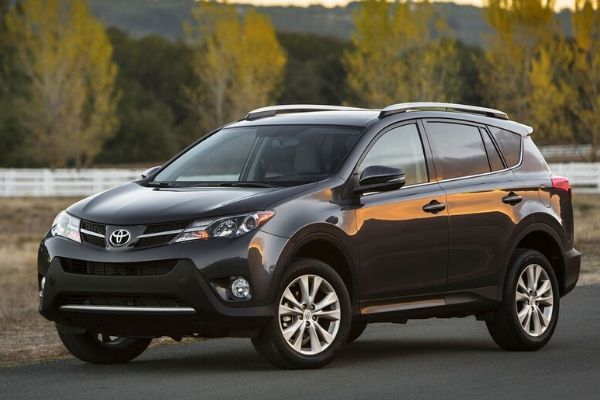 The fourth-generation RAV4 was much sleeker than its predecessors
The fourth generation also did away with the V6 engine, exclusively offering inline-4 powerplants. AWD technology was further refined, along with the introduction of dynamic torque control, cornering control, and a sport driving mode.
In 2016, Toyota released the first full hybrid electric variant, generating up to 197 hp and a 0 to 100 km/h time of 8.3 seconds. This was sold alongside a facelifted version that featured redesigned LED lamps for the front and rear, as well as revised instrument gauges with a color TFT multi-information display.
Fifth Generation (2018-present)
The fifth-generation RAV4 XA50 premiered at the 2018 New York International Auto Show, based on the FT-AC Concept shown during the previous year's Los Angeles Auto Show.
This latest model now sports more angular lines with fenders reminiscent of the Jeep Cherokee, and rides on Toyota's New Global Architecture Platform (TNGA-K) also used on the eighth-generation Camry and the seventh-generation Lexus ES. In the Philippines, the RAV4 comes in base LE, mid-range XLE, and top-spec LTD trims.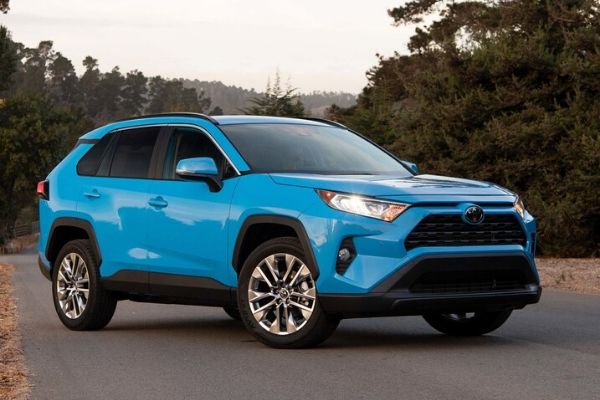 Toyota promises that latest generation will have the most powerful RAV4 to date
>>> Related: A brief review of the 2019 Toyota RAV4: The ins & outs
The current RAV4 continues to offer a selection of 2.0L and 2.5L inline-4 gasoline engines which Toyota has dubbed Dynamic Force, the latter with a hybrid option. For the 2020 model year, this RAV4 will carry the first plug-in hybrid option, with Toyota touting an output of over 300 hp.
It was the RAV4 that set the pace for the current crossover craze, back when even many of Toyota's own employees didn't believe it was possible.
The 10 million unit milestone proves that an idea whose time has come will be unstoppable. If the RAV4 is in your shortlist of models to consider, you might just well be on your way to being part of the next 10 million satisfied customers.
Love all things automotive? Bookmark Philkotse.com for the latest news and features.
Author

Joseph has been on the LTO's records since 2004. Old enough to remember riding in taxicabs with analog meters. Keeping his hopes high and his revs low, he dreams about owning a Kei car when he retires. Hates slow parkers.