The name isn't the only unusual aspect of Geely's latest offering.
Putting aside the initial confusion on how the Geely Okavango is pronounced (it's "oka-vanggo", by the way), what's clear is Geely's intent on straddling the midsize SUV and MPV segments. The most obvious sign is in the pricing.
2021 Geely Okavango 7-Seat Crossover MPV: Macho people-hauler? | Quick Look
Ranging from Php 1,208,000 for the base Comfort trim to Php 1,328,000 for the top-spec urban, the Okavango is smack in the middle of two categories. It's positioned as a more upmarket alternative to the reigning MPV contenders such as the Toyota Innova, Mitsubishi Xpander, and Suzuki Ertiga.
The Geely Okavango is actually setting its sights on two market segments
At the same time, it's also presented as a step just below mainstream pickup platform vehicles (PPVs) such as the Isuzu mu-X, Ford Everest, and the Nissan Terra.
A unibody construction underpins the Okavango, which already makes it relatively lightweight. Under the hood, it packs a 1.5L turbocharged gasoline engine with the same 48-volt mild hybrid system on the Geely Azkarra, tweaked to produce 190 hp and 300 Nm of torque.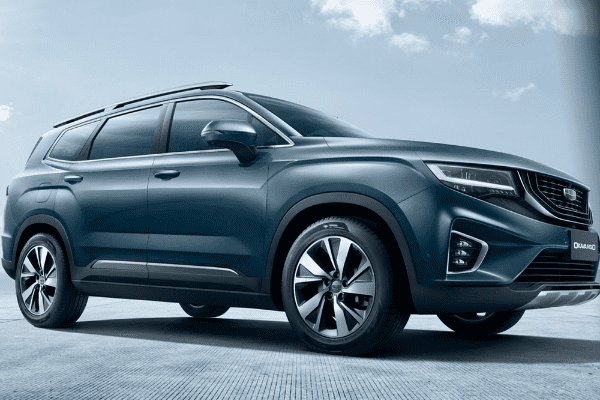 The lightweight and hybrid powertrain give it the highest power-to-weight ratio among SUVs so far
The result is an impressive power-to-weight ratio of 0.1 horsepower per kilogram of mass, reportedly the highest so far among SUVs in the market.
"The midsize SUV (segment), it's pretty much dominated by diesel (models)," says Froilan Dytianquin, General Manager for Sales and Marketing of Sojitz G Auto Philippines, which distributes Geely vehicles locally. True enough, the prevailing perception is that diesel vehicles are generally more fuel-efficient and can handle heavy loads, such as bringing the family out of town.
>>> Related: 2021 Geely Okavango: Expectations and what we know so far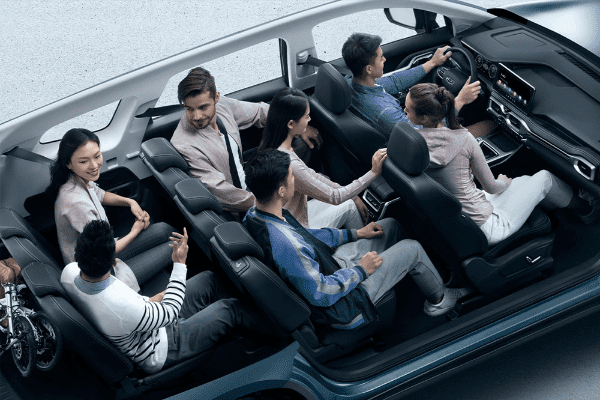 Up to seven occupants and their gear can fit inside the Okavango
It's a mindset that Geely wants to challenge, he adds. "This mild-hybrid technology, which is the 48-volt EMS equipped on the Okavango as well as the Azkarra, is something that can also provide you with better fuel efficiency, at the same time not sacrificing power and torque."
The Okavango's unique position presents an opportunity to offer the size and space of an SUV with the frugality of a mild hybrid powertrain, at a price point that undercuts its truck-based rivals.
And that's not even mentioning the array of onboard tech that it has to offer over current mainstream SUVs, such as the three-zone automatic climate control, large 10.25-inch touchscreen interface, and 360-degree view camera.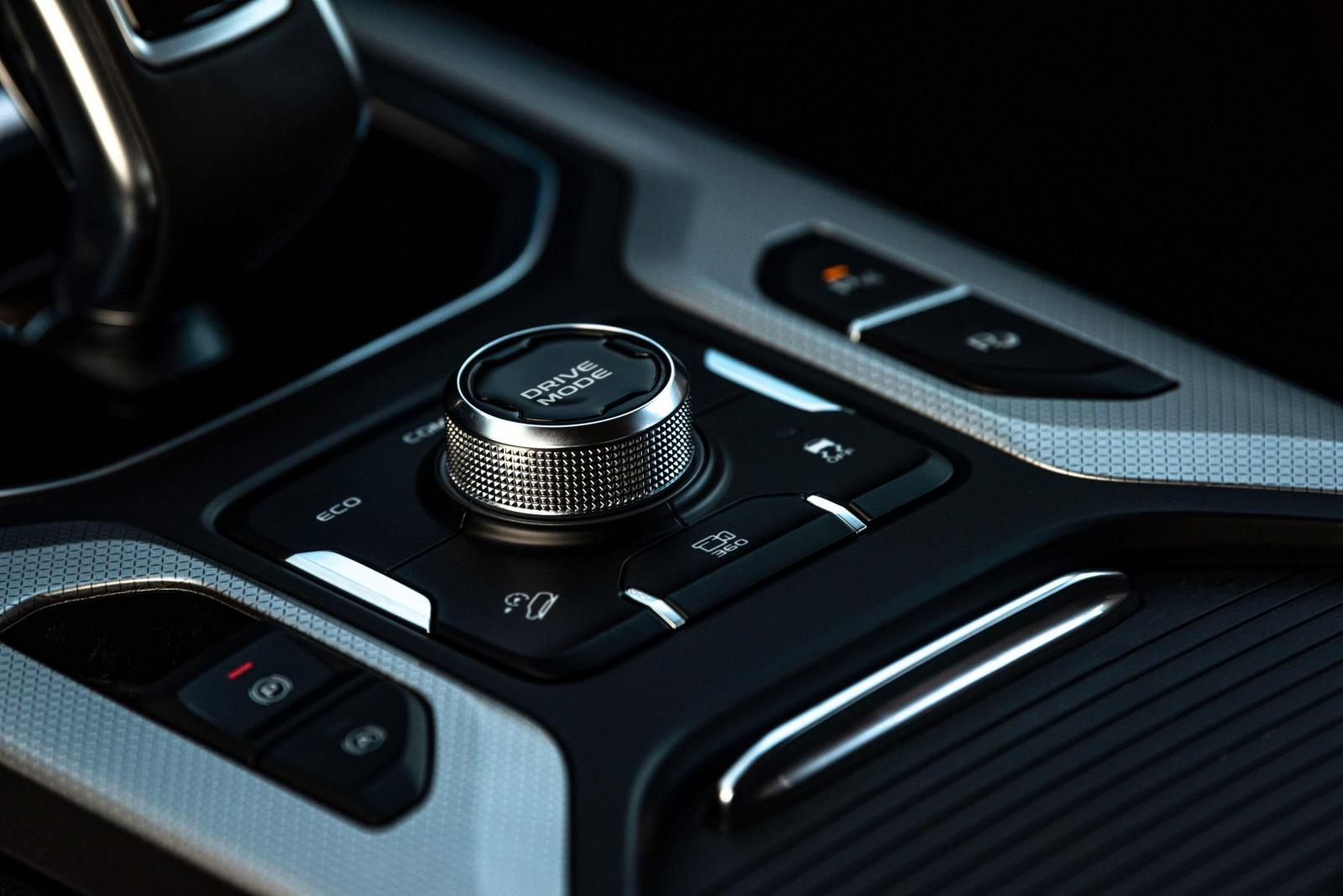 Three drive modes let users adapt to changing road conditions
As a family car, how does the Okavango fare when it comes to crash safety? According to Dytianquin, the CNCAP (China New Car Assessment Program) safety rating for the model is still underway but assures that the Okavango is developed to comply with the highest levels.
There's bound to be friendly fire when a new model is launched, and in this case, it's Geely's own recently-launched Azkarra compact SUV. Is there a risk of the Okavango eating into the Azkarra's potential sales? "Azkarra is still our flagship model, (offering) more luxury," replied Yosuke Nishi, Sojitz G Auto Philippines Executive Vice President. "We are targeting different customers."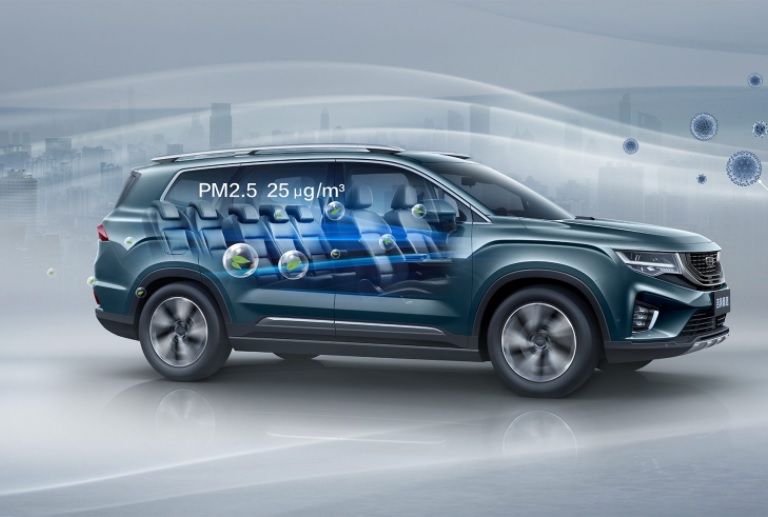 The Okavango comes with a CN95 air purification system as standard
"It's actually a natural thing that there's going to be cannibalization on models," Dytianquin adds. "If we're looking at the Azkarra, probably we can have another target market for this, who are able to appreciate a model which is probably of that configuration only." 
What Geely considers the biggest challenge, however, lies in the MPV category, which the Innova lords over. "Toyota itself, they're the market leader, and it's going to be very hard to compete with them," Dytianquin admits. "The challenge for us is to at least be able to take a slice of their market share."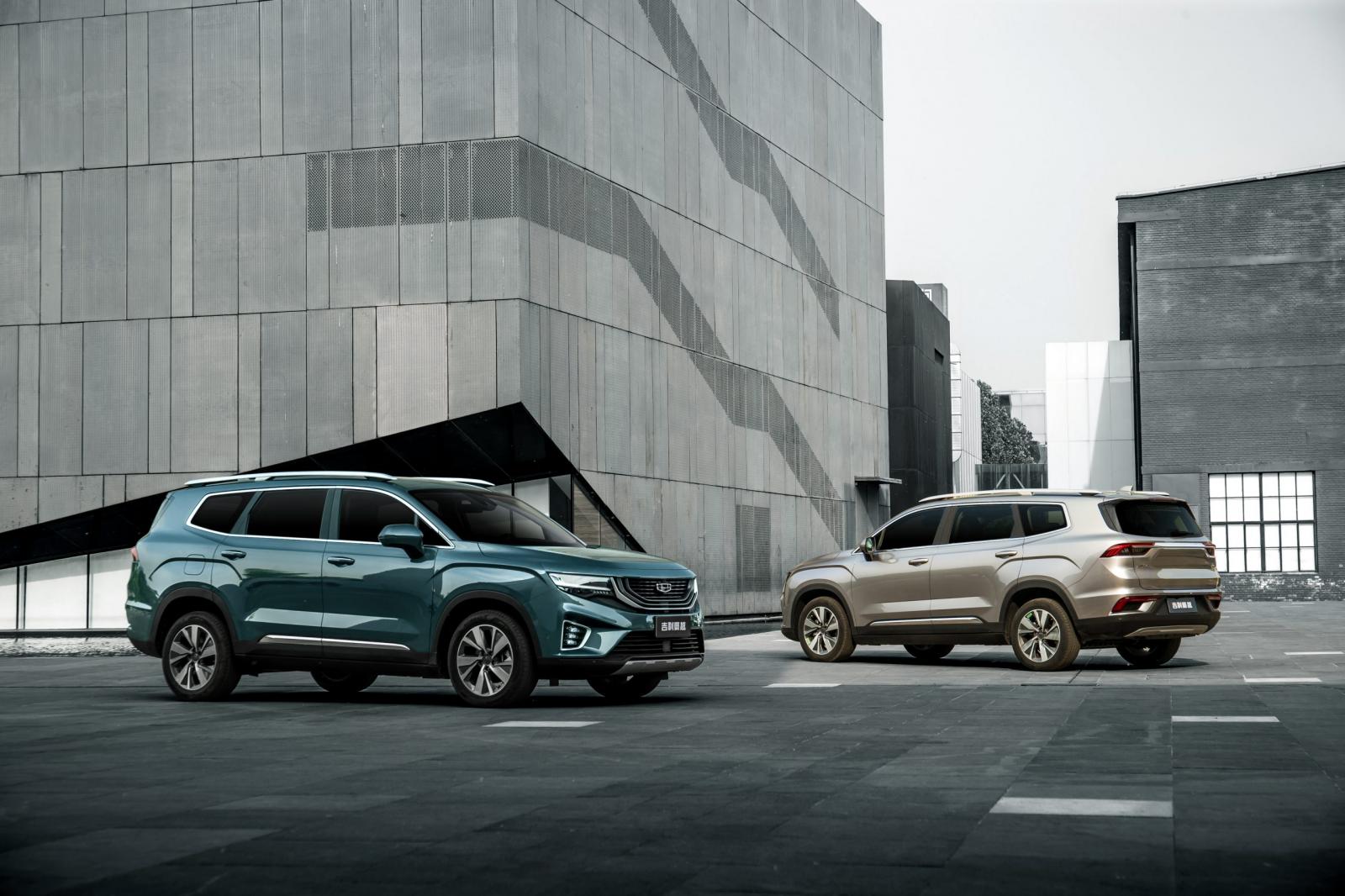 If all goes well for Geely, the Okavango is poised to be a game-changer
>>> Related: Which 2021 Geely Okavango variant should you buy? [Comparison Guide]
Geely is targeting sales of 300 to 400 units a month for the Okavango, quite conservative figures compared to a high of 6,648 units sold in China as the Hao Yue.
And then, Geely also plans to introduce yet another model by April 2021, consistent with its plans to release a new vehicle every six months. It's going to be a tricky tightrope act for Geely, but if the company manages to pull it off, the Okavango will be the next game-changer for the local market.
Keep up with the freshest automotive releases at Philkotse.com.
Know more about Geely Okavango 2021

Geely Philippines has been making a statement in the local crossover segment through its Coolray and Azkarra models. Now, Geely PH has expanded its model lineup as it officially enters the tightly contested local seven-seater SUV segment.   Geely's challenger in the midsize SUV segment is dubbed as Okavango. It is a seven-seater SUV that is set to maintain Geely PH's positive sales momentum. The name Okavango was derived from North-western Botswana's vast inland delta, Okavango Delta. In 2014, UNESCO has recognized the Okavango Delta as its 1,000th World Heritage Site. It was also declared as one of the 7 Natural Wonders of Africa. The 2021 Geely Okavango is offered in two variants, Comfort and Urban, which are both equipped with a 1.5-liter turbocharged gasoline engine featuring a 48-volt electric motor. The Okavango has a starting price of Php 1,208,000 for the Comfort variant while the top-spec Urban trim is priced at Php 1,328,000. Geely PH is offering the 2021 Okavango with the following exterior colors: Storm Grey, Porcelain White, Luna Silver, and Marble Black.

Joseph Paolo Estabillo
Author