Can the Emgrand sustain Geely's momentum in the local market?
In this review...
Introduction

Exterior

Interior

Tech & Safety

Driving & Performance

Fuel Efficiency

Verdict

Variants and Price

Color Options

Specs
2022 Geely Emgrand Review: Suited up for the PH sedan segment
Without a doubt, there's still a significant demand for sedans in the Philippines despite the sudden popularity of crossover vehicles. A testament to this is the reigning best-selling car in the market for the last two years, which is a Japanese sedan that I'm sure you're all familiar with. Yes, the one that Britney once promoted.
Geely Philippines understands that Filipinos still have a soft spot for sedans, a segment that the Chinese car brand wants to capitalize on. Say hello to the 2022 Geely Emgrand, the newest sedan in the local market that's set to go up against the likes of the Toyota Vios, Honda City, Nissan Almera, among others. 
With Geely now among the top car brands in the country based on sales, can the Emgrand fuel the company's momentum? Let's find out in this 2022 Geely Emgrand full review. 
 
Overall exterior & Interior design, build quality, form vs function

Number of safety & tech features, consistency during usage

Power delivery, acceleration, transmission, suspension, handling

Overall Ride Comfort, Space, Storage Areas

Sticker price vs overall package
2022 Geely Emgrand Exterior Review: Prim and proper
In a road full of Japanese sedans, one can quickly agree that the Geely Emgrand is a refreshing sight. It looks different than its segment rivals, and its size dwarfs other subcompact sedans in the market today.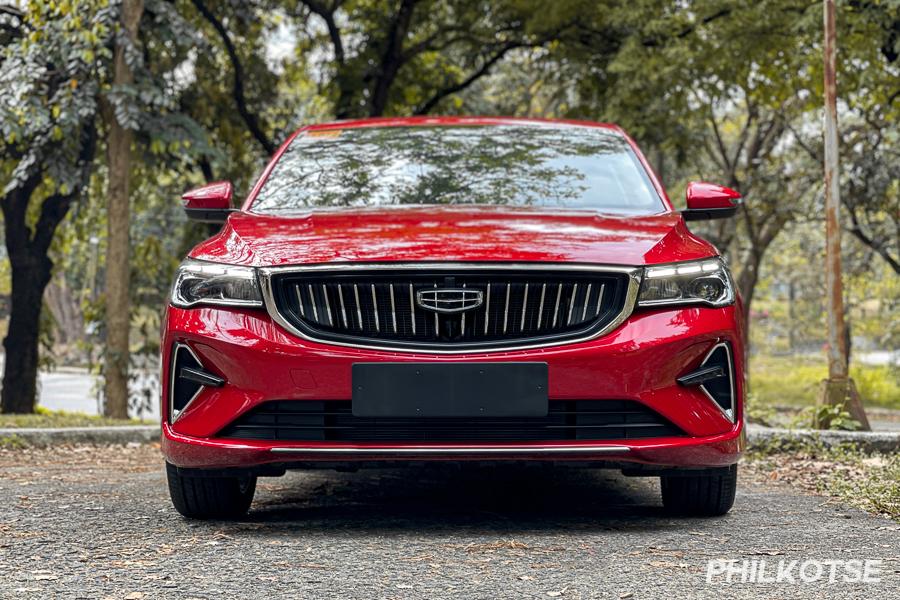 Prim and proper – the 2022 Geely Emgrand
The Emgrand has a Euro-car appeal, which is highlighted by the straight character design elements throughout its exterior. It's like a foreign exchange student that has spent most of his life in Europe, which eventually adopts the way western people dress, look, and walk.
Geely's sedan is not as flashy or as athletic-looking when compared to its Japanese rivals such as the Honda City RS Sedan and the Nissan Almera. The Emgrand veers away from that notion by giving you an exterior design that looks prim and proper. 
The front end has a confident look that's highlighted by the grille with vertical slats. The LED headlights with LED daytime running lights as well as the angular bumper add to the Emgrand's confident aura.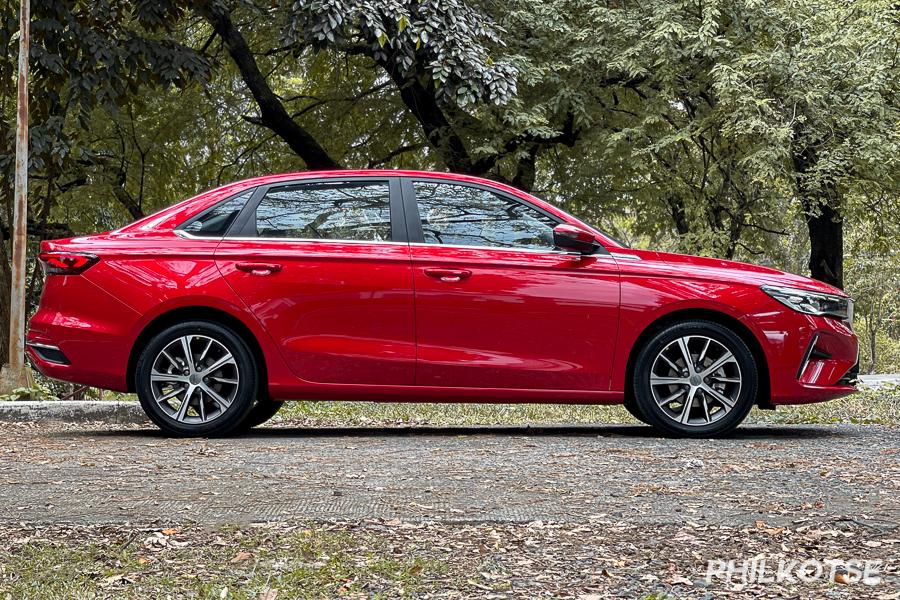 It comes with a prominent straight character line
You can further see the Emgrand's Euro-car-inspired design when you look at its side. The prominent straight character line gives texture to its side profile, resulting in having a simple yet surefooted demeanor. It is then complemented by a set of 17-inch alloy wheels.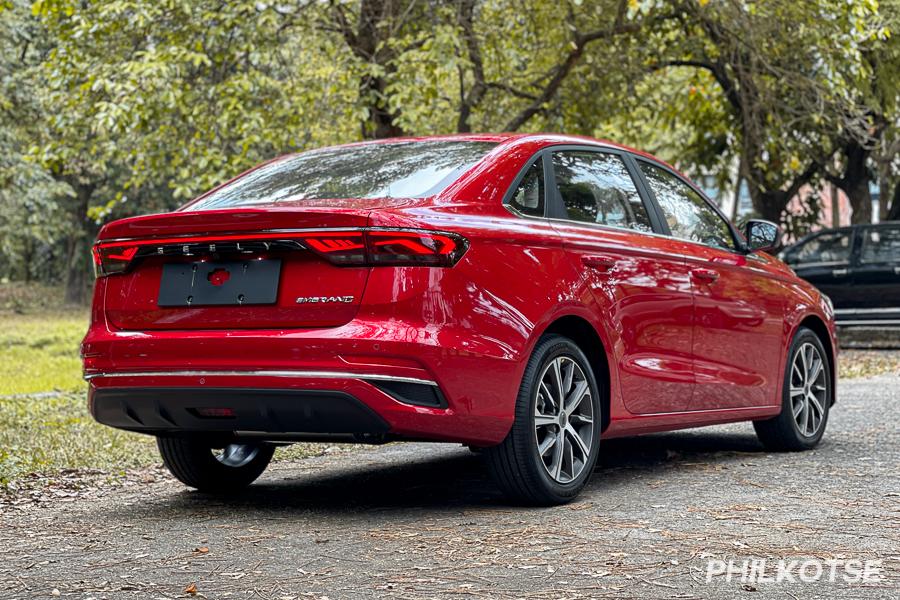 The Emgrand arguably has the best-looking rear end in its segment
While the front has a straight and uptight look, the rear gives a different tone, which I find to be the best-looking in the segment. It's sleek and bears a smoother design, which I find good as it complements the Emgrand's prim and proper design package. The LED taillights (and its light show) instantly made me like this sedan.  
 
YOU MAY WANT TO READ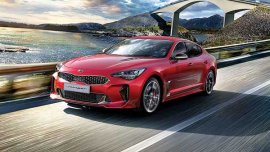 Model Price Philippines
₱ 3,235,000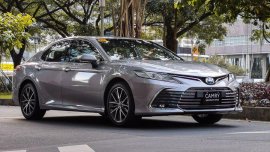 Model Price Philippines
₱ 2,402,000 - ₱ 2,417,000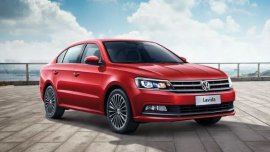 Model Price Philippines
₱ 1,251,000
2022 Geely Emgrand Interior Review: Going for a youthful, premium vibe
The top-spec Geely Emgrand comes with a two-tone interior of white and blue, a color scheme that could be up for one's preference. While it gives the cabin a youthful vibe, I prefer the interior to be in black, which is available in the entry-level Emgrand variant. Although, you have to settle for fabric seats when you want the cabin in black.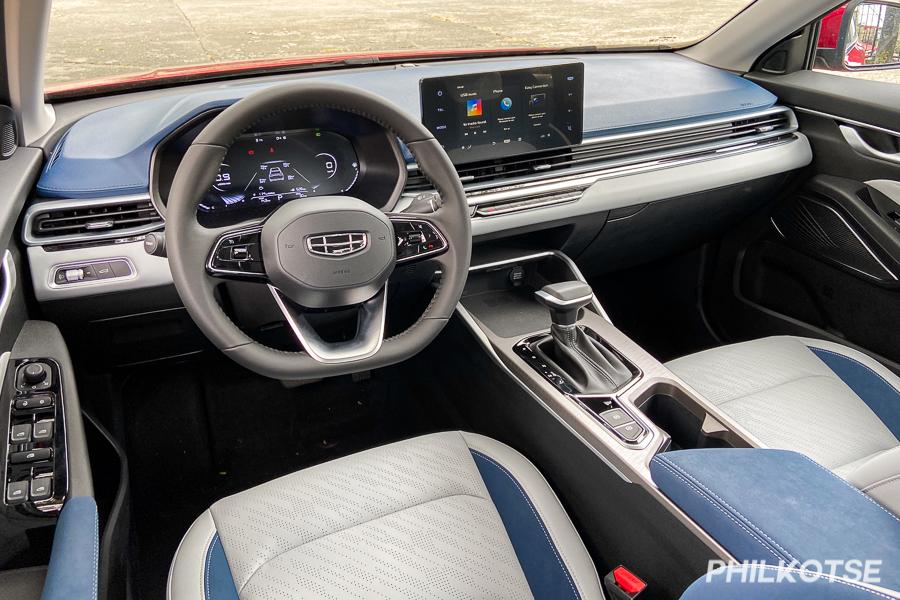 White-and-Blue interior of the top-spec Emgrand Premium trim
Another reason why I don't prefer the top-spec Emgrand's youthful interior color play is that having white seats could mean having more chances of ruining its posh finish. I also find the white-and-blue interior out of sync in regards to the Geely Emgrand's preppy exterior design.    
The dashboard shares the same modern appeal as other Geely vehicles available in the Philippines today, albeit a bit toned-down. This is expected considering its price tag. Nevertheless, it is equipped with a digital instrument cluster, a floating-type infotainment touchscreen, and a contemporary center console design.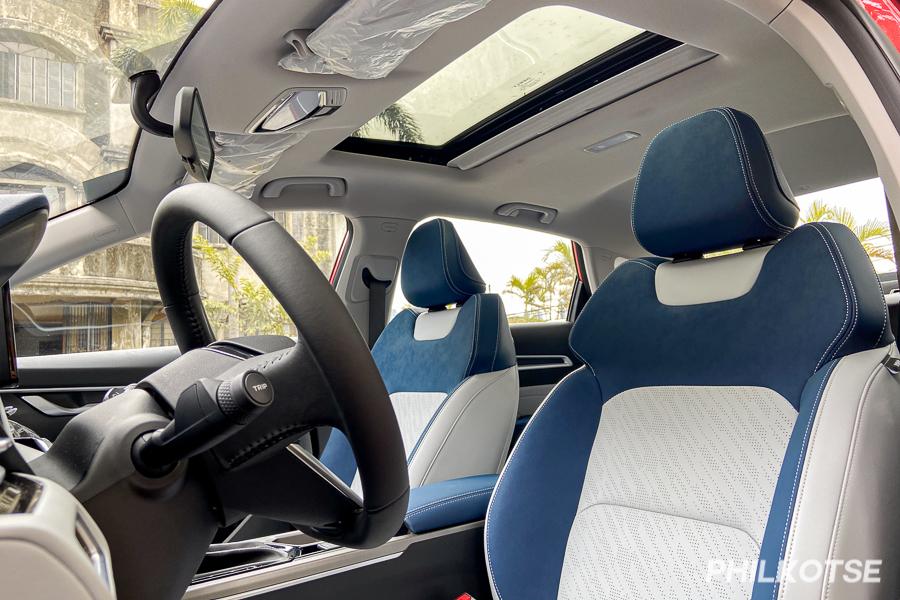 Leatherette and suede seats
The Emgrand also comes with a sunroof but the controls for it can be found in the infotainment touchscreen, which I find a bit weird. A physical control button for that menial task is better.
The Emgrand also has a flat-bottom tilt & telescopic steering wheel that feels good to the touch. However, I'm not a fan of the glossy control buttons integrated into it. Aside from being scratch-prone, I would have preferred to have it dominantly in matte similar to what's fitted on the Honda City.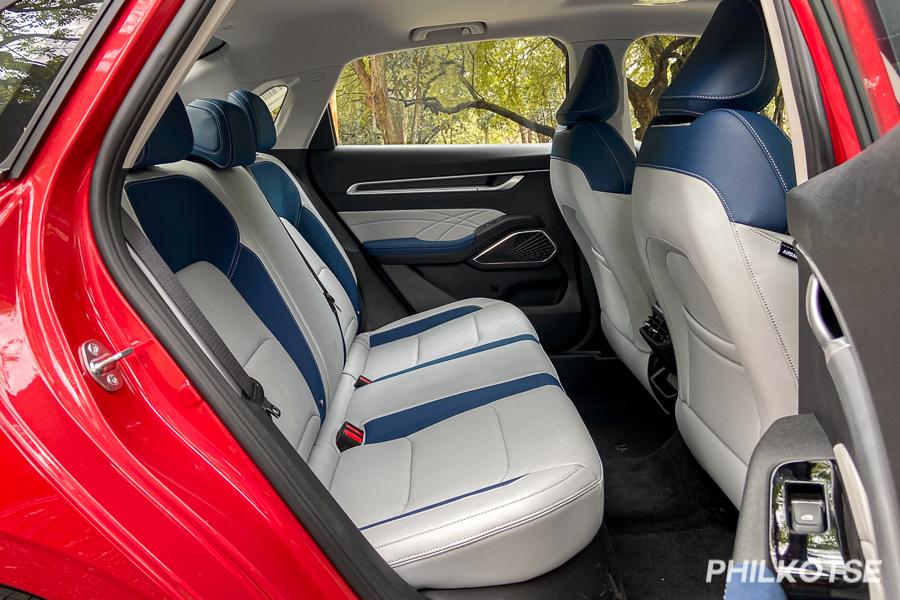 Seating for up to three individuals; it also folds in a 60/40 fashion
The rear seats offer seating for up to three individuals. But just like what we usually say, having two people seated at the back is the best way to go for maximum comfort. Leg- and head-room is generous for individuals standing 5'8". Occupants at the back also benefit from rear aircon vents.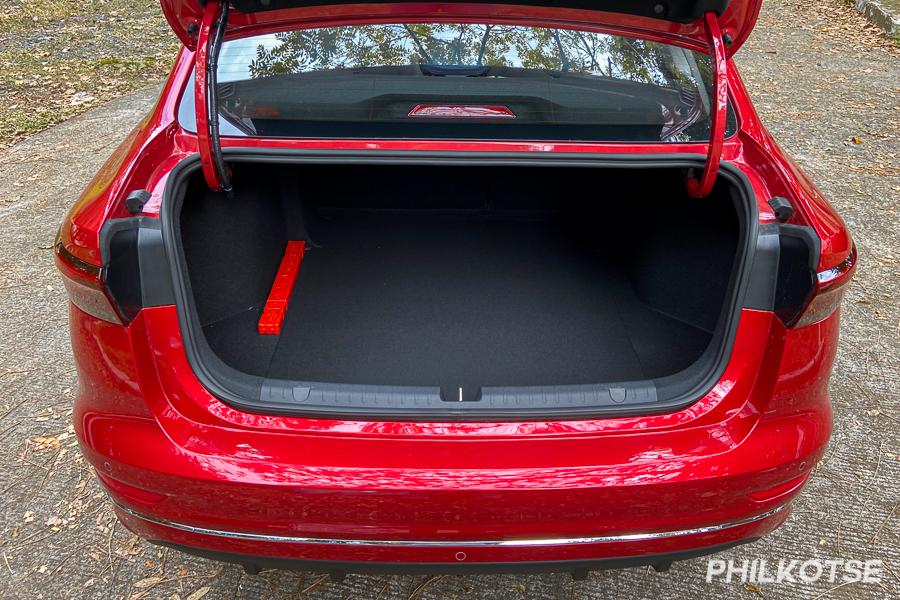 You can fit an assortment of items in the Emgrand's trunk
Cargo space is also more than decent, with ample room for a week's supply of groceries, and more. You can also fit an assortment of items such as up to three medium-sized luggage. The Emgrand's cargo space can be further maximized due to its 60/40 folding rear seats. The Emgrand's trunk can also automatically open when you stand beside the vehicle for about three seconds provided that the key fob is inside your pocket. This is a useful feature especially when your hands are full.
2022 Geely Emgrand: Tech & Safety Review
The Geely Emgrand is loaded with tech and safety despite having a lower price tag than its segment rivals such as the Toyota Vios and the Honda City Sedan. Placed right at the center of the dashboard is an 8-inch infotainment touchscreen that's responsive to the touch. But, like all other Geely models, it still doesn't come with Apple CarPlay and Android Auto, which is a feature that's present in other vehicles in its class.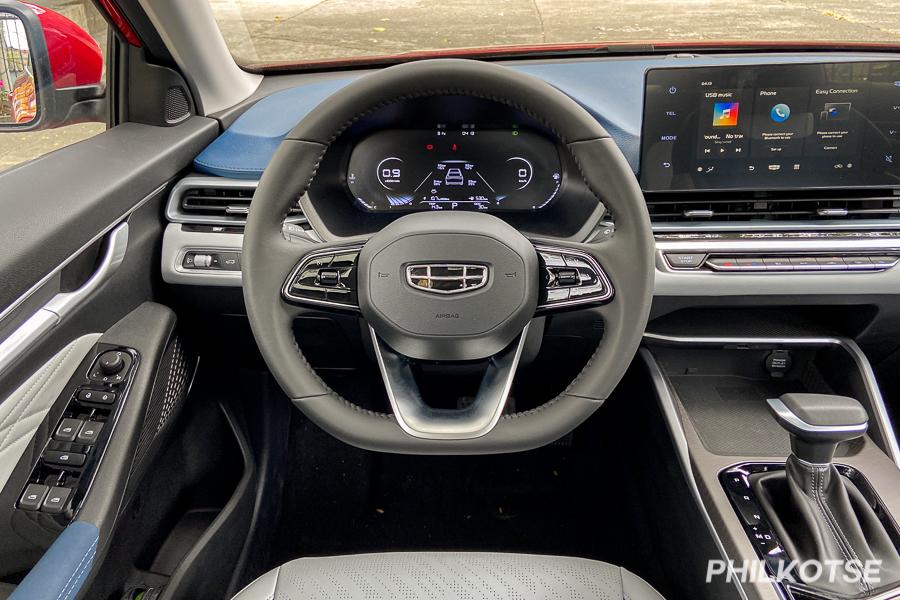 12.3-inch digital instrument cluster
The Emgrand makes up for the lack of Apple CarPlay and Android Auto with its 12.3-inch digital instrument cluster, which is integrated into the top-spec Premium trim. The fully digital instrument cluster makes other subcompact sedans in the market look outdated, a plus point for the Emgrand. 
It also has a reverse camera that's complemented with rear sensors, allowing you to park the vehicle safer and easier. The live feed image resolution from the rear camera could be better but that's asking too much especially when you consider the Emgrand's price point. In hindsight, it's at par with other subcompact sedans when it comes to the quality of the image from the rear camera.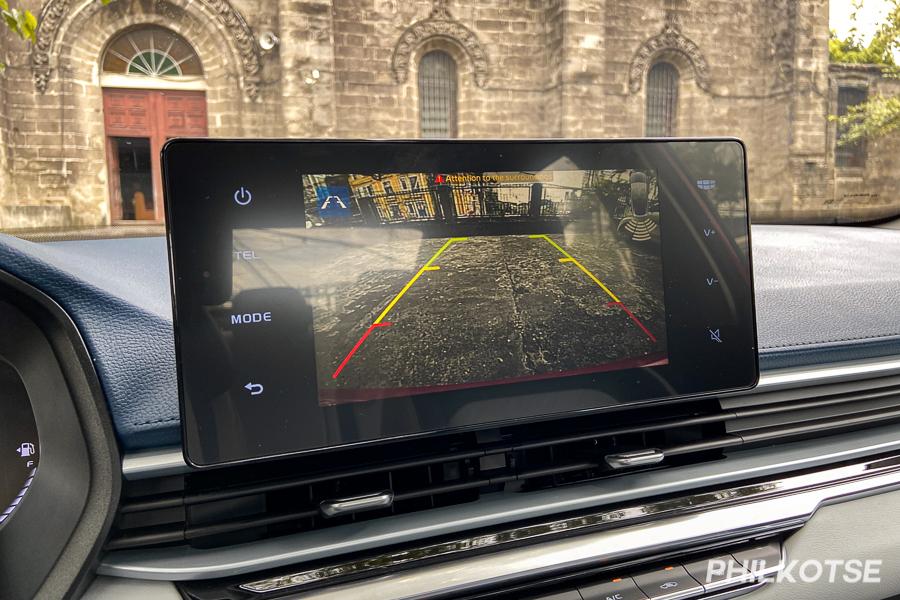 Parking is made easier, and more convenient
The top-spec Emgrand also has power-adjustable seats for the driver as well as six airbags. As of this writing, the two variants of the Emgrand are equipped with Cruise Control, which could be a dealmaker considering the price point. 
Other safety features include the usual anti-lock braking system with electronic brakeforce distribution, traction and stability control, hill-start assist, tire pressure monitoring system, speed-sensing door locks, and immobilizer. 
 
2022 Geely Emgrand: Driving & Performance Review
The Geely Emgrand is powered by a 1.5-liter gasoline engine that puts out 102 horsepower and 142 Nm of torque. The engine is connected to a continuously variable transmission (CVT) while power is sent to the front wheels. It also has three drive modes to choose from: Eco, Comfort, and Sport. During the duration of my test drive, I used the Comfort mode more often.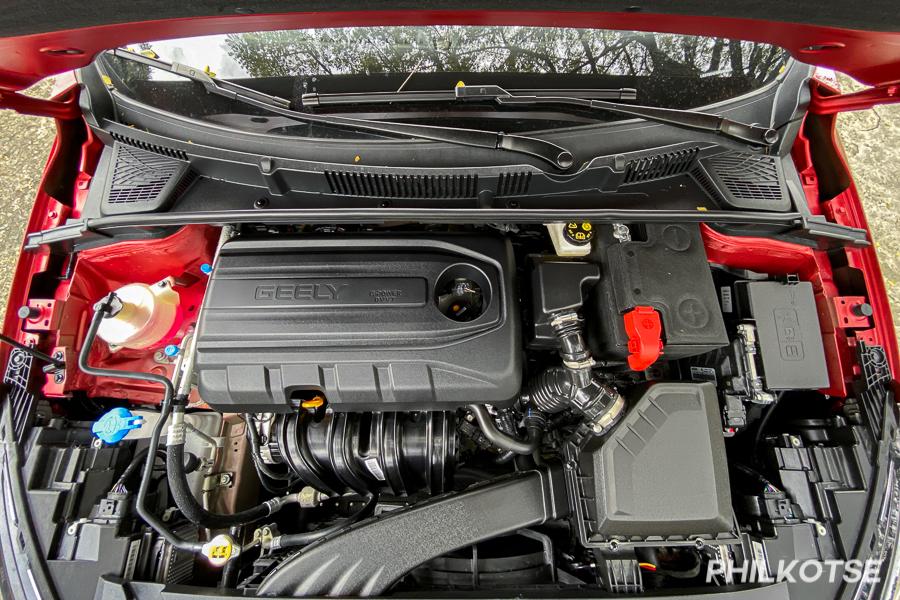 The 2022 Geely Emgrand is powered by a 1.5L gasoline engine
Let me get this out of the way – the Emgrand is no Coolray when it comes to power delivery and driving performance. That's an obvious fact since the Emgrand doesn't have a turbocharged engine, which is the power unit that made the Coolray popular in the local market. The Emgrand also comes with a CVT, which explains why it is significantly different from how the Coolray behaves on the road. 
With that said, the Emgrand takes a bit of effort when accelerating from a standstill but not to the point that it is bothersome. I can live with its power delivery once I step on the gas pedal when the traffic light switches from red to green. Yes, it takes a bit of time before it gains momentum but once power kicks in the Emgrand is a smooth cruiser.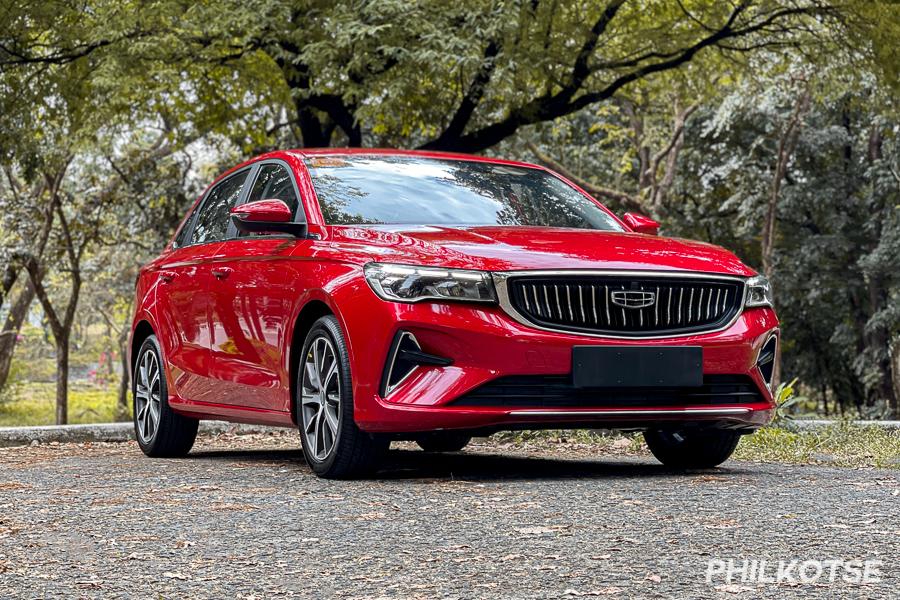 All set to square up with its segment rivals
Driving within the urban jungle is no problem for the Emgrand as it can absorb impacts within reason. The suspension does its job relatively well in minimizing road harshness, especially when driven along EDSA. I find the suspension leaning on the soft side with a subtle hint of stiffness, which contributes to giving you a laid-back yet confident drive.   
One of the things I like most about the Emgrand is its steering. It has a light feel, which is synonymous with other Geely cars available in the Philippines. The steering wheel also comes with a quick response, allowing minimal effort while keeping the car pointed in the direction you want to go. This also contributes to lessening driver fatigue when you're driving around the busy streets of Metro Manila. 
This might be nitpicking on my part, but the Emgrand's noise insulation could be better. But it's not that much of a deal-breaker considering its price point.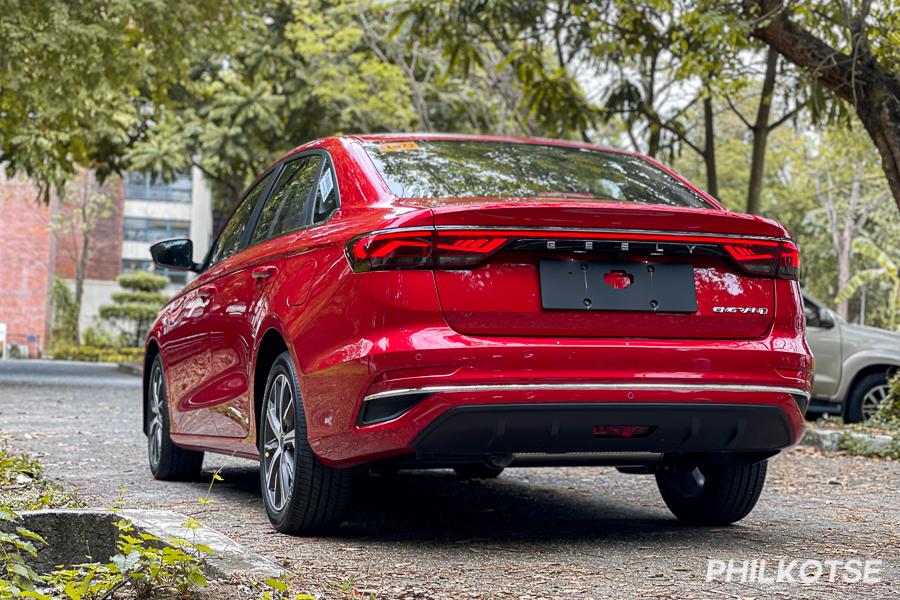 Sleek, confident, and ready to be driven
Its smooth, laid-back driving characteristics are carried over when you're driving on the expressway. The Emgrand is stable and planted when driven at highway speeds, which further emphasizes that this sedan intends to give you a relaxed and casual drive. 
Overtaking slower vehicles should be planned though since it needs a bit of a push before it takes off. But the Emgrand can counter that as it comes with a Sport mode as well as a manual mode. This one-two combo lets you maximize engine revs for more spirited driving.
 
2022 Geely Emgrand: Fuel Efficiency
The 2022 Geely Emgrand yielded good numbers when it comes to fuel efficiency but it's not the best in its class. It recorded 9.7 km/l while driving through light to moderate traffic within the city while it posted 16 km/l on the open highway with an average cruising speed of 90 km/h.
2022 Geely Emgrand Review: Verdict
With a starting price of Php 798,000 for the entry-level Comfort trim, and the top-spec Premium variant retailing at Php 908,000, the Geely Emgrand has what it takes to make its presence felt in the local market. And I can safely say that it can sustain Geely's momentum in the Philippines. It might even replicate if not surpass the success that Geely had when it introduced the Coolray and the Okavango. 
2022 Geely Emgrand
As a country that still has a soft spot for sedans, the Geely Emgrand could be a contender in its segment. Geely's entry into the sedan market is also perfect since we're living in a time where having personal mobility is essential due to the pandemic. And with that price point, customers are in for a treat – a comfortable car that offers a premium cabin feel at a non-premium price tag.
2022 Geely Emgrand Review: Variants and Price
Geely Emgrand Variants & Price in the Philippines

Geely Emgrand Comfort

Php 798,000

Geely Emgrand Premium

Php 908,000
2022 Geely Emgrand Review: Color Options
Geely Emgrand Color Options
Red, Proud Teal, Dark Blue, Gold, Gray, White
2022 Geely Emgrand Review: Specs
Overall

Make

Geely

Name

Emgrand Premium

Body Type

Sedan

Dimensions & Weight

Lenght

4,638 mm

Width

1,822 mm

Height

1,460 mm

Wheelbase

2,650 mm

Ground Clearance

122 mm

Seating Capacity

5

Engine & Transmission

Type

1.5L Inline-4 DOHC

Fuel Type

Gasoline

Displacement

1,498 cc

Transmission

CVT with Manual Mode

Horsepower

102 hp @ 5,600 rpm

Torque

142 Nm @ 4,400-4,800 rpm

Drive Mode Selector

With (Eco-Comfort-Sport)

Exterior

LED Headlights, LED daytime running lights, LED taillights

Power folding side mirrors

17-inch aluminum alloy wheels

Hands-free trunk release

Interior

Seat Material

Leatherette and Suede

Driver Seat

6-Way Power adjust

Passenger Seat

Manual adjust

Rear Seats

60:40 Folding

Aircon

Automatic Climate Control

Screen Display

8-inch infotainment with Wireless Screen Mirroring

Instrument Cluster

12.3-inch digital

Audio Controls

With

Cruise Control

With

Mirror Link

With

Sunroof

With

Interior Color

White & Blue

Safety & Security

Anti-lock Braking System (ABS)

With

Electronic Brake Force Distribution (EBD)

With

Dual SRS Airbags

With (Driver & Front Passenger)

Front Row Side Airbag

With

Side Curtain

With

Traction Control

With

Electronic Stability Control

With

Speed-sensing door locks

With

Hill Start Assist (HSA)

With

Suspension

Front

MacPherson Independent

Rear

Torsion Beam

Brake

Front

Ventilated Disc

Rear

Solid Disc

Parking Brake

Electronic

Auto Brake Hold

With

Tires & Wheels

Tire Size

205 / 50 R17

Wheel Size and Type

17-inch aluminum alloy


Martin Aguilar
Author