Electric cars are getting in vogue and the BNW iNext 2021 is pulling all the stops to be a top-selling luxury EV SUV in the market.
Anyone with the money to spend and is looking forward to getting a luxury EV in an SUV form will love what Bavarian Motor Works (BMW) is planning to offer soon! The success of the American brand Tesla is bringing to the front all the top-line technology that BMW needs to get ahead.
The BMW iNext is an autonomous car that will be part of a wave of cars that is next-generation and with Autopilot included. The iNext is a strategic piece of the puzzle that will enter the showrooms in 2021!
It is for this particular reason that the iNext exists and is poised to have counter-Tesla qualities that consumers will look forward to BMW knows the next key category is the EVs SUV segment where carmakers will have to do their best to get new models ready! Investing in key research and development (R and D) to get new platforms and equipment to seal BMW's dominance in the green era of cars.  
There's a lot going for the iNext SUV though it will take time finally see the actual results. BMW has the engineering and financial backup to achieve it easily. We just have to wait and see till the 2021 unveiling.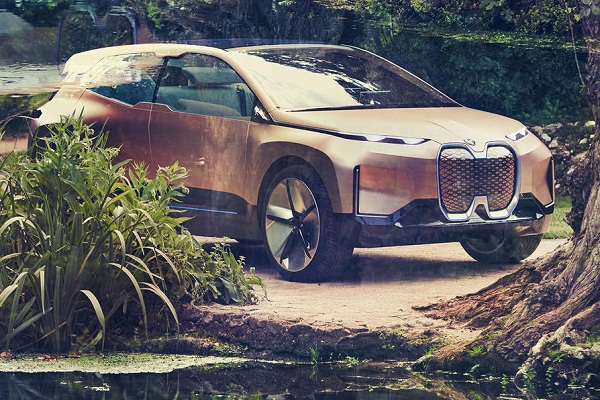 BMW iNext is expected to debut in 2021
>>> Related post: Meet the super electric vehicle: BMW i4 EV expected to come in 2022
1. BMW iNext Exterior: refreshed and vibrant
iNext is still as big as standard SUVs and incorporates features that make it a looker where ever it goes. Its large and sleek profile has all the contours and curves that make it's not the boxy type SUV look anymore.
BMW's kidney grilles are still used on the design always, also a signature look that identifies it into the electric era of cars.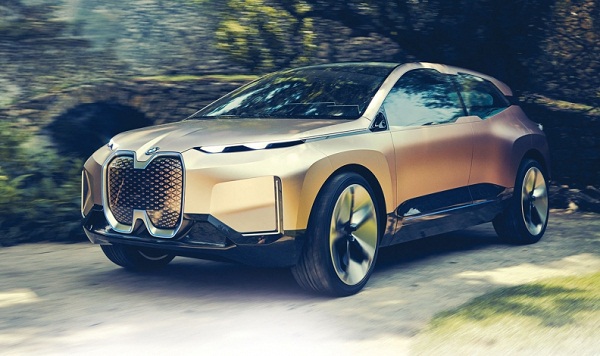 The front fascia is used for mounting sensors and adding stylized looks for other cars to follow. Get a new distinct look with four doors that open opposite to each other, without a B-pillar on the chassis. More space is created by omitting the B-pillar, with one of the slickest looks for a mid-sized or large SUV car.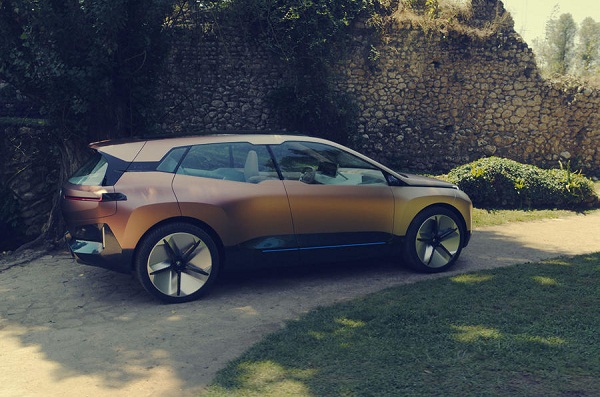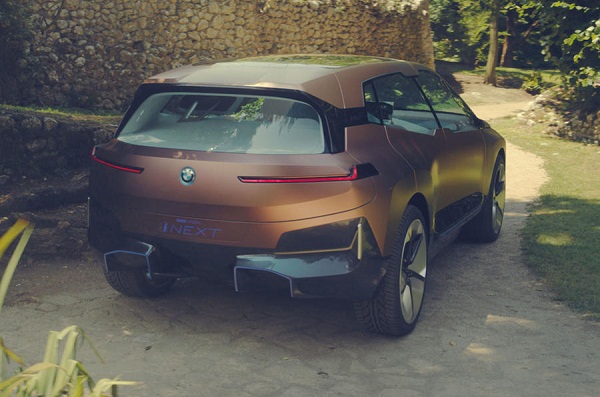 A sleek and vibrant stying of this BMW EV car
>>> Read more: The future of the BMW I-series: Updated news about BMW i3, BMW i8 & more
2. BMW iNext Interior
One would notice how different the layout of the interior is with two chairs in the front and a bench seat in the rear area. Despite the ultramodern and minimalist design cues that have a traditional design with a modern look to it.
A total of four people can sit comfortably inside. Design elements to create this sleek interior which uses geometric patterns, minimalist element and a see-through rooftop that evokes clean and beautiful lines. 
A relaxed and laid-back cabin is used to make a relaxed atmosphere when using the auto drive. Best of all should be the mixture of soft materials and hard material like the controls and instrumentation on the space-age dash.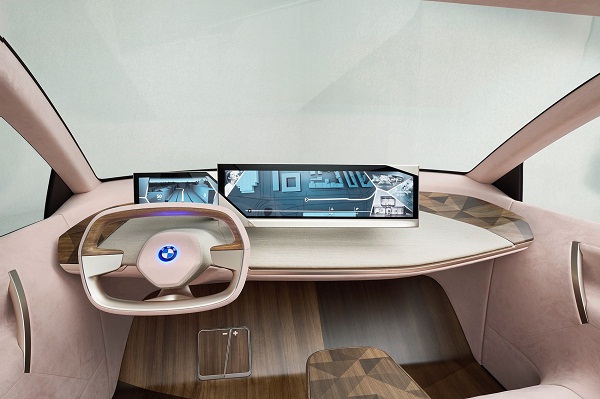 >> Plan to buy an EV, check out: Electric cars available in the Philippines: Overview, Top 5 hot models & More.
3. BMW iNext: All-electric drivetrain & Performance
You're going to get an electric drive train that will use electric motors to drive the tires forward. Please take note that options for front-wheel drive, rear-wheel drive, all-wheel drive, and four-wheel drive installed with PHEVS will electric motors to supplement the gasoline engine.
An AWD or 4WD transmission will be used for the iNext platform most surely. Most premium BMW crossovers and SUVs will get the AWD or 4WD as the drive-train for better mobility. As of now, there are enough features to the drive train of the iNext, but some may be added by 2021 when it is presented.
Even in the electrified age, there will be no abandoning the classic rear-wheel set up. When BMW's staying true to its roots so that customers will keep the classic marquee.
2021 BMW Vision iNEXT - interior Exterior and Drive
Getting it right to make sure that the electric performance will be equal or more than other EVs it will be squared off against. Inside the electric components of the iNext is the fifth-generation e Drive power train which has recorded good numbers so far in the testing stage done in winter weather as spied upon.
Based on the electric power train of the i3 which have these numbers and ratings. There is an expectation that it will equal or exceed the i3 with 70-kilowatt/hour battery with one electric motor, with 270 horsepower and a range of 250-miles.
A fully electric iNext will need more power to match the Tesla Model 3 or Tesla Model Y, developing powerful SUVs is the key! Speculatively the range may reach 400 miles for greater range which will make it a true and efficient EV SUV in its segment.
4. BMW iNext: Autonomous level 3 self-driving technology
Self-driving will be the biggest selling point for in the lineup BMW cars. The iNext is the one to embark on this technological shift to cars that can drive themselves. Level 3 autonomy will only be hands-off and eyes off with 80 miles per hour on most freeways.
Creating cars with level 5 autonomous drive system is the goal which is essentially driverless. Expect these technologies in 2021 when it gets fully developed and running smoothly. Creating the perfect autopilot and autonomous driving system that switches smoothly should be the goal of automotive technology with EV tech as well.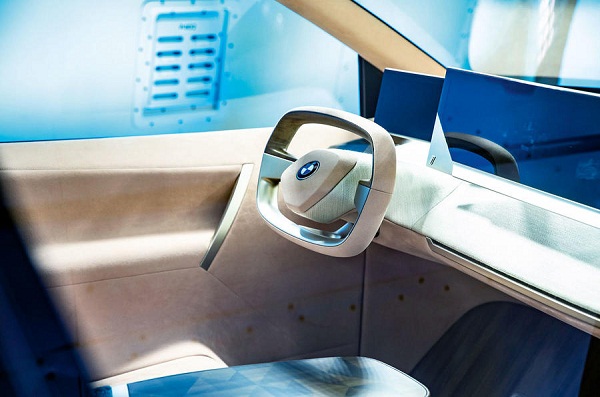 Every Euro brand is producing a Tesla killer of its own with all their best technology! One big difference with BMW is that it offers this EV SUV that will have the final version packed with all hi-tech features. The iNext is coming with a special set of features and tech because it is a level 3 autonomous, self-driving car.
Just like the Tesla line up with autopilot which is yet to be seen in action with all its components.The BMW iNext is an autonomous car that has all it takes to be the best SUV EV. If you are looking forward to a next-gen EV car with everything to drive itself with autopilot equipped because it is a key feature. It may be the ultimate and definitive EV!
It will cost a bit initially, but that's the price of progress. The BMW marquee will continue into the electric generation and beyond.
Keep posted here on Philkotse.com for the latest automotive news


Norjan Ismail Abbas
Author