Dreams and aspirations rolling on four wheels.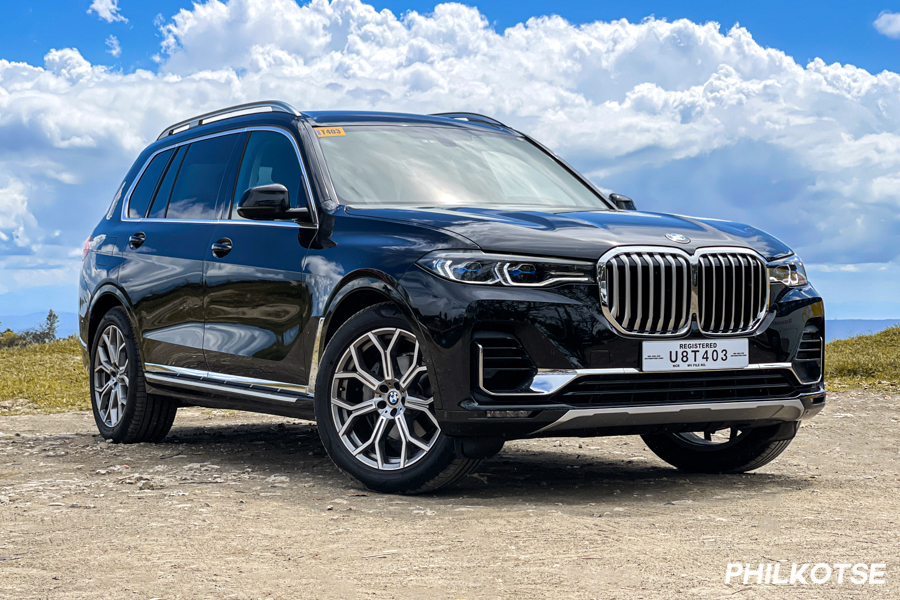 In this review...
Introduction

Exterior

Interior

Engine & Performance

Initial Verdict & Pricing
2021 BMW X7 Quick Drive Review
It's safe to say that many of us aspire to own a great vehicle someday, and I would argue that a good portion of those cars would come from a certain German luxury brand called BMW.
Hailing from Bavaria and offering premium cars to Filipinos for years now, BMW Philippines is offering its biggest model yet, the X7. It's the first BMW SUV to come with a third row – a perfect recipe for car buyers who want the best for their families.
Now, the question is, is the BMW X7 a premium SUV that Filipinos should aspire to own? We took a quick trip to Tagaytay aboard a BMW X7 to find out, and here's our Quick Drive Review.
Overall exterior & Interior design, build quality, form vs function

Number of safety & tech features, consistency during usage

Power delivery, acceleration, transmission, suspension, handling

Overall Ride Comfort, Space, Storage Areas

Sticker price vs overall package
2021 BMW X7 Quick Drive: Exterior Review
Visually, the BMW X7 sports a massive kidney grille. Yes, it isn't everyone's cup of tea, but at least they're in proportion with the vehicle's overall size. Despite the size, the grille's functional and adaptive, closing up at high speeds to increase the vehicle's aerodynamic efficiency.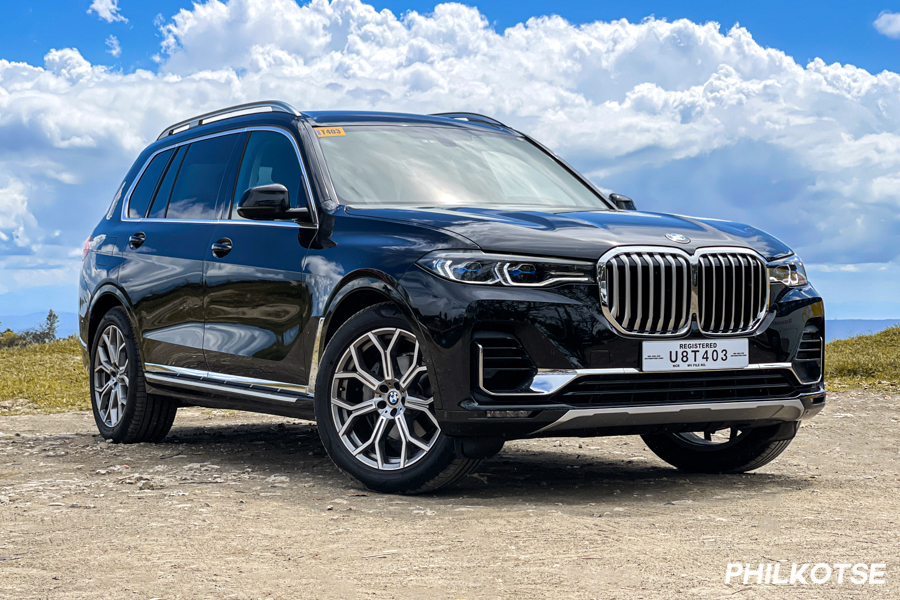 2021 BMW X7 Exterior
Looking past the comically large grille, the X7 combo intimidating and authoritative, and I felt that during the drive. I couldn't count how many times vehicles deliberately just let me cut into their lanes like they don't want to mess with the multi-million luxury SUV. Of course, that's not an excuse to drive precariously, but you get the gist.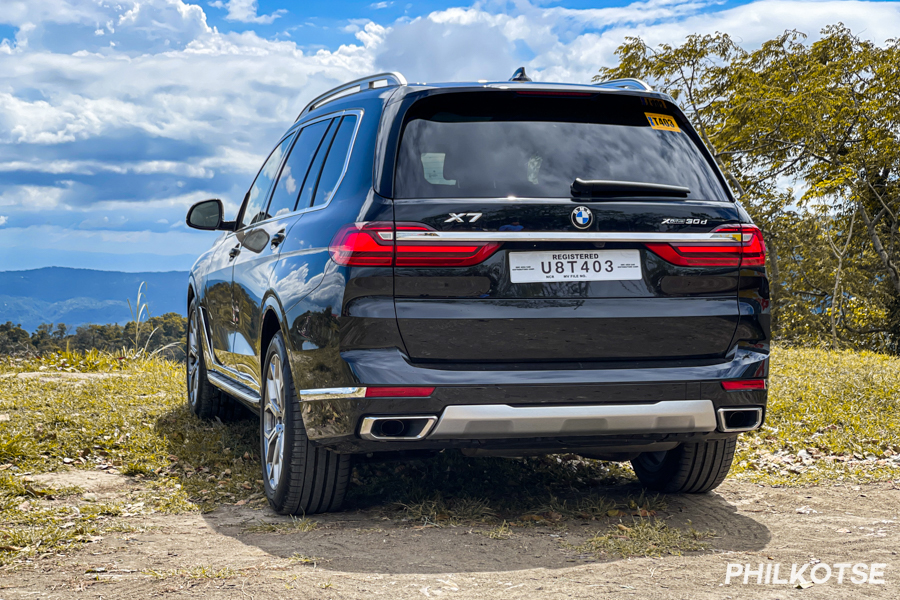 Look at that distinctive taillights
It's the same story at the back. As we take the Tagaytay-Santa Rosa road in a convoy, I was staring at the other car's rear most of the time and believe me, it was a treat. The broad shoulders spell a very athletic stance, while the way the LED lights glimmer screams premium. We weren't able to test the X7's laser headlights since we drove through daylight, but we don't think it'll be any less posh.
YOU MAY WANT TO READ
Model Price Philippines
₱ 1,368,000 - ₱ 1,885,000
Model Price Philippines
₱ 998,000 - ₱ 1,332,000
Model Price Philippines
₱ 1,209,000 - ₱ 1,509,000
2021 BMW X7 Quick Drive: Interior Review
Stepping inside the X7, I can't help but feel a sense of elation. The build quality, the way each of the elements connive with each other, everything's just right. There were many buttons to fiddle with but it won't take hours to familiarize with them. More importantly, the feeling at the driver's seat was just perfect even at first seating.
Everything's just right
The X7 is at the top of BMW's range of cars in terms of size and tech toys, so it practically has everything BMW could think of adding in their car, except for adaptive cruise control, which isn't available in the Philippine-spec unit.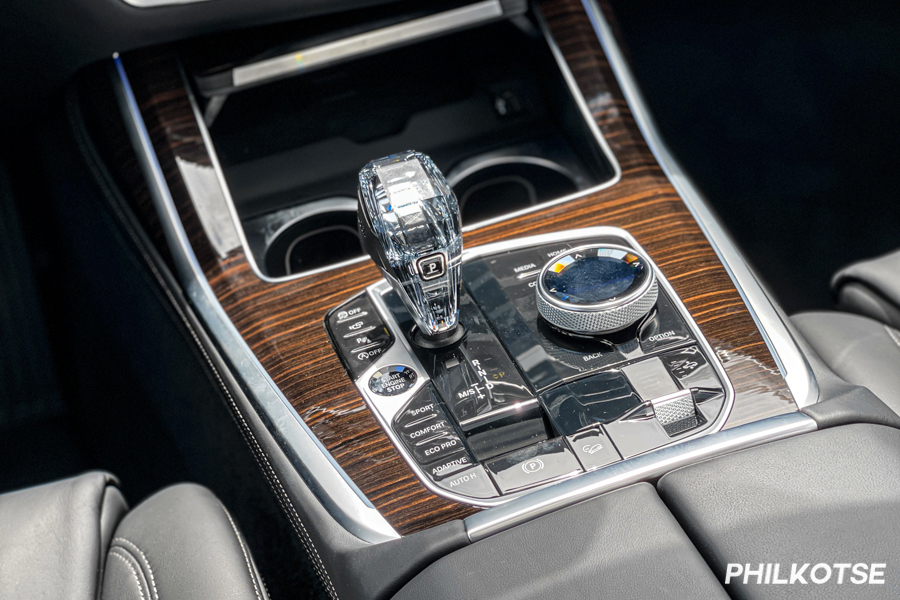 The X7's Crystal-like gear shifter will surely get your attention
One important detail that nobody would miss is the crystal-like gear-shifter of the X7. Another polarizing piece, but one can't deny that it exudes class. There's also a certain level of luxury felt with the way the steering wheel and seats open up when you switch off the engine, or the way the infotainment asks you if you would like to save the seat setting that you just applied. Everything's just intuitive and logical, as it should in a luxury car.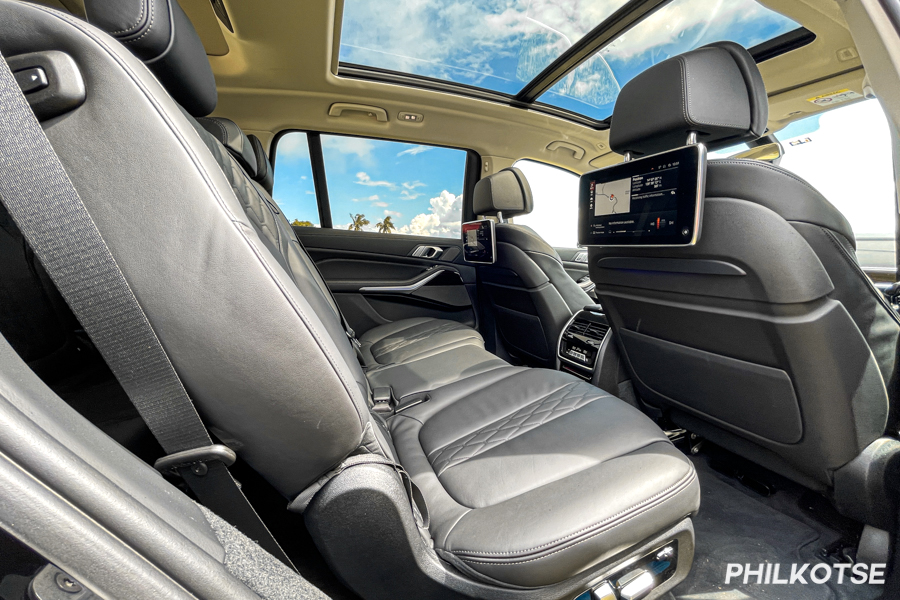 Travel in style in the BMW X7's second-row seats
The main important recipe of the X7 is its third-row seats. As mentioned, this is the first time that BMW added the feature on its SUV. It's not just an "add a third row and you're good to go" thing – average-sized adults can sit comfortably at the last row. The best thing? Adjustments are done electronically via buttons; there's even a way to tumble all seats to maximize cargo hold via a single press of a button.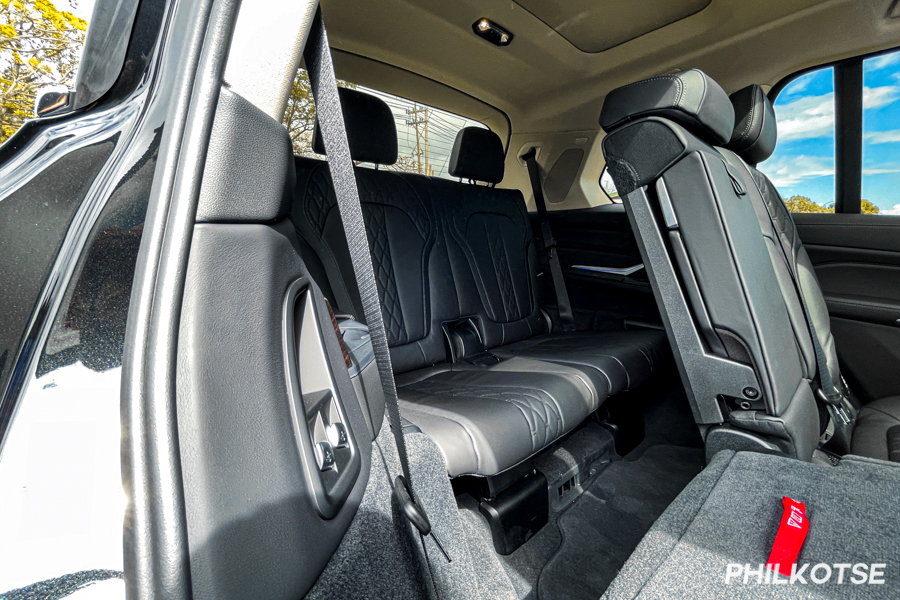 BMW X7's third-row seats
Overall, whether you're sitting at the front or at the back, the feeling while seated inside X7 is definitely worth the money. It isn't Rolls-Royce level of opulence, but it's within the ballpark in terms of feel.
2021 BMW X7 Quick Drive: Engine & Performance Review
Despite the premium cabin, both SUVs don't fall short on performance. Powered by BMW's TwinPower Turbo inline-six diesel engine, 263 hp and a whopping 620 Nm of torque, mated to an 8-speed torque converter automatic. The variant we drove came with xDrive, which means power's sent to all four corners.
While it's tempting to just slow down, relax, and just drive frivolously, the surge of torque at a slight step on the accelerator tells you that this SUV can deliver power like a performance machine. The pull was heart-thumping, plus the kickdown almost felt instant when changing speeds.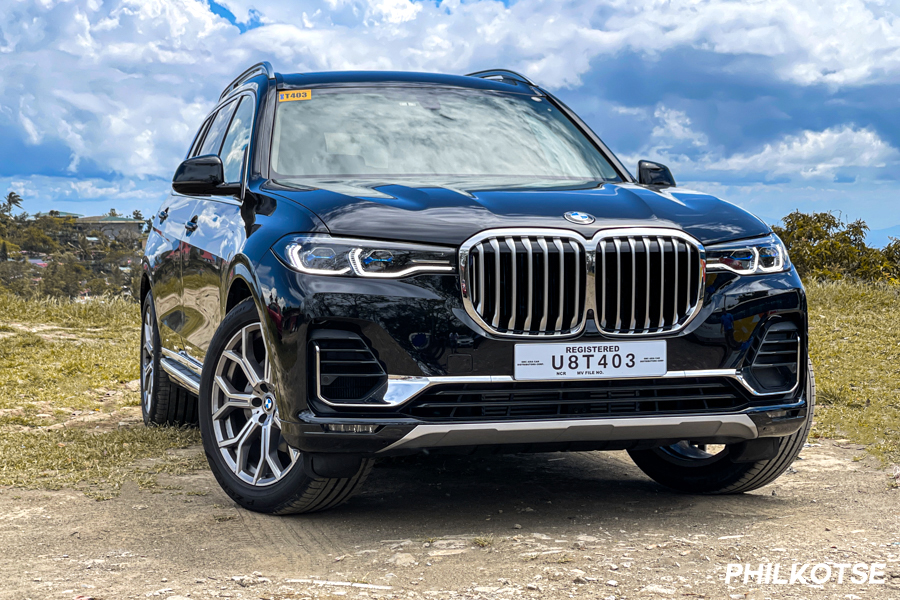 The BMW X7 don't fall short on performance 
The 2021 BMW X7 also comes with air suspensions. In combination with the superb NVH insulation, the ride quality was heavenly, to the point that you'll feel guilty for not feeling the harshness of the city's hustle and bustle. Cornering, albeit highly-assisted, wasn't floaty. There's a certain degree of good control left despite the driving aids.
Honesty, it was a dilemma, a tough choice between driving the beastly machine and relaxing at the second row of the German land yacht.
>>> Related: Here's what you need to know about BMW's award-winning engines
2021 BMW X7 Quick Drive: Initial Verdict & Pricing
Is the BMW X7 a premium SUV that Filipinos should aspire to own? After that quick drive, I'd say yes, but don't think that the road to a brand new BMW would be effortless. At P8,990,000, the BMW X7 isn't exactly affordable by any means, but at least they're relatively attainable, if not in the immediate future.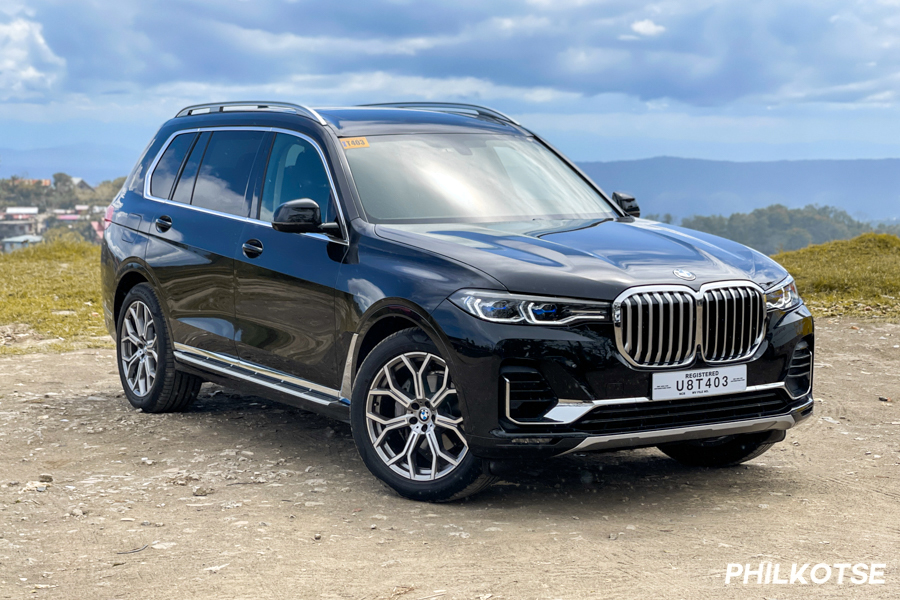 2021 BMW X7
There's a reason that BMW vehicles are among people's dream cars, you just have to test one to know that exact reason.
Visit Philkotse.com to read more car reviews and to catch the latest updates in the automotive industry.


Jacob Oliva
Author