Take a look the new up-coming 4-door BMW EV: BMW i4 EV!
Car enthusiasts who moved to the green side have lauded Tesla as one of the best EVs to hit the US market. Now, here comes the Tesla killer called the 2022 BMW i4 is coming and is leading the charge for greener future with a more capable EV car for consumers.
The term Tesla killer is used loosely, till now because BMW is offering a mid-sized to large electric sports sedan to be the ultimate Tesla killer and counter-measure. Game changer does not do it justice as a term. It might it be said this is the Ford Model T in the electrified era of cars.
1. BMW i4 EV: The best mid-sized Sports EV car
Expect the unexpected because BMW is still using the 4-Series as the base for it. Why go for a drastic change when a successful platform is still a good performer.
This coupe style EV will use BMWs CLAR platform that is modular with steel, aluminum and carbon fiber as material components. Whether front wheel or rear wheel drive that has been in use since the G11 7 series in 2015. An electrified luxury EV that performs just like its gas counterpart is the result of the demand for greener cars.
BMW i4 EV is expected to come in 2022
One distinct feature is a chassis that is a bit higher than the 4 series GC. This is for the extra space to store the batteries better in a vertical orientation to the axis of the axles.
This is proof of BMWs tech which can piggyback and switch technologies without a hitch. The end goal is a showcase in 2022 to show off everything that has been developed for the i4.
>>> Read more: The future of the BMW I-series: Updated news about BMW i3, BMW i8 & more
2. BMW i4 EV: The future driven by Electric vehicle technology
Impressively the BMW i4 has a lot going for it and will prove to be a force to reckon with in the EV wars. Get the most of the EV experience with its eDrive technology that in its fifth generation already. A range of electric cars is addressed with improved and extended ranges of 550 to 700 kilometers that depends on the model. 

BMW i4 EV: A Tesla Killer
BMW cars with this range are the i4 and iNext which will utilize eDrive tech. Indications are high that if you get the i4 by 2022, it should outrange Tesla a bit more. It's BMWs expectation to get 100 miles per charge more by then. Its extended range will allow it to be better or match the Tesla Model S and Porsche Taycan.
3. BMW i4 EV Exterior: The ultimate expression of form and function
The secret is "i Vision Dynamics concept" that will set the stage for world-class auto-design. Design cue and factors make up this futuristic look BMW cars that won't be like the drabber EV cars of late.
Shaping the future looks of the i4 with dynamic lines that seamlessly combine with geometric shaped to cut through the wind like the Grand Coupe. We get a sexy four-door sedan that is a doppelganger for the i8 with all the space needed.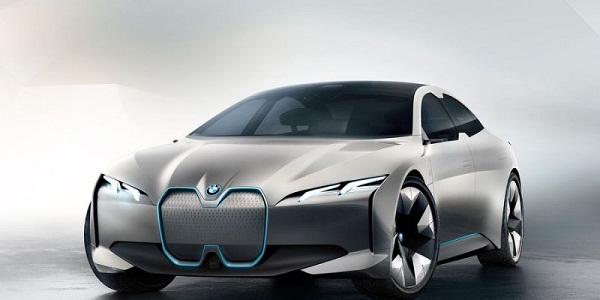 "i Vision Dynamics concept" design of BMW i4 EV
Finer styling points that score with an improved fascia with sharply edge headlights, daylight running lights on either side. Better yet is the DRLs are front and back, not just the front only! Bright LEDs are used for the headlamps that include the tail light assembly too.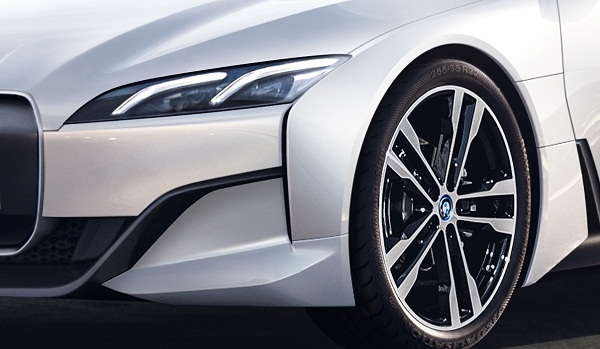 The front bumper skirt gets a low-slung chin that is black colored for a fiercer look. All the lines from the front to back are meant to make all the hard lines with extended rear a slimmer shape and profile. Even the B-pillars does improve the skid skirts while extending into the trunk beautifully.
Even the trunks receding lines are unified for an aerodynamic rear and compliment the design language of this EV. One innovative approach is "Intelligent surface" that embeds sensors all over the body.
4. BMW i4 EV: Interior 
The "i Vision Dynamics concept" does extend to the interior cabin of the BMW i4. It won't be Tesla killer without it that make it more hi-tech than imagined.
Design cues that will be used for the cabin will be an overall layout that incorporates all geometric shapes, soft and hard angles and layering of features that will be sophisticated and all-luxury for grand style.
A broad dash with soft materials for a softer tactile. Planned for the center console is a mix of brushed aluminum trim that's combined with piano black lacquer. All materials to be used should be eco-friendly and sustainable as well for a green future.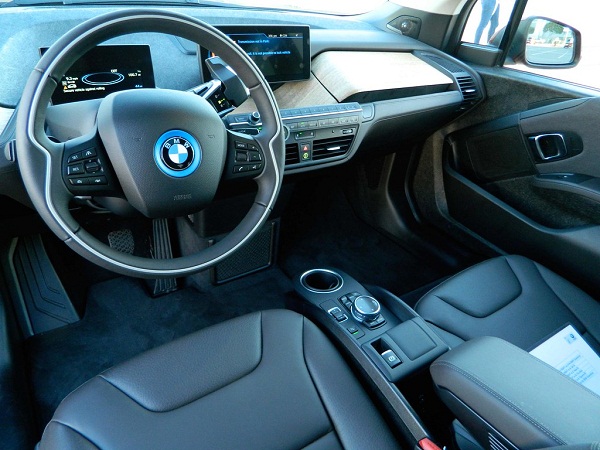 All materials to be used in the BMW i4 interior will be eco-friendly
Inside the driver will get gauges that are digital, HUDs, improved NAV guides, smartphone linking, charging wirelessly, and new tech for improved driving. All this will change what it means to be in the driver's seat. The final mix of tech will be self-driving, auto parking, adaptive cruise and improved versions of current features. 
5. BMW i4 EV: Engine and transmission
The i4 benefits from EV tech because the electrified drive train will take less space with electric motors at the corners creating more space. All batteries are packed under for better storage and protection from the elements.
It's eDrive power train with a dual motor on the front and back that gives even grip on all tires at the same time. Get AWD like grip and advanced torque with vector control for best handling with utmost safety. Improved batteries that give better range will be used to give it a competitive edge.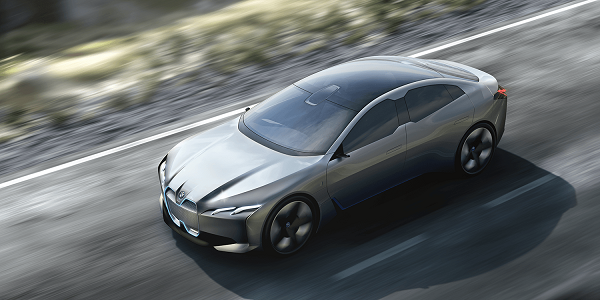 BMW i4 EV can reach a top speed of 124 mph
Riding this BMW i4 EV will give hefty dash at four seconds from 0 to 60 mph. But, consider a top speed of 124 mph that is impressive for a passenger EV sedan.
Innovatively, the Brainiacs at BMW speculate about a 200 mile-range with a max of 435 miles from an early estimate of 370 miles per full charge. Better yet is the plan to share all BMW platforms having the same PHEVs or EVs specs. 
>> Interested in buying an EV, check out: Electric cars available in the Philippines: Overview, Top 5 hot models & More.
Wrapping up!
Tesla has introduced a new standard of electric vehicle that has spurred the development and sale of a new generation of cars. No sensationalizing or hyping is needed, neither is flowery words because the Tesla killer called the 2022 BMW i4 is coming which is a Tesla killer and supercar that is set to show who's top dog.
Cramming all its engineering and quality into a luxury EV that exceeds all expectations. No doubt in 2022 the i4 will be a key player that will redefine EVs and will be the top "Tesla Killer" to beat. It will cost a pretty penny but the trickle-down effect will be something to watch out for.
It won't be a "guys and gal's thing" but a must read in the crystal ball of EV tech. The new age of motoring is electrification and Tesla made a home run, soon BMW i4 EV will win all innings in 2022.
>>> Visit Philkotse.com for the latest traffic updates in the Philippines!

Know more about BMW

As of 2023, BMW Philippines offers a total of 12 models, of which the most affordable is the 1-Series entry-level premium hatchback. Its sole variant in the market is priced at Php 2,690,000.
Other BMW car models available locally includes the 2 Series subcompact executive sedan, 3 Series compact executive sedan, the 5 Series and 6 Series midsize executive sedan, the 7 Series fullsize luxury sedan, the X1 subcompact luxury crossover, X3 and X4 compact luxury crossover, X5 midsize luxury crossover, the X7 fullsize luxury crossover, and the Z4 coupe sports car.
Apart from the BMW price list for 2023 that we update on the regular, Philkotse.com also lists the latest and hottest car promos ranging from low monthly amortizations, low downpayments, and cash discounts.

Norjan Ismail Abbas
Author