Make the Korean made sedan handle better with these mods.
If you're reading this article, then we're confident in saying that you have plans to modify your Hyundai Accent, right? It's a reliable ride, it has a lot of aftermarket and aftersales support, and it's fairly popular so you can count on the good number of mechanics who can help you turn your Accent into something meaner.
Hold up, calm down, and put down that torque wrench and listen up.
While the Hyundai Accent is indeed those things, it's also one of those cars whose latest versions are new enough (at least here in the Philippines) that modifying its engines via ECU remapping, port, and polishing, etc, might turn out to be a not so great idea. This is especially true if you're relying on your accent as a daily driver.
Also, the same goes for going ham on the Accent in terms of exterior mods. Sure it'll look good on aftermarket wheels, but if you don't want to ruin its classy good looks, then we are of the opinion that body kits and wings might actually do more harm than good.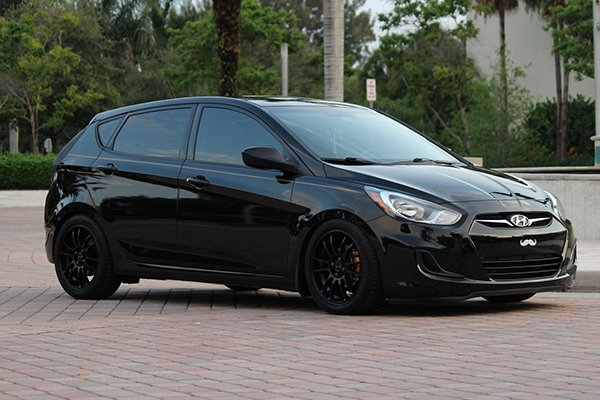 Make your Accent like this tastefully modded example
So what can you modify on your 2010 to 2020 Hyundai Accent? Well, there's nothing stopping you from doing the things we've recommended you don't, but on the other side of the coin, here are some suggestions that you might consider getting the Hyundai Accent modified instead.
1. Hyundai Accent modified: Coilovers or lowering springs
If you've read our other "how to modify your car" articles, you might've noticed that the first thing we're always suggesting is to upgrade the thing with coilovers. Why? Well, coilovers won't affect how your engine runs, the changes you'll have made can easily be reverted, and installing coilovers is actually relatively easy.
Do note though that if you decide to do this yourself you'll need the help of more than one hydraulic jack to compress the coils for easier removal of the old parts and easier installation of the new ones. You'll also need jack-stands because you don't want to get crushed by your Accent. Also, it would help if you had a friend assisting you because there are some instances, like installing the aftermarket rear shock and spring, where you'll need more than two hands.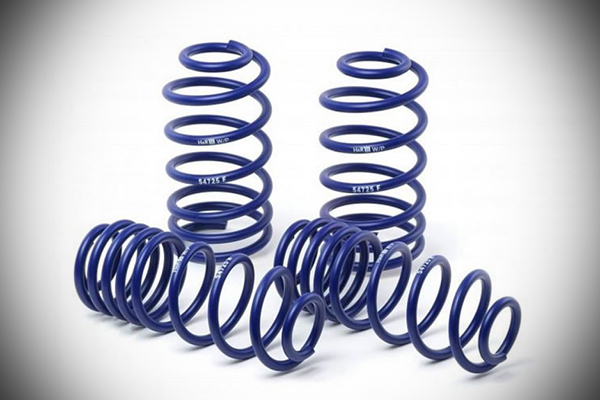 If coilovers are a bit expensive for you, then you can go for lowering springs
If you're unsure as to how to do this though, you can always employ the help of a mechanic and do note that some shops actually have their own in-house mechanics. If you still want to do this yourself, then take note that some aftermarket coilovers do come with manuals, and there are a lot of resources online for this.
Coilovers and lowering springs will definitely improve how your car handles as it lowers its center of gravity, and that's without tinkering away with the engine and transmission. So for many car modders, coilovers and especially lowering springs will provide the most bang for their buck when it comes to making the car handle better.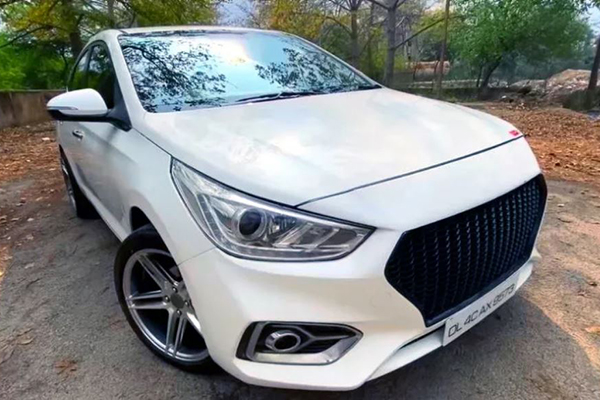 Here's a lowered 2020 Hyundai Accent with a slightly modified grille
For this, you'll have several choices. First is the Godspeed Project Mono-SS coilover set which is priced at around Php 30,000. Or you can go cheaper, you can go for the H&R Sport springs set which will set you back Php 15,000.
>>> Related: Best project cars for beginners in the Philippines
2. Hyundai Accent modified: Wheels and tires
The Accent is a good car from the factory. But guess what, all of its variants available here in the Philippines rides on 15-inch steel wheels covered with a hub-cap. While that might be fine for some, that definitely won't fly. So for this, we recommend replacing those steelies with aftermarket wheels.
Now Rota has a great selection of affordable, but high-quality 15-inch wheels if you want to keep the wheel size the same (which we recommend). But if you want to go for a larger size, the 17 x 7 XXR Wheels 530 Intense is another good choice.
With the new wheels, you'll want better tires. While the stock ones will do decently, there are better ones out there that can either provide more grip, or more tread life.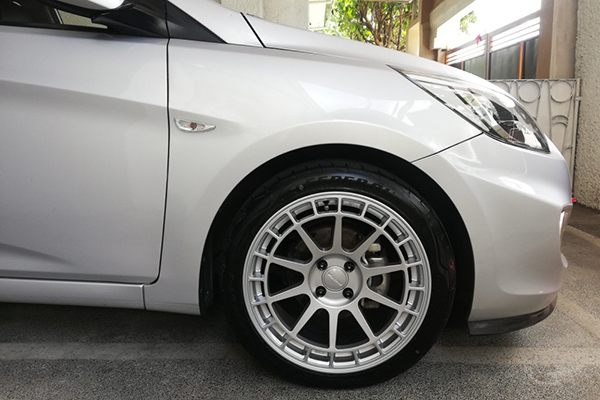 Consider the Rota Recce for your Accent. [Source: Fitment Industries]
If you kept the wheels stock, and want something that can last you for a long time, then we recommend the 185/65 R15 Bridgestone Ecopia EP300 at around Php 5,000 per tire. If you want something more aggressive, then there's the Yokohama Advan Neova at a pricier Php 10,000 per tire. A bit stiff, but that's the price you have to pay for more grip. 
>>> Related: A short guide to coilovers and how they help to make your car handle better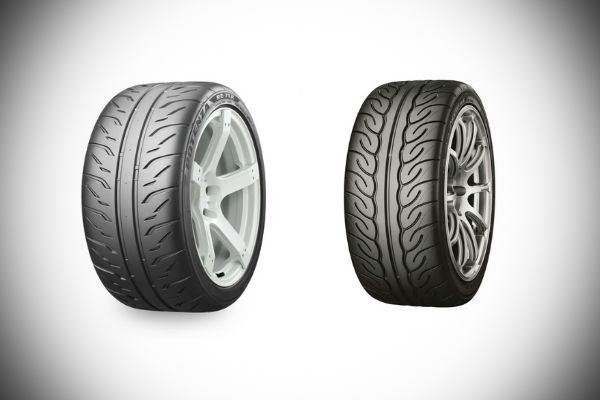 The Bridgestone Potenza to the left, and the Advan Neova to the right
For those who have opted to upsize their wheels to a set of 17s, then there's the Nitto NT860 starting at Php 5,000. If you want to go all out, then the Bridgestone Potenza RE003 Adrenalin might be more up to your speed. Do note though that you'll have to consider diminishing returns in terms of the grip a set of Potenzas can provide since the stock Accent regardless of it being the gas or diesel variant, doesn't make a lot of power.
You might be disappointed with the results on daily driving (with all those bumps and all that), but if you take the time to take your Accent + Potenzas with coilovers to the twisties, you might be surprised.
Do note though that you'll definitely need wheel alignment after installing new wheels.
>>> Related: 2021 Hyundai Accent: Expectations and what we know so far
3. FAQs when having your Hyundai Accent modified
Question: Can I give my Hyundai Accent forced induction?
Answer: Well yes you can, but in order to make significant gains, you'll also need to address airflow mods, provide better cooling, you'll need an ECU remap, a stronger clutch, and you might even need to upgrade engine internals. If you sum up the costs these will entail, you're better off buying a used performance vehicle, or putting on a downpayment for a brand new one.
Question: For what year model Accent are these modification suggestions?
Answer: These suggestions are compatible with all variants of the 2010 to 2020 Hyundai Accent year models.
Question: Why are alloy wheels better?
Answer: Alloy wheels lower the amount of unsprung weight on your car, and it might even provide better cooling for your brakes considering that the stock steelies on the Accent are pretty closed up and restrictive.
Question: Can I go beyond 17-inches for my Accent's wheel size?
Answer: Sure you can, but if you want to avoid issues with the wheels rubbing with under chassis parts, handling problems, and drastically affecting your drive ratio for the worse, we suggest sticking to 17-inches as the maximum.
Question: Do you suggest giving the Accent a larger exhaust?
Answer: Since we didn't recommend doing anything to your Accent's engine, cooling, and air-intake systems, the answer would be no.
For more tips and tricks to modify your cars, please keep reading here on Philkotse.com.

Know more about Hyundai Accent 2023

The Hyundai Accent is the Korean marque's entry to the competitive subcompact sedan category. It is available in six variants and the Hyundai Accent 2023 Philippines price that ranges from Php 790,000 to Php 1,038,000. Hyundai Asia Resources, Inc. (HARI) offers this model with two engine options consisting of gasoline and diesel mills. Lower-end variants use a 1.4-liter Kappa MPI Dual CVVT gasoline engine that makes 99 hp and 132 Nm of torque, while higher-end variants are equipped with a 1.6-liter CRDi turbodiesel engine that delivers 126 hp and 260 Nm of torque. As for the transmission, the engines can be connected to either a 6-speed manual or a 6-speed automatic gearbox.
Moving to the dimensions, the Accent spans 4,440 mm in length, 1,729 mm in width, and 1,460 mm in height, with a wheelbase rated at 2,600 mm. In the Philippines, this Korean sedan is competing against the likes of the Toyota Vios, Honda City, and Nissan Almera.