More style points mean more heads turned.
Like many others out there, you've owned or thought of getting a Ford Mustang. It is, after all, one of the more popular performance cars nowadays. That being said, there's a growing number of Mustangs running around here in the Philippines. We're not saying that the Mustang isn't great to look at, but how does one make it more unique looking? How do you make the Ford muscle car stand out?
Well, here's a few suggestions to get your Ford Mustang modified to make it more unique.
Ford Mustang modified: Recommended modifications
1. Turn up the Mustang's style with new wheels
The stock wheels on the 2020 Ford Mustang already look great. But the fact remains that the number of Mustangs we have running around is growing. So to make your Mustang truly "you" is to give it a new set of wheels.
The stock Mustang's tires however are Pirelli PSZeros. These are already great tires so we suggest keeping it on. As such we also suggest getting wheels that can fit the stock tires. There are the tires from Voxx Performance if you like clean, modern designs. If you want, you can also get authentic Shelby wheels from Autohub Car Care Services. Autohub, after all, is the official distributor of Shelby cars and parts here in the Philippines.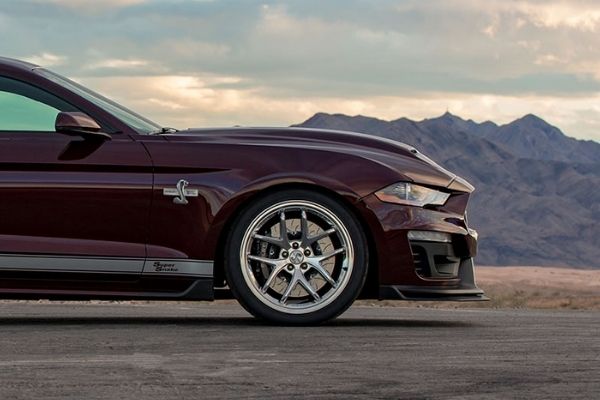 Check out the Shelby Wheels on the Super Snake. It's subtle, classy, but definitely cool
2. Rock those stripes
Another way to stay true to the classic look of the Mustang is to give it racing stripes. Racing stripes or "Le Mans stripes" are closely related to the Mustang marque since the 1960s. In fact, the first road-going car to come with racing stripes was the 1965 Ford Mustang GT350.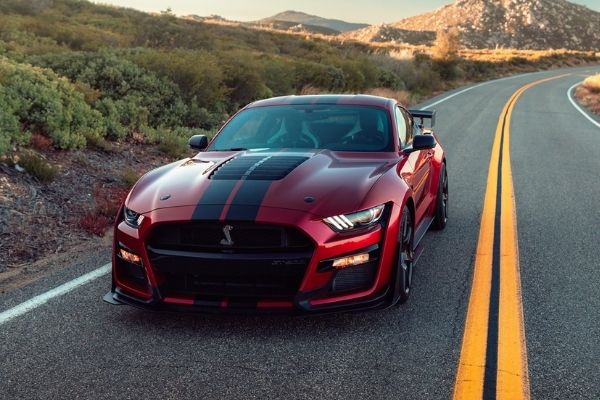 A Mustang with racing stripes just looks proper, doesn't it?
In the present day, racing stripes are easy to install. This is because most come in the form of vinyl kits. As such, there's no longer a need for an expensive paint job. A typical racing stripe kit for the Mustang costs around Php 5,000 to Php 8,000 depending on the brand. Some premium vinyl kits also come in multiple parts with pre-cut holes for the Mustang's license plates.
>>> Related: 2021 Ford Mustang: Expectations and what we know so far
3. Stand out more with unique taillights
The new Mustang's taillights look great on their own. To make your Mustang's exterior stand out, even more, we suggest modifying your taillights.
There are a couple of ways to do this. For the more expensive choice, there's outright replacing the taillight assembly. It'll cost as much as Php 10,000 to Php 30,000, but there are a lot of designs to choose from. There's the Euro-style cleans lens type, the Ford 50th Year Anniversary taillights, and the Halo LED taillights from Raxiom for that classic round look.
If you want to go cheap, there are custom vinyl overlays for the Mustang's taillight cluster. Choices range from outright blacking them out, to the ones with the famous "LOL" cutouts. These range from Php 1,600 to Php 4,000 depending on the intricacy of the design.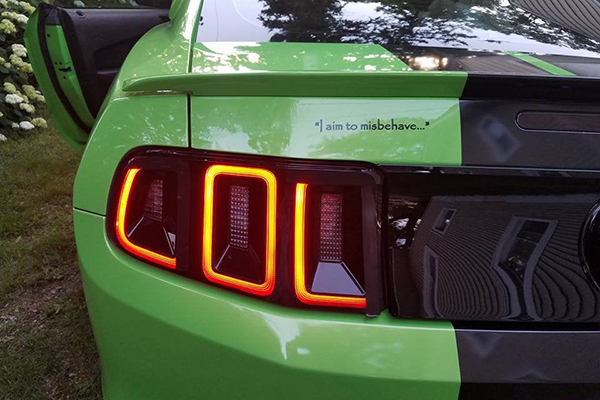 Some Mustang owners have a great sense of humor. Source: Reddit, u/kdryan1
For lighting modifications. Please take note first of our local laws regarding this. Remember, signal lights should be yellow, amber, or orange only. The taillights should be colored red and should be visible. Do not put white-colored lights on the rear. Inverse, the front should not have red-colored lights. This is according to the Land Transportation Office's Administrative Order No. 1, series of 1973.
>>> Related: This is an all-electric Mustang that burns rubber and packs 1,400 hp
4. Get that classic look with louvers
Just like racing stripes, window louvers were all the rage back in the 1960s. They not only add style, but they also serve to reduce glare, and even reduce heat from getting inside your car. They offer no aerodynamic benefits though, but having one on a modern Mustang's rear windows is a great callback to the classics.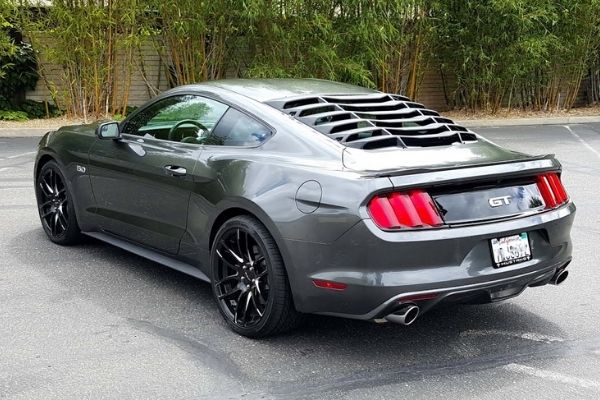 Louvers will definitely nudge up the Mustang's cool factor. Source: Youtube, CHRIS10077
Louvers available for the modern Mustang are made out of varied materials. Aluminum rear window louvers are more expensive at around Php 20,000. Ones made out of plastic range at around Php 9,000 or cheaper. There's also the carbon fiber side window louvers from companies like Anderson Composites. These however can cost up to Php 24,000. They are very lightweight though. Plastic side window louvers are even cheaper at Php 4,000 to Php 10,000 above.
5. Cut weight with carbon fiber hood
Another popular way to get your Ford Mustang modified is to replace its stock exterior pieces with carbon fiber ones. A full set is very expensive, as such, we suggest starting with the hood. It is, after all, the largest and heaviest single piece that you can replace. It is also the most visible.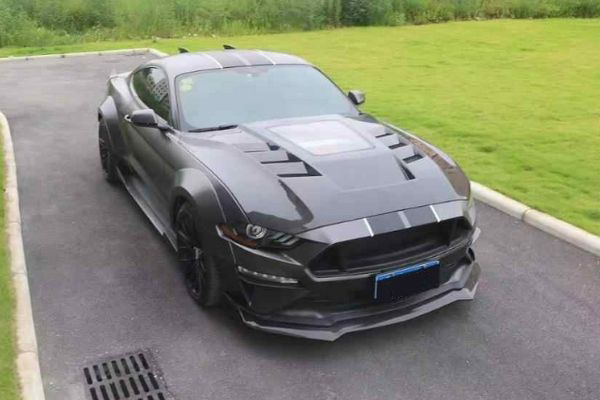 Some carbon fiber hoods even have transparent sections to show off the Mustang's engine
For the GT500, Anderson Composites sells a Type OE double-sided carbon fiber hood. It costs around Php 77,000 so it's quite a punch to the wallet. If you want something cheaper, there are also ones made out of aluminum. They might not be as exotic as carbon fiber, but they can still provide a unique look for your ride. These start at around Php 20,000.
Ford Mustang modified: Why no engine performance mods?
There are a lot of proven Ford Mustang modifications out there that's for sure. These include things that fiddle with your tune, aftermarket engine internals, superchargers, etc. And yes, these combined will undoubtedly provide your Mustang with significantly more power. Even a chiptune or ECU flash alone will provide more power. There are however a few caveats to this that you will have to consider.
First is that these performance mods will cost a lot. They will also require a lot of time and work to install, especially with regards to engine internals. Combined with the significant Ford Mustang price Philippines, then that's it's an even more expensive prospect. A Procharger branded supercharger kit starts at Php 275,000, and that is just one of the more "affordable" ones.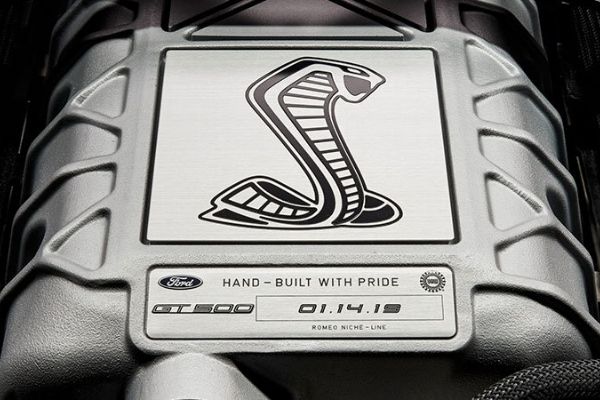 An aftermarket supercharger requires deep pockets and a bit of tinkering on your part
Also, engine mods will come with its own host of problems when not done right. Once a car makes more power, you'll also need to consider other things. Can the stock brakes handle the more powerful car? Can the car cool itself effectively? And of course, you might also need to get things like a suspension upgrade, a better exhaust system, and many other things that a high powered car needs. Sure, it's fun modifying for power, but it'll definitely rack up costs faster.
Second, is that the Ford Mustang is an already powerful car. Even the 2020 Mustang 2.3-liter with the four-banger makes a respectable 310 horsepower. That might not hold a candle to the GT500, but there's no doubt that it's already a very fun car. As for the 5.0-liter V8 Mustang versions, these can make up to 460 horsepower. That's enough for most people.
As such, we suggest getting more familiar with the Mustang first before deciding to get more power. Take it to a race-track once or twice and drive it around for a couple of years first. If you feel that you can deal with more power and what that entails, then maybe it's finally time to get that performance mod you want. It's up to you at this point.
FAQs about getting your Ford Mustang modified
Question: What are the best tires for the 2020 Ford Mustang?
Answer: The Ford Mustang's stock Pirelli PZero set is already one of the best tires for the 2020 Ford Mustang.
Question: Can I have green or blue colored taillights or headlights for my Mustang?
Answer: No, those are illegal as per LTO guidelines.
Question: How large are the stock Ford Mustang wheels?
Answer: Both the Mustang Ecoboost and GT500 variants come standard with a 19-inch set.
Question: Can an engine performance mod void my warranty?
Answer: If you brought in a car for repairs and it was found out that the cause of the problem was the mod, then yes. In general, though, engine modifications can void your car's warranty.
Question: Is there a manual version of the 2020 Ford Mustang in the Philippines?
Answer: Yes. Currently, the only manual Mustang you can buy in the Philippines is the Ford Mustang GT 5.0 Premium Convertible MT.
For more articles on car modifications, keep reading here on Philktose.com.

Know more about Ford Mustang 2023

Arguably the most popular vehicle from the Blue Oval company, the Ford Mustang is one powerful coupe that is competing in the market with its sixth-gen model. Ford Mustang 2023 Price Philippines from Php 2,948,000 to Php 7,760,000, depending on the variant. Speaking of variants, the Mustang comes with four variants in the Philippines, namely the 2.3L EcoBoost, 5.0L GT Fastback, 5.0L GT Convertible, and Shelby GT500. The base Mustang uses a 2.3-liter EcoBoost inline-4 engine that makes 310 hp and 475 Nm of torque, while the GT variants are powered by a 5.0-liter Ti-VCT V8 engine that generates 460 hp and 569 Nm of torque. As for the top-spec Shelby GT500, it boasts a 5.2-liter supercharged V8 engine that churns out 760 hp and 847 Nm of torque. Only the Shelby GT500 utilizes a 7-speed Tremec dual-clutch transmission, while the rest offer a 10-speed SelectShift automatic transmission.
In terms of dimensions, this American sports car has a length of 4,788 mm, a width of 2,081 mm, and a height of 1,395 mm. Additionally, it comes with a wheelbase length of 2,721 mm and a ground clearance rated at 137 mm. The Mustang is competing in the local market against the likes of the Chevrolet Camaro, Dodge Challenger, and Nissan 370Z.

Cesar G.B. Miguel
Author