Describing it as unbelievable will be the understatement of the year.       
Hardcore pony car enthusiasts already bristled at the thought of the Ford Mustang taking the electric route, and will most likely be sulking at home when the Mach-E finally hits dealer showrooms by late 2020.
However, Ford isn't done trolling fans of the internal combustion engine, ratcheting up the still-unreleased electric crossover's 459 hp maximum output to jaw-dropping heights with a one-off runner. 
Ford Mustang Mach-E 1400: One-Of-A-Kind Prototype | Mustang | Ford Performance
This is the Mach-E 1400 prototype, the result of 10,000 hours spent by Ford Performance and RTR Vehicles working together on bridging the gap between expectation and reality when it comes to electric vehicles. Seven onboard electric motors – three on the front differential and four stacked together at the rear – are powered by an ultra-high-performance 56.8 kWh battery to deliver a peak output of (drumroll) 1,400 hp.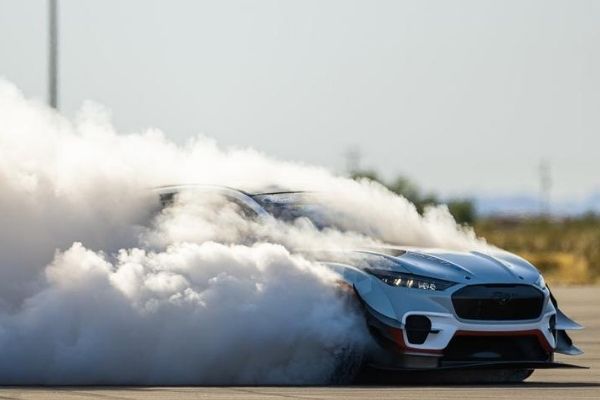 All that smoke and not a combustion engine in sight 
Or at least, that's what Ford hopes to achieve. The company took its cue from the Mustang Cobra Jet 1400 electric drag racer, which boasts the same output. But whereas the Cobra Jet tore through the tarmac at 273 kph in just 8 seconds with 1,491 Nm of torque, the Mach-E 1400 aims to more than double that figure at 3,118 Nm. Your diesel rig doesn't stand a chance. And that's not even mentioning the Mach-E's lighter weight, which is why it has a carbon fiber bodywork capable of generating more than 1,000 kgs. of downforce at 257 kph.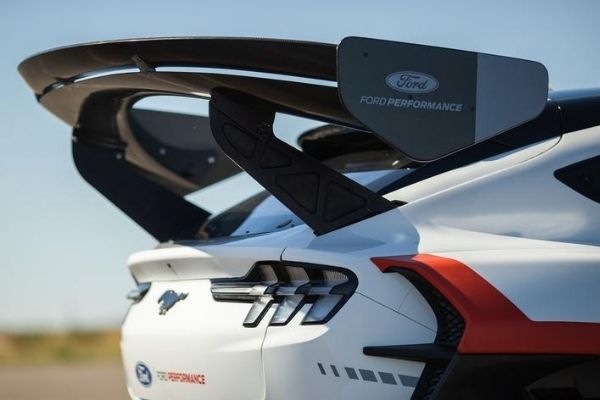 Monster power requires equally monstrous downforce courtesy of the rear wing 
>>> Related: Ford Mustang 2020 Philippines: A preview of the 2020 Mustang 2.3 L High Performance Package
Aerodynamics on the Mach-E 1400 have been optimized for shape and location, with emphasis placed on cooling ducts, front splitter, dive planes, and rear wing. The vehicle is extremely adaptable, optimized for front-wheel, rear-wheel, and all-wheel drivetrains to accomplish a range of missions on the track. Large Brembo brakes similar to the Mustang GT4 race car headline an energy recovery system.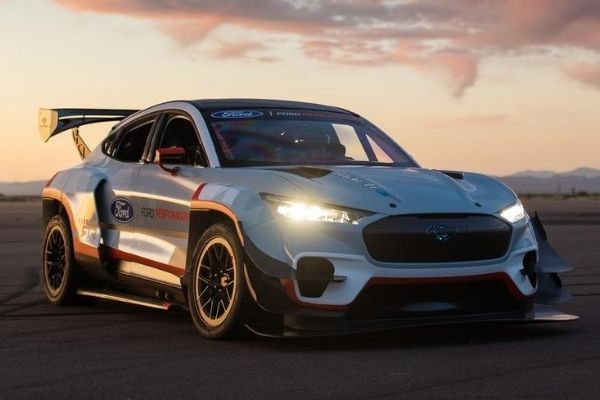 Ford is really throwing down the gauntlet this time  
The Mach-E 1400 makes its NASCAR debut soon, but don't expect it to be for sale. However, it will serve as a testbed for new materials and technologies, which hopefully will make their way to more roadgoing electric Ford vehicles in the future.
See more trailblazing automotive tech only at Philkotse.com. 
Know more about Ford Mustang 2021

<p>Ford&#39;s famous pony car is now in its sixth-generation model and is available in the Philippines in four variants. This includes the&nbsp;Mustang EcoBoost 2.3-liter Premium AT,&nbsp;&nbsp;Mustang GT 5.0 Premium Fastback AT,&nbsp;Mustang GT 5.0 Premium Convertible MT, and the&nbsp;Mustang GT 5.0 Premium Convertible AT. All of these Mustang variants are rear-wheel-drive, and either uses a six-speed manual transmission, or a ten-speed automatic transmission. There are two avialable engine options for the Philippine-spec Mustang. The first is a 2.3-liter EcoBoost inline-4 gasoline engine capable of producing up to 310 horsepower and 475 Nm of torque. The second, more powerful engine is a 5.0-liter V8, which can churn out 460 horsepower and 569 Nm of torque.&nbsp;</p>

Joseph Paolo Estabillo
Author