Reckless driving in the Philippines endangers the driver, passengers, and the public, as well as damages properties.
Any road in the world always comes with dangers since it is filled with different types of vehicles such as private cars, buses, trucks, and motorcycles.
In other areas, you will also find tricycles and pedicabs. What makes it more dangerous is the fact that not every driver is careful enough and would follow traffic rules and regulations. There will always be a law violator or a driver who might not be in the right mindset while driving.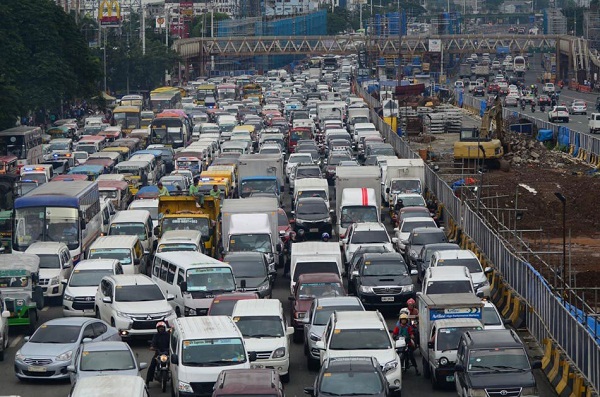 Jam-packed Road in the Philippines
The good thing though is that reckless driving in the Philippines is punishable by law, and like a responsible and conscientious driver, you should not drive recklessly. But what really is reckless driving? What are the consequences?
Today, this article from Philkotse.com will shed some light on this topic by summing up the law in the simplest way possible.
I. Republic Act 4136: Reckless Driving Law Philippines
Reckless driving is included in RA 4136 under Miscellaneous Traffic Rules. The law has a general but detailed definition of reckless driving, which covers specific types of violations. We will briefly discuss them in this section for you to have a clear understanding of the law.
1. Reckless Driving Meaning
As defined by the law, a driver is considered reckless when he or she drives a vehicle without any reasonable caution.
This includes not considering traffic situation, road width, crossing or pedestrian, curves, grades, visibility, and any other highway, weather, and atmospheric conditions. It also covers causing direct or possible harm to people and animals, as well as damages to properties.
To give a lighter note on this somewhat vague definition provided by Republic Act 4136, reckless driving is when you risk the safety of others and stability of properties due to lack or less attention to the road.
Meaning, you are violating traffic rules because you are not applying or you are only using the minimal skills expected from a licensed driver.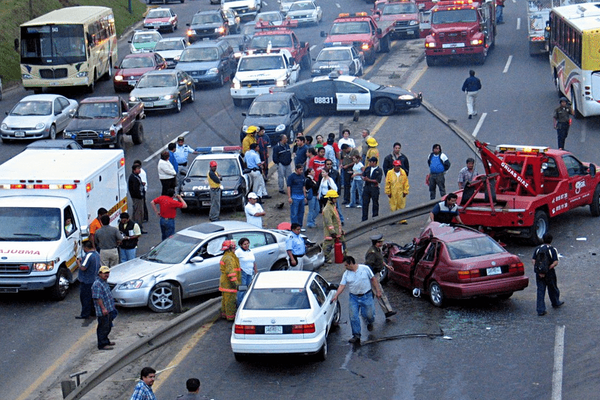 Reckless driving brings the high possibility of serious car accidents
2. Reckless Driving Violation Philippines
From the definition above, it is clear that you are considered a reckless driver whether or not you harmed someone and/or damaged something. With that being said, here are the various types of reckless driving:
Distracted Driving
If you have been reading about new bills and laws involving traffic, distracted driving is one of the most controversial issues in the country for the past months. That is due to the passing of the Anti-Distracted Driving Act wherein no private vehicle driver should have any items in their line of sight.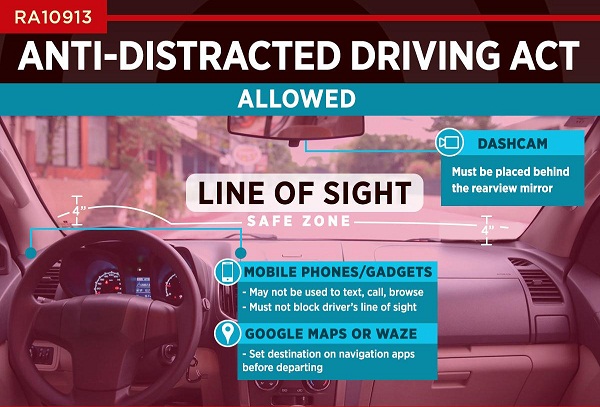 No items should be in the Driver's Line of Sight
Apart from the seemingly strict regulation, you are also considered distracted when you are doing the following while driving a private, commercial, or public utility vehicle:
Answering a call
Reading and sending a text message
Talking to another individual
Drinking or eating
Getting items on the dashboard or floor
Adjusting the car stereo
Using other gadgets
>>> For further reference: RA 10752: The Right of Way Act Philippines: Helpful guide for all Pinoy drivers
Over Speeding
Over speeding is by far the most common reckless driving examples in the Philippines; meaning, it is among the highest traffic violation for years.
As the text implies, it is a violation of exceeding the speed limit in a designated area. This is whether or not the speed limit is posted on the roadside. Remember, there is Speed Limit Law applied in the Philippines that you should be familiar with as a driver.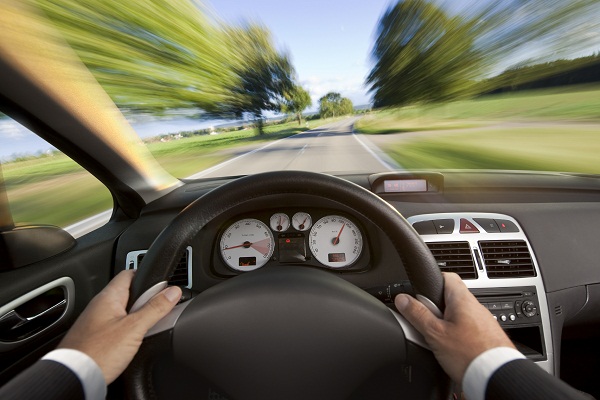 Always check your speed to keep your driving safe
You are also considered over speeding when you are also driving at a lesser speed than required. You can do so if there is a possibility of endangering the life or property of any person or establishment.
Likewise, a speed which would not allow you to have a full stop with the proper distance from another vehicle or property is considered over speeding.
Driving Under the Influence (DUI)
Driving under the influence of alcohol and/or drugs is also considered reckless driving. For the alcohol blood level though, there is still not a clear definition as to when it is considered acceptable and non-acceptable. In some LGUs, a 0.06% blood alcohol level within the hour of apprehension is considered high.
>>> Worth to note: Republic Act 10586 on Anti drunk driving Philippines: All you need to know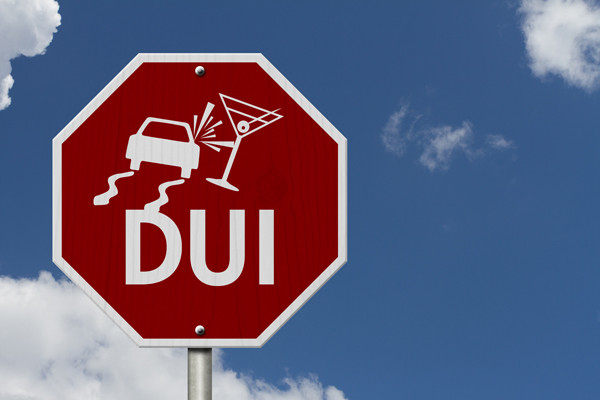 You will get a ticket up to P10,000 for driving under the influence
II. Reckless Driving Penalty LTO
Every traffic violation you commit, there is a corresponding penalty. When it comes to reckless driving, here are the sanctions to keep in mind:
1. Over Speeding
| | |
| --- | --- |
| First offense | P2,000 |
| Second offense | P3,000 |
| Third (and any subsequent) offenses | P10,000 |
2. Driving under the influence
First offense

- P5,000

- 2-month license suspension

Second offense

- P6,000

- 3-month license suspension

Third offense

- P7,000

- 6-month license suspension

Beyond third offense

- P10,000

- The license will be revoked
3. Penalties for the distracted driving
| | |
| --- | --- |
| First offense | P5,000 |
| Second offense | P10,000 |
| Third offense | P15,000 |
| Beyond third offense | P20,000 |
>>> Must read: Complete list of LTO fines and penalties in the Philippines
Bandila: Tatak Noypi: Reckless drivers
III. Reckless Driving Fine: Revised Penal Code
It should be noted, though, that reckless drivers who have harmed or injured individuals shall be covered by the Revised Penal Code.
Reckless imprudence resulting to damage to property penalty: 12 hours of holding period
Reckless imprudence resulting to physical injuries: 18 hours of holding period
Reckless imprudence resulting to homicide penalty: 36 hours of holding period
After the process of investigation done by the Police, the official fine and penalty will be pronounced under the provisions of Article 125 of the Revised Penal Code.
>>> Related post: Senator Pimentel proposes harsher punishments for reckless driving
IV. Focused driving: Not just to avoid fines
Reckless driving in the Philippines is not uncommon but can be avoided. You can do so by making sure that you are aware of the consequences.
No, we are not just talking about the penalty fees, driving license suspension or revocation, and jail time, but also the lives that might be lost or endangered due to recklessness.
We believe that such is the one thing to keep in mind to ensure that you stay focused while driving and avoid taking substances when you know you are driving after.
Have a safe driving experience!


Charisse Kim
Author