Simply type in your Toyota's VIN and you're good to go.
Recently, Toyota Motor Philippines (TMP) is recalling several vehicles such as the Fortuner, FJ Cruiser, Innova, Land Cruiser Prado, and more due to a faulty fuel pump. This is part of the global recall due to the faulty fuel pumps supplied by Denso. It affects other car brands too such as Honda, Mitsubishi, Mazda, among others.
Despite the hitches, TMP is committed to providing excellent customer services to prioritize the safety of its customers. As part of this commitment, the Japanese carmaker issues Service Campaigns whenever there are cases of manufactured vehicles having concerns with certain parts that may affect vehicle performance.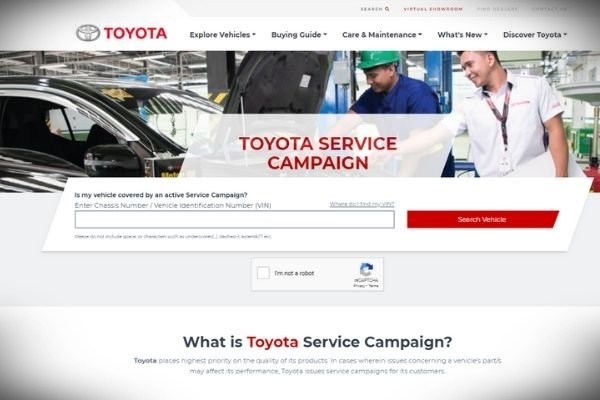 Find your Toyota's VIN to get started
Service Campaigns are Toyota-initiated programs which call for inspection and repairs of vehicles to prevent issues from occurring. The great thing about these programs is that is done at no cost to customers.
TMP stated that there are two types of service campaigns. The first one is the Special Service Campaign. This is launched to prevent safety-related problems and it has no warranty claim time-limited period.
The other type of service campaign launched by TMP is the Customer Satisfaction Campaign. This is launched to prevent other vehicle problems. However, it is offered for a specific period only.
Fortunately, the new 2021 Toyota Fortuner is not included in the recall
Customers can check whether their Toyota vehicles are covered by any Service Campaign via Service Campaign VIN (Vehicle Identification Number).
This can be utilized on TMP's official website which also includes more information regarding its campaign. As such, you can check if your Toyota is affected by the global recall due to the defective fuel pump supplied by Denso.
The VIN is a unique code that can be used for in-depth identification. Toyota customers can locate it on their LTO certificate of registration, Toyota warranty registration card, Toyota vehicle sales invoice, and Toyota vehicle delivery note.
If a customer's Toyota vehicle is affected, the type of Service Campaign is determined. Other remedies and suggestions will also be offered to solve the issue.
Here at Philkotse.com, we value your interest in the automotive industry. Visit our website to find out more.
Know more about Toyota Fortuner

The Toyota Fortuner is one of the best-selling midsize SUVs in the Philippines. This midsize SUV has been driven on the country's highways since the early 2000s. It became a household name because of its rugged platform, strong brand support, and tested durability. The second-generation Toyota Fortuner has topped the sales chart consistently, not only in the midsize SUV segment but also for the entire automotive industry in the country. And in 2020, Toyota Motor Philippines launched the new Fortuner facelifted which showcases a more aggressive SUV appeal. It still shares the same Innovative International Multi-purpose Vehicle (IMV) platform as the Hilux and Innova. The new model is offering a wide array of variants to market to various car consumers. These variants include the base G, V, Q, and top-of-the-line LTD variant which comes with a more distinct styling. The sky's the limit for Toyota's entry to the local midsize SUV segment as it remains to be a top choice among Filipino car buyers when considering a reliable, rugged, and family 7-seater vehicle. As for pricing, the G variant with a 4x2 drivetrain and manual transmission starts at Php 1,633,000 and goes up to the new LTD variant with a 4x4 drivetrain and automatic transmission (excluding the White Pearl body paint option).

Rex Sanchez
Author