The number of affected Toyota vehicles is now at 10,776 units.
Toyota Motor Philippines (TMP) finished 2020 as the country's best-selling car brand yet again. It had a 40.7 percent market share in the local automotive industry that allowed them to dominate the 10 best-selling cars in the Philippine market in 2020. However, TMP is facing some problems when it comes to the fuel pumps installed in some of its vehicles.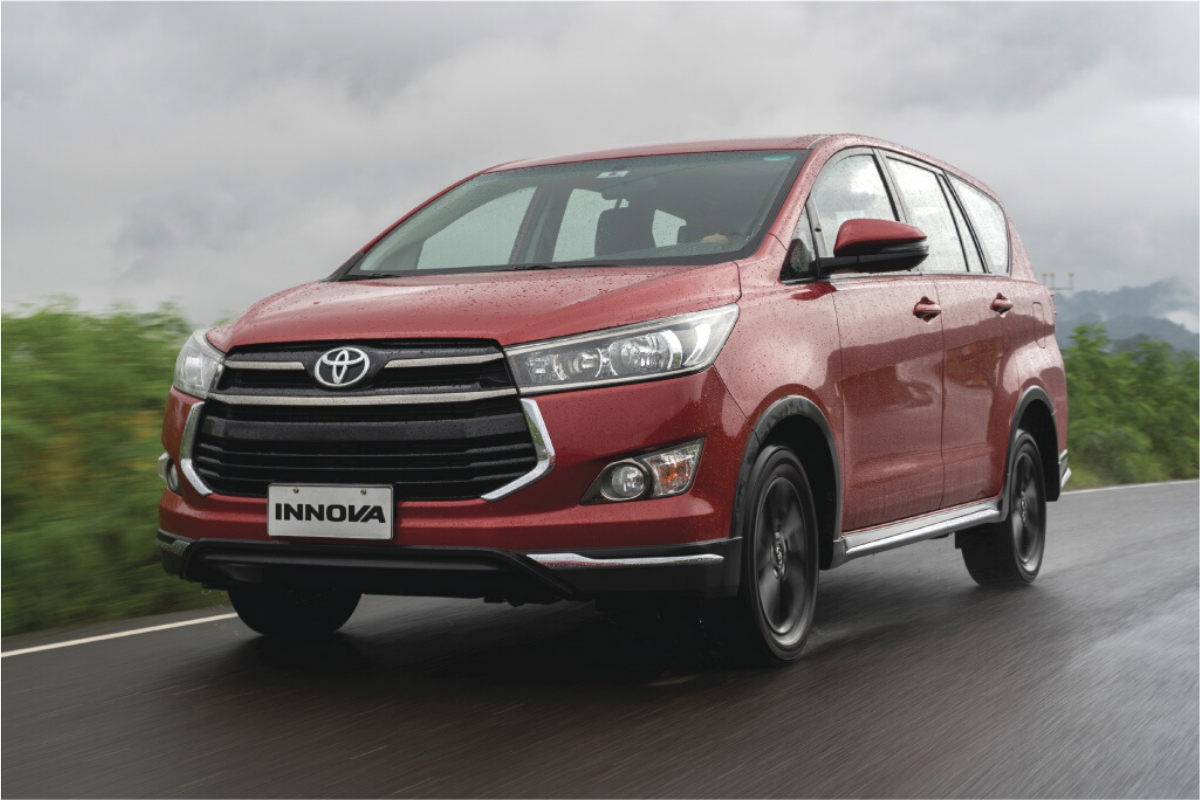 Toyota Innova
Last October 2020, we reported that TMP is recalling a total of six models that are affected by the global fuel pump recall. The affected vehicles include the Fortuner, Innova, Corolla Altis, FJ Cruise, Alphard, and Land Cruiser Prado. The initial report by TMP stated that the combined number of affected units is 7,990.
Now, a report published by Carguide.ph states that TMP is expanding its fuel pump recall by adding 2,786 units, which means that the number of affected vehicles is now at 10,776 units. The affected units are still the same models from TMP's initial announcement. Check the production dates of the affected Toyota vehicle below.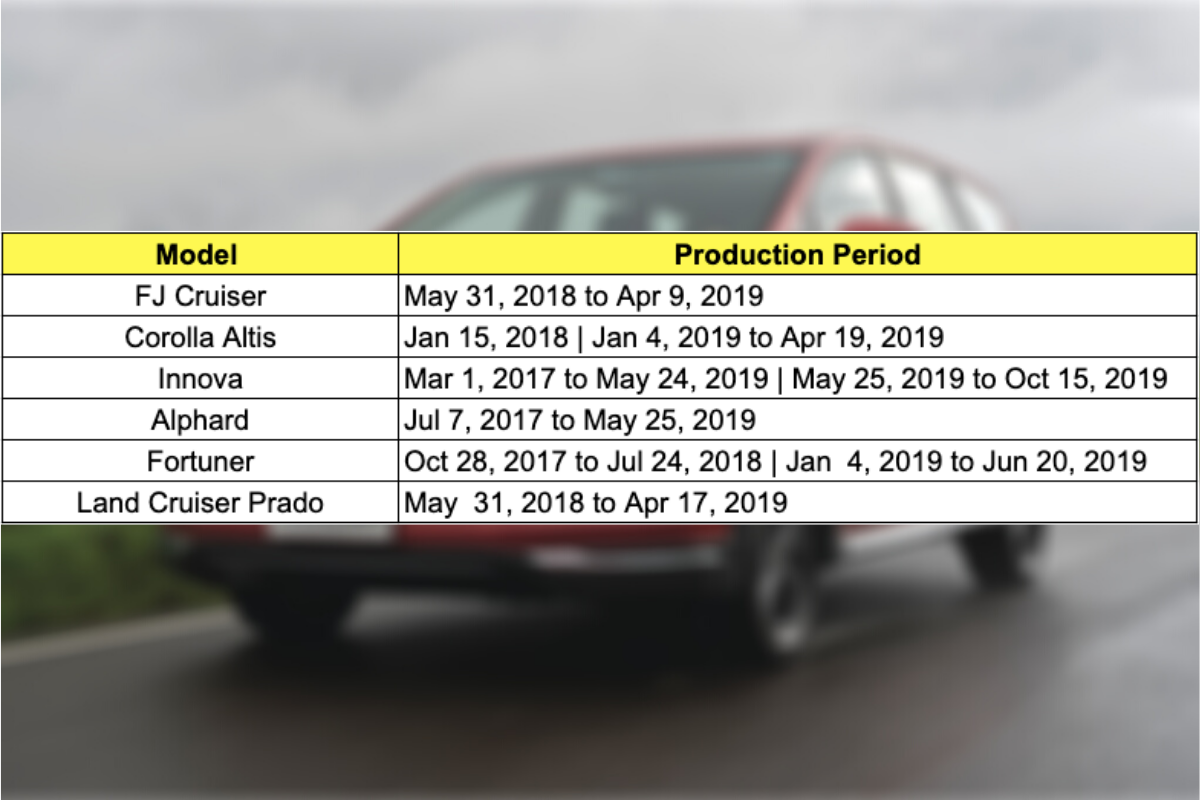 Toyota PH's expanded fuel pump recall
The cause of the recall is the defective fuel pump supplied by Denso. It has been determined that the faulty fuel pump's plastic impellers have a low molecular density causing the pump to fail prematurely. This leads to engine stalling, loss of power at low speeds, and failure to start.
In line with this, Mazda Philippines has also recalled some of its vehicles last October 2020 due to the same issue. Mazda PH recalled 1,838 units that were manufactured from 2017 to 2019. It includes vehicles such as the Mazda2, Mazda3, Mazda6, MX-5, CX-5, and CX-9.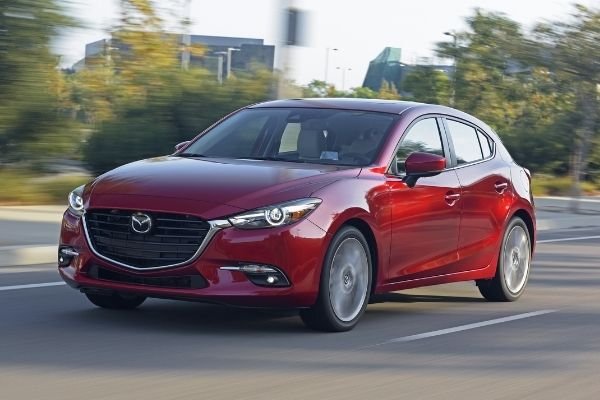 Included in the recall list are Mazda3 (BN) units made from 2017 to 2019
In the United States, the National Highway Traffic Safety Administration (NHTSA) reports that more than 2 million vehicles are affected by the faulty fuel pumps manufactured by Denso International America, Inc. According to the NHTSA, the impeller in some of Denso's low-pressure fuel pump "may crack and deform, potentially causing the fuel pump to fail."  
Denso, on the other hand, said that the defective fuel pumps were sold to a number of vehicle manufacturers such as Ford, Honda, Mazda, Subaru, Toyota, Mitsubishi, and Magnuson Products.
Visit Philkotse.com to get more of the latest automotive news.
Know more about Toyota Innova 2021

<p>The Toyota Innova is one of the best-sellers of Toyota Motor Philippines. It is a compact MPV that can accommodate seven occupants while other variants have a seating capacity of eight. The Toyota Innova became a logical choice in the MPV segment because of its seating capacity, diesel mill, and raised ride height. It is the main reason why the Toyota Innova is one of the annual top-sellers in the country. This is a testament to how appealing this compact MPV is to Filipino car buyers. The current generation Toyota Innova has a larger dimension than its predecessor. The overall exterior of the Toyota Innova is obviously an MPV, but the styling is inspired by the SUV and crossover models of the Japanese brand. Dominating the front end of the Innova is a large angular grille and large swept-back headlights. It gives the Toyota Innova a more aggressive appearance that reminds us of the U.S &ndash; market Highlander SUV. On the side, it features clean and notable shoulder lines. It has features similar to the RAV4, particularly the near-triangular D-pillars, angular horizontal taillights, and upswept rearmost side windows. The facelifted 2nd-gen Toyota Innova is offered with the 2.8L 1GD-FTV engine that produces 167 hp and 343 Nm of torque on manual transmission variants and an impressive 171 horsepower and 360 Newton-meter of torque on an automatic transmission. The Toyota Innova shares the same platform with the Fortuner and Hilux.</p>

Martin Aguilar
Author
Recent posts