The Toyota Prado 2020 has been refreshed in the Philippines. Has Father Time caught up with this solid offroader or is it ready to defy the sum of all its parts?
In this review...
Introduction

Exterior

Interior

Engine & Drive Experience

Safety Features

Specsheet

Price list

Conclusion
1. Toyota Prado 2020 Philippines Review: Introduction
The Land Cruiser Prado is an interesting proposition; it stands between the Fortuner and the standard Land Cruiser, two of Toyota's best-selling icons in the Philippines. Given its peculiar positioning, why does the model still exist? The fourth-generation Prado was first introduced in 2009 as an all-new model, carrying the code J150.
Although some may argue that it looks like a mere refresh of the previous generation, Toyota asserts that there were enough revisions to warrant a change in the model designation. Classified as a full-size SUV, the current model is positioned a notch higher than the Fortuner, while staying just below the Land Cruiser.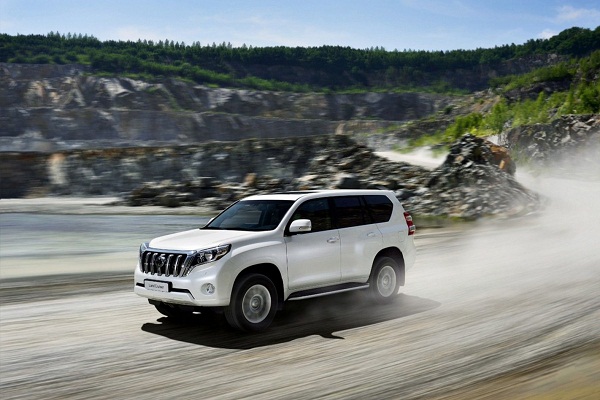 Some people might ask why anyone would bother with a decade-old model
As the Prado is currently on its fourth generation, does Toyota plan on keeping this full-size SUV in production? Read on our full-scale Toyota Prado 2020 Review, brought by Philkotse.com and find out why the Land Cruiser Prado is probably here to stay for a while longer.
2. Toyota Land Cruiser Prado 2020 Exterior
There's a reason why the Prado's design has endured for so long: why would you want to mess with a good one? Much like the OG Land Cruiser, the 2020 Toyota Land Cruiser Prado exterior features a strong, prominent 2-box design, enhanced by chunky wheel arches that house a set of sporty 18-inch alloys.
The 2018 facelift bestowed Toyota Prado with a huge chrome grille that sits right between updated headlights, sweeping out almost halfway towards the front wheel arches. The headlamps are complemented by LED Daytime Running Lamps underneath, adding to its already imposing presence.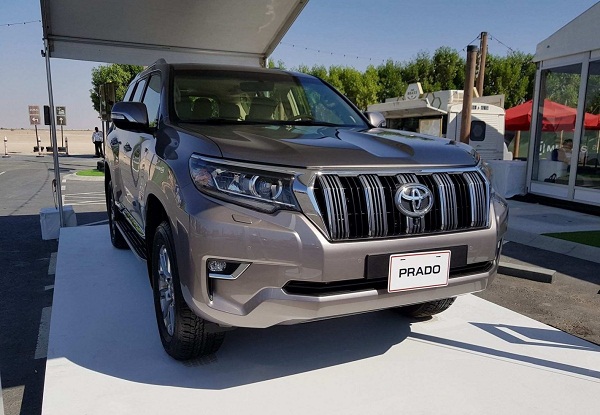 A design that puts function over form
The 2020 Prado has always been considered a Land Cruiser Mini; this adds a sense of sportiness to the otherwise tugboat disposition of the original. The difference becomes more pronounced on the body's lines, which are much sharper and pronounced compared to the Toyota Land Cruiser.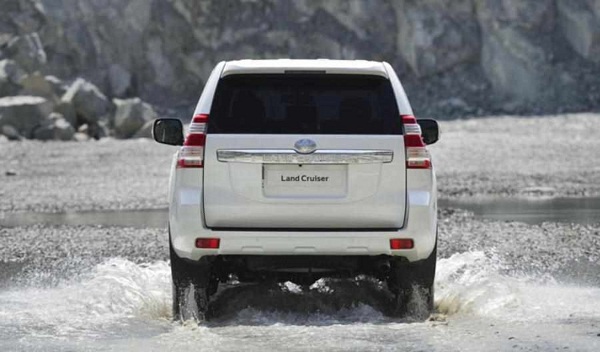 The off-road style for 2020 Toyota Prado
The abrupt chin mimics a skid plate, resulting in a 31-degree approach angle that enables the Prado to crawl over large rocks and boulders without damaging the underside. The accompanying 215-mm ground clearance lets it go off-roading with gusto. The Prado doesn't just look rugged; it IS rugged.
YOU MAY WANT TO READ
Model Price Philippines
₱ 1,179,000 - ₱ 1,373,000
Model Price Philippines
₱ 1,368,000 - ₱ 1,885,000
Model Price Philippines
₱ 998,000 - ₱ 1,332,000
3. Toyota Land Cruiser Prado 2020 Interior
To be quite frank, the Prado's fit and finish aren't that far off from the Fortuner's. Not that it's a bad thing for me, as the Fortuner offers great amenities, soft-touch materials, and luxurious leather seats. However, the advantage of the Fortuner lies in the lower sticker price, which does not really bode well for the Toyota Land Cruiser Prado.
For a car that was introduced in 2009, the interior has aged well, but therein lies the rub: it has aged, period. Smaller and more modern subcompact SUVs have caught up to it in the style department. Nevertheless, exterior visibility is top-notch, with the generous greenhouse and a redesigned sloping hood giving you a commanding view of your surroundings.
The 2020 Toyota Land Cruiser Prado interior features the soft-touch materials on the dashboard that mimic leather, while a 4.2-inch multi-infotainment system takes pride of place at the center, packing Bluetooth and navigation capabilities but missing out on Apple CarPlay and Android Auto.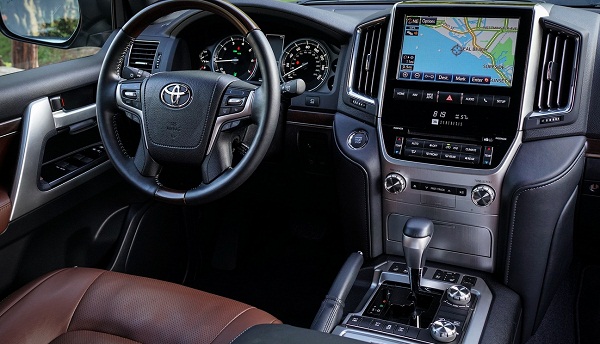 Although the Prado's interior is nothing to sneeze at, it's just that we've seen this before
Space is quite adequate, with three-row seating for up to seven occupants arranged in a 2-3-2 configuration. Thanks to the Prado's wider dimensions, three normal-sized adults can sit abreast in relative comfort, while the third row is best left to children or smaller adults, as is typical of SUVs in this class. All in all, I would say that the Toyota Prado interior layout is logically placed; it even adopts the Land Cruiser's steering wheel with the wood trim.
4. Toyota Prado 2020 Review: Engine & Drive Experience
The 2020 Land Cruiser Prado offers two engine options: a 4.0L gasoline V6 making 249 hp and 381 Nm of torque, and a 3.0L direct-injection diesel mill good for 160 horses and 410 Nm of torque. From a standstill, the diesel engine is capable of launching the Prado to 100 kph in roughly 12 seconds.
Don't mistake the Toyota Land Cruiser Prado 2020 for a speed demon though, as it is still most at home off-road; unless you plan on ripping some sand dunes at the Dakar Rallye, you can do much worse than the Prado. Ride quality is generally stable and compliant on the tarmac, with somebody roll evident around corners on account of the SUV's size.
But it's when you take it off the beaten path where things get interesting. Point it toward a sizable patch of dirt, and watch the Prado bare its teeth as it changes its driving dynamics altogether. Its suspension characteristics spring into action (pardon the pun), as the front MacPherson struts and rear independent multi-link setup absorbs the worst of the terrain.
All four wheels work in concert with the six-speed automatic gearbox, channeling power and grip for the Prado to surge forward. The dirt is where this gem of an SUV shines the brightest.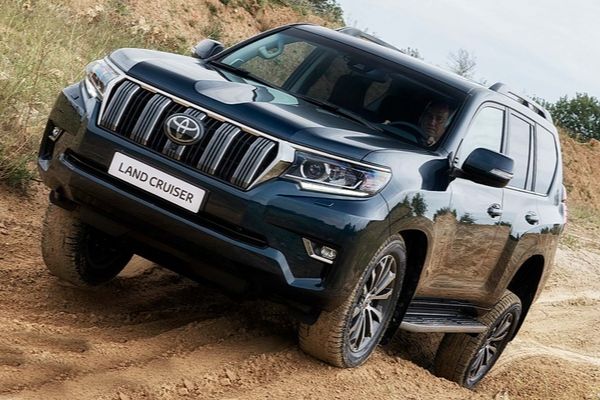 The Prado's on-road Dr. Jekyll transforms into Mr. Hyde off-road
>>> You might like to read our Toyota Land Cruiser 2020 preview to have a look at the Prado's brother.
5. Toyota Land Cruiser Prado 2020 Review Philippines: Safety
Drive assist features at this price point should be standard, and the 2020 Prado doesn't disappoint. It offers Toyota's Safety Sense technology, a suite of active and passive systems that assist and alert the driver of potential dangers on the road.
The package comes standard with pre-collision alert, rear cross-traffic alert, pedestrian and side alert functions, adaptive cruise control, lane keep assist, blind-spot monitoring and adaptive headlight systems. Seven airbags instantly deploy in case of impact, including driver, passenger, side and curtain units. Antilock brakes, stability and traction control round off its safety features.
New Toyota Land Cruiser Prado 2020 | Offroad Test Drive
>>> Widen your search in our Toyota for sale section for more affordable Toyota deals in the Philippines.
6. Toyota Land Cruiser Prado 2020 Specs
Overall

Name

2020 Toyota Land Cruiser Prado

Body Type

Full-Sized SUV

Transmission Type

AT/MT

AT

Dimensions

Length

4,840 mm

Width

1,885 mm

Height

1,890 mm

Wheelbase

2,790 mm

Ground Clearance

215 mm

Turning Circle

5.8 m

Number of Doors

5

Number of Seats

7

Engine & Performance

Engine Size

3.0 liters

4.0 liters

Displacement

2,982 cc

2,982 cc

Number of Cylinders

Inline-4

V6

Number of Valves

16 valves

24 valves

Transmission Category

5-Speed Automatic / 6-Speed Manual

6-Speed Automatic

Powertrain

Full time 4x4

Max Output

160 hp @ 3,400 rpm

241 hp @ 5,600 rpm

Max Torque

410 Nm @ 2,800 rpm

381 Nm @ 4,400 rpm

Fuel Type

Diesel

Gasoline

Fuel Capacity

87 L

Fuel Consumption

6-8 km/l city

11-12 km/l highway

Features & Technology

Rear Parking Sensors

8 Sensor System: 2 Front, 2 Rear, 4 Corners

Wheel Size

18 inches

Wheel Material

Alloy

Airconditioning System

Dual, Manual Controls with Rear Individual Register

Entertainment System

Center Meter Cluster, 4.2" Monitor, TFT Color Display

Rear Cabin Monitor display

6-Speaker Display Audio with Bluetooth Function

Integrated 2DIN Infotainment System

Navigation System

Power Steering

Yes

Power Windows

Yes

Safety Features

Driver's Airbag

Yes

Front Passenger's Airbag

Yes

Anti-Lock Braking System

Yes

Brake Assist

Yes

Security Alarm

Yes

Immobilizer

Yes
>>> Visit the nearest Toyota Philippines dealerships for further details regarding latest promos, financing options, etc
7. Toyota Land Cruiser Prado Philippines Price
Considering what it brings to the table, the 2020 Prado's price of admission is predictably quite steep. The V6 model starts at PhP3,273,000, while the oil burner can set you back PhP3,911,000. One might argue that there are better SUVs out there for less money, but nevertheless, the Land Cruiser Prado holds it value pretty well.
As shown on Philkotse.com's listings for the Land Cruiser Prado, even units that are a few years old still command a good sum of money.
| | |
| --- | --- |
| Variant | Price |
| Toyota Land Cruiser Prado 3.0L Diesel MT price | ₱3,911,000 |
| Toyota Land Cruiser Prado 3.0L Diesel MT White Pearl price | ₱3,926,000 |
| Toyota Land Cruiser Prado 3.0L Diesel AT price | ₱4,011,000 |
| Toyota Land Cruiser Prado 3.0L Diesel AT White Pearl price | ₱4,026,000 |
| Toyota Land Cruiser Prado 4.0L Gas AT price | ₱3,273,000 |
| Toyota Land Cruiser Prado 4.0L Gas AT White Pearl price | ₱3,288,000 |
>>> Check out full Toyota Land Cruiser Prado Philippines cars for sale with the estimated monthly payment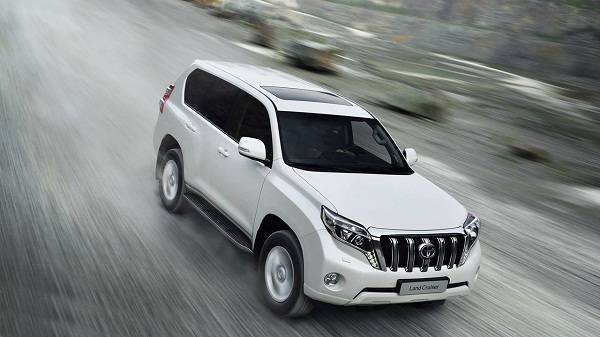 The 2020 Land Cruiser Prado's safety features make it a fun yet safe ride
8. Toyota Prado 2020 Philippines Review: Conclusion
On the one hand, the 2020 Land Cruiser Prado is a solid machine; on the other, it is admittedly growing a tad long in the tooth. Nevertheless, it is the perfect example of the sum of its individual parts not being equal to its identity as a whole.
Looking back at its history, the Land Cruiser Prado was never meant to be a logical or practical choice; its essence lies in being an emotional one. If you love it for its looks, driving dynamics, and off-roading capabilities, then that's all that matters.
Looking for the best deals on the Land Cruiser Prado 2020 or other affordable models from popular brands? Check out our cars for sale section for variety of options from our verified dealers!


Roy Robles
Author