It has updated features, more power, and better styling.
In this review...
1. 2021 Mazda BT-50: What we know, and what to expect

2. 2021 Mazda BT-50: Exterior Review

3. 2021 Mazda BT-50: Interior Review

4. 2021 Mazda BT-50: Technology Review

5. 2021 Mazda BT-50: Safety Review

6. 2021 Mazda BT-50: Engine and Performance

7. 2021 Mazda BT-50 Review: Conclusion
1. 2021 Mazda BT-50: What we know, and what to expect
In June 2020, Mazda unveiled the new BT-50 pickup truck. It is vastly different from its predecessors because it's no longer based on the Ford Ranger T60.
Instead, it is underpinned by the equally third-gen Isuzu D-Max. It is also the first time that the BT-50 nameplate features Mazda's Kodo design language.
So what's new on the BT-50? What can we expect from this restyled Mazda pickup truck?
2021 Mazda BT-50: The more stylish Isuzu D-Max – First Look
2. 2021 Mazda BT-50: Exterior Review
As we've said, the new BT-50 features Mazda's Kodo design. That means that it comes with the familiar and wide Mazda grille, a very reflective paint job, coupled with a tasteful amount of chrome.
Unlike other Mazda models with the Kodo design, the BT-50 will feature more in the way of sharp body lines. This is especially apparent in its muscular-looking hood.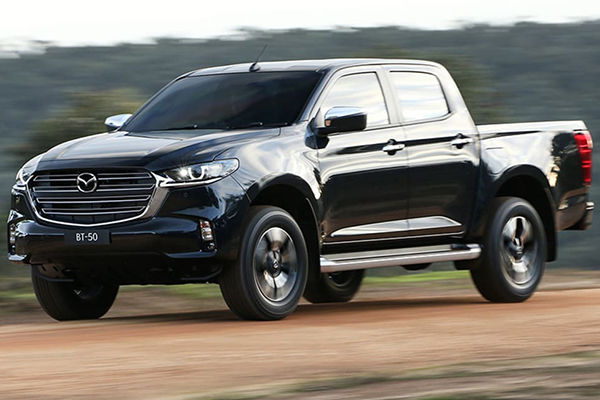 It's a handsome but aggressive-looking truck
Apart from the revamped look, the 2021 Mazda BT-50 will be getting new exterior equipment as well. The most notable is the automatic LED headlamps, which are standard. The wheels that it'll be riding on has also grown in size at 18-inches, although a smaller 16-inch set is available.
Like the old model, we're also hoping that the new BT-50 will come with rain-sensing wipers, power-adjustable and foldable side mirrors.
From the rear, you'll see more hints of the D-Max it is based on
3. 2021 Mazda BT-50: Interior Review
Inside, the new BT-50 is able to accommodate five occupants. As for the looks of it though, it's a bit similar to the new D-Max it is based on, particularly with regards to the shape of the dash. Mazda however gave the new BT-50's a different steering wheel.
The Mazda truck also has some stitching on the corners of the dash, and some padding on the center console for the legs of the driver. Overall, it's obvious that Mazda made the effort to give the BT-50's interior a more premium feel. The soft-touch surfaces are more extravagant, and on top of that, there's certainly more chrome pieces.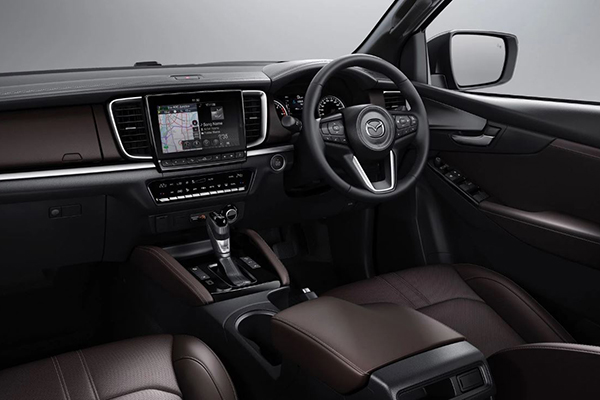 It's definitely up to par with the other Mazda models.
Like the new Isuzu D-Max, the 2021 BT-50's interior features a dual-zone automatic climate control system with rear vents, leather seats, a 4.2-inch digital gauge cluster, and a tilt and telescopic steering column. For the higher variants, the BT-50 is also getting an eight-way power-adjustable driver seat.
4. 2021 Mazda BT-50: Technology Review
The new BT-50 features more tech than its predecessor. For the first time ever, adaptive cruise control will be available to the model. Moreover, it's also getting a decent amount of driver-assist features.
These include lane-keep assist, rear cross-traffic alert, a blind-zone warning system, and even autonomous braking. These aren't standard across all variants though, and it's highly probable that only the top-spec variant will come with these features.
The new touchscreen is very capable
We can also expect the Mazda BT-50 to come with a reversing camera, rear parking sensors, traffic sign recognition, and a trailer sway control system.
For entertainment, the new BT-50 is getting two different touchscreen displays depending on the variant. The lower-spec to middle-spec variants will have access to a smaller seven-inch unit. The top-spec variants, on the other hand, will be equipped with a larger nine-inch unit.
While differing in size, both touchscreens will come with Apple CarPlay, Android Auto, digital radio, iPod compatible USB-audio input ports, and a radio data system. The top-spec BT-50's however, will be linked up to eight-speakers, and it will also come with satellite navigation.
5. 2021 Mazda BT-50: Safety Review
Like most new models, the BT-50 is rich with safety features. All variants, at least in the Australian market, are equipped with an alarm and engine immobilizer, anti-lock braking with electronic brake-force distribution, hill descent and hill launch assist, ISOFIX, brake assist, stability control, and traction control.
On the passive side of things, the new Mazda branded pickup truck is given a total of eight airbags. That includes dual front airbags, a pair of side airbags, two curtain airbags for the front and rear, as well as a driver's knee airbag.
And lastly, there's the farside driver's airbag, which functions to prevent the driver from slamming into the front passenger in the event of a crash.
>>> Related: 2021 Mazda BT-50 Old vs New: Spot the differences
6. 2021 Mazda BT-50: Engine and Performance
Like the Isuzu it was based on, the new BT-50 also gets a considerable power bump. The new 3.0-liter 4JJ3-TCX inline-four turbo diesel engine can make up to 187 horsepower and 450 Nm of torque. The BT-50 will either come with a six-speed manual transmission or a six-speed automatic transmission.
Like most pickup truck models available today, 4x2 or 4x4 variants are also available. Both variants can carry over a ton of payload capacity and a braked towing capacity of up to 3,500 kg.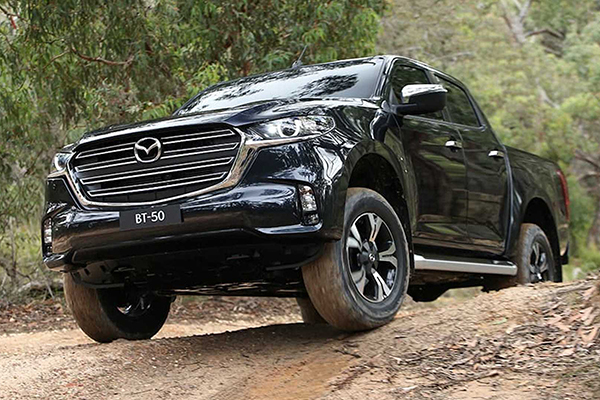 The 4x4 variant comes with a locking differential
The new BT-50 utilizes a rigid rear axle with heavy-duty leaf springs for its rear suspension and a double-wishbone suspension for the front. Strangely enough, the new BT-50 is getting a drum brake for its rear end.
Its front brakes are ventilated discs though, so that might be enough for most drivers. Note however that many of its competitors are already equipped with disc brakes all around.
2021 Mazda BT-50 Mechanical Specs

Engine

3.0 litre in-line 4 cylinder 16 valve DOHC intercooled turbo diesel

Transmission

Six-speed manual or six-speed automatic

Drivetrain

4x2 or 4x4

Horsepower

187

Torque

450

Front Suspension

Independent double-wishbone with coil springs and anti-roll bar

Rear Suspension

Rigid (live) rear axle with leaf springs

Brake Type

Ventilated disc (front) and drum brakes (rear)

Wheel size

17-inch to 18-inch

Payload

1,055 kg to 1,220 kg

Braked Towing Capacity

3,500 kg

Unbraked Towing Capacity

750 kg
7. 2021 Mazda BT-50 Review: Conclusion
If you're the keen type, you've probably noticed that the BT-50 specs we've mentioned above are for the Australian market. The Aussies after all will be the first to get this new pick-up truck sometime in October or November 2020.
Even Thailand, the actual country manufacturing the BT-50, will be getting it later in 2021. For the Philippines, we don't have an actual date yet. But we're guessing that the new D-Max might actually get here first before the new Mazda pickup truck model.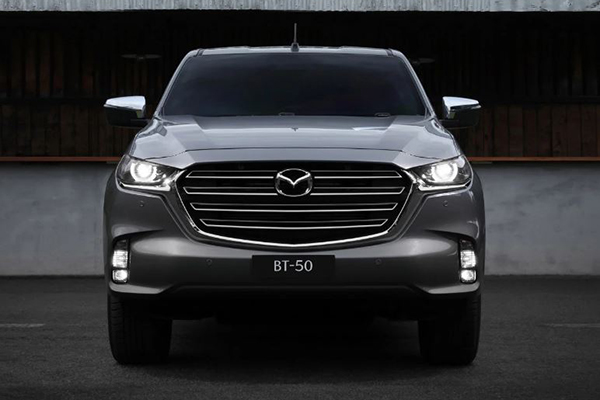 Are excited about the new BT-50?
As for the new BT-50 itself, it's likely that it will be positioned as a more premium option to the new D-Max. That being said, its variants might come with a premium.
What we're uncertain of though, is whether the Philippine-spec 2021 BT-50 will have the same amount of features as the Australian-spec variants. We're hoping that it will.
For the latest automotive industry news and car reviews, keep reading here on Philkotse.com.


Cesar G.B. Miguel
Author