With the 3rd-generation Isuzu D-Max 2020 already launched in Thailand, it's only a matter of time before it gets here. So here are our first impressions of this update.
Our first impressions on the 2020 Isuzu D-Max
Currently, here in the Philippines, Isuzu is still selling the 2nd-generation D-Max. And guess what, loads of people are still buying the model despite the fact that it's been around since 2012.
2020 Isuzu D-MAX - Perfect Truck!
And for good reason; it's a robust pick-up truck with a perfect balance of power, utility, and comfort. And overall, it's a good deal because of our excise taxes since pick-up trucks are exempt from it.
A couple of months ago, however, Isuzu revealed the all-new 3rd-generation RG01 Isuzu D-Max. It's already available in Thailand where it's being manufactured.
As such, we deem that it's time to share with you our first impressions before its inevitable launch here in the country.
>>> Check out: Isuzu D-Max 2020 Philippines Review
Isuzu D-Max 2020: Exterior
On the outside, the 3rd-generation D-Max is a far cry from the previous generation model. It's more modern looking, whilst still keeping tough and rugged design cues.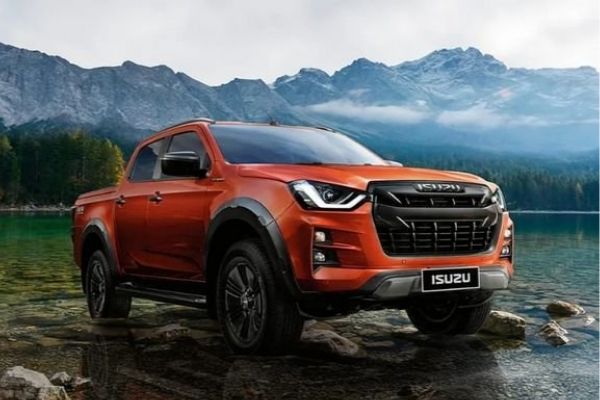 It's very mean looking that's for sure
Upfront, the Isuzu D-Max 2020 is fitted with a pair of bi-LED projector headlights whilst the rear are LEDs. Back to the front, the grille is somewhat similar as it still has those "fanged", chrome-clad twin slats stretching across the grille.
The front fascia, however, has sharper angles and the character lines found on the sides of the hood are more prominent.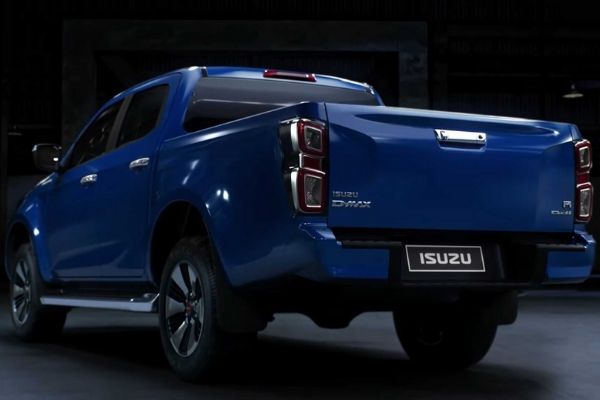 Note the integrated rear bumper found on the top of the line models
In terms of size, the new D-Max is obviously much larger than the previous version. This further emphasizes the redesigned overall look and it provides the D-Max more road presence partly due to the size and partly due to its very aggressive, Audi-esque front end.
And lastly, Isuzu improved the D-Max's shape, making it more aerodynamic which is always a plus for traveling on the road.
>>> Suggested for you: [Pickup shootout] Isuzu D Max vs Hilux: Spec comparison of the big & tough!
Isuzu D-Max 2020: Interior and safety features
Inside, the RG01 D-Max is miles apart from the current version in terms of appearance.
On top of that, it now comes with a lot of useful features like a larger 9-inch touchscreen that's capable of meeting your basic needs like smartphone connectivity and navigation. There's even a voice recognition function.
What's definitely changes apart from becoming modern and high-tech however is the new D-Max's interior space. While the new one is a bit shorter, it's definitely wider so we get more elbow room. Legroom is also larger due to its longer wheelbase.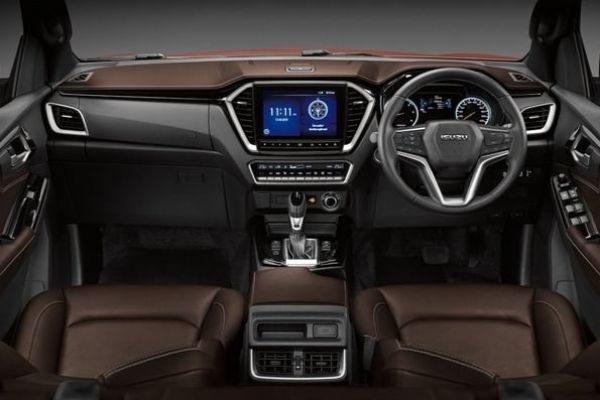 This two-toned interior found on the top of the line variants is definitely, very premium looking
>>> Update now: Latest Isuzu D-Max Philippines price
Unlike most pick-up truck models who seemingly forget about passenger comfort, the D-Max comes with an AC vent for the rear and even a USB charging port.
The amount of safety features aboard the new D-Max is also impressive. It now comes with active safety systems like cross-traffic alert and a blind-spot monitoring system on top of the already competent suite of passive safety features.
>>> Read more: Isuzu D-Max 2020 unveiled. Is the 2020 Isuzu Mu-X up next?
Isuzu D-Max 2020: Performance
Under its hood, the new D-Max is powered by an improved 3.0-liter turbodiesel which can make a maximum of 188 horsepower and 450 Nm of torque.
The said engine is also mounted further into the vehicle providing more balanced. Couple to that is the fact that Isuzu has vastly improved the RG01's steering sensitivity thus providing it with more agility.
Isuzu D-Max 2020: We're very excited
Despite 2020 MIAS's postponement (we were hoping to see this new model there), there's still a lot of hype among Isuzu fans when the 3rd-generation, 2020 D-Max is concerned.
Isuzu fans are particularly loyal fans of their brand after all and a new and improved version of the well-loved D-Max marque will only drive to catch their (and our) attention.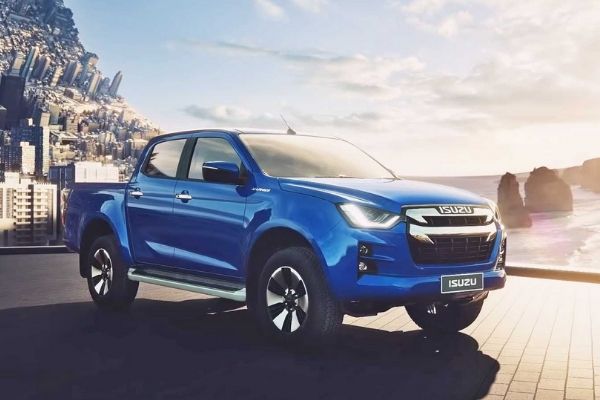 Who wouldn't be excited? 
For more first impressions on the latest car models, keep reading here on Philkotse.com.
Know more about Isuzu D-Max

Isuzu Philippines offers the Isuzu D-Max as its entry in the midsize pickup truck segment. This tough workhorse from the Japanese carmaker is designed to take on any road. Isuzu D-Max got the reliability of its predecessors and the Fuego. However, the current pickup truck is equipped with more modern features that perfectly fit the Filipino lifestyle. Additionally, Isuzu D-max also has a remarkable rear bed size that can carry a multitude of heavy and large items. The Isuzu pickup truck can also be optioned with a set of accessories such as camper shells, bed covers, and many more. Isuzu D-Max also comes in a commercial vehicle layout. It can also be configured as the cab and chassis variant. This configuration can be had with an enclosed van type rear end, passenger layout, bed, or other job-specific configuration. Isuzu Philippines offers the third-generation D-Max with a couple of engine and transmission options. The first option is a 1.9L turbo diesel that produces 148 horsepower and 350 Nm of torque. For car buyers who are looking for more power, they can opt for the bigger mill, which is the 3.0L engine that pumps out 187 horsepower and 450 Nm of torque. These two engines are equipped with the brand's BluePower technology for Euro 4 compliance and better fuel efficiency. Both engines can be paired with either six-speed automatic or six-speed manual transmission.

Cesar G.B. Miguel
Author