With the government declaring a public health emergency, the country's biggest automotive exhibition takes a backseat.
The current COVID-19 outbreak has affected the automotive industry on a number of fronts, from supply chain disruptions to lower vehicle sales, and even rescheduled race events.
VLOG #1 || PHILKOTSE.COM AT MIAS 2019 || STUNT DRIVING INSANITY!
Unfortunately, even this year's edition of the Manila International Auto Show (MIAS) has not been spared. 
On its Instagram account yesterday, MIAS organizer WorldBex Services International (WSI) released a statement postponing the event which was originally scheduled for April 2 to 5.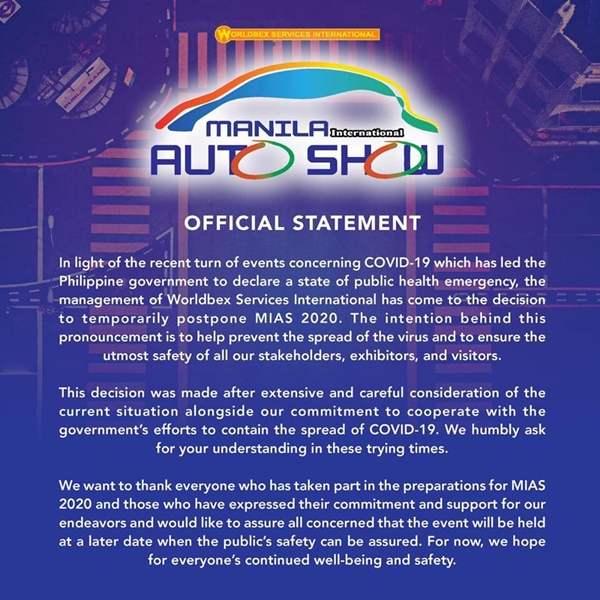 WSI's official announcement postponing MIAS 2020
>>> Related: A collection of latest COVID-19 news and updates
The announcement comes in the wake of official reports that confirm 24 COVID-19 cases in the Philippines (Editor's note: That number has since risen to 35).
While this is the first time that the MIAS has been postponed in its 16-year history, it's certainly not the first car show event to fall victim to the coronavirus. This year's edition of the Geneva International Motor Show in Switzerland was canceled several weeks ago, in line with the Swiss government's ban on public gatherings of 1,000 people or more. Even the Bangkok International Motor Show scheduled for March 25 this year has been moved to April 20. 
Aside from MIAS, WSI also has a construction expo scheduled this year, which will likely be moved to 2021.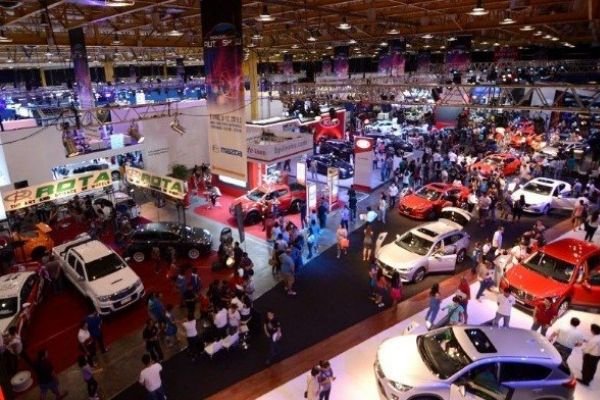 The eager crowds at MIAS will have to wait
>>> Latest update from the epidemic:
Pinoy car fans who have been looking forward to attending MIAS 2020 are bound to be disappointed, but it's a small price to pay compared to putting the general public at risk.
For now, the focus should be towards keeping ourselves (and our loved ones) safe. Philkotse.com will keep you updated on MIAS 2020 and other developments in the auto industry, so watch this space for further announcements. 


Joseph Paolo Estabillo
Author