The Isuzu D-Max Boondock 2019 which has just been launched is a rougher, more rugged version of the D-Max pickup truck.
Everyone loves special editions, especially us Filipinos. And when it comes to trucks that also holds true. When Isuzu announced that the D-Max Boondock, will make a comeback many were of course excited.
On May 25, 2019, at Isuzu Sta. Rosa, Isuzu Philippines Corporation has officially started its "Open House Campaign" and the highlight of which is the launch of the much awaited Isuzu D-Max Boondock 2019.
1. Isuzu D-MAX Boondock Exterior: Tougher both in looks and function
Now the D-Max in of itself is already a rugged, durable truck that can take on harsh terrain with only a few minor modifications. The all-new special edition Boondock D-Max, however, takes it up a notch with a couple of things Isuzu has added to it.
Aesthetically, the front, aside from the cool looking blue accents, is still adorned with a tasteful amount of chrome which is much subtler than what the X-Series' front fascia has.
To the sides, the Boondock comes with very chunky and assuredly durable steel step boards with a honey comb design and with the Boondock logo very visible on the middle of its length.
These can be useful for the added benefit of easier access as the Boondock D-Max rides a little bit higher than the regular regular Isuzu D-Max. The D-Max Boondock is about 1,900 mm in height which is significantly more than the D-MAX LS and its ground clearance comes to about 247 mm, also a lot more than the regular truck.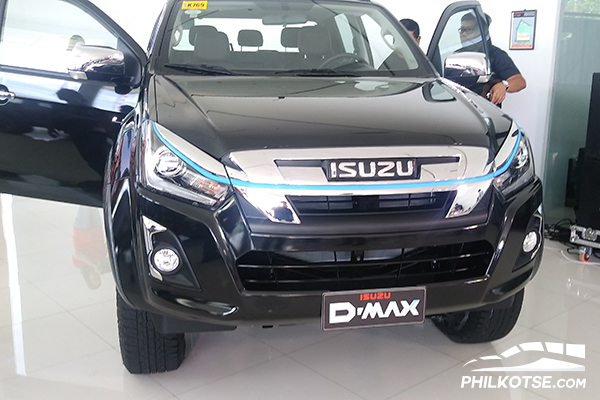 The Boondock special edition D-Max's front does not deviate much from the original design
As for its suspension, the Boondock D-Max is equipped with an independent double wishbone with a coil spring and most notably, the mono-tube, nitrogen charged performance shock absorbers which look like they could take on almost anything the driver will put the D-Max Boondock 2019 through.
This fact is also supported by the all-terrain Yokohama Geolandar G015 tires that not only complement the over-all look of the Boondock, but the tires themselves are an excellent choice for the utility and versatility they provide.
>>> Check out Isuzu D-Max for sale at cheaper prices on Philkotse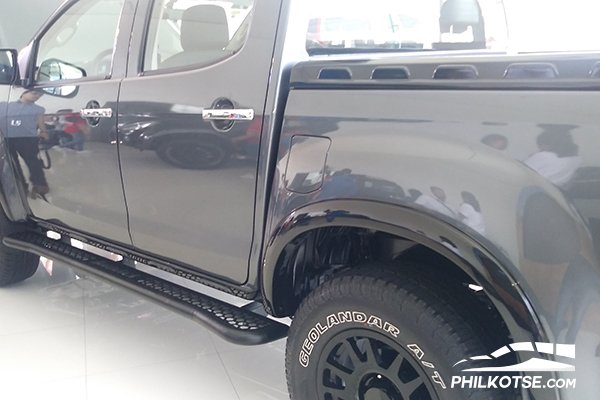 Check out those beefy step boards and equally beefy tires
Aside from these, the Boondock also comes with a black roof rail which looks to be very durable, a larger skid plate, a rocker panel, cargo bed extender which will definitely help in hauling large stuff.
For color options, the D-Max Boondock may come in Galena Gray and Cosmic Black, both equally stealthy, subtle colors.
2. Isuzu D-MAX Boondock Interior: Why not be comfortable while looking tough?
The interior of the D-Max Boondock is every bit as comfortable as the D-Max LS.  It comes with a very excellently visible multi-information display which is not only useful but also cool to look at.
According to the latest car news, creature comforts for the D-Max include an 8-inch touchscreen monitor, a CD-DVD player, AM/FM radio, Bluetooth connectivity and USB and AUX ports.
The bucket seats and the ones in the passenger cabin are covered with perforated leather which is thankfully dark in color to help avoid stains. These also look like they can take a beating.
All in all, head room and leg-room for the five passengers are sufficient.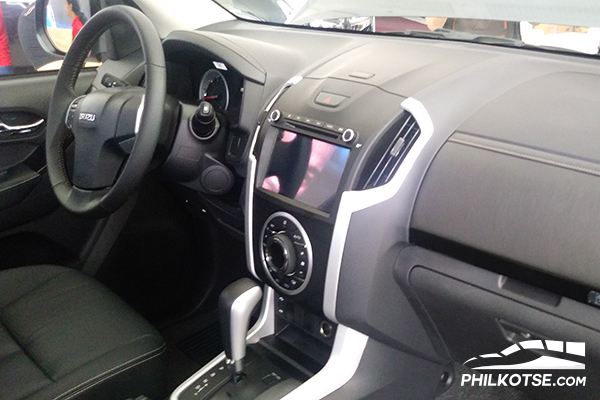 The Interior has all the amenities you need for a comfortable ride
3. Isuzu D-MAX Boondock Safety: No Compromises
The D-Max Boondock comes with a host of safety features and driver assist technologies. Such safety equipment is the dual S.R.S airbags, electronic brake force distribution, traction control, hill descent control, brake override system, electronic stability control, and of course reverse sensing system with a camera.
>>> Check our Isuzu D-Max car review section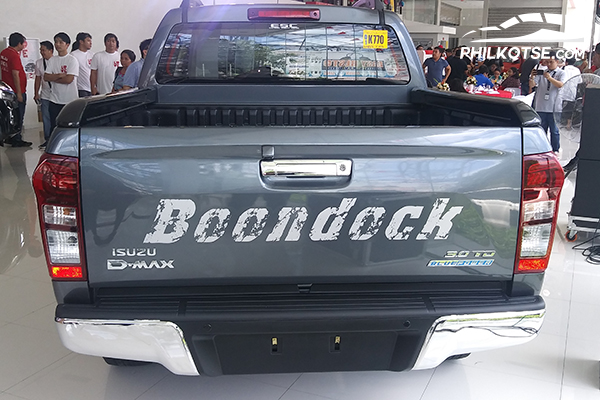 The D-Max Boondock's rear highlighting its special edition decals
4. D-MAX Boondock 2019: Performance
The engine of the D-Max is still a 4 cylinder Blue Power diesel with an intercooler which you can find on the regular D-Max variants. The engine in question can make up to 177 horsepower at 3,600 RPM and an impressive 380 Nm of torque.
5. D-Max Boondock price: Get it while it's hot!
According to insider information, the Boondock will have a limited number of units available as such, if you're quite big on Isuzu trucks, it would be prudent to get a Boondock now.
With these 4x4 Boondock units though, our source said that if they do really well on the market, Isuzu might contemplate on producing a 4x4 variant. More Details on that, however, were not given to those who would prefer a 4x4 version might just have to wait a little longer for more news. Besides the Isuzu D-max Boondock, you can also take a look at the Isuzu Sportivo X 2016 for sale at affordable prices. The car is the go-to car of many Filipino drivers. 
For more automotive news, reviews, and updated pricelists for the latest car models, please keep reading here at Philkotse.com.
Know more about Isuzu D-Max 2021

Isuzu Philippines offers the Isuzu D-Max as its entry in the midsize pickup truck segment. This tough workhorse from the Japanese carmaker is designed to take on any road. Isuzu D-Max got the reliability of its predecessors and the Fuego. However, the current pickup truck is equipped with more modern features that perfectly fit the Filipino lifestyle. Additionally, Isuzu D-max also has a remarkable rear bed size that can carry a multitude of heavy and large items. The Isuzu pickup truck can also be optioned with a set of accessories such as camper shells, bed covers, and many more. Isuzu D-Max also comes in a commercial vehicle layout. It can also be configured as the cab and chassis variant. This configuration can be had with an enclosed van type rear end, passenger layout, bed, or other job-specific configuration. Isuzu Philippines offers the third-generation D-Max with a couple of engine and transmission options. The first option is a 1.9L turbo diesel that produces 148 horsepower and 350 Nm of torque. For car buyers who are looking for more power, they can opt for the bigger mill, which is the 3.0L engine that pumps out 187 horsepower and 450 Nm of torque. These two engines are equipped with the brand's BluePower technology for Euro 4 compliance and better fuel efficiency. Both engines can be paired with either six-speed automatic or six-speed manual transmission.

Cesar G.B. Miguel
Author