In order to serve the public better, the old workhorse of public transportation will soon be replaced with modernized Jeepney thanks to Isuzu Philippines.
Passenger jeeps have been a constant sight, where there is a road with the exception of provinces in parts that use alternative public utility vehicles (PUV). Once the solution to the problem has grown into a nuisance that causes misery for private car owners and other vehicles every day on the road.
Soon the passenger jeepney will be a piece in history when the Public Utility Vehicle Modernization Program (PUVMP) program is in full swing. One part of this plan is that Isuzu Philippines is offering modernized replacements for jeepneys to get everything started so that everyone involved will start their part.
Officially,  the PUVMP has initiated a small step in modernizing public transportation with the introduction of 15 units.
Too small! Jeepney really needs an upgrade
Together with Isuzu Philippines (IPC), the Senate and the Senate Employees Transport Service Cooperative (Setsco) transport coop is the spearhead of this ambitious program. Getting newer units that are far more advanced with customization that's a far cry from any dilapidated jeep or worse!
Underscored by IPC CEO Hajime "Koso" stated that it signifies a step in the right direction for the government to move forward in leaps and bounds. One of the participants is Almazora Motors Corporation that is Filipino-owned, by Collaborating with Isuzu, so the best and safest modernized public jeepneys are built on our shores.
>>> Read more: The Future of Jeepneys in the Philippines: Why it needs an upgrade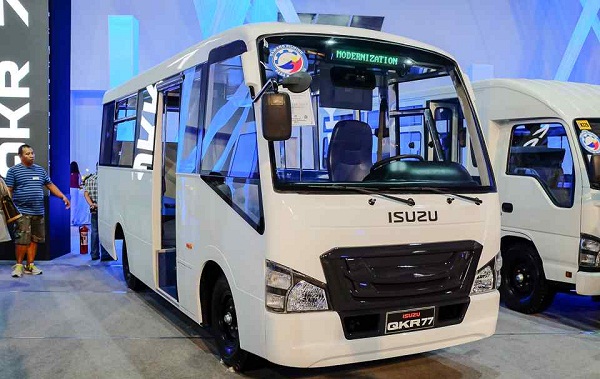 A new page of Jeepney in the Philippines 
Compared to the jeep which is one of the oldest transports in the Philippines. It comes with comfort, safety, and what customization is needed for specific areas that they will run in. Wasn't it mentioned that it used world-class quality to describe the excellent performance of their products?
There are too many obsolete jeeps that number about 250,000 units that are uncomfortable, unsafe, not convenient, and the main cause of air pollution in the metro. As the main thrust of the PUVMP, DOTr is directed at replacing this herd of old jeeps with modern ones in the soonest time.
>>> Also check out: Isuzu Philippines introduces 3 future PUV concepts
Koso emphasized that modernizing will not be complete without brand new, very convenient, comfortable accommodations for passengers, safe and efficient, along with environment-friendly public-utility vehicles to serve the public better.
This is very different from the everyday tribulation of public transport passenger who rides medieval "jeeps" every day.
One of the motives why Setsco chooses Isuzu over the other bidders is based on these reasons. IPC provided these qualities that made it the provider of modernized jeeps: 
Vehicle durability
Available parts
Fuel efficiency.
Inputs from members of Setsco
All the units delivered to Setsco are modernized in and out with the finest joint partnership of Almazora Motors Corporation and Isuzu motors to produce them. Isuzu provided the chassis to build the customized modern jeepney because it did not come as a fully built unit.
All the hardware and components were built on the Isuzu truck chassis QKR77 platform. Visualizing the final design of the unified body is a product of AMC motors team utilizing the specs from the recommendations of the PUVMP program.
There is an emphasis on creating a home-grown version that is easy to customize and built for a cheaper price, especially in bulk sales.
1. Upgraded Jeepneys: Interior Requirements
Here are the particular requirements for the interior that have been specified are the following.
Passenger capacity of 22 passengers
Carrying more passengers means fewer units needed on the road. No squeezing in like jeepneys, all passengers get seats or even the pet ride with you on PUVs.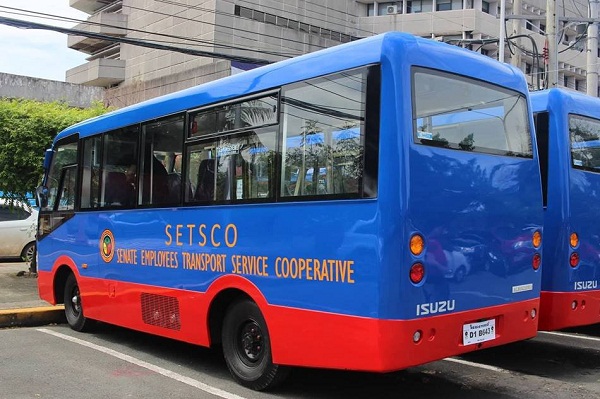 All passengers will get a seat in the modern Jeep
Class 2 air-conditioned model
Instead of riding airconditioned buses this can be an option with AC that is in the back too.
Side seating configuration
This optimizes getting on or off the unit faster, rather than the usual.
2. Upgraded Jeepneys: Engine Requirements
Unlike all the old and dilapidated jeeps plying the metro that need to be retired. A modernized jeepney has a better set of performance specs and will come with a speed limiter and telematics installed in it. All these extra-equipment will help in maintaining order and safety for the operators. 
Equipped with a Euro-4 4JH1-TC Turbodiesel engine to give better fuel economy.
The horsepower and torque is 105 hp and 230 Nm of torque.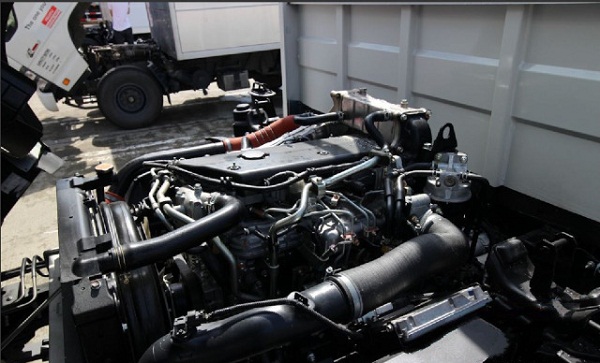 Isuzu Euro-4 4JH1-TC Turbodiesel engine 
All engine is brand new and chosen for these modern specs and with Euro-4 compliance to reduce harm on the environment. Inside the modernized jeepney, all the relevant features for the improved riding experience is as listed down. Modern versions of the jeep feature tech and comfort levels than archaic jeepney don't have.
3. Upgraded Jeepneys: Exterior Requirements
The height of the ceiling inside the interior of the unit is 1,780 mm, while the middle part is 830 mm. More room for passengers when seating, standing and moving to any part inside the modern jeep.
An auto-passenger door that's on the right-hand side, to face the side-walk when going on or getting out of it.
Parts of the insulated cab is the GeneQ shield with panoramic windows, windshield, and allows the disabled to go on or off it!
A PUV body is okay with Philippines National Standards (PNS 2126:2017) which is something to look out for.
Modernized Jeepney: Isuzu QKR77 Review
4. Upgraded Jeepneys: Entertainment system Requirements
Last but not least is the addition of some equipment for entertainment and information.
LED monitors for important driver information and passenger information.
CCTV or dash cam to record passengers and for security too.
Facilities for electronic wallets that should be helpful.
Afterthoughts
If you use public transport often then it would be obvious that jeeps are the least comfortable PUVs. Buses are plentiful, but jeeps still carry the bulk of passengers in the metro.
All is about to change with Isuzu Philippines is offering modernized replacements for jeepneys that address some issues that are troublesome with jeeps in particular.
These modern jeepneys will be part of the PUVMP which should be in place to iron everything to get things into proper perspective as well. Change won't come overnight but these units will be a start of modernizing jeepney inspired transport in stages.
Private corporations and government have roles to play in furthering the improvement of the public transport system to effect change slow or in this case drastic action.
For more news and other articles about cars, please continue to read on Philkotse.com.


Norjan Ismail Abbas
Author