Almost premium, but not quite.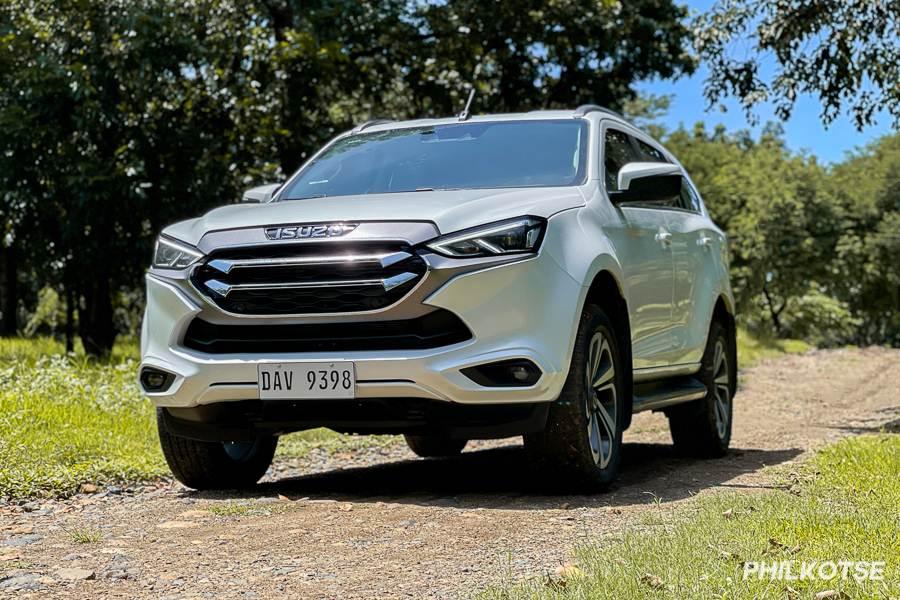 In this review...
Introduction

A major update

Almost, but not quite

Tech & Safety Review

Engine & Performance Review

Fuel Consumption

Verdict

Variants and Price

Color Options

Specs
2022 Isuzu mu-X LS-E Review: Worthy of the steep price tag?
Isuzu's going premium – at least that's what the company said at launch and that's what the price tag of the new Isuzu mu-X tells you. But that claim needs to be backed by a tangible result. In this case, it's the vehicle itself and thankfully, I know a thing or two about cars.
 
You've seen the photos and you've probably read my first impressions article. Now it's time for a full in-depth Isuzu mu-X LS-E review to see if the new version of the SUV will stay true to the initial impressions it evoked. If you're in the market for the top-spec variant, this is something you should pay attention to, so read along.
Overall exterior & Interior design, build quality, form vs function

Number of safety & tech features, consistency during usage

Power delivery, acceleration, transmission, suspension, handling

Overall Ride Comfort, Space, Storage Areas

Sticker price vs overall package
2022 Isuzu mu-X LS-E Exterior Review: A major update
I can't deny that the 2022 mu-X left a remarkable impression on me when I spent time with it before launch. However, spending a week with the media unit made me appreciate the car even more.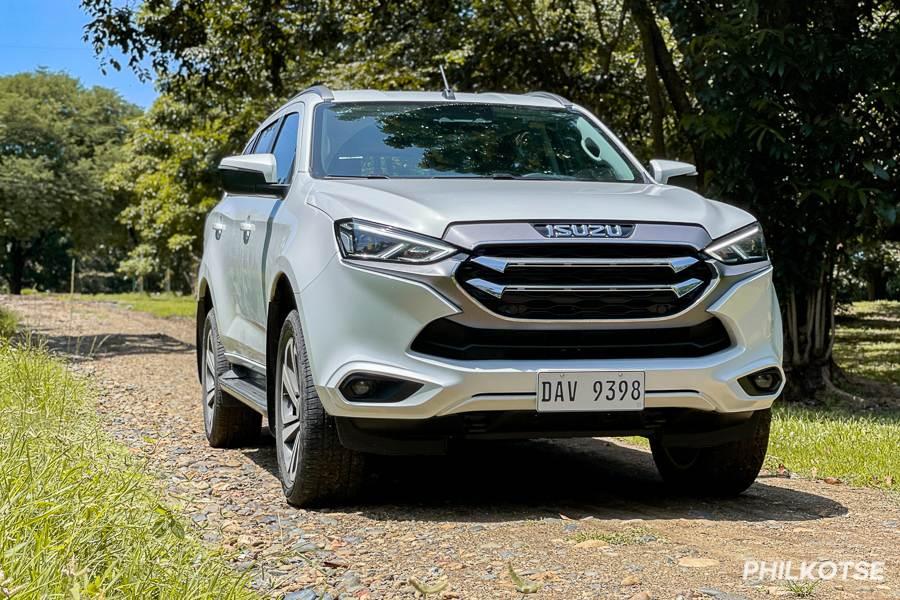 The new mu-X 's larger proportions makes it look more muscular
Staring at the white unit, the Isuzu went two directions with its new-generation model. It's now more robust than before, with larger proportions and a more muscular approach to styling.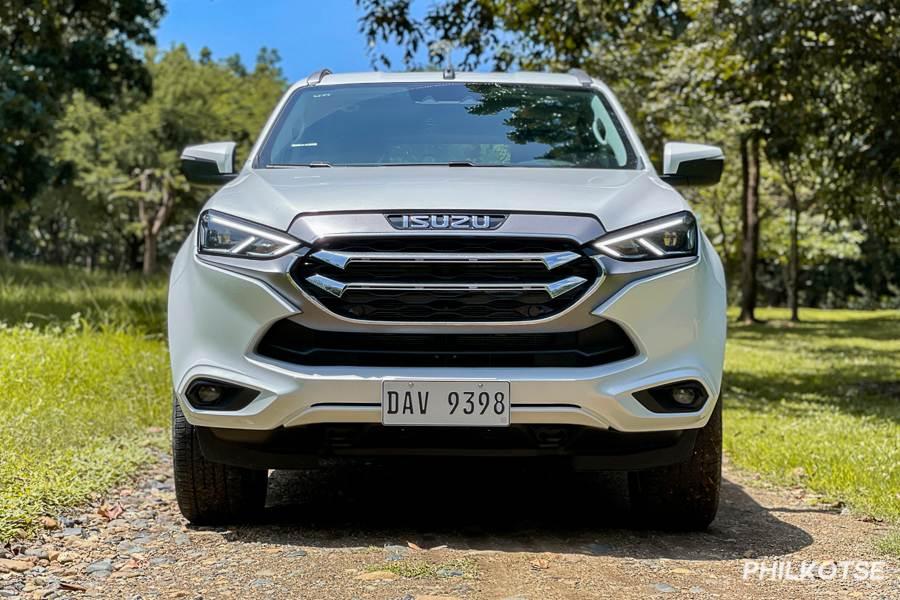 A closer look at the new mu-X's font end
Despite that, Isuzu also employed a touch of class on the design, employed through omissions of extraneous elements like chrome and claddings. Although, the stylish wheels fitted on the LS-E are up for preference – personally, I like the non-aggressive look.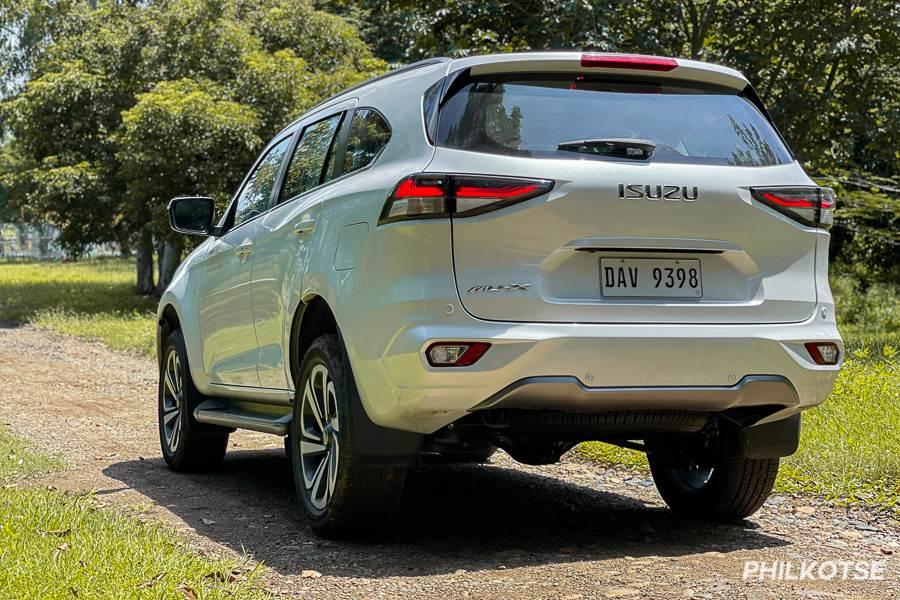 It looks great from any angle
The result is a sleek SUV void of pretensions, though it's important to note that the top-spec LS-E does come with underbody protection, so it isn't a slacker. For the lighting, the mu-X's light graphics look good, day or night, though I appreciate the headlight's far-reaching illumination.
YOU MAY WANT TO READ
Model Price Philippines
₱ 1,179,000 - ₱ 1,373,000
Model Price Philippines
₱ 1,368,000 - ₱ 1,885,000
Model Price Philippines
₱ 998,000 - ₱ 1,332,000
2022 Isuzu mu-X LS-E Interior Review: Almost, but not quite
At initial glance and seating, the mu-X's cabin generally exudes a premium feel but spending a week with it reveals otherwise – it's not as upmarket as one would expect.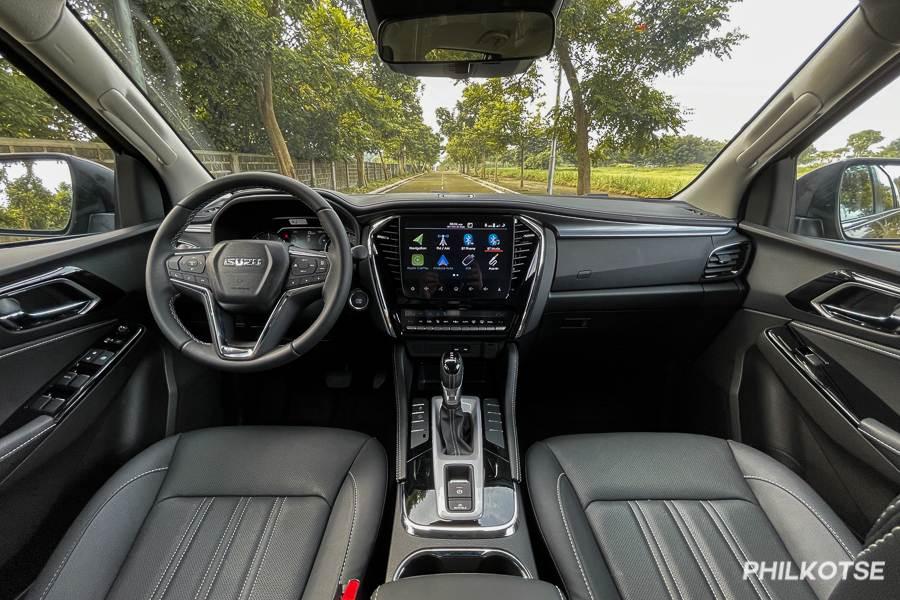 Inside the new mu-X's cockpit
The cheap plastic parts take a lot away from the goal to look premium, plus the leather, albeit soft and comfortable, doesn't feel upmarket at all. More so if you consider the black piano plastics present at most touchpoints, already showered with scratches despite the media unit being relatively young.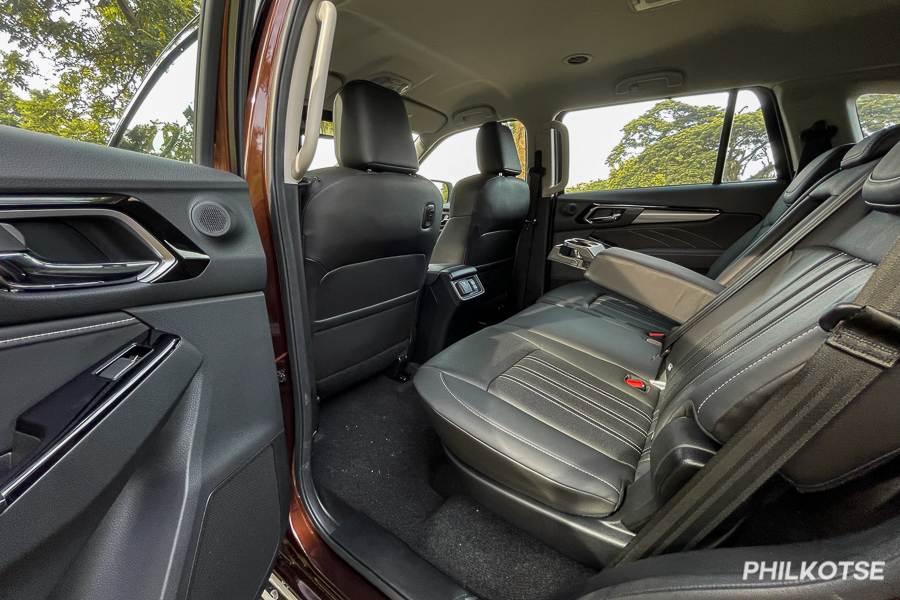 It's second row provides a lot of leg room
I also have several reservations about the mu-X's seating position, which gave me a bit of backache during the testing period. I'm not exactly sure why, but despite the electronic adjustments, I just couldn't find my sweet spot.
 
Creature space is one of the mu-X's strengths even on its third row, which is surprisingly able to seat me and another person comfortably. We both stand at 5 foot 6 inches.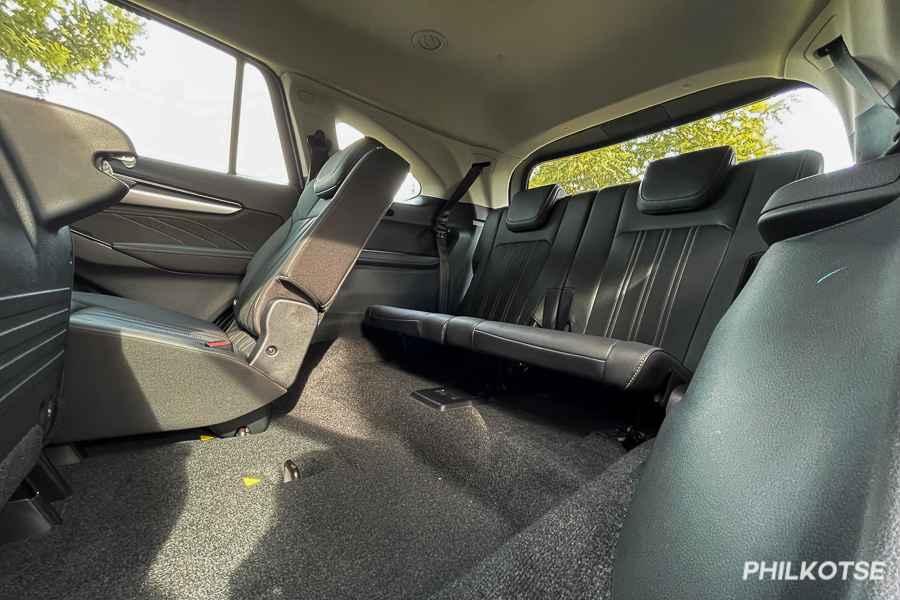 The third-row doesn't feel cramped
2022 Isuzu mu-X LS-E: Tech & Safety Review
It's hard to fault Isuzu for pegging the mu-X as a luxurious SUV, especially considering the tech and safety features listed on its spec sheet. I will not list them all down here, but it's notable to point out that the adaptive cruise control, available in the top-spec Isuzu mu-X LS-E, certainly elevates the whole driving experience.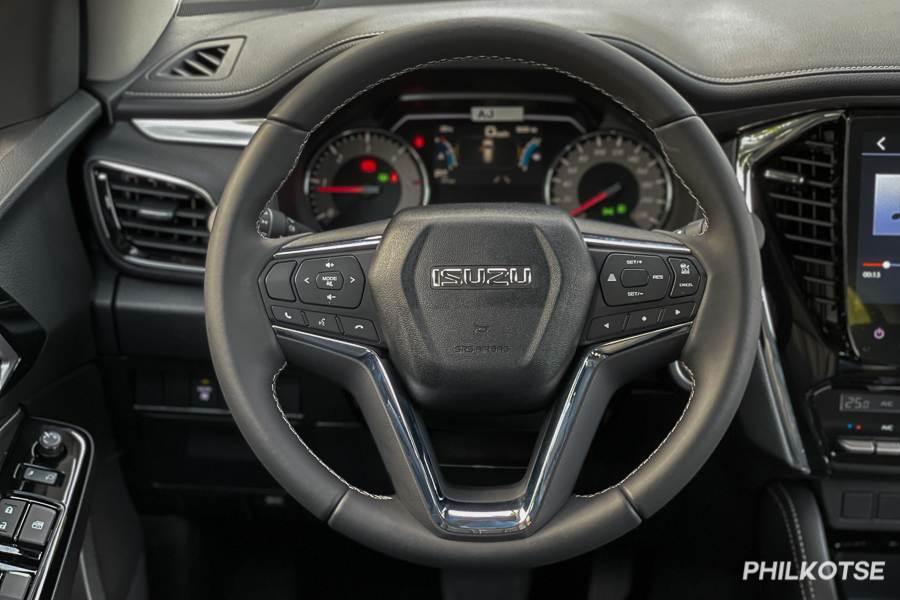 A closer look at the mu-X's steering wheel
Props to Isuzu as well for including speed limiter into the mix, which, as I discovered recently, is the better (and safer) option to use for slow expressways like NAIAX and Skyway Stage 3. The power tailgate is, of course, a welcome addition, especially at this price point.
 
However, Isuzu wasn't able to execute the design on the instrument cluster nicely. The font of the gauges look tacky, while the measly size of the digital trip meter in the middle felt irksome – it's like five years behind in terms of design.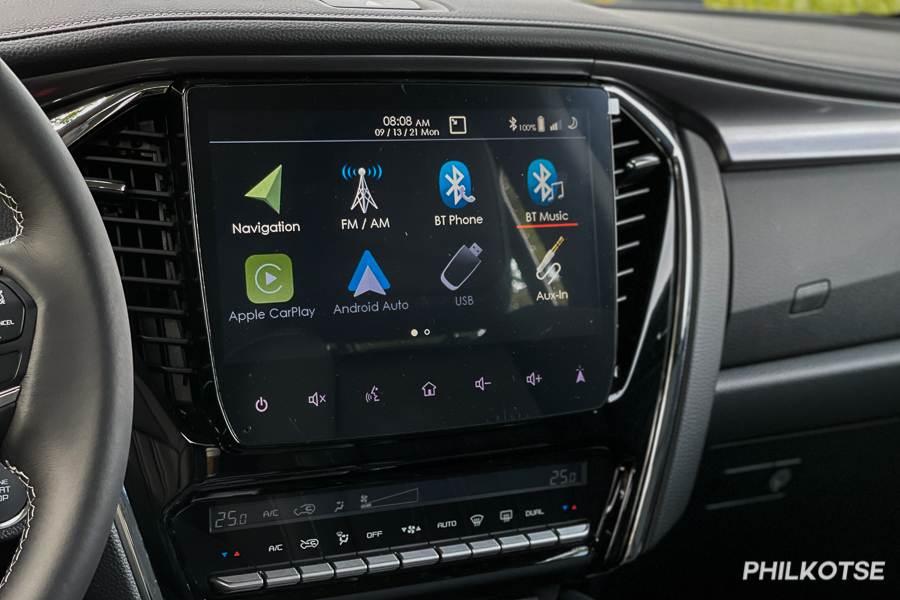 The Isuzu-made SUV's 10.1-inch touchscreen infotainment system
Good thing, the 10.1-inch infotainment system in the middle looks great, though Apple CarPlay integration during my testing period was a bit buggy. Isuzu could have also given the mu-X a better speaker system as the OEM set leaves a lot to be desired for meticulous audiophiles like myself.
2022 Isuzu mu-X LS-E: Engine & Performance Review
I wasn't expecting much in the performance portion of the mu-X since the changes in the new-generation model are marginal. Power output from the 3.0-liter turbodiesel is still at 188 hp and 450 Nm of torque, sent to the rear wheels via a six-speed torque converter automatic with manual mode via the lever.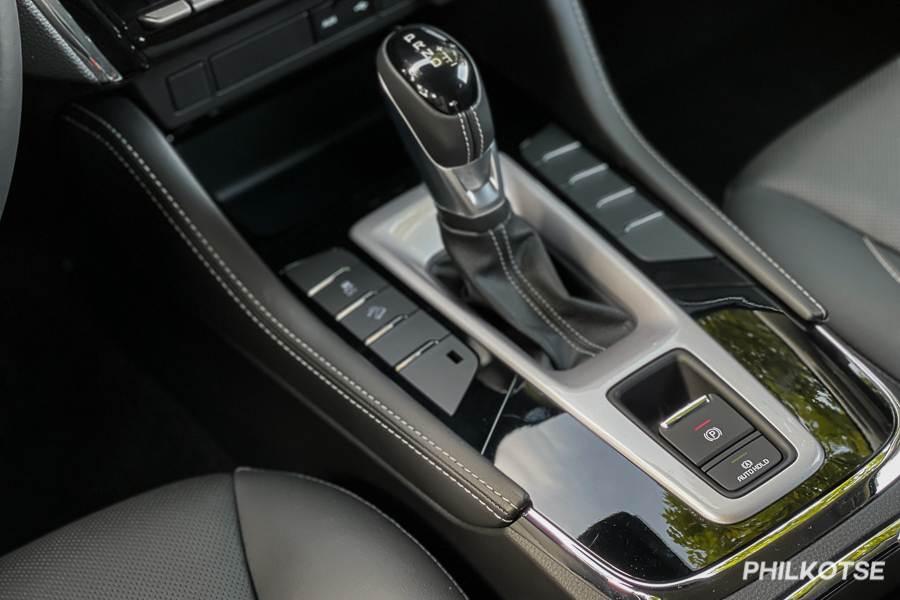 The new mu-X's gear-shift lever
After several days of testing, I can say that the powertrain setup was straightforward, with low-end torque always readily available. Shift shock wasn't an issue, though dips and dives were prominent even with the most careful driving style. Steering, while already lighter than before, was still heavy – though I must note that road feedback was better than ever, ensuring more confident handling.
 
That said, I also spent time on the second row to test the mu-X's ride comfort. It wasn't a phenomenal ride quality as far as I am concerned, but at least it's miles better than the outgoing model.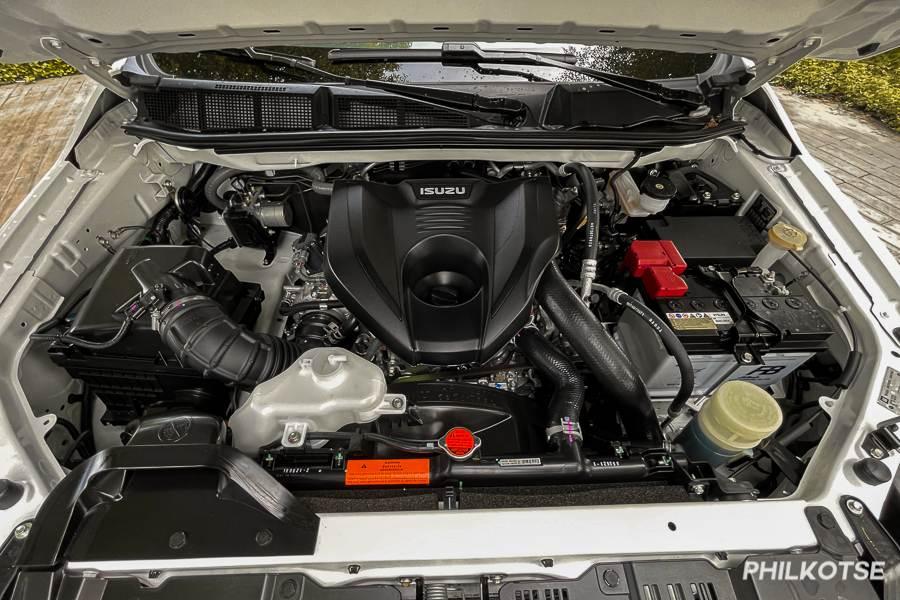 Under the hood of the new mu-X is a 3.0-liter 4JJ3-TCX inline-4 turbodiesel engine
The story's the same with the sound insulation, which was okay for the most part except for the constant heave of diesel engine echoing within the cabin. Harshness and vibration were unfortunately suppressed poorly.
2022 Isuzu mu-X LS-E: Fuel Consumption
The Isuzu mu-X LS-E returned average fuel efficiency during my tests. In the city, it yielded around 9-11 km/l in moderate to heavy traffic, while an average highway speed of 90 km/h registered 17 km/l.
 
Of note, the mu-X is right at the middle of the midsize SUV segment in terms of fuel efficiency with the numbers I got from my tests. As with most Philkotse car reviews, fuel efficiency tests are done with two people on board and minimal cargo.
2022 Isuzu mu-X LS-E Review: Verdict
Almost premium, but not quite – that's the phrase that would summarize my overall impression of the new-generation 2022 Isuzu mu-X in its LS-E guise. Isuzu sure exerted some effort in giving us a more civilized version of its SUV. It succeeded in a lot of areas but others need more tweaking to be really called premium.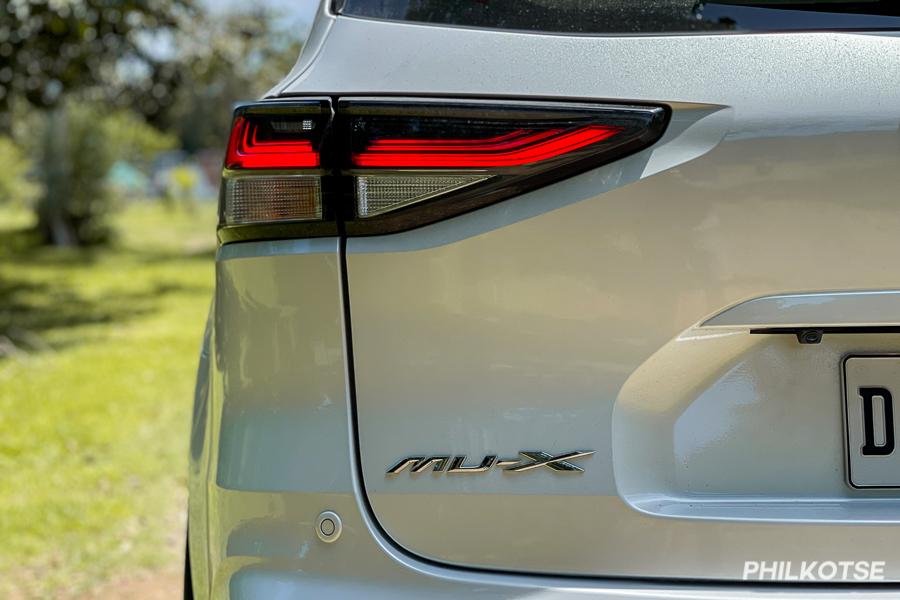 The 2022 Isuzu mu-X boasts a new emblem 
That is most especially true considering the Isuzu Philippines pricing: P2,450,000 for the 4x4 AT variant and P2,100,000 for the 4x2 trim.
 
Then again, Isuzu fans can always argue that the automaker's reputation on reliability should also be considered. On that end, I completely agree. Just consider the population of Crosswinds, Alterras, and other diesel-powered Isuzus you still see on the road today.
For more of the latest and honest reviews of cars in the Philippines, visit Philkotse.
2022 Isuzu mu-X LS-E Review: Variants and Price
| | |
| --- | --- |
| Isuzu mu-X Variants  | Price  |
| mu-X LS RZ4E 1.9 4x2 AT  | Php 1,590,000  |
| Mu-X LS-A RZ4E 1.9 4x2 MT  | Php 1,770,000  |
| Mu-X LS-A 3.0 4x2 AT  | Php 1,900,000  |
| Mu-X LS-E 3.0 4x2 AT  | Php 2,100,000  |
| Mu-X LS-E 3.0 4x4 AT  | Php 2,450,000  |
2022 Isuzu mu-X LS-E Review: Color Options
Isuzu mu-X Color Options  
Marrakesh Brown, Satin Pearl White, Onyx Black, Mercury Silver, Splash White 
2022 Isuzu mu-X LS-E: Specs
Overall 

Make  

Isuzu  

Name 

Mu-X LS-E 3.0 AT 

Body Type 

5-door midsize SUV 

Dimensions and Weight 

Length 

4,850mm 

Width 

1,870mm 

Height 

1,825mm 

Engine and Transmission 

Type 

3.0-liter turbodiesel inline-4 

Max Power 

187 horsepower 

Max Torque 

450Nm 

Transmission 

Six-speed automatic transmission 

Chassis and Suspension 

Brakes (Front/rear) 

Disc/Disc 

Suspension (Front/rear) 

Double-wishbone/Five-link 

Wheels and Tires 

20-inch alloy wheels 

Exterior 

Bi-LED headlamps w/ auto-leveling and automatic on/off function 

LED taillights 

Power tailgate 

Front fog lamps 

Roof rails 

Interior 

Leather 

Dual-Zone Automatic air-conditioning w/ rear vents 

Adaptive Cruise control 

Electronically adjustable driver's seat 

10.1-inch touchscreen with Apple CarPlay, Android Auto, Bluetooth, and Aux-in 

Safety and Security 

Seven airbags 

Anti-lock braking with electronic brake-force distribution 

ISOFIX 

Reverse camera 

Forward Collision warning 

Autonomous emergency braking 

Blind-spot monitoring 

Stability control 

Hill-start assist 

Turn assist 

Rear-cross traffic alert 

Multi-collision brake system 

Hill descent control 

Jacob Oliva
Author
Recommended articles