Isuzu's midsize SUV takes on a bigger and more powerful form.
The SUV war is reaching fever pitch, with contenders coming in left and right. With its crown as a leader in diesel technology under threat, Isuzu unveiled the next-generation mu-X in 2020, following the 2019 reveal of its all-new D-Max pickup. Now, the midsize SUV has finally gotten its Philippine debut.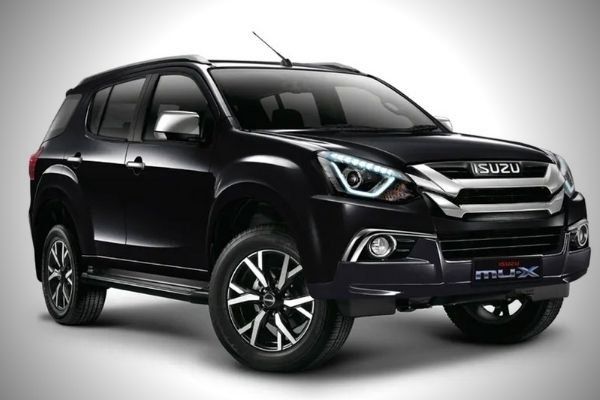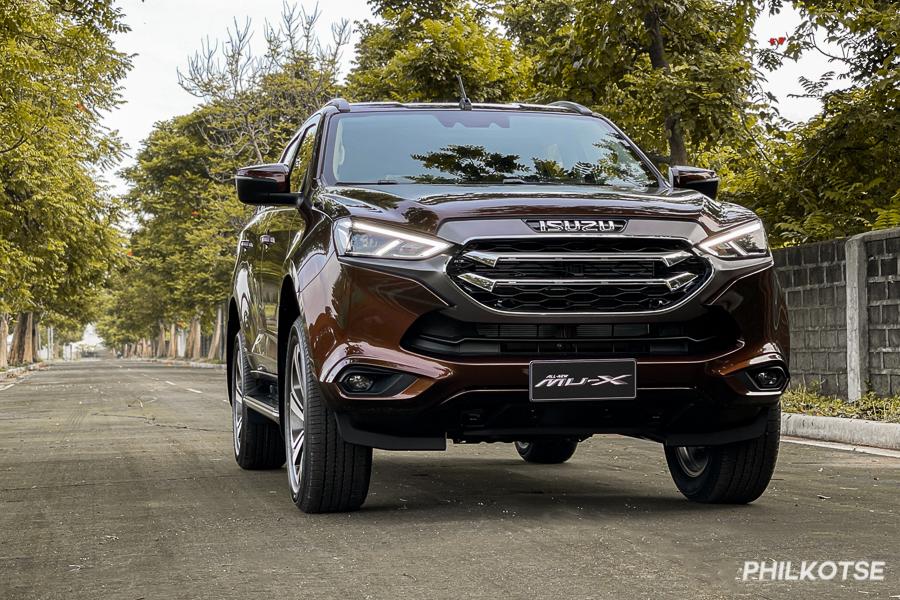 Old vs new (front): Isuzu mu-X
Looks like the Japanese carmaker is bent on challenging its current crop of rivals by bringing in a host of upgrades. We take a look at how the 2022 Isuzu mu-X has improved over the outgoing version.
2022 Isuzu mu-X Old vs New: Exterior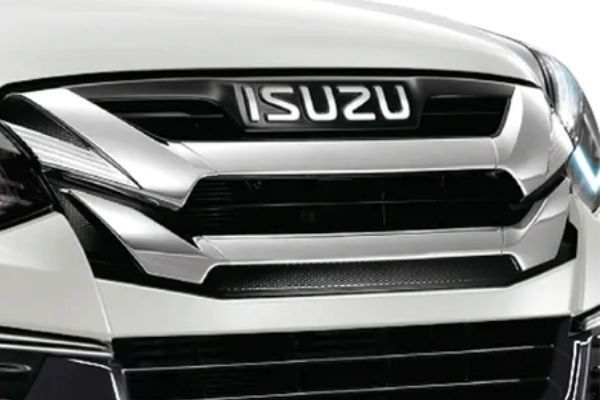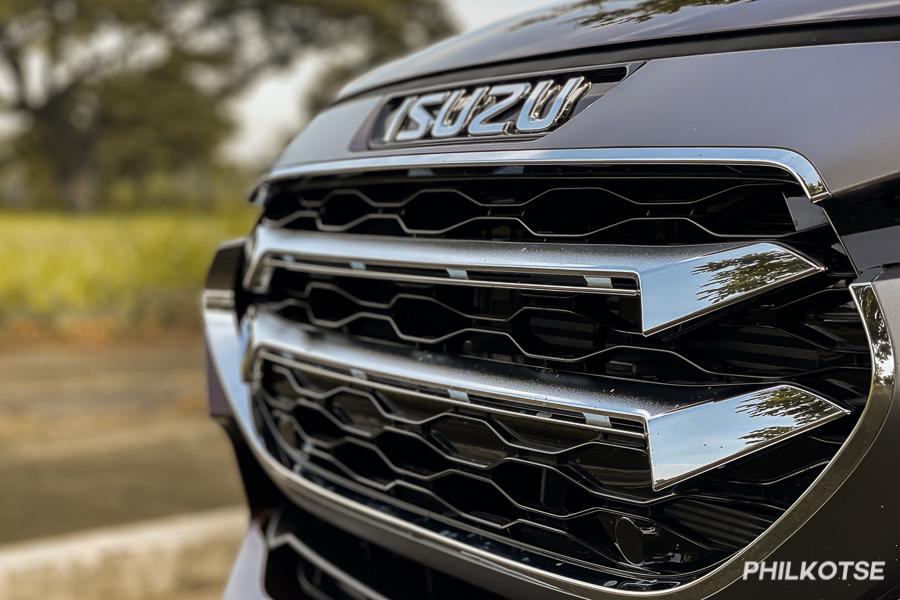 Old vs new (grille): Isuzu mu-X
Even without looking at the spec sheet, a quick glance will tell the casual observer that the Isuzu mu-X has grown for the 2022 model year. Whereas the previous model tops out at 4,825mm long, 1,860mm wide, and 1,840mm high, the new Isuzu mu-X boasts dimensions that are 25mm longer and 10mm wider, yet stands 15mm lower. At 2,855mm, even the wheelbase has been extended, and the new mu-X has a maximum ground clearance of 235mm, a 5mm raise over the old one.    
The 2022 mu-X now sports a less-angular fascia that features its revised front grille, featuring narrow slats compared to the old mu-X. Slimmer headlamps with signature arrowhead LED running lights replace the previous one's larger pair, and the fog lamps have been relocated farther down the front corners.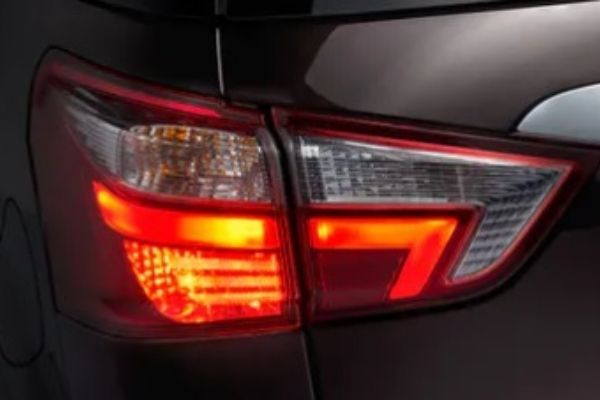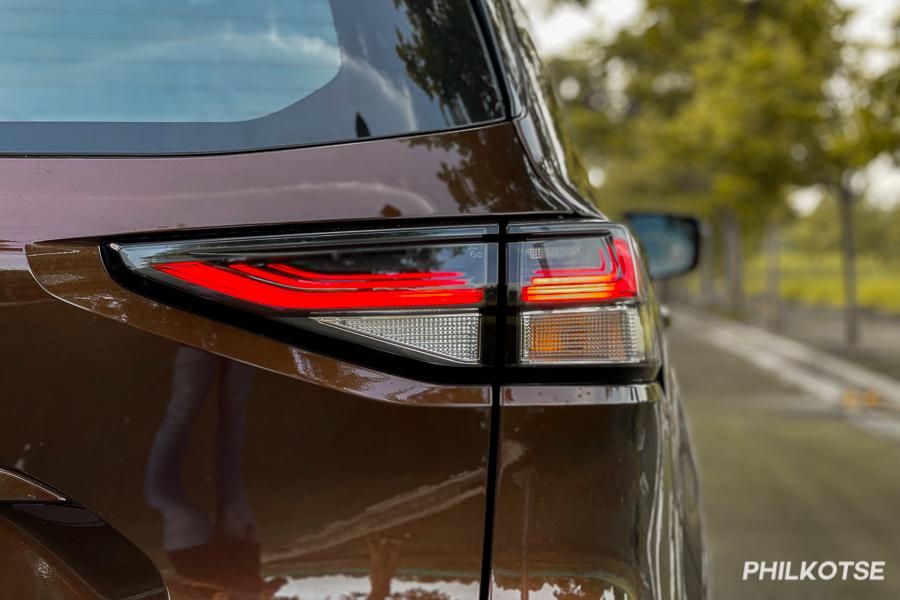 Old vs new (taillamp): Isuzu mu-X
Along the sides, the doors have been redesigned exclusively for the new mu-X, although it shares the same platform as the Isuzu D-Max. A more prominent indentation cuts across its profile, giving the 2022 mu-X a more dynamic look. The rear quarter windows have been revamped, no longer extending from the rear glass as with the older version.

Even the tailgate has a more sculpted appearance, flanked by signature winglet LED tail lamps, and offering a power option with jam protection feature. The subtler fenders are now more rounded and house up to 20-inch alloys, compared to 18-in. wheels on the old mu-X.    
>>> Related: Which 2022 Isuzu mu-X variant should you buy? [Comparison Guide]
2022 Isuzu mu-X Old vs New: Interior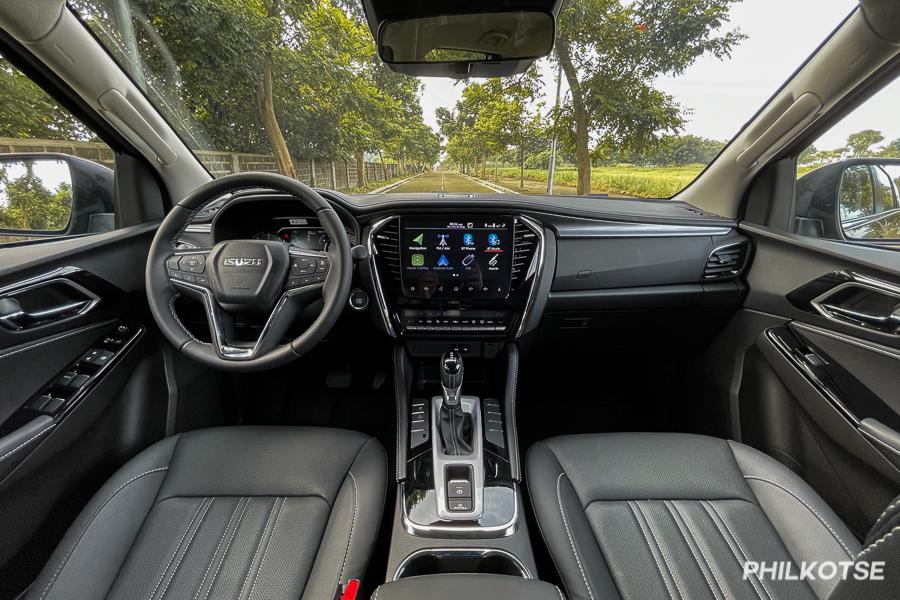 The interior on the 2022 Isuzu mu-X
The increased exterior dimensions translate into a more spacious interior, decked out in leather for up to seven occupants. Compared to the 6-way power-adjusting driver's seat on the older mu-X, the 2022 model offers 8-way power adjustment for the driver. The rear seats fold flat in a variety of configurations on both versions, the better to expand available interior space for bulkier cargo.  
2022 Isuzu mu-X Old vs New: Tech & Safety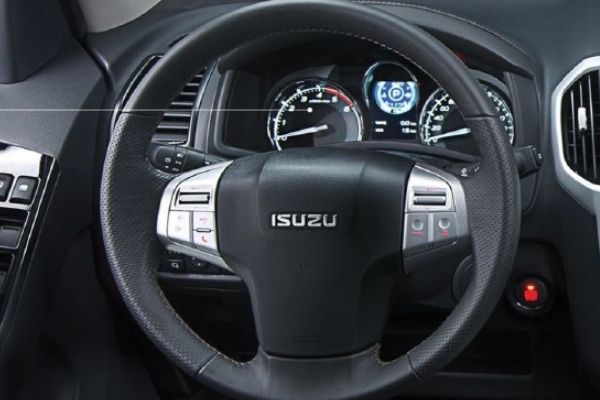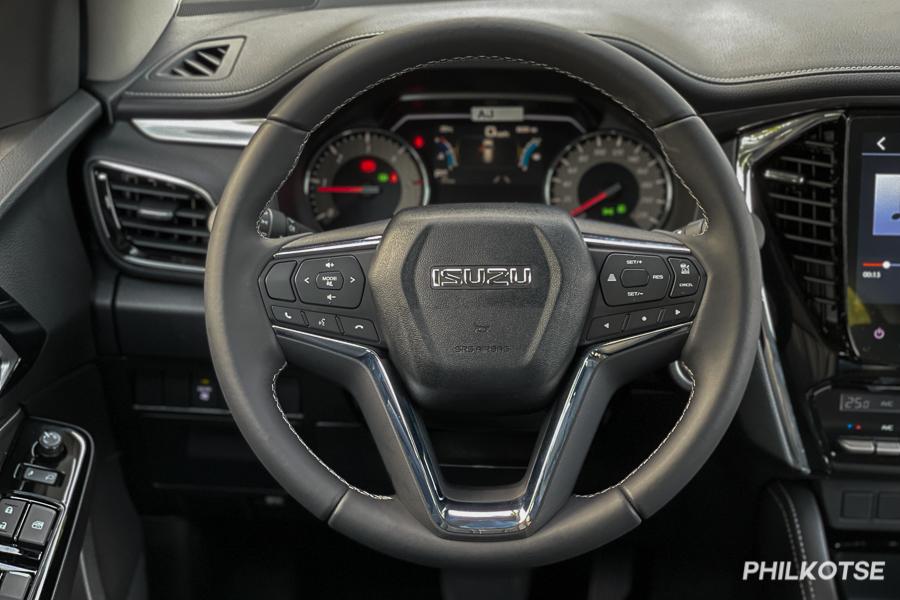 Old vs new (steering wheel): Isuzu mu-X 
The 2022 mu-X improves on the old model's instrument panel with a 7-inch electroluminescent panel, placed ahead of a revised steering wheel with more angular spokes.
As with the outgoing mu-X, the new model carries at least two 12V outlets and three USB charging ports, but these are now accompanied by a 220V AC socket. The dial-type air-conditioning control on the old mu-X has been replaced by more elegant switches on the new model's dual-zone climate control feature.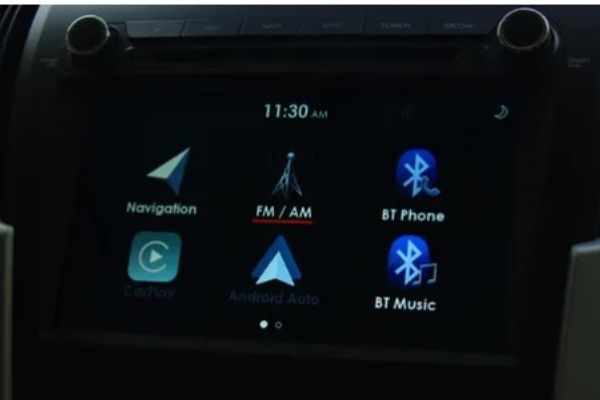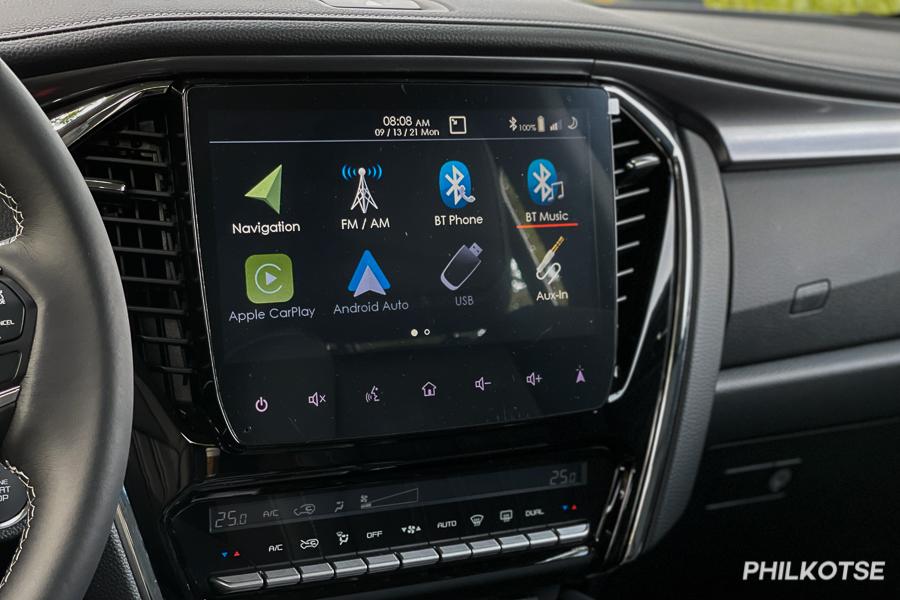 Old vs new (head unit): Isuzu mu-X
Upgrading from the previous mu-X's 8-inch head unit, the 2022 model now has a 10.1-inch infotainment display with Apple CarPlay and Android Auto integration, patched to eight speakers.
The 2022 Isuzu mu-X is also several steps ahead in terms of safety over the model it replaces. Apart from the standard anti-lock brakes, stability control, traction control, hill start assist, and hill descent control, the new mu-X features an Advanced Driver Assist System (ADAS), comprising technologies such as Adaptive Cruise Control, Lane Departure Warning, Auto High Beam, Blind-Spot Monitoring, Forward Collision Warning, Rear Cross-Traffic Alert, and Autonomous Emergency Braking.
Other standard features on the new mu-X include Pedal Misapplication Mitigation, Multi-Collision Brake, and an electric parking brake with auto hold. The 2022 mu-X expands the number of available onboard airbags to seven, compared to two on the old version. 
2022 Isuzu mu-X: Going upmarket? (Old vs New) | Philkotse Quick Look
2022 Isuzu mu-X Old vs New: Powertrain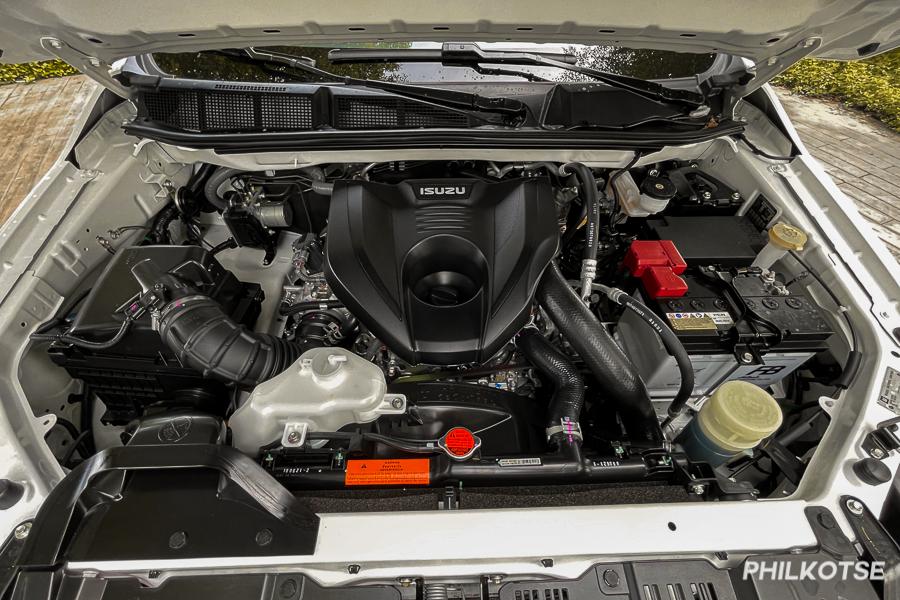 Two engine choices continue to be offered on the new mu-X
The 2022 Isuzu mu-X retains the two engine choices of the outgoing version, with a 1.9-liter Blue Power turbodiesel unit churning out 150 horsepower and 350 Nm of torque for the lower variants. The top-spec trims run on the bigger 3.0-liter Blue Power unit, this time with 190 horsepower, up from 177 on the old mu-X. Torque has also been tweaked from 380 to 450 Nm, coming in earlier at 1,600 rpm. Transmission options include a 6-speed manual and a 6-speed automatic gearbox.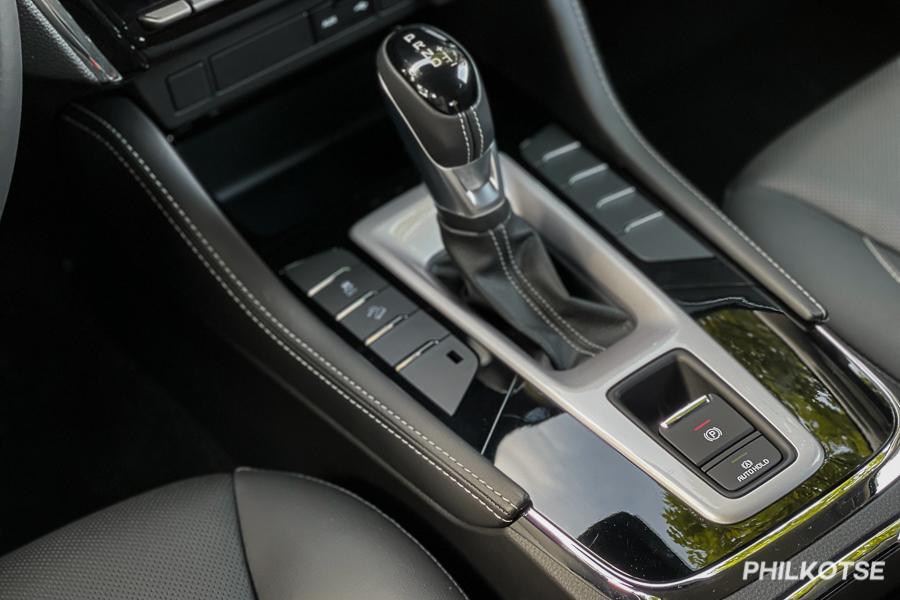 A 6-speed automatic diverts power to the drive wheels
As with the old mu-X, the new model offers four-wheel-drive on the range-topping variant, actuated by the Terrain Command Select Dial. However, this is now complemented by a Rough Terrain Mode which engages at the push of a button. The 2022 mu-X retains the front independent double-wishbone front and five-link rear suspension from the outgoing version, with coil springs all around for a smoother ride. 
The 2022 Isuzu mu-X comes in five variants as opposed to the old one's six, starting at Php 1,590,000 for the base 1.9 LS 4x2 manual to Php 2,450,000 for the top-spec 3.0 LS-E 4x4 automatic. 
At Philkotse, we make it easier for you to see what's new with your favorite models.
Know more about Isuzu mu-X 2021

The mu-X by diesel expert Isuzu is a seven-seater midsize SUV with a front-engine, rear-wheel-drive or four-wheel-drive layout. It is based on the Isuzu D-Max, and like its pickup truck brother, it uses a body-on-frame chassis.
For the Philippine market, the Isuzu-made SUV has two available engine options. The smaller one is a 1.9-liter RZ4E Bluepower turbodiesel capable of making up to 148 horsepower and 350 Nm of torque. It can come with a six-speed manual transmission, or a six-speed automatic transmission. The larger engine option for the mu-X is a 3.0-liter inline-4 turbodiesel. At most, this mill can produce up to 187 horsepower and 450 Nm of torque. Only a six-speed automatic transmission is available with this engine. The mu-X variants with this engine is either rear-wheel-drive or four-wheel-drive. For those unaware, this Isuzu model's name is an acronym which stands for Mysterious Utility eXtreme."

Joseph Paolo Estabillo
Author