It's a beast that can't wait to be unleashed.
Pickup trucks are well-loved in the local market due to its versatility, functionality, and practicality. Mainstream pickup trucks in the Philippines include a number of models such as the Ford Ranger and the Toyota Hilux.
The latter is hailed as the second best-selling car in the Philippines last year, finishing behind its Toyota sibling, the Vios. However, Maxus is brewing something up in its home country, and from the looks of it, this Chinese car brand is locking its target to challenge local mainstream pickup trucks.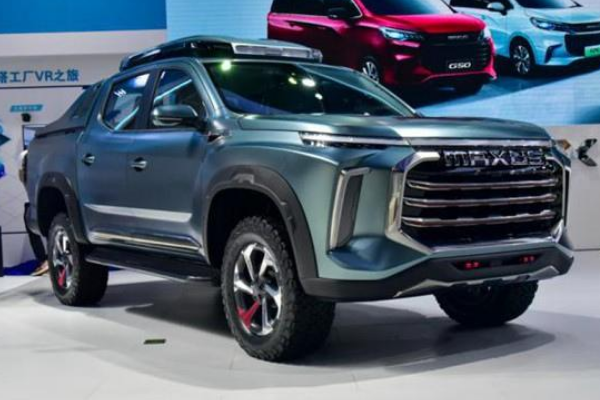 Now that's a mean-looking truck
Maxus, a subsidiary of SAIC Motor, has revealed a new pickup truck concept at the 2020 Chengdu Auto Show, and it looks like a beast.
The Maxus pickup truck concept features a bold, imposing, and aggressive front that's highlighted by a massive grille, a muscular bumper, and slim headlights. You also can't help but notice the concept truck's prominent fender flares that further add to its imposing demeanor.
>>> Related: 2020 Maxus T60 could be your next pickup truck and here's why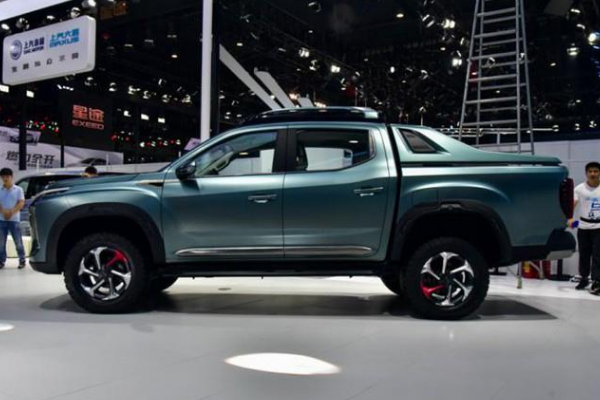 The fender flares add muscle to the truck
Turning at the side, the concept truck is characterized by sharp lines that run from the front up to the rear. The six-spoke wheel design of this truck is also unique as it comes with a single red-colored spoke.
The beefy tires also suggest that this vehicle is ready to drive through any terrain. The rear comes with a large Maxus emblem along with distinctive taillights that features a seamless design. The seamless design approach given to the taillights creates an illusion that it's a single piece.
>>> Related: Get P50K discount when you buy a Maxus G10 until end of July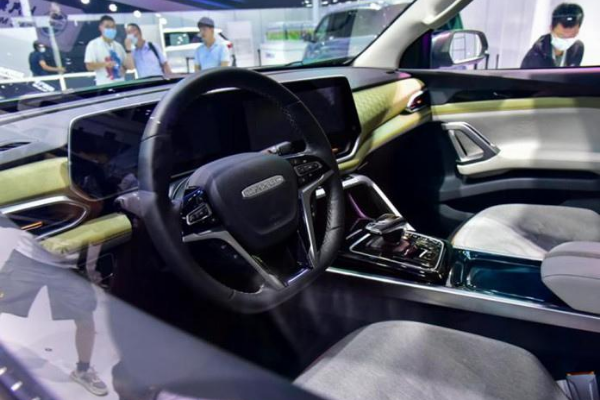 The interior looks premium and stylish
Inside, the Maxus pickup truck concept features a car-like cabin that looks premium. You can see a large screen on top of the dashboard, which suggests that this truck will have a fully digital instrument panel as well as a touchscreen infotainment system.
The steering wheel comes with a three-spoke, flat-bottomed design along with mounted controls. Of note, this pickup truck concept also appears to come with an electronic parking brake, which forgoes the traditional design making the interior look more premium and spacious.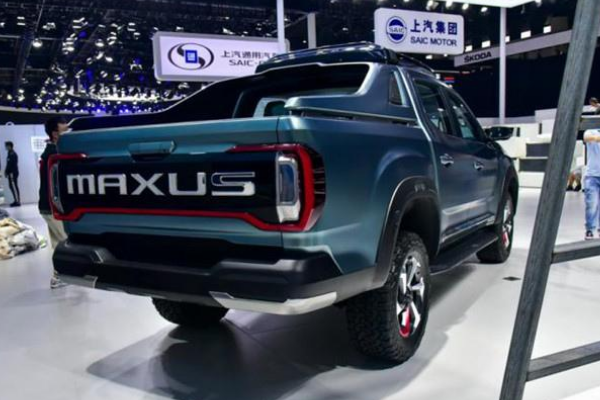 The rear gets a distinctive taillight design
In terms of power, SAIC has yet to share the official powertrain details of this pickup truck concept. However, there are reports that this concept will be powered by a 2.0-liter diesel engine that delivers 161 hp and 375 Nm of torque.
It can also be equipped with a 2.0-liter twin-turbo diesel engine that generates 217 hp and 480 Nm of torque. There are also rumors that this pickup truck concept could have an all-electric powertrain, as well as a plug-in hybrid option.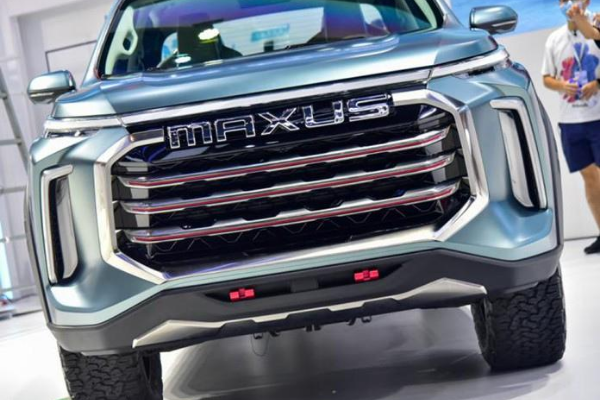 Look at that massive grille
Of note, SAIC Motor is developing a new intelligent cockpit with 5G technology to increase interaction between the car and the driver. This has been announced by SAIC Motor at the 2020 World Artificial Intelligence Congress in Shanghai.
The Chinese automaker said that it plans to integrate the said technology into mass production at the end of 2020. SAIC Motors is also committed to develop and to upgrade its autonomous driving tech as well as its electric vehicle technology.
>>> Related: 7 pickup trucks to watch out for in 2020 (and beyond)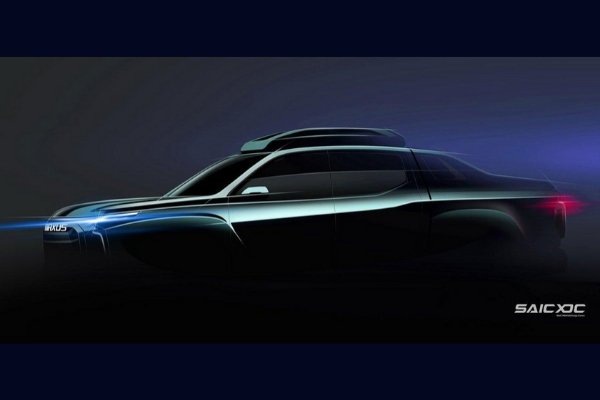 This teaser looks similar to Maxus' new pickup truck concept
Back in May, Maxus released a sketch of a pickup truck on Weibo, a Chinese social media website. Comparing that sketch to the recently introduced pickup truck concept, one can instantly spot the similarities between the two.
As such, could this hint at the possible look of the next-generation Maxus T60 model? It could be the next-gen model since the current T60 pickup truck offered in the global market has been around since 2016.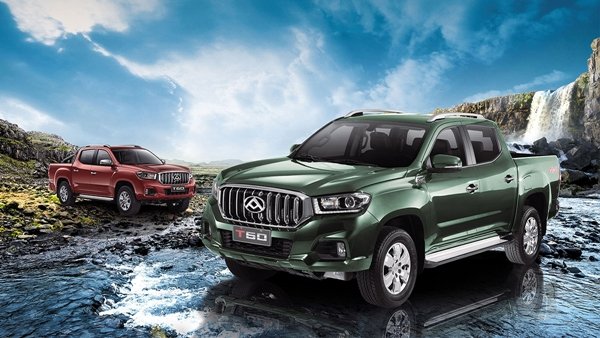 The Maxus T60 is available in three variants locally
In the Philippines, Maxus is offering the T60 pickup truck that's powered by a 2.8-liter turbo diesel engine, which delivers 148 hp and 360 Nm of torque.
The engine is mated to either a six-speed manual or a six-speed automatic. It is available in three variants with an introductory price of Php 948,000 for the 4x2 MT entry-level trim.   
Visit Philkotse.com to read more of the latest news in the automotive industry.
Know more about Maxus T60 2021

The Maxus T60 debuted at the Guangzhou International Motor Show in 2016. It is the first Chinese-manufactured pick-up truck which is designed and marketed by the Shanghai Automobile and Industrial Corporation (SAIC). The T60 was primarily engineered and styled for worldwide distribution. With this in mind, SAIC equipped the pickup truck with global safety standards. The model was able to achieve a 5-star rating from the Australian New Car Assessment Program. Currently, the T60 is offered in three variants with differing drivetrain layouts and two types of transmission. These are the T60 Pro 4x2 MT base variant, the Pro 4x2 AT, and the top of the line T60 Elite 4x4 AT. Both Pro variants come in Agate Red, Lava Gray, and Blanc White, while the Elite variant comes in Olive Green and Aurora Silver. All variants are available in Obsidian Black.

Martin Aguilar
Author