Frankly though, you'll get noticed by the guys more if you do these mods.
Ladies and gents, if you're an observant person who particularly loves cars, then you'll know that the Honda Civic is a darling of the global tuning scene. That much is a given. With the 2016 release of the tenth-generation Civic, however, it seems that this particular Honda model has indeed veered away from being a mechanically simple and moddable platform, into something more high-tech and complicated.
For starters, Honda has now brought in forced induction to the thing, which is great but as if to balance the coolness of turbos out, the Philippine-spec Honda Civic variants utilize a continuously variable transmission, and as everyone hopefully knows, these aren't the sportiest trannys out there.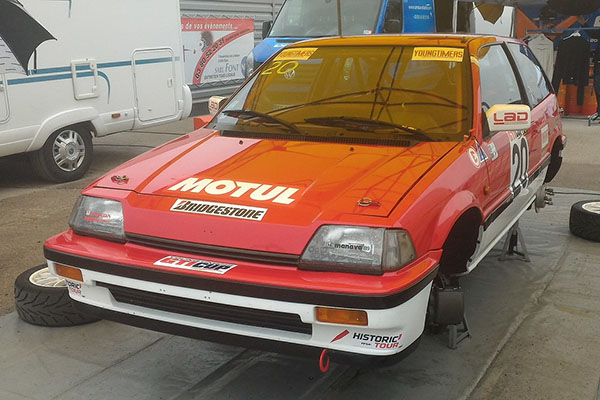 Older Civic versions are generally known for being very moddable. [Source: crash71100]
So what's a hot-blooded Civic owner to do when it comes to modding a 10th-gen Civic? Well here are some things that you can do to get Honda Civic modified to help you get the Chicks or make it handle better on the road. Note though that modded car, in general, will instead draw more attention from guys to the point of becoming a sausage party but we like to think otherwise right?
So how do you go about modifying a 2016-2020 Honda Civic without messing it up? Well here are some ideas.
Quick and Easy HONDA CIVIC Build - PT1 (Pimp My Civic)
>>> Related: 2021 Honda Civic: Expectations and what we know so far
1. Honda Civic modified: Better handling from coilovers
As we've said, tinkering with the engine of your 2016-2020 Civic is out of the question. This rings true especially with regards to the RS due to its turbocharger, and you don't want to mess with its tuning if you don't know what you're doing.
As such, one way we suggest to approach this is to instead modify how your Civic rides. And one way to do just that is to get a set of coilovers. These can lower your Civic's ride height, thus lowering its center of mass providing better handling. With these, you can also adjust dampening, and make your car look cool too.
And despite being relatively new to the market, there are already a ton of coilover choices for a 10th-gen Civic. On the more affordable side, there are the Raceland Coilovers, which start at Php 21,000, and if you want to splurge there's the Godspeed Monomaxx front and rear set which could cost you up to Php 41,000 or the Tein Street Advance Z Set for around the same price.
>>> Related: Best project cars for beginners in the Philippines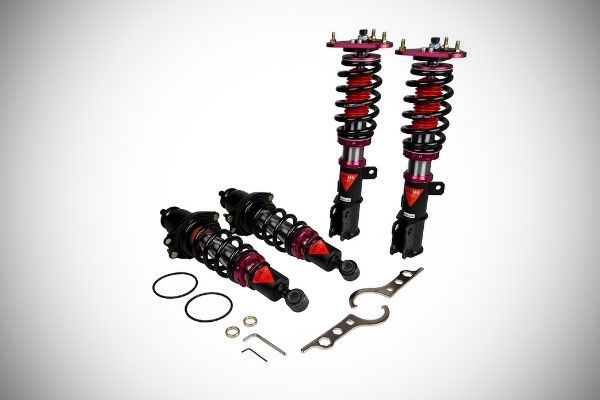 These are some of the best coilovers for a 10th-gen Civic in the market today. [Source: Godspeed] 
For those who want an even better, but more expensive coilovers, there are sets like the Buddy Club Sport Spec set at Php 50,000. On the other extreme side of the spectrum, you can also turn to lowering springs which can range from Php 10,000 to Php 15,000.
Do note though that while there are a lot of Civic FC aftermarket suspension parts out there, some mentioned here might not be available here in the Philippines just yet.
>>> Related: A short guide to coilovers and how they help to make your car handle better
2. Honda Civic modified: Sick wheels
In stock form, the Honda Civic S and E already use a neat looking 16-inch set, while the RS variant of course uses the cool looking RS design 18-inch set. But what if you wanted to have your Honda Civic modified with a new set of wheels?
Well Honda PH itself has the Modulo 17-inch wheels, which can be brought along with the Modulo Side Skirts. For those who want to use aftermarket wheels however, do note that the stock wheel size for the S and E is 16 x 7J, and 18 X 8J for the RS Turbo. As such, it might be a more expensive prospect looking for an aftermarket set of the RS Turbo, which is if you want to keep the same 20-inch wheel size.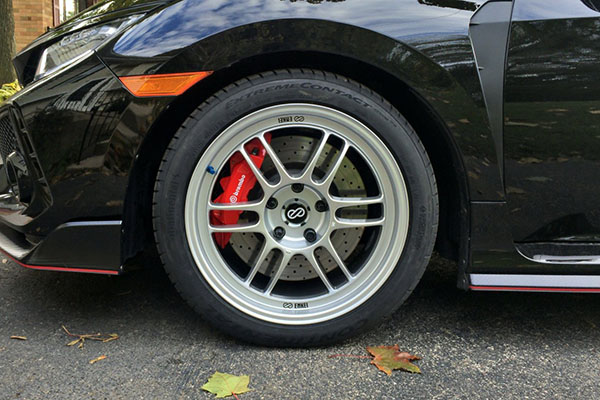 RPF1's on a Civic Type R
>>> Related: How does car wheel size affect its performance?
If you want a "flush" fitment however, many are recommending the 17x8 with a 35mm offset. That's the most you can fit on a 10th-gen Civic without the wheels poking out, or potentially damaging your fenders. If you want to go for more with a 17x9, then you might have to roll out your fenders to prevent tire rub.
For that "hella squat" tucked-in look though, we recommend going for a 17x8 with a 40mm offset, but do note that rubbing might occur. Remember though that you'll have to go in for realignment to get that bit of camber for these flush, and especially for the tuck setup.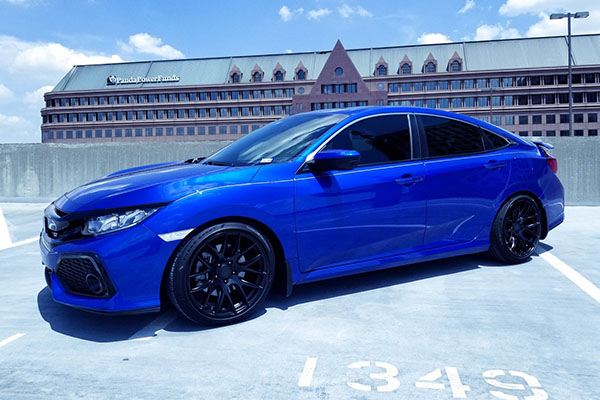 And by flush, we mean like this. [Source: Fitment Industries]
For the 17x8 with a 35mm setup, we recommend a set of the popular RPF1's which could set you back around Php 50,000. There's also the more affordable, but sexy looking set of Avid AV6s at Php 30,000, or if you want to go cheaper, there's the locally made Rota Grid.
>>> Related: Modified Honda City: Tips & tricks to upgrade the small sedan
3. Honda Civic modified: Bump up that sound quality
Now when it comes to speakers, the Civic's stock six-speaker set is decent sounding. Do note though that if you want to draw a crowd on a parking lot party, then you'll want to upgrade the system for more oomph.
For this, we recommend you start with an amplifier, as well as an under-seat subwoofer. You'll want the 6.5-inch Infinity Kappa for the front because these can fit the stock holes just fine, an Infinity 6.5-inch for the rear because of the same reasons, a Kenwood subwoofer for the under-seat sub, and a JBL amp.
All of these will run you around Php 30k, and labor at around Php 3,000. But hey, if you want to do it yourself, you can also do that since as we've said, these speakers that we chose can readily fit the stock cutouts inside your Civic FC.
4. Honda Civic modified: Make it look like a Civic Type R
And finally, the most you can do to make your Civic sexier for either sex (for other dudes mostly) is making it look like a Honda Civic Type R. And guess what folks, Kingz Accezz Online, an aftermarket parts shop in Quezon City can set your Civic up with a set of body and engine modifications to make your vanilla Civic E, S or RS, to look like the Civic Type R.
The said set includes Type R body kits, carbon fiber bits for the interior, a Type R hood, Type R roof spoiler, Type R side skirts, Type R fender flares, a Type R shift boot, and many others.
Also, this conversion kit also includes several engine upgrades like the Type R engine cover, a custom strut bar, short ram intake, a blow-off valve (if you have the RS Turbo), and hood damper kit.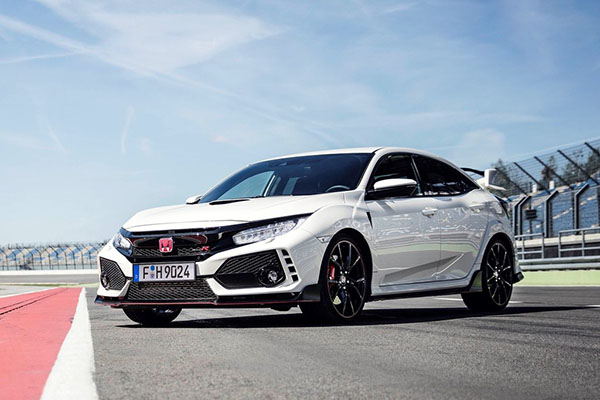 Make your vanilla Civic look like this!
Now all of these can set you back a hefty Php 150,000, but that's just the price you'll have to pay to turn your vanilla Civic into a game of: "is that a real Type R or?" Doubtless, this is a really cool kit, and for those of you creative ones out there, you might even find a way to incorporate these Type R kits by changing their color, or mix and matching them with existing Honda modulo body kits to have a modified Honda Civic that's uniquely you right?
5. FAQs when having Honda Civic modified?
Question: How much is a Honda Civic Rs the Philippines?
Answer: The Honda Civic RS has a SRP of ₱1,608,000.
If you want a more recent update, check out Honda Civic price Philippines.
Question: Can you make a normal 10th-gen Civic look like a Type R?
Answer: Yes, there are conversion kits to make your normal Honda Civic look like a Civic Type R.
Question: What's the recommended wheel size to make a Civic FC look good?
Answer: The most common aftermarket wheel size for a civic is 17x8 with a 35mm offset.
Question: Can you replace the Civic's CVT with a manual?
Answer: Yes, but it replacing a CVT Civic with a manual transmission would be a very expensive project.
Question: Are there aftermarket coilovers available for the 2016-2020 Honda Civic?
Answer: Yes, there are a lot of aftermarket coilovers available for the 2016-2020 Honda Civic.
For more ideas on how to modify your cars, keep reading here on Philkotse.com. If you are interested in other Honda models in the Philippines, check out our list of Honda cars price Philippines.

Know more about Honda Civic 2023

The 2023 Honda Civic is a compact, five-door sedan. It is now in its eleventh-generation. For the Philippine market, the Civic has a price range of Php 1,583,000 to Php 1,775,000. It has three variants consisting of the V Turbo, and the RS Turbo as the top-spec trim. All of them are equipped with the Honda Sensing driver assist safety suite, and all use a 1.5-liter turbocharged VTEC inline-4 gasoline engine capable of making up to 175 horsepower and 240 Nm of torque. All trims use a continuously variable transmission (CVT).
Size-wise, the 2023 Civic is 4,678mm long, 1,802mm wide, and 1,415mm in height. It wheelbase length measures 2,735mm long, and it has a ground clearance of 134mm. Competitors of the Honda Civic for the Philippine market includes the likes of the Toyota Corolla Altis, Mazda3, Kia Forte, Nissan Sylphy, among others.

Cesar G.B. Miguel
Author