In a very special Christmas Double Feature of our car of the week, we focus on modified 2000 and 2005 Mitsubishi Pajero SWB and LWB!
More than street cred
The Mitsubishi Pajero. To this day, no other car model in the Philippines commands as much reverence and deep-rooted respect; you might as well call it "Mr. President" at this point, and that honorific has almost become inseparable from this machine.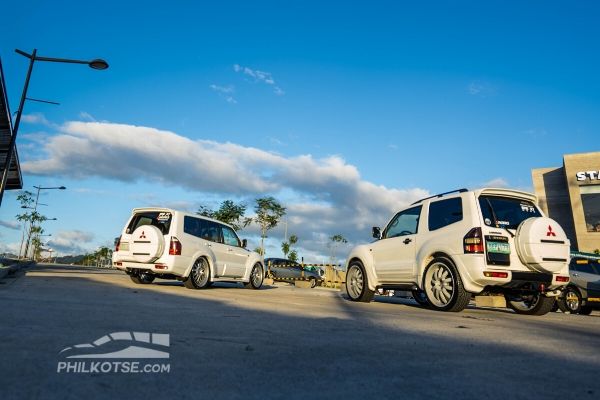 Quite fitting that these Pajeros were shot at MMPC's former home in Cainta
With this thought in mind, what does a guy have to do to break free of this stereotype? Stereotypes are there for a reason after all. "You can call this the poor man's luxury off-road SUV," says owner Marxelius "Tabz's" Montalbo.
Puzzled, I asked myself if there was any truth to the assertion. It's a freaking Mitsubishi Pajero, for crying out loud! Then it hit me; being a car guy, you wouldn't want to be caught up and locked in a specific stereotype. That would suck big time.
>>> Got your eyes on a used or new Pajero? Check out our Mitsubishi Pajero listings to drive home with one!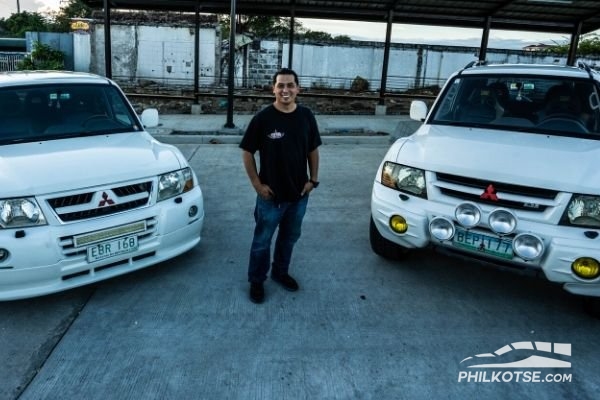 The owner stands proud of the fruits of his hard work
Poor man's luxury?
Tabz gave us a special treat for this Car Of The Week feature. He loves the Mitsubishi Pajero so much that he actually has two of them, both from the same Gen 3 Pajero (CK), albeit with different body types.
He has the well-known Mitsubishi Pajero five-door on one hand, and a rare, three-door headturner in the other. I had the pleasure to drive the former, affording me a front-seat experience of what the cockpit felt like. More on that in a bit.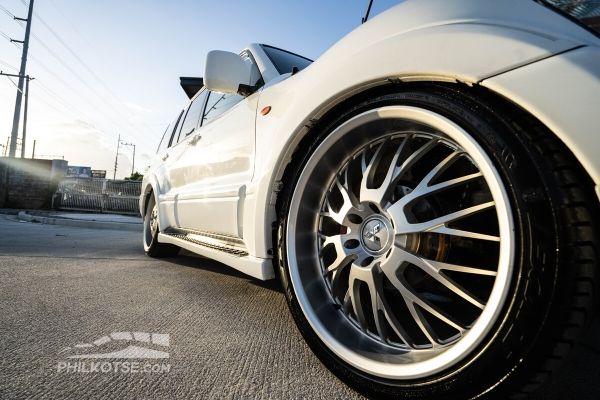 You would think that 24-inch dubs would feel awful, but that isn't the case here
"I call this the poor man's luxury SUV because of how easy it is and accessible when it comes to parts and accessories," Tabz proudly muses. Truly, there was no need to import parts from overseas just to get a particular component he needs for maintenance or performance. It was then that I realize the wisdom in those words.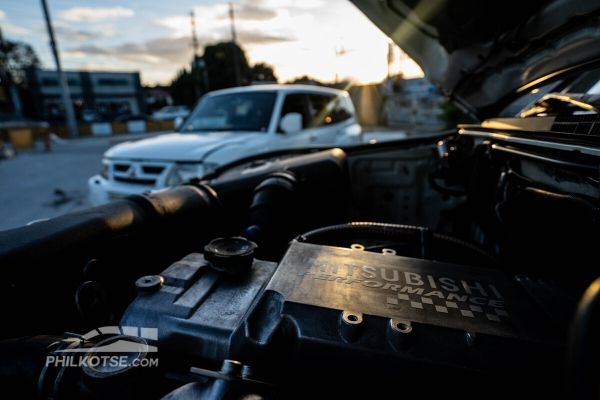 The turbo intercooled engine provides enough gruff and grunt for these massive behemoths
>>> Read more about the car on our Mitsubishi Pajero reviews
Rally dominance
You see, most of us might know the Mitsubishi Pajero as the king of the Dakar Desert Rally, pretty much dominating the competition in whatever race it joins. But the Pajero started life, as all cars do, as a concept by Mitsubishi. A concept in the 70s that was so revolutionary, it was practically unheard of.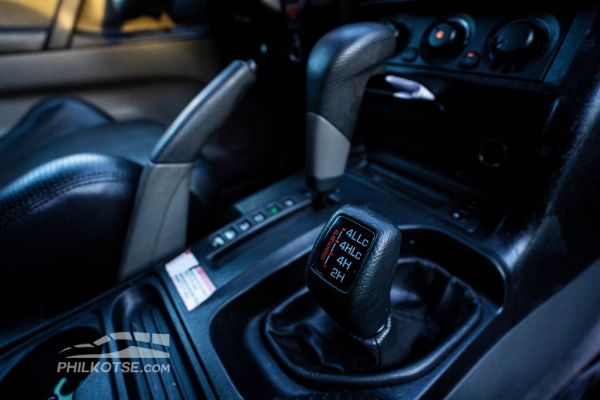 Mitsubishi's famed Super Select 4WD System is unmatched to this day
Mitsubishi wanted to break the mold of how we see 4WD vehicles as off-roaders. At the time, they were known as purpose-built vehicles based on truck architectures and were meant to conquer tough terrain, with little regard for passenger comfort or even drivability.
The carmaker aimed to change that, launching the first generation Mitsubishi Pajero in 1982. The vehicle offered creature comforts that matched (and even surpassed) those of passenger cars at the time, and was one of the first to adopt rear coil spring suspension while most were stuck with leaf springs.
 >>> Related: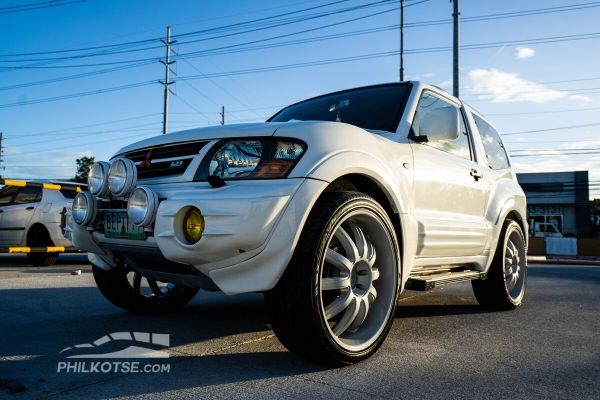 This shot makes me think of the another three-door SUV's relevance
This philosophy made it easy for Tabz to build his dream setup on the Pajero. It helped that the third generation was oriented towards the future by adopting a unibody construction, as well as fully independent suspension all around, setting the pace for how modern crossovers do it today. We'll first take a look at his 2005 LWB (long wheelbase) Mitsubishi Pajero.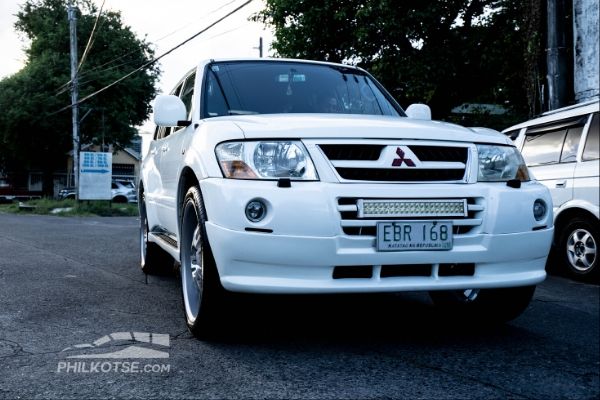 The Pajero has always been respected... and feared
What to look into the interior
The interior of Tabz's five-door 2005 Mitsubishi Pajero CK LWB is pretty much kept stock, apart from the upgraded touchscreen entertainment system with navigation capabilities. The head unit is connected to a 3,000-watt audio system with a large subwoofer mounted on the rear cargo area.
Everything seems unassuming at first, until he fires up the sound system. If you love sounds and music in your car, Tabz definitely has them in spades. Don't believe me? You can ask him yourself.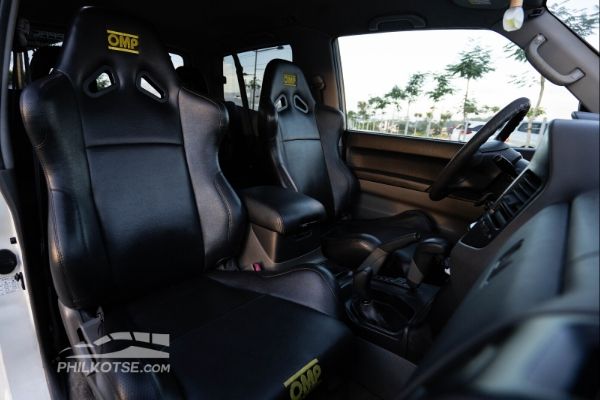 OMP Performance Racing Seats provide ample support for spirited driving
The sportier three-door 2000 Pajero CK SWB looks more purposeful, as it is shod in aggressively-bolstered OMP Performance Racing seats. They are as supportive and rigid as they look, complementing the interior in a way as to say that this is not your regular Pajero, no sir. It rides quite high while giving you a commanding view of the road ahead.
The smaller Pajero makes me question all the hype surrounding the current generation Suzuki Jimny and its million peso price tag. The former doesn't need the hype though; it IS the hype.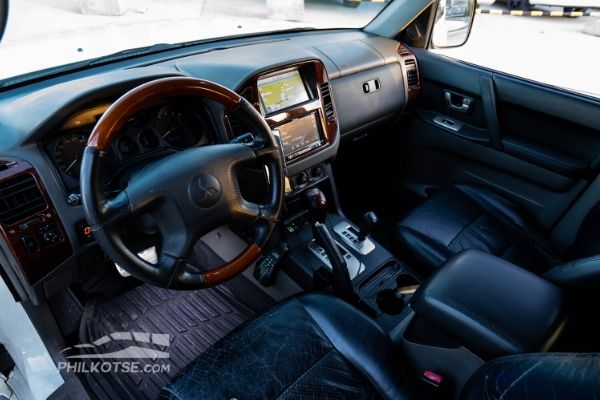 There's just the right amount of faux wood trim on the dash and tiller
>>> Grab the biggest Mitsubishi promotions before Jan 5th, 2020.
It goes up and down
Both Pajeros come stock with a 3.2L inline-4 DOHC 16-valve turbo intercooled diesel engine under the hood, making a healthy 163 hp at 4000 RPM and 351 Nm of pull at 2000 RPM.
You might think that the Pajero doesn't hold a candle to whatever it is you're driving in 2019, but it has never been about being fast; it's about getting you to your destination in comfort and authority, and if by any chance it gets there before you, that one's on you.
For good measure, both cars are equipped with full exhaust systems, making them both look and sound good, with just the right amount of oooomph to get to where it's going even before you do.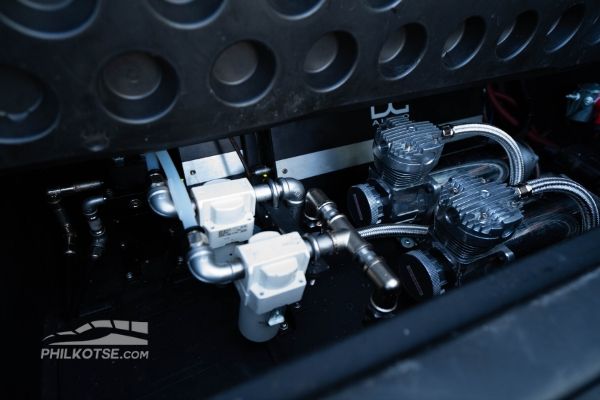 This bagged Pajero ensures a smooth ride and great flexibility
The LWB and SWB Pajero both wear 24-inch OE alloy wheels shod in imported 295/35/R24 Lexani LX-Thirty Ultra-High-Performance SUV tires. The dubs give both SUVs an imposing presence, but that's not even the best thing about these two machines.
While the three-door still runs on stock shocks and springs (which in itself is an amazing feat), the five-door has been outfitted with an AccuAir Performance Air Suspension system.
>>> Useful tips on car modification: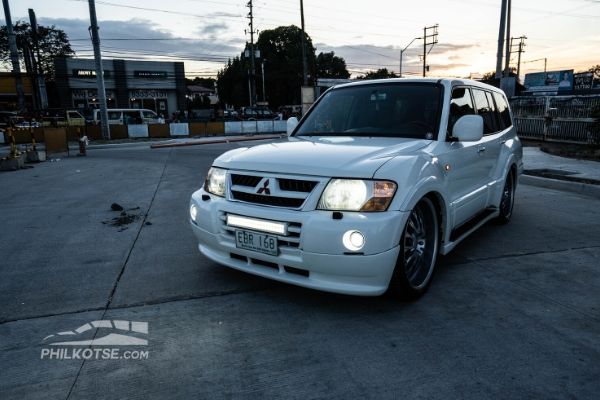 The Pajero can still keep up with today's cars in terms of aesthetics
The Pajero's body going up and down at a touch of a button is a sight to behold; makes you almost cry really. "I love doing DIY things to my car, I often watch how other people do it in my car and I learn from them so I too can do it myself next time!" Tabz says with glee.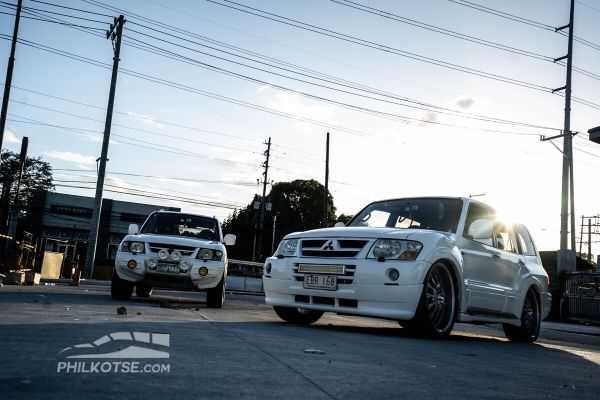 You really can't beat the Pajero's performance and flexibility
>>> Read more about other "car of the week" featured on Philkotse
Spec sheets
Overall

Model
Mitsubishi Pajero 2000
Mitsubishi Pajero 2005

Variant

2000 Pajero CK SWB

2005 Pajero CK LWB

SUV

Price range at Philkotse.com

PHP 450,000 – 550,000

Dimensions

Length

4,219 mm

4,831 mm

Width

1,875 mm

1,900 mm

Height

1,844 mm

1,885 mm

Wheelbase

2,545 mm

2,786 mm

Number of seats

2+2

5

Engine and performance

Engine

3.2 L 4M41 Di-D I4

Fuel capacity

75 liters

5-Speed Automatic with Super Select 4

Stock Max power

163 hp @ 4,000 RPM and

Stock Max Torque

351 Nm @ 2,000-3,000 RPM

Average Fuel Economy

8-9 km/l (city)

Modifications

Full Exhaust System Upgrade

24 inch OE Alloy Wheels

295/35/R24 Lexani LX-Thirty Ultra-High-Performance SUV Tires

3000W Sound System with Subwoofer

OMP Performance Racing Seats (SWB)

AccuAir Performance Air Suspension (SWB)
Conclusion
No two car guys are ever the same, but all of them possess a common bond between themselves and their cars. And in the case of Tabz, he absolutely loves everything the Pajero has to offer.
"I've always been a fan of the Pajero since the first generation," Tabz remarks. "You can say that I'm addicted to it!". What he said about the Pajero being a poor man's luxury SUV comes back to me.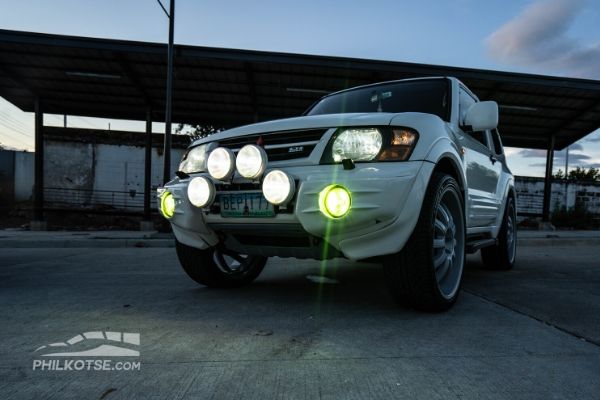 Warning: Pajeros are highly addictive
As I was driving the Pajero around, I can actually feel everyone resting their gaze on me. It's unlikely that this was the first time they've seen a Pajero, but they know better than to not treat it with respect and reverence.
Deep inside though, I understand what Tabz tells me about these two being his bundles of joy, that every piece of work done on them was made by hand with love and care, and for a much cheaper price than what modifications of this scale usually cost.
I appreciate a man who understands that a thing's value is not always measured by money, but by the effort one puts into maintaning it. So in that respect, Tabz demonstrated just how precious his two Pajeros are.
>>> Make sure you know: Watch out! Illegal car modifications to avoid in the Philippines!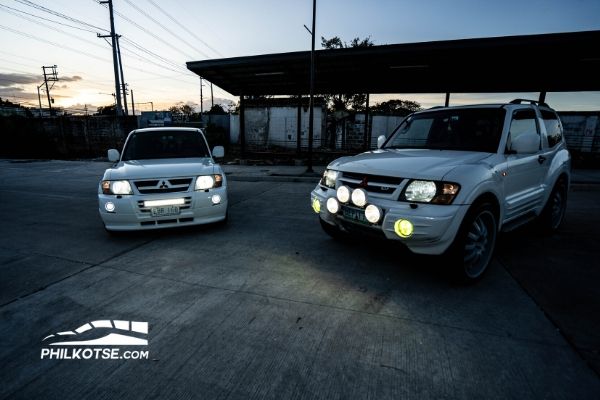 You have to appreciate a man who cares so much for his passions
Beyond the hype, the history, the beliefs and preconceptions that other people might hold toward his rides, Tabz cemented his own legacy, with two beautiful SUV specimens to show for it.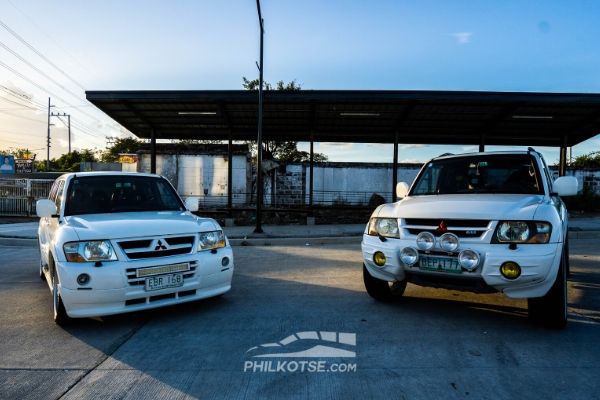 Forget the history and the hype. What matters is what you have
Keep your eyes glued to Philktose.com for more news, reviews, and features such as these. Want to have your car featured on our website? We'd love to hear from you! Drop me an email with a picture of your ride and the story behind it at leroy.robles@philkotse.com.
And... on behalf of everyone here at Philkotse.com, we would want to greet all of you a very Merry Christmas and a Happy New Year!

Know more about Mitsubishi Pajero 2023

The Pajero is at the top of the rally racing legend Mitsubishi Philippines' SUV range. It is a true off-roader that commands a strong cult following both locally and globally. The Mitsubishi Pajero is a favorite among car buyers and car enthusiasts who want style, adventure, and power in one package. The new Pajero comes in a bolder and more premium look. The front end of the vehicle features a new bumper integrated chrome grille as well as a more aggressive front bumper with LED daytime running lamps. The SUV's muscular styling is complemented by the new twin-6-spoke 18-inch alloy wheels with 265/60 R18 tires. The rear part of the SUV gets a redesigned 5th door. The spare tire carrier also receives a more integrated redesign. It now features a new power sunroof, which comes as a standard. The interior also received several styling updates, including piano-black accents and new silver and carbon fiber trim that gives off an elegant feel. The steering wheel of the Mitsubishi Pajero also comes with audio controls the DVD/MP3 player that transmits sounds via six speakers. Mitsubishi Philippines offers the Mitsubishi Pajero in 3.2L diesel engine, in-line 4-cylinder 16-valve DOHC. Some of the standard features available in this SUV are airbags, ABS with EBD, alarm, rear parking sensors, and immobilizers.

Roy Robles
Author