This perennial best-selling MPV is now more premium than ever.
Toyota Philippines knows best-sellers, and its Innova is one of those that have earned the distinction, lording over its category since 2005. The model practically started the local MPV segment, at a time when its rivals were still hanging on to archaic AUVs.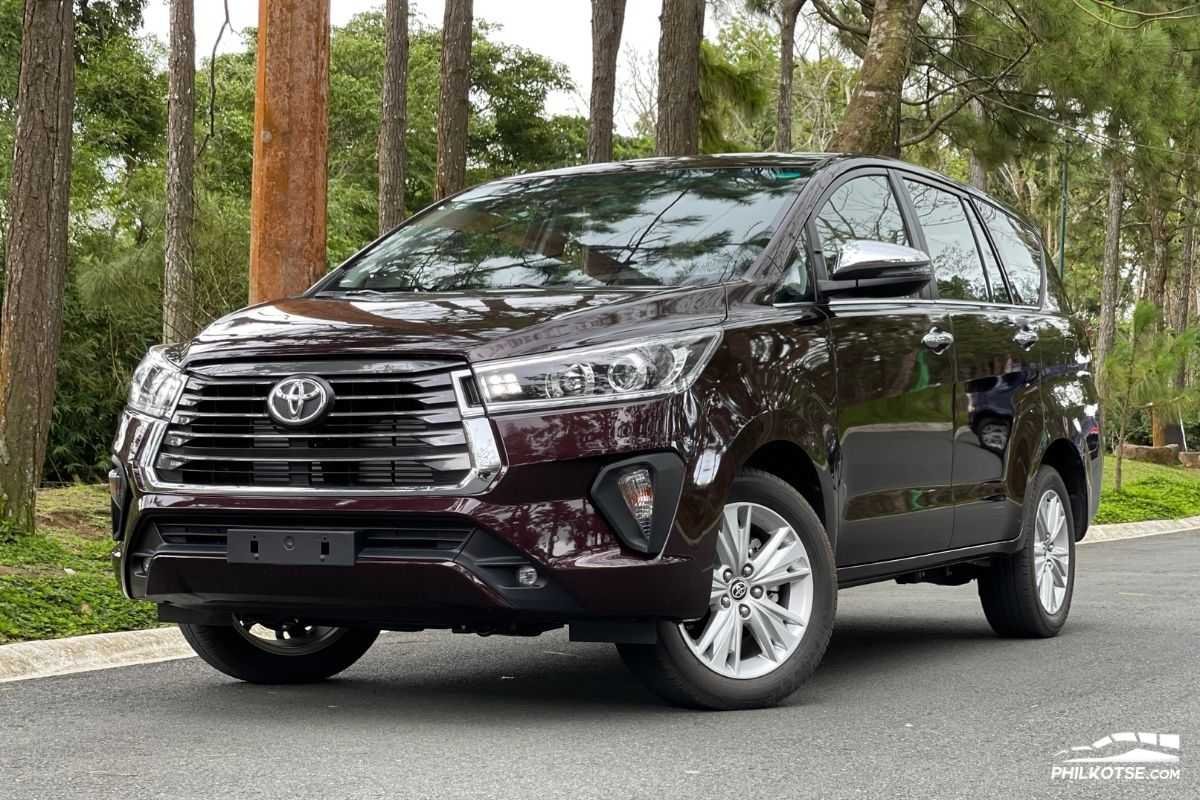 The Toyota Innova has become a household name
Currently in its second generation, the Toyota Innova continues to share its chassis with both the Fortuner SUV and Hilux pickup, making it a robust competitor both figuratively and literally. It might be the only offering in its class with a ladder-type frame, but the refinements Toyota put in have made the Innova an ideal household hauler.
The 2021 iteration of the MPV introduced considerable changes, from the revised fascia to added safety features across the range. With a lineup pared down to six variants, the Innova will be available exclusively as a diesel for the first time.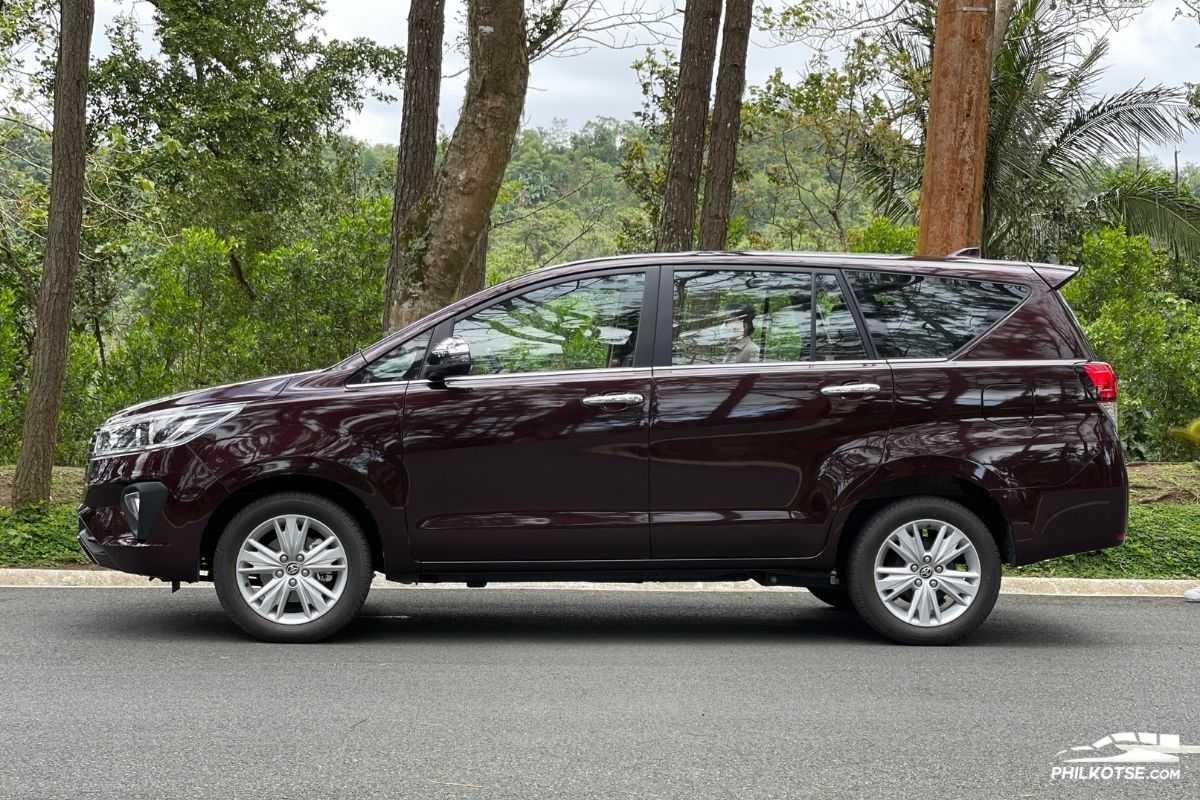 External dimensions have been retained
Find out how much you'll need to set aside for the privilege of owning one of Toyota's most popular offerings.    
Toyota Innova J 2.8
The base Innova trim level offers a single transmission option: a 5-speed manual transferring the 2.8L diesel's output to the rear wheels. It features multi-reflector halogen headlamps on the fascia, color-keyed door handles on the sides, and rolls on 16-inch steel wheels. There are fabric seats for up to eight occupants on the interior, while a 2-DIN head unit features Bluetooth, USB, and AUX connectivity.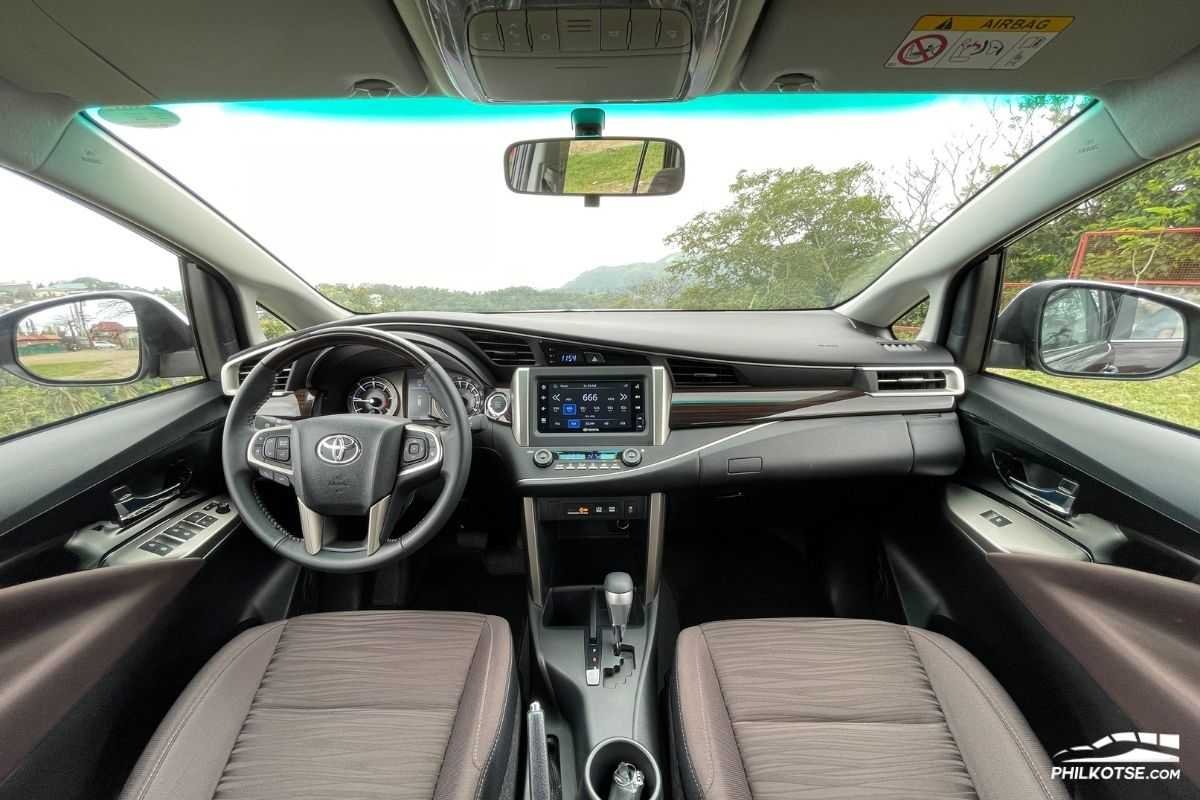 The cockpit has been largely retained from the outgoing model
Pricing for this variant is at Php 1,186,000, and a 20 percent downpayment or Php 237,200 gets you 36 monthly installments of Php 33,170. Raising the initial deposit to 40 percent or Php 474,400 will only cost Php 20,021 for the next 48 months, going down even further to Php 17,154 if you opt for a 60-month term.
>>> Related: 2021 Toyota Innova: Expectations and what we know so far
Toyota Innova G 2.8
The upper-spec Innova G sports fog lamps in front, with power-folding chrome side mirrors. A center armrest is standard on the second-row bench, while a leather and wood steering wheel is located just in front of the 4.2-inch multi-information display. The cabin is equipped with automatic climate control, and it adds a reverse camera to the rear sensor array.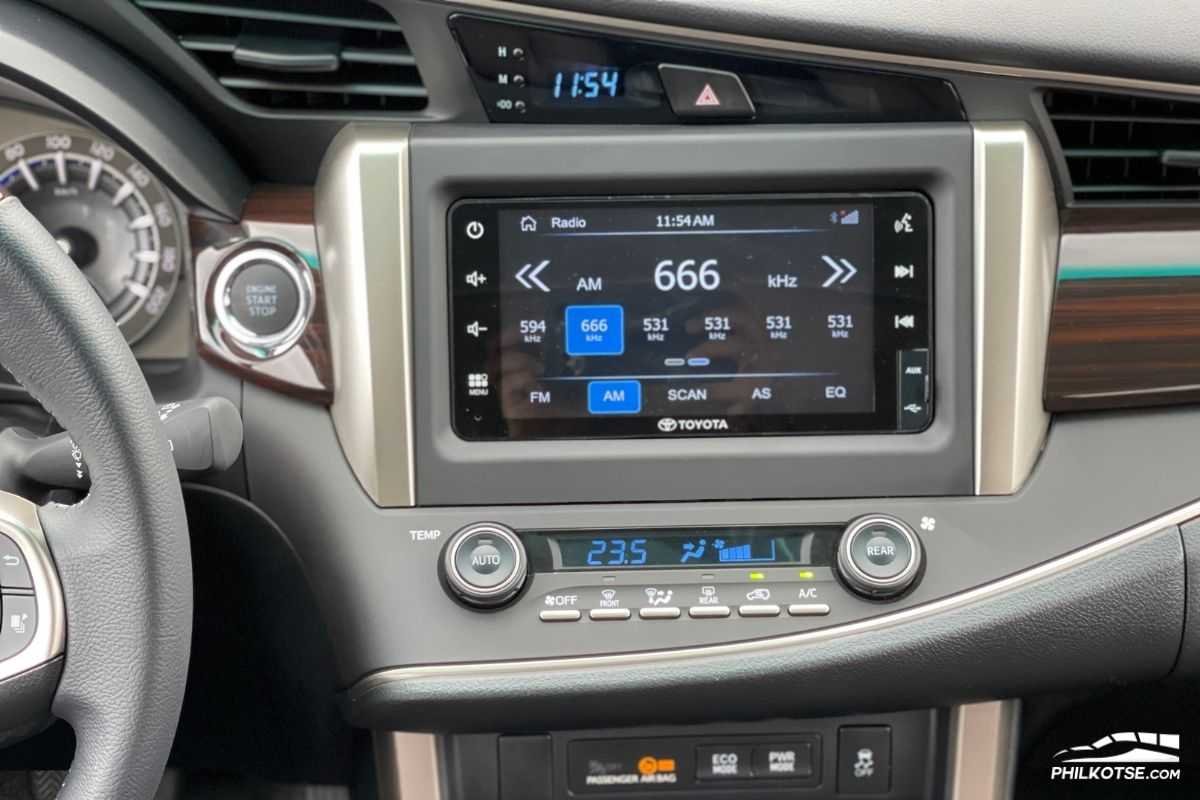 Apple CarPlay and Android Auto are now standard on the touchscreen head unit
>>> Related: 2021 Toyota Innova Old vs New: Spot the differences
This trim level is available in both 5-speed manual and 6-speed automatic gearboxes. The former carries a sticker price of Php 1,522,000, payable in 48 monthly installments of Php 29,976 on a 30 percent downpayment or Php 456,600.
For a 60-month term, the monthly payment is Php 22,014 with a higher deposit of 40 percent or Php 608,800.
Meanwhile, the convenience of an automatic adds Php 70,000 to the price tag. Divided into 36 monthly installments on a downpayment of 50 percent or Php 796,000, it will cost you Php 27,828.
Dialing it down to a 40 percent downpayment or Php 636,800 will result in payments of Php 23,026, if stretched over 60 months.
Toyota Innova V 2.8
This is the one with all the bells and whistles. LED projector-type headlamps accompany LED foglamps and daytime running lights, with door handles rendered in chrome. A set of 17-inch alloy wheels can be found on all four corners.
Passenger capacity is reduced somewhat, but only because of the captain's chairs on the second row. The 7-inch display audio head unit offers Apple CarPlay and Android Auto, while seven airbags protect everyone on board in case of collisions.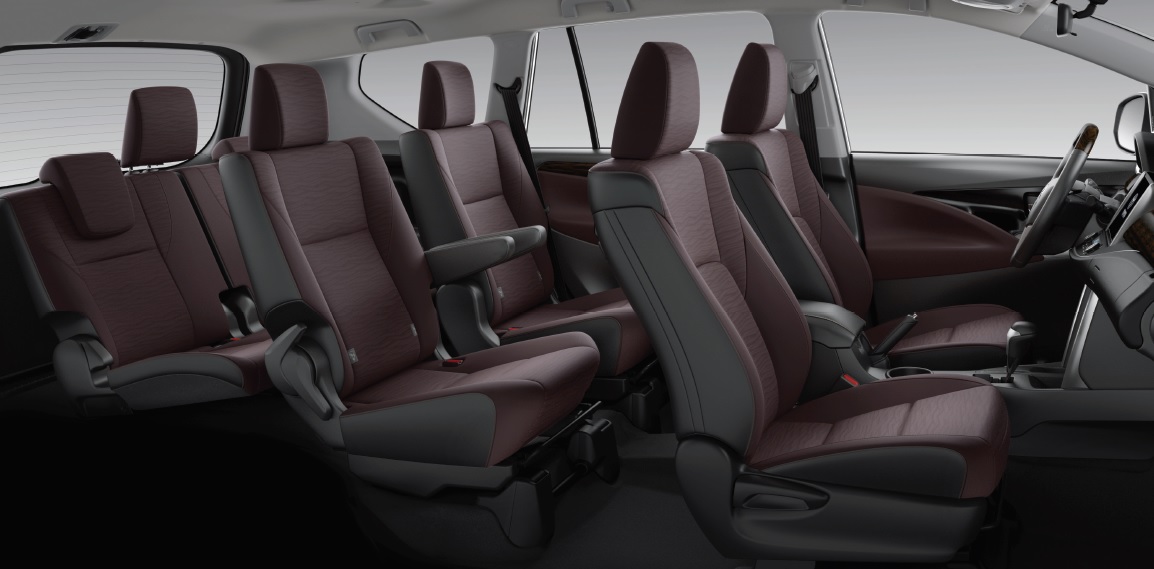 The top-of-the-line variant features captain's chairs on the second row
>>> Related: Toyota Innova Maintenance: How much does it cost to own one?
Exclusively sold as an automatic, the range-topper comes in at Php 1,739,000, split up into 36 monthly installments of Php 48,636 on a downpayment of 20 percent or Php 347,800.
Doubling the deposit at Php 695,600 brings the monthly bill down to Php 36,477, and if you choose to finance it for 60 months, you only need to pay Php 25,152 monthly.
The figures are merely estimates and do not include recurring expenses like fuel, maintenance, insurance, and registration. While the lack of a gasoline option has made the 2021 Toyota Innova a little more expensive than the previous version, it is exempted from the provisional safeguard tariffs since the MPV is assembled locally. For further details, get in touch with your nearest Toyota dealer.
Get more pricing information on your car of choice at Philkotse.com.

Know more about Toyota Innova 2023

The Toyota Innova is one of the best-sellers from the leading automotive brand in the country, Toyota Motor Philippines. It is a compact MPV that can accommodate seven occupants while other variants have a seating capacity of eight. The Toyota Innova's prices in the Philippines ranges from PHP 1,191,000 to PHP 1,764,000. It has six variants in the market starting with the Innova J, up to the top-spec Innova V.
For the Philippine market, the Toyota Innova 2023 has only one engine option. It uses a 2.8-liter turbodiesel engine capable of producing up to 171 horsepower and 360 Nm of torque. Depending on the variant, uses uses a five-speed manual gearbox, or a six-speed transmission. Size-wise, this Toyota-made MPV is 4,735mm long, 1,830mm wide, and 1,795mm in height.It also has a wheelbase length of 2,750mm, and a ground clearance of 178mm.
The Toyota Innova's competitors in the local market includes the Mitsubishi Xpander, Suzuki Ertiga, GAC GN6, and the Maxus G50.

Joseph Paolo Estabillo
Author