No need to break the bank to own a decent brand new pickup truck because Philkotse has rounded up the 5 cheapest-to-buy pickup trucks on the market today.
What will appear in your mind first whenever you see a pickup truck?
Most people see a pickup truck as a powerful man who has an enormous capability of hauling and crossing. It opens up their mind to vivid images of summer trips and exciting adventures. Some consider a pickup truck as an icon of America culture. They see the silhouette of a strong America, a free man, and a gallant hero in a pickup truck.
>>> Philkotse reveals some pickup trucks with the best resale value. Click to read full our report.
Have you ever wondered why although pickups are expensive to buy, the demand for this type of vehicle is still on the rise? Well, because you know, you get what you pay for.  
Firstly, you will never have to worry about the space for your all kinds of stuff. A truck has a very large bed that can house up a lot of big and heavy luggage. Secondly, equipped with a powerful and durable engine, a pickup
truck
can cross over any road conditions even in heavy snow, hail or flood. Last but not least, with a tough body and a great capability for towing, the vehicle promises to bring you an assurance of safety more than any other cars.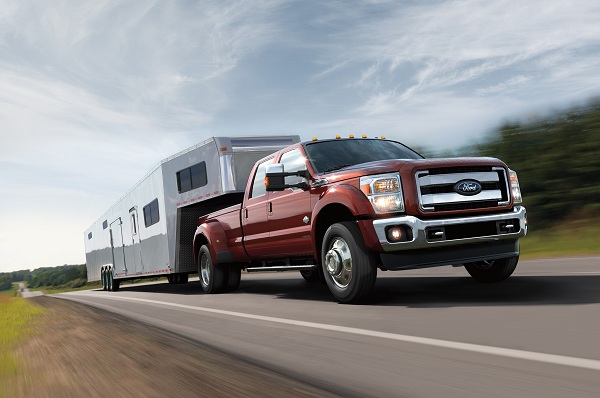 A pickup truck has a great power for towing
Is it persuasive enough for you to go for a pickup truck? Let us show you the 5 least expensive pickups that are currently marketed in the Philippines.  
>>> Click here to see the list of top 5 used pickup trucks with monthly payment from P25,000 on Philkotse
1. Ford Ranger
Price: ₱720,000 - ₱1,739,000
It can be said that
Ford Ranger
has become one of the most typical models in its segment, being well-known for its smooth ride and ability of balance handling. As the vehicle can wade through 800 mm of water in depth, floods in Metro Manila will no longer be a problem to you.  
Though the price for a Ford Ranger seems to be a little bit expensive, there are actually other less pricey variants that you can go for.  
If you cannot afford a 3.2L Wildtrak 4×4 Ranger, you can downgrade to a Ford Ranger 2.2 Wildtrak 4x4 AT priced at P1,569,000, or a Ford Ranger 2.2 Cab and Chassis 4x2 MT with the lowest price - P720,000.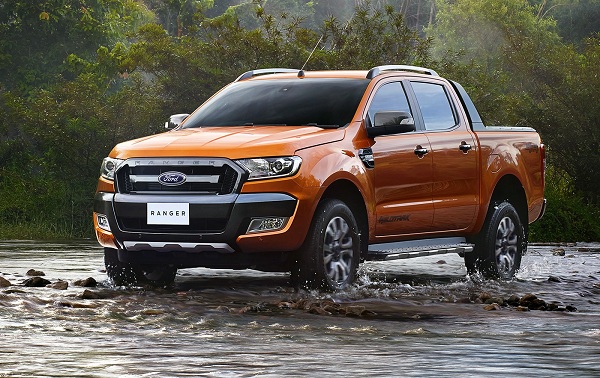 Ford Ranger has become one of the most typical models for the pickup truck's body type

Ford Ranger is truly a powerful off-road vehicle
 
2. Nissan Navara
Price: ₱961,000 - ₱1,686,000
Widely known as one of the best models for the pickup segment in the Philippines, the 
Nissan Navara
 evokes an image of a Northern Spanish man. It also has an attractive interior with a spacious cabin. The model has better power and ability of handling which are significant improvements compared to its predecessor.  
With a 2.5L 16-valve engine, the pickup can go in either manual or automatic transmission with a 6-speed and 7-speed respectively. It also has 2 version of
4x2 and 4x4 configuration
.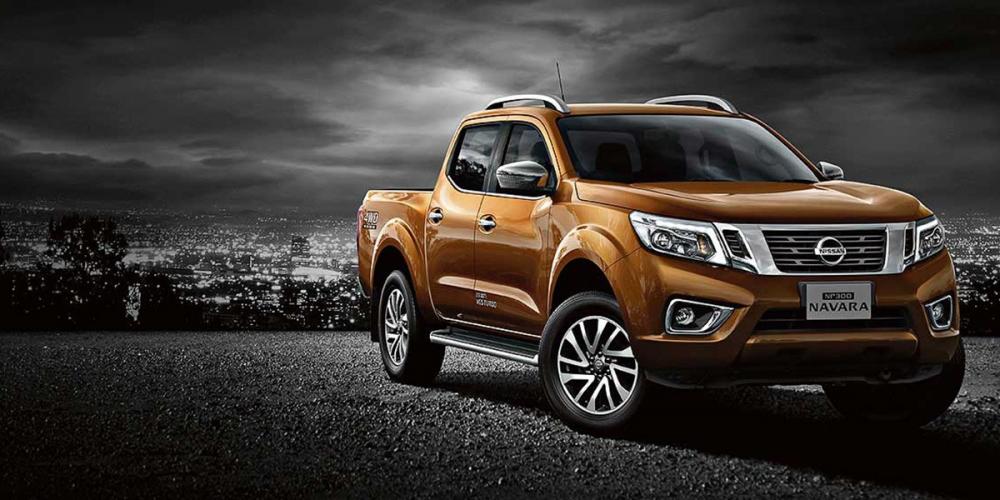 The Nissan Navara is also one of the best models for the pickup segment of this carmaker in the Philippines
3. Mitsubishi Strada
Price: ₱975,000 - ₱1,655,000
Mitsubishi Strada
, also known as Mitsubishi Triton, has its original name as Mitsubishi Forte. Since 1978 until now, the model has become one of the most favorite pickup trucks in the Philippines.  
The vehicle is a perfect combination of mobility and utility. It is also regarded as a crossbreed of a sedan and a pickup truck with the comfort and the reliability of both vehicles. The car offers generous cushion length, good rear seatback angle and great leg room, which promises to make the ride more comfortable to its passengers and driver.
With the engine as same as that of the
Montero Sport
SUV, the Mitsubishi Strada runs more smoothly and quietly even in higher speeds. The Strada still uses the 2.5L 16-valve DOHC diesel engine, which can be fit for a 5-speed manual or automatic transference.
>>> Read our expert review  for the 2017 Mitsubishi Strada GLS 2WD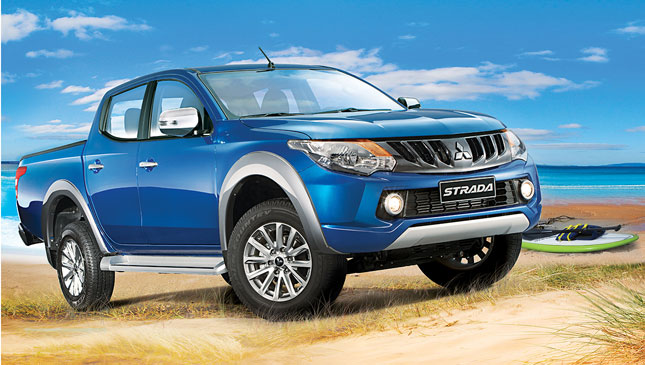 The vehicle is a perfect combination of mobility and utility
4. Toyota Hilux
Price: ₱788,000 - ₱1,712,000
The all-new
Toyota Hilux
is the 8th generation in a long line of extraordinary trucks that started in 1968 with the RN10 (short-wheelbase form). After almost half of a century later, it has become a popular utilitarian truck with a considerable improvement including a better acceleration, more fuel-efficient consumption, and more powerful steering. With that, it brings drivers a lot of exciting and enjoyable road trips.
However, the Toyota Hilux is not a car focusing on appearance. Instead, it's a solid vehicle with a tough exterior that might not satisfy every car buyer.
The Toyota Hilux uses both a 2.4L and 2.8 L 4-cylinder VN turbo intercooler diesel engine.
>>> Click for an in-depth review for the Toyota Hilux 2018 Philippines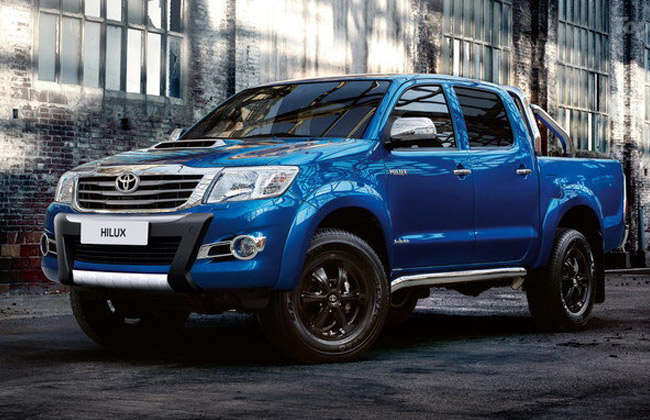 The Toyota Hilux has become a popular utilitarian truck with a considerable improvement
5. Isuzu D-Max
Price: ₱762,000 - ₱1,570,000
Although
Isuzu D-Max
may share the same platform with other models such as the Isuzu i-Series, GMC Canyon and the Chevrolet Colorado, it still dominates others to become one of the most favorite vehicles with a huge number of followers in the Philippines.  
This pickup is famous for its reliability and more surprising, the newest model is better improved with a quieter engine, a greater ability of handling, a smoother gearbox as well as a better fuel efficiency, which promises to bring a more interesting and wonderful experiences to riders.  
Isuzu D-Max runs with a 3.0L 4JJI-TC (HI) diesel engine, a VGS turbocharger and intercooler. It also comes with either a 5-speed automatic or manual transmission.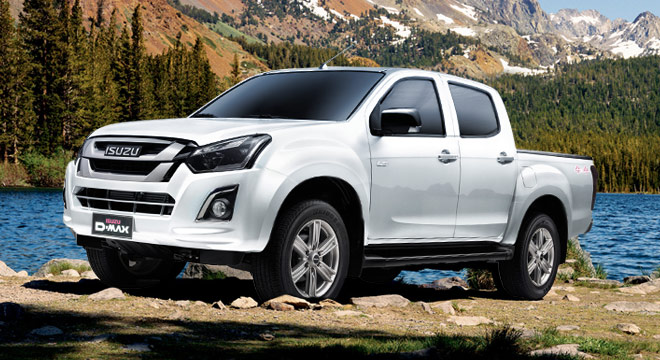 The Isuzu D-Max is famous for its reliability