This article features the most common and best sedans available today in the Philippines as researched by Philkotse.com for the year 2019.
Ride-hailing apps have become a Cinderella story in the Philippines. After an arduous and uphill battle with government regulation, the term ride-sharing has now entered the Filipino collective culture. For a majority of us daily commuters, it is a GODSEND and a breath of fresh air from borderline criminal Taxi cabs that take passengers only when it's most convenient and charge exorbitant fees.
It's also quite helpful to other people wanting to earn good money by using their cars for the ride-hailing service. In fact, according to a previous post on Philkotse (which can be found at the end of this article), it is totally possible to make an income of up to ₱40,000 per month gross as a Grab driver.
So what is the best car for Grab?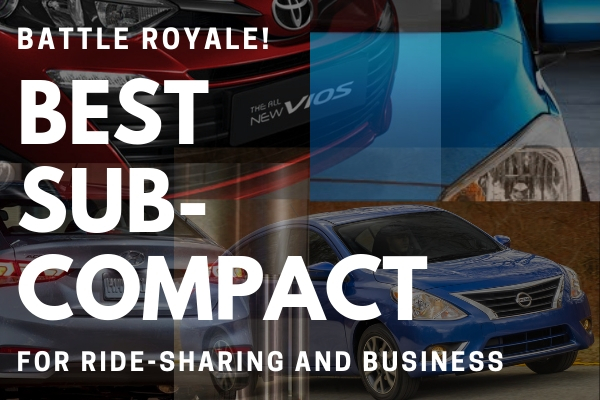 What is the best car for Grab?
This is an updated list from a previous and popular article here at Philkotse.com and you know how much we love to stay up-to-date especially with the pricing of these cars. We just can't say enough of these.
We'll be focusing on the basic service that these apps offer. I know there are the more premium service offerings so we can scratch out those big SUVs. The minimum requirements for the ride service are as follows.
It should have 4 doors, sorry no roadsters here. 
Air-conditioning. So, yeah we'll have to pass on people going al fresco.
No branding. I know you would like to let people know about your MLM business but… NO
Newer model, 2014 and up. We love your Toyota Corona but maybe not for here.
Also last I heard it must be a Sedan. Hatchbacks may be good for your groceries but it's really not what they're looking for.
This is going to be a fun experience. This list is in no particular order so don't get butthurt if your favorite brand goes before the other, alright?! Let's go window shopping for a new car, shall we?
1. Mitsubishi Mirage G4 GLX M/T: P650,000.00
Modern small cars have come a long way from being those tinny econoboxes of old. They now feature superb handling, eager engines great fuel economy at a price point that won't break the bank. Today's small cars epitomize the concept of Cheap & Cheery. 
Unfortunately those things, the Mitsubishi Mirage are NOT. This car is a throwback to 90's motoring. 78 HP and 100 Nm of torque from its 1.2 liter 3 cylinder engine can only get you so far. Then again we aren't looking for your dream car here, are we? Just make sure you get the Manual transmission and skip the god-awful CVT so you can wring every last ounce of power from the relatively modern MIVEC engine.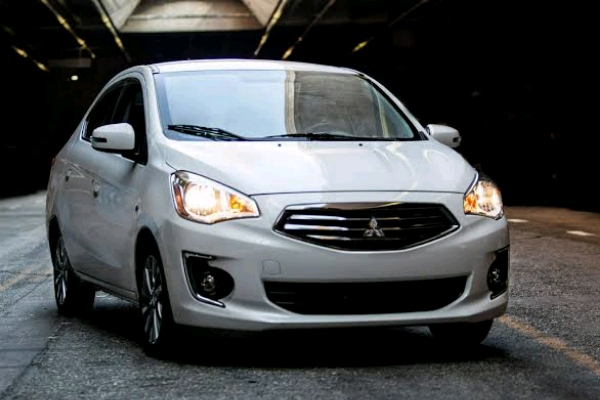 The Mirage Design Wont Pull on any Heartstrings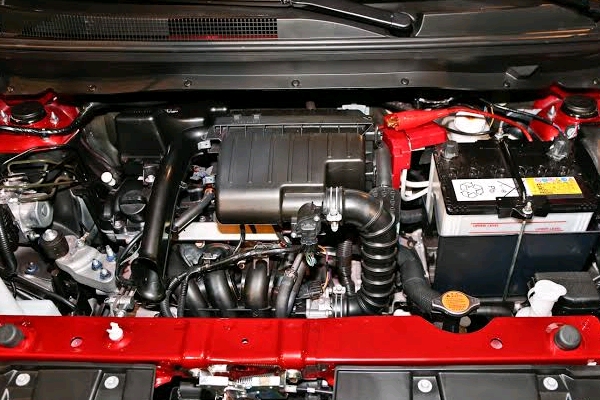 Sure is A lot of Space In Here
What the Mitsubishi Mirage G4 is, though is RELIABLE. It's the everyday workhorse you're looking for, one that takes you from point A to point B in relative comfort. At the end of the day, that's everything you're looking for in car. And it's 11 km/L fuel consumption in crawling city traffic is just tops.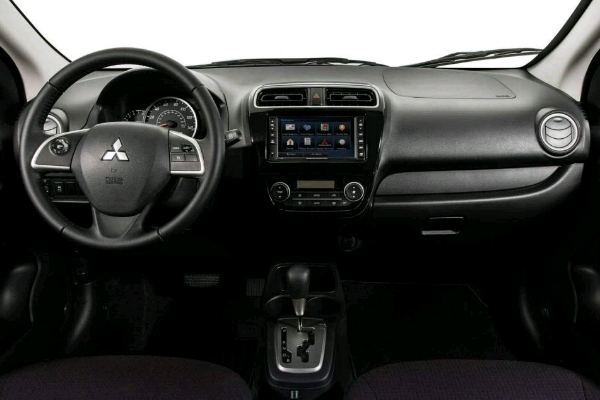 Simple and Clean Without Looking too Bland
Its spacious interior allows you to seat 1 passenger up front and 2 in the back (3 in a pinch) and has the capability to gobble up an entire group's worth of airport luggage in the boot.
This also the most well-equipped car in its segment. You get a Bluetooth, touchscreen infotainment system, dual airbags, anti-lock brakes, and automatic climate control. Everything but the kitchen sink! You can, however, fit that kitchen sink in the trunk with its 450-liter cargo capacity.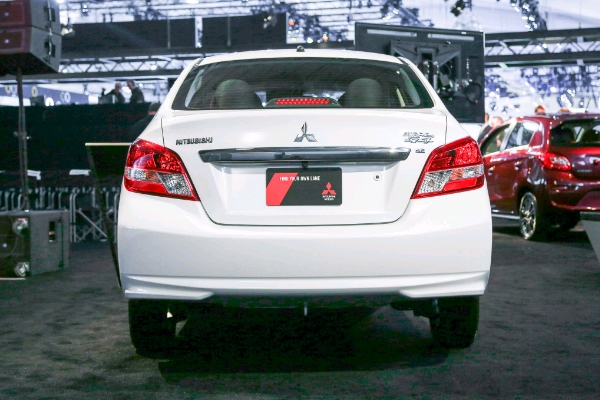 The Best View of the Refreshed Mirage G4 #sexyback
Don't expect this to win any drag races. The Mirage G4 was built for a specific purpose and that is to provide the best possible performance and function for the least amount of money. In that regard, I can most definitely say: Mission Accomplished!
>>> Read more: 
2. Toyota Vios 1.3J MT:  P685,000
Vios, Vios, Vios!
There's a reason why this is the Philippines' most popular vehicle. And that's because of Toyota's hyper-aggressive marketing. Already considered the newest kid on the block, having the latest refresh late last year, Toyota wants you to buy the Vios so bad that it even has it's own in-house financing group to make owning one a whole lot easier.
Truth be told they don't really need all that to let people know that the Vios IS the king of compact cars in the Philippines. Why not have it? It's newly refreshed 4 cylinder DOHC 1.3 liter engine with dual VVTi imbues it 100 HP and 123 Nm of torque. That torque available as early as 4000 RPM making this the most city-friendly, stop light revving compact car out there.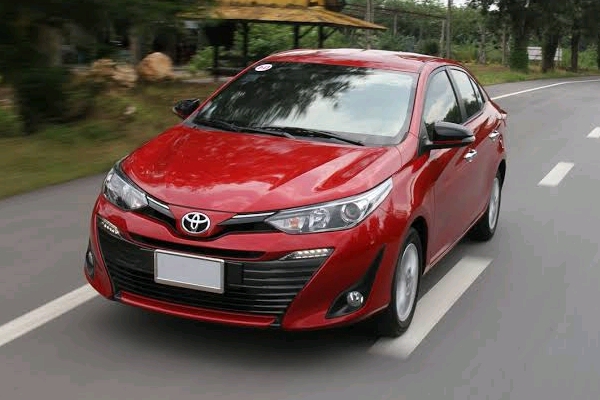 Sales Champ out to Defend its Throne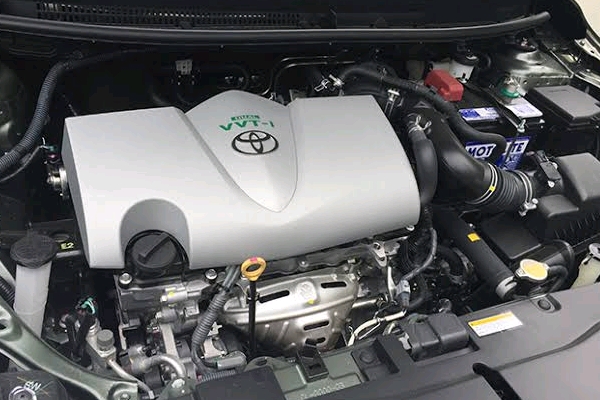 Toyota Engines Have Always Been Known For Their Reliability
Well, not really. Absolutely not. But the way Toyota maps their dual VVTi engine is that it makes all that power available in the lower range of the power-band, giving you the impression that you're driving a much more powerful vehicle. Get past 80 kph and then it starts it's a buzz-like drone and it shows it's true colors.
If not for its ubiquity the Vios is actually one attractive vehicle. Its miles away from the previous model that looks like a light-bulb. With sharp swooping lines, standard 15-inch alloys this is one fine-looking car. It's in the inside though, where the magic resides.
Sitting in the cabin gives you the impression that you're actually sitting inside a Toyota Altis (if you've never actually been in one) the cabin is a cacophony of hard plastics but it's in the sharp attention to detail that takes the cake.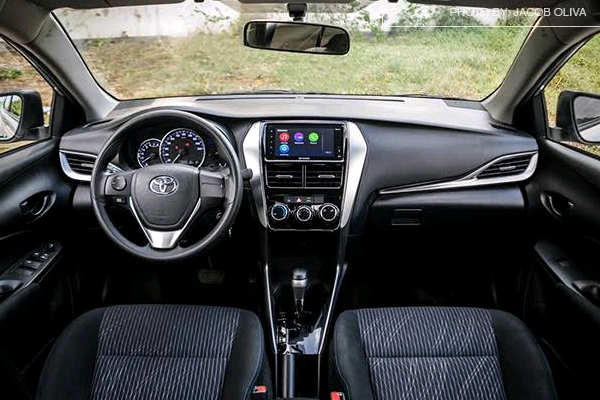 Toyota Owns the Sub-compact Interior Game
The faux stitching on the door panels, those badass Optitron gauges, the best steering wheel in its class (sorry, City) makes this car not only perfect for Uber/Grab but also as a fun personal driver. There's no infotainment system here but it has dual airbags and anti-lock brakes for safety.
The only chink in the Vios' armor really is also what makes it great. Almost everyone has one. I know that white model with blacked out wheels makes the car so JDM but it also suffers the taxi syndrome with people hailing you from afar.
The price is a big point if consideration. To enjoy the 1.3 J one has to take into consideration the PHP 685,000.00 price tag which seats it dangerously close to larger entry-level vehicles such as the Lancer, Elantra and even the Sentra, sorry, Sylphy.
>>> View Toyota Vios full price list and monthly installment 2019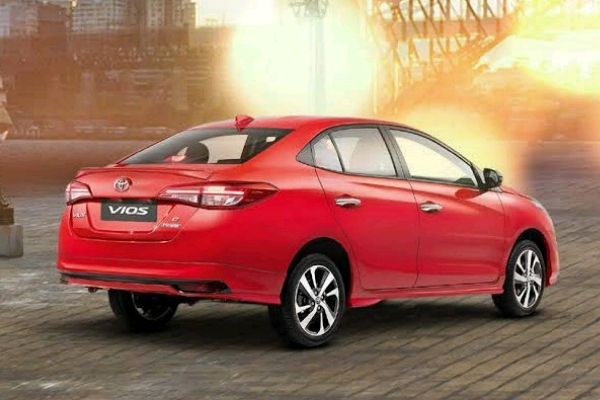 The Jury is Still Out on this Vios' Overall Design
Fuel consumption is also a common complaint among owners. As a reported FC of 8 km/L makes it as thirsty as larger displacement engines. There's a probable reason for this. Remember that engine performance? I guess it's just so fun to drive that people just won't let off that accelerator.
I've gone on and on about the Toyota Vios but it's just that important of a vehicle to the Philippines. We'll talk about this car in length soon enough.
3. Nissan Almera 1.5L E MT: P735,000.00
Before you stop reading and read ahead, hear me out. The Nissan Almera 2017 in this variant is THE best, most underrated value for money sub-compact car in the market today. Okay, you can go now.
Still here? Wanna know why? I'm glad you asked.
For years now, Nissan has languished at the bottom of the sub-compact car market in the Philippines. For the good part of the last decade and a half, they've relied heavily on the N16 Sentra for its fleet car sales. Don't get me wrong, I'm a huge fan of that car, but one has to realize when a car has reached its sell-by date and start smelling the rancid stench of it all.
While other car companies have moved on to more advanced rides the N16 soldiered on and has reached the unenviable status as our generation's Isuzu Gemini (look it up).
Then Nissan had a resurgence. The official Nissan Philippines took over the reins of the previous local distributor and along with it came new and exciting models, the new X-Trail, the B18 Sentra (again Sylphy is just a bad choice of name) Navarra and this one. The Nissan Almera.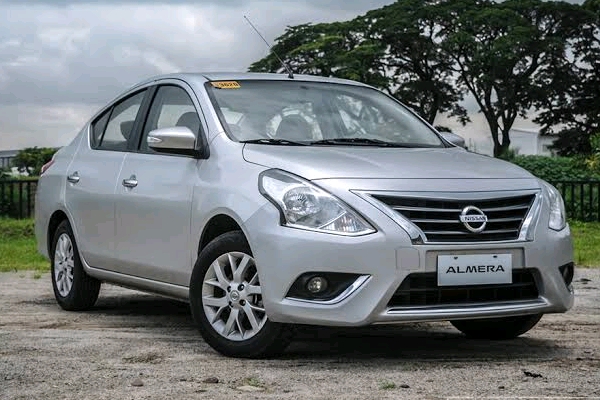 Underrated Looks Betray This Gem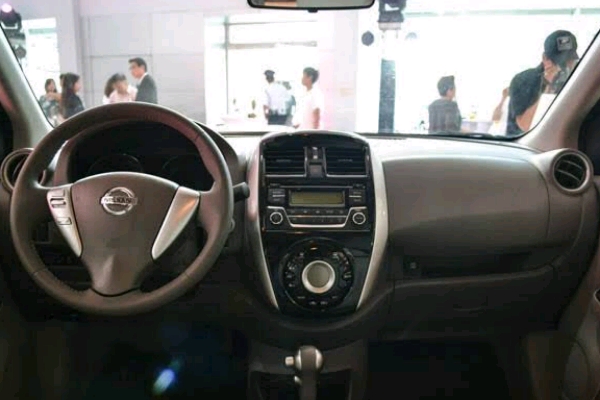 A Confused Interior Theme, Edgy yet Round?
Known in the US as the Nissan Versa Sedan, it is probably Nissan's most important car in the Philippine market. Sure they have awesome Navarra and the new Urvan just screams JDM but this is supposedly their mass-market car. The people mover. Supposedly.
Consider this as the Anti-Vios. Instead of being fitted with a 1.3-liter engine for the lower midrange model, this one has a full 1.5-liter engine that is capable of 100 HP and 134 Nm of torque.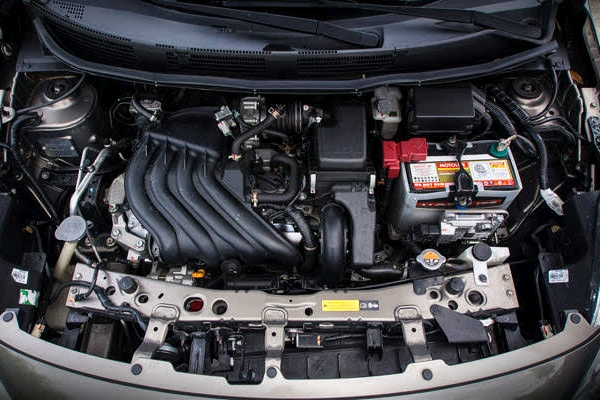 At a Similar Price as the rest, You get a Bigger Engine
Those huge angular boomerang-like headlamps and V-motion grill keep in line with the current Nissan corporate look making this look like a baby-Sentra. A lot of people and news sites have panned the way the Almera looks but for some reason, I just LOVE how it looks.
Inside you are greeted by the beat in class interior space. Compared to the Vios or even every other sub-compact it's cabin is so cavernous you'd swear that you're riding inside a car a class above it like a Sentra or even the Altis. It's THAT huge.
Engine performance is good on paper but just okay in real life. Again when shopping around in this car class you cannot expect neck-breaking acceleration, but the Nissan has this cheerful drive with proper acceleration not unlike the Toyota Vios. ABS and Dual Airbags come here as standard. I'm glad that a lot if today's small cars have these safety features that soon enough I won't have to mention if one has or has none.
At PHP 735,000.00 there could be better deals out there and that is reflected by the fact that there aren't just that many of these models on the road.
Sadly the Almera isn't being marketed enough which is strange albeit this being supposedly Nissan's car for the masses.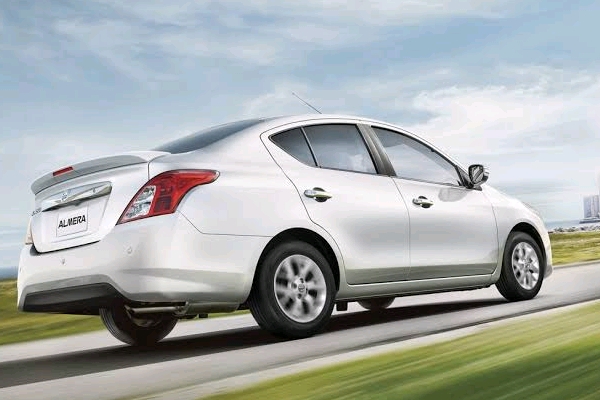 The Almera is Definitely an Acquired Taste
I guess the stigma created by the earlier N16 has yet to be wiped off our collective consciousness but if you give the Nissan Almera a chance what you'll be having is a capable, compliant ride with tons of space, adequate power, and that blizzard-cold Nissan Airconditioning.
4. Hyundai Accent 1.6 GL CRDI: P785,000.00
15 years ago, a Korean car would never have had been part of a "best of something" conversation. Now they've actually set the bar and have representation in every imaginable car segment (except pick-up trucks).
The Hyundai Accent 1.6 GL CRDi represents the dark horse of this group, with it being the only sub-compact car with a Common Rail Direct Injection turbocharged diesel engine and has been recently updated to the newer model to boot.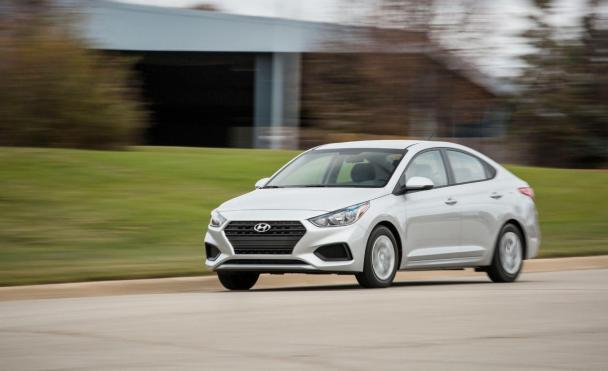 New Model and a Diesel? Hypermilers Rejoice!
If it Ain't Broke...
It doesn't have VGT nor does it have the need for it. Producing 136HP and 260 Nm of torque all going to the front wheels, this is the closest and cheapest you'll ever get for the best performance driving machine this side of BMW.
It's not the best handling car out there, but the fact that we're talking about handling when none of the other cars mentioned here have none of that too, make the Accent an even more compelling and intriguing ride and is a testament on this car's performance.
This is the bare-bones unit though. Steel wheels, a single-DIN head unit fabric seats and hard plastics make up this sleeper. Forget about ABS and airbags as well as the Accent has none of all that
Interior space is best described as adequate. Nothing special about it. I would have to say though that the other cars in this list are more comfortable to be in compared to the hard, butt-crushing features of this car.
Almost Mistaken for an Elantra or Sonata
What you're left with is a powerful diesel motor that is more than capable of delivering insane fuel consumption at 13 km/l in heavy traffic. Mate that with a 9 second 0-100 time, this car is proof that you can have your cake and eat it too.
In a way, the Hyundai Accent seems to be experiencing some sort of identity crisis. Is it a sporty sub-compact? A fuel-mileage marathoner? A people mover? No one knows for sure, and I don't think Hyundai knows as well.
5. Conclusion
We've come to the end of our journey. Uber/Grab has changed not only the way we do our daily commutes but also our view of cars. As their crazy advertisement says, a car no longer is a liability but an asset (I beg to disagree but whatever).
Wait. That was just 4 cars listed above, wasn't it? I actually intended to list out 5 cars at the first place but at the end of the day I only have 4. Way to point out the obvious: I would like to leave the 5th car on this list in your hands.
In the advent of new and upcoming cars for this year, namely the Kia Soluto and Hyundai Reina, not to mention the VW Santana and a whole gaggle of Chinese-made cars, it seems as if a new breed of sub-compacts are out to challenge the old guard.
I can't wait to talk about these new cars in the next few installments so stay hooked to Philkotse.com for more of these updates!


Roy Robles
Author