A list of Subaru SUV Philippines lineup including a short review for each model and their prices.
To guide prospective buyers, Philkotse will list down all Subaru made SUV models including a short review for each as well as the prices of their variants.
#1. Outback: The largest Subaru SUV Philippines
Specifications

Name

Subaru Outback 2.5i-S CVT with EyeSight

Engine

2.0-liter boxer engine

Power

175 hp @ 5,800 rpm

Torque

235 Nm @ 4,000 rpm

Transmission

CVT

Price

P2,178,000

Review
For those of you that are intimately familiar with the Subaru Outback, you might already know that they turned this model from a wagon (1st to 3rd generation) to a crossover, then to a mid-size SUV which it currently is.
And while many of the Outback's fans are either outraged or saddened by this, the model has gained a new following because as we already know, SUVs and crossovers are what's hot nowadays and the Outback, might be one of the hottest.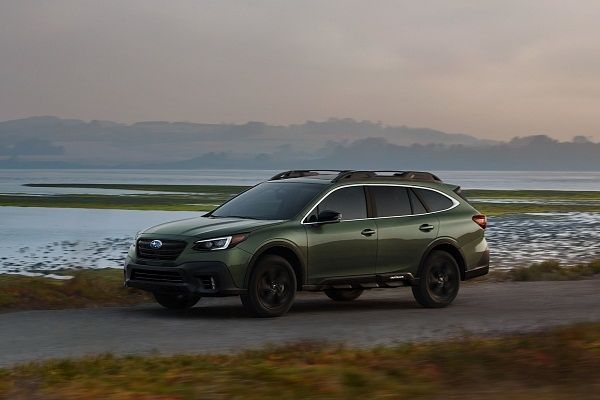 The Outback is currently the largest SUV in Subaru Philippines' line-up
First things first, what's under the hood. For the current Philippine-spec outback, it's a 2.0-liter boxer engine. An engine that the brand's known for using. Also, the current Outback, of course, has all-wheel-drive which is another thing Subaru is known for.
The 2.0 boxer aboard the Subaru Outback can make 156 horsepower and 196 Nm which makes the model not only fast on paved roads but also quite capable of un-paved ones.
Inside, five passengers are kept entertained and comfortable by a spacious interior equipped with an 8-inch touchscreen with the Subaru Starlink with Android Auto and Apple CarPlay and a dual-zone climate control AC with rear vents. Also, many of its surfaces inside are soft to the touch and the seats are clad in leather.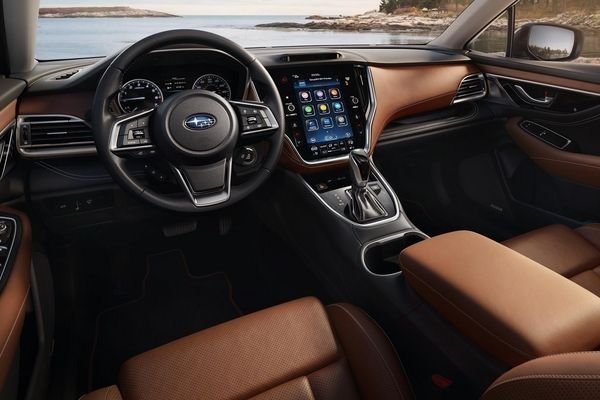 Ride through rough terrain in a premium and comfortable interior
For drivers, it's of note to mention that the touchscreen is navigation ready, there's a push to start button, rear parking sensors, keyless entry, and cruise control.
For the top of the line variant of the Outback which is the 2.0i-L EyeSight CVT, it has loads and loads of safety equipment. For passive safety stuff, the Outback gets dual front airbags, side airbags, curtain airbags, a knee airbag for the driver, and many others. The Outback also comes standard with ABS with EBD, stability control, and speed sensing door locks.
On the outside, the Subaru Outback is still as robust as its earlier siblings. What's changed though, as we've said is that the model is now a fully-fledged SUV. As such, it comes with higher ground clearance, a pair of roof racks, and an unmistakably SUV look as well.
>>> Learn more about other SUV from popular brands in the Philippines:
#2. Subaru XV: An adventurous Subaru SUV Philippines
Specifications

Name

Subaru XV 2.0i CVT

Engine

2.0L 4-Cylinder 16-Valve Boxer

Power

154 hp @ 6,000 rpm

Torque

196 Nm @ 4,000 rpm

Transmission

Lineartronic CVT

Price

₱ 1,418,000

Review
Yes, we all know what the Subaru Impreza. It's famous and for all the good reasons. Its boxer engine is powerful for its size, and its all-wheel-drive has heaps of uses.
So what does Subaru do? Well, turn it into a crossover SUV of course! And they did just this by giving it more ground clearance up to 220 mm, a lot of matte black cladding, and the FB20D is revised to make 154 horsepower and 196 Nm of torque. They also gave it a new name; the Subaru XV.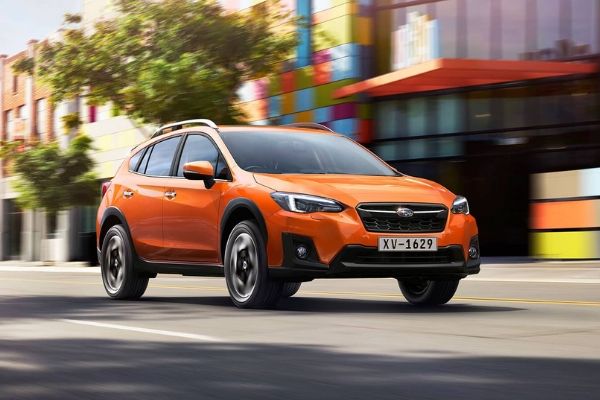 The Subaru XV is a capable crossover that's ideal for the active and adventurous
Since the Subaru XV was initially introduced back in 2017, it has been a best seller for the company especially here in the Philippines until today. Why? Well in 2019, this model is the most affordable vehicle that you can buy today that comes with AWD. And the engine is no slouch either.
Inside, the Subaru XV like most crossovers available right can comfortably seat five. It has a leather interior trim which is equipped with a lot of high-tech stuff like an 8-inch touchscreen with Apple Carplay and Android Auto.
And of course, the top of the line variant comes with the Subaru Eyesight which is a collection of their proprietary driver-assist technologies.
That includes a pre-collision braking system, a lane keep assist, adaptive cruise control, lane departure warning, a series of stereoscopic cameras mounted on the rear-view mirror and a pre-collision throttle management system.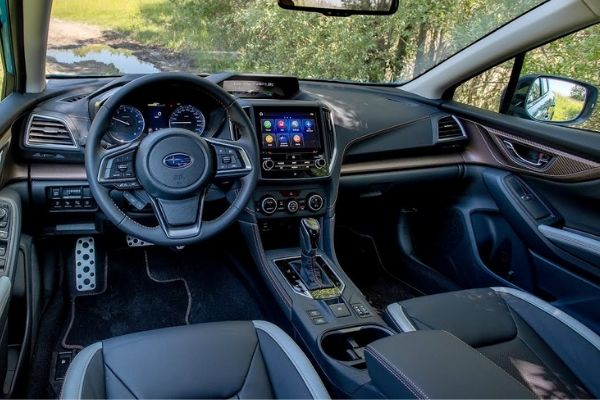 The XV's interior is a very modern but well-arranged space
Overall, the Subaru XV is a capable-looking crossover that's able to handle what the urban jungle can throw at you. And yes, this model can also handle some dirt and unpaved roads due to its symmetrical AWD and its higher ground clearance.
>>> Worth your note: SUV prices in the Philippines from 14 most popular brands
#3. Forester: A wild-child Subaru SUV Philippines
Specifications

Name

Subaru Forester 2.0i-L CVT 2019

Engine

2.0-liter 4-cylinder 16-valve Boxer

Power

156 hp @ 6,000 rpm

Torque

196 Nm @ 4,000 rpm

Transmission

Lineartronic CVT

Price

₱ 1,598,000

Review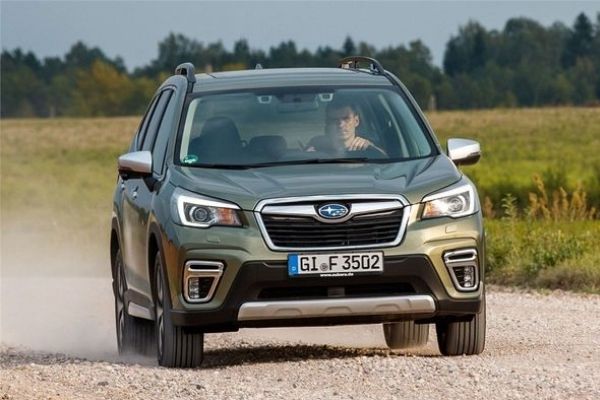 It's based on the Impreza but all trapping of the sedan is gone and instead, it's a full-blown SUV
Back several years ago, from 1999, when the Subaru Forester was first introduced, to 2009, the last production year of the 2nd generation Forester, indeed, it was more of a wagon type deal wherein it had low ground clearance.
Now, this Subaru model has always been a crossover SUV, unlike its morphing brother. But like most Subaru vehicles on this list, it still has a boxer four, and asymmetrical all-wheel-drive. The main difference is the power that it makes. It's also based on the Impreza.
2019 Subaru Forester - Review & Road Test
Under the hood, the current iteration of the Subaru Forester comes with a 2.0 liter boxer-4 that makes around 156 horsepower and 196 Nm of torque. Power is sent to all of its wheels equally by a CVT.
Inside, the Forester can comfortably fit five and all are kept comfortable by leather seats as well as a dual-zone AC that comes with rear vents.
The Subaru Forester also has a number of digital display screens distributed within its interior. There's a 4.2-inch gauge cluster, an 8-inch infotainment system that has Subaru Starlink with Android Auto and Apple Carplay, as well as a 6.3-inch multi-function display mounted at the top of the dash.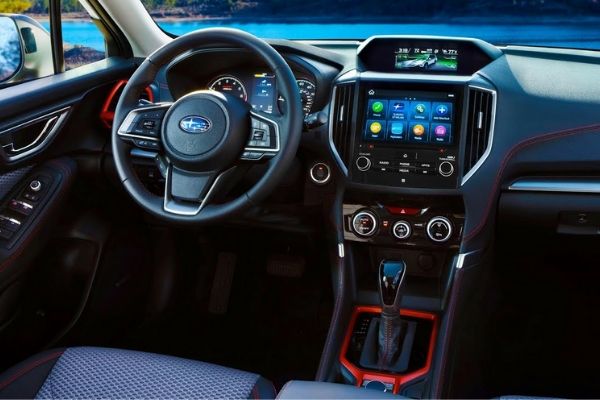 Forester has an abundance of interior features. The red stitching looks great too
>>> Related: 2021 Subaru Forester: Expectations and what we know so far
On the outside, Subaru has updated the Forester for the 2019 model year. It looks much more aggressive now with its sharper headlamps, a much more prominent hexagonal grille, and the hood appears to have more character lines than before.
For safety, the top of the line variant also comes with dual front airbags, side airbags, curtain airbags, knee airbags, ABS with EBD, stability control, and the Subaru Eyesight driver-assist suite.
For more articles like this one, keep reading here on Philkotse.com.

Know more about Subaru

Subaru Philippines is offering seven new models in the local market. The Subaru price list ranges from Php 1,908,000 to Php 3,780,000. All seven models are passenger vehicles. Included in the Subaru lineup are Subaru XV, Subaru Evoltis, Subaru Forester, BRZ coupe, WRX wagon, Outback, and WRX sedan.
In addition to the monthly Subaru car price list, Philkotse.com offers the best promotions from all dealers in the Philippines. These include prepaid and paid programs, as well as the lowest monthly contribution that car buyers can benefit from.

Cesar G.B. Miguel
Author