This segment offers some of the most practical options.
Small hatchbacks are considered as one of the most practical vehicles considering the affordability they offer. Some of the reasons why this type of vehicle is inexpensive are the following: small engine displacement, cost-cutting measures for tech and materials installed, and tight cabin space.
Yes, cabin or cargo space may not be the best out in the market, but it should be enough for someone who is just starting with their respective career or those who are planning to start a family. Considering its affordability, it is a good investment for Filipino car buyers before planning to get a larger SUV, if they wish to upgrade some time in the future.
To help you compile all the possible small hatchbacks you can get in the Philippines right now, we have listed down ten of them with their respective prices. Take note that we have listed those vehicles that are priced under Php 1,000,000 only.
1. Suzuki S-Presso (Php 523,000)
Launched in the country last 2020, the Suzuki S-Presso is marketed as one of the most affordable small hatchbacks in the market today in terms of sticker price. Suzuki Philippines wants this hatchback to embody practicality that it only offers one variant that utilizes a 5-speed manual transmission with a price at Php 523,000.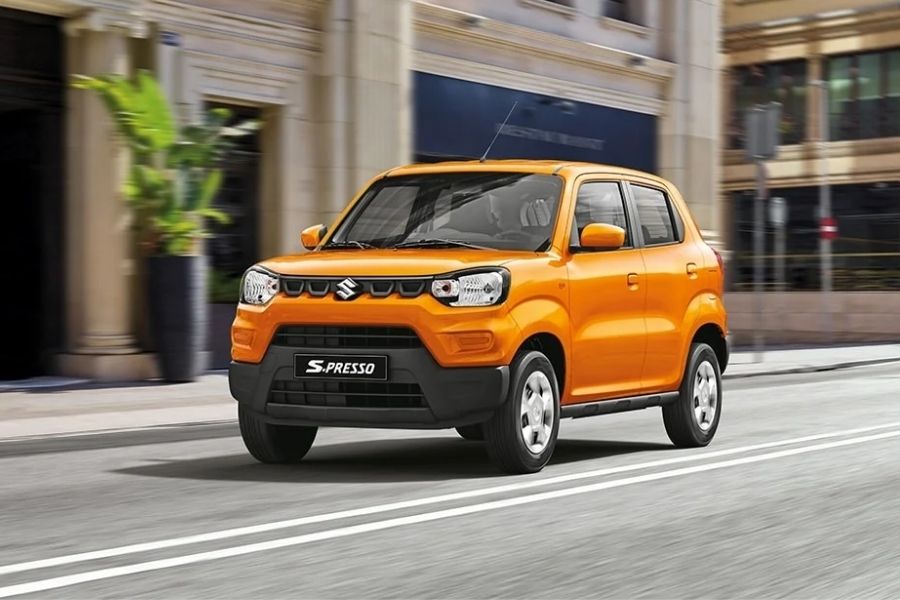 The most affordable among the bunch
Powering Suzuki Philippines' latest addition to its lineup is a 1.0-liter K10B 3-cylinder engine capable of generating 67 hp and 90 Nm of torque. Despite its affordable pricing, the brand still managed to integrate a 7-inch touchscreen head unit that comes with an AM/FM radio tuner, USB, and Bluetooth connectivity.
2. Suzuki Celerio (Php 558,000 – Php 628,000)
If you want a Suzuki hatchback that is slightly larger than the S-Presso, then you can opt for the Celerio. This hatchback comes with a measurement that spans 3,600 mm in length, 1,600 mm in width, and 1,540 mm in height, which makes it 35 mm longer and 80 mm wider than the most affordable Suzuki small hatchback.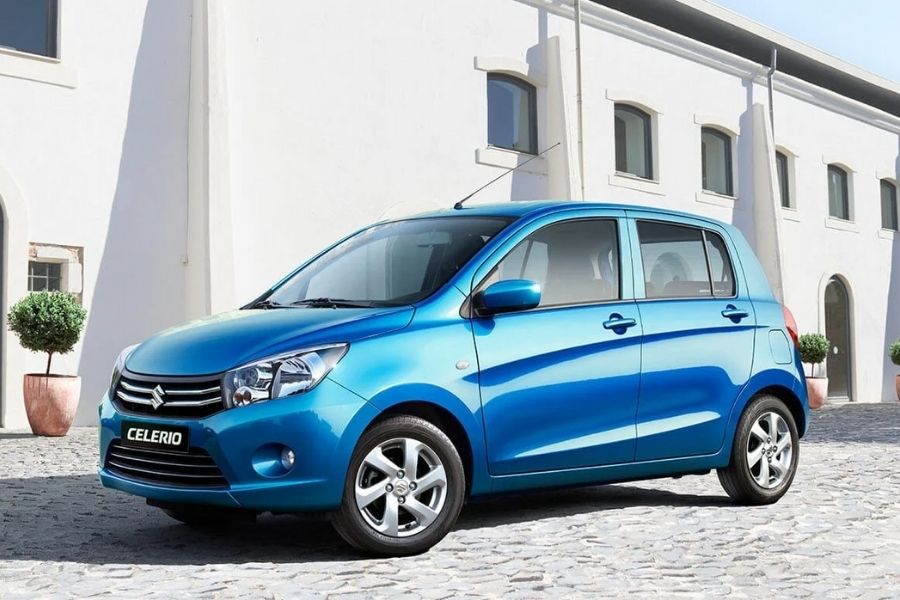 An economy car built for the city
The Suzuki Celerio gets the same engine as the S-Presso with the same performance numbers. But what's good about the Celerio is that its K10B engine can be paired to a continuously variable transmission (CVT) which is said to be more fuel-efficient than a geared transmission, making it an ideal city car.
3. Toyota Wigo (Php 568,000 – Php 700,000)
In terms of value-for-money hatchback options, there is without a doubt that the Toyota Wigo is at the top of the conversation. Toyota Motor Corporation (TMP) managed to sell 9,145 units of the Wigo which makes it the third best-selling in the country last year followed by the Toyota Innova.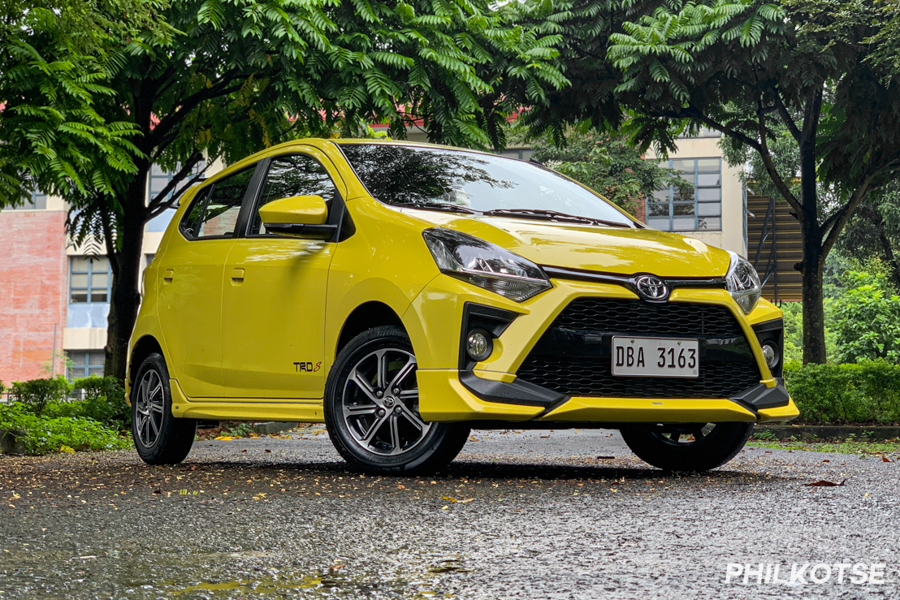 Proven and tested
For a sportier-looking option, TMP is offering the TRD which is the model's flagship variant. It comes with variant-exclusive body kits such as TRD alloy wheels, front and rear bumper set, a rear roof spoiler, and a side skirt. The TRD variant costs Php 42,000 more than the G 1.0 AT variant at Php 700,000.
4. Kia Picanto (Php 590,000 – Php 745,000)
One of the most popular small hatchbacks in the country among Filipino car buyers is the Kia Picanto. It comes with a stylish exterior design that is ideal to be driven by young individuals. Inside, this small hatchback is installed with a 7-inch touchscreen with Apple CarPlay and Android Auto which is available for the higher-spec EX variants only.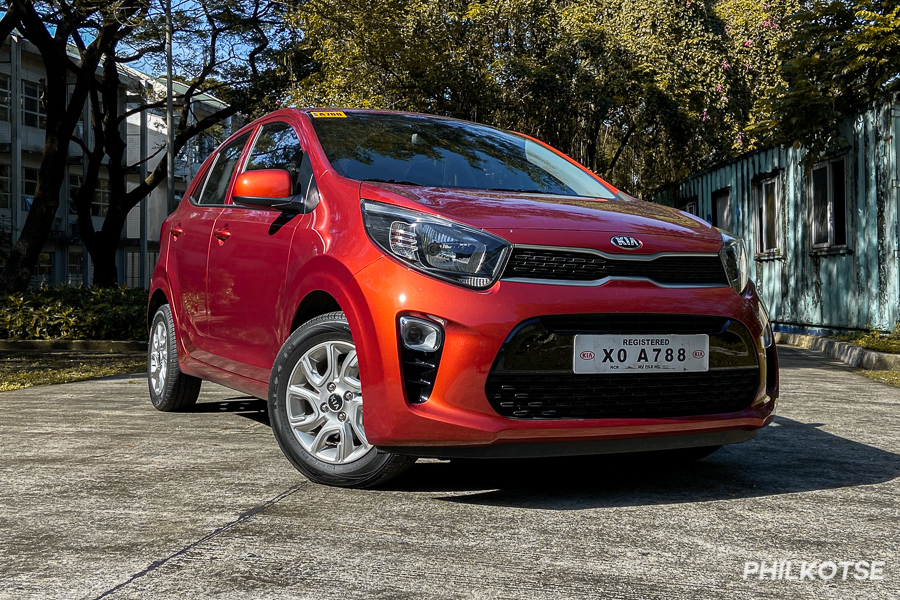 One can never go wrong with the Picanto
Under the hood, Kia Philippines offers two engine options, namely a 1.0-liter inline-3 for the LX variants and a 1.2-liter 4-cylinder gasoline engine for the EX variants. The engine of the LX variants can produce 66 hp and 95 Nm of torque, while the larger engine can make 83 hp and 122 Nm of torque.
5. Honda Brio (Php 601,000 – Php 735,000)
Honda Cars Philippines, Inc. (HCPI) used to offer two small hatchbacks priced under the P1-million mark, namely the Brio and Jazz. But earlier this year, the Japanese car brand decided to discontinue the Jazz to make room for the new City Hatchback which is priced at Php 1,115,000 for its sole RS variant.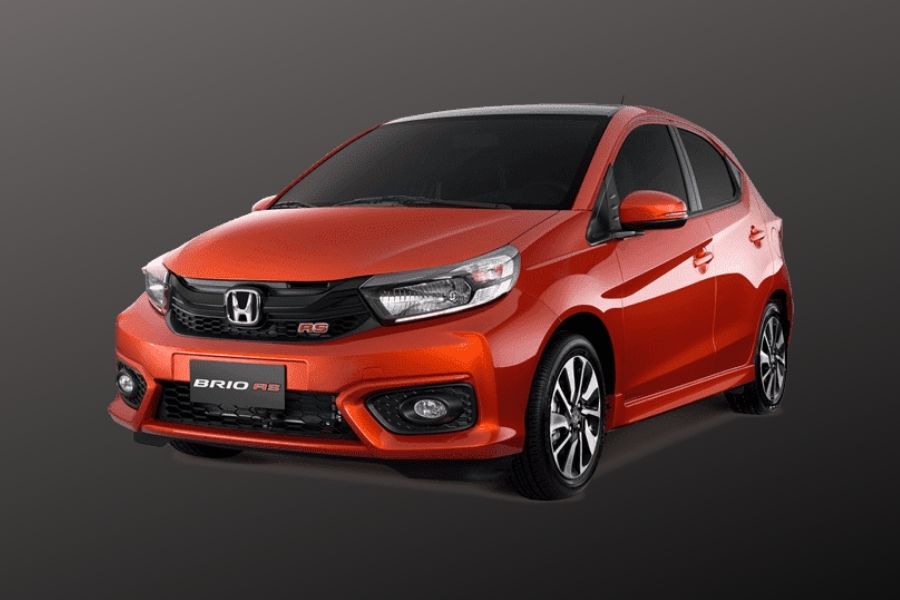 The Honda Brio with RS body kits
With the introduction of the Honda City Hatchback, the Honda Brio is left as the only small hatchback in the Philippines from the brand. This model is the HCPI's entry-level vehicle priced at Php 601,000 for the base S 1.2 MT variant and goes up to Php 730,000 for the RS 1.2 CVT (an additional Php 5,000 for the Black Top option).
6. Chevrolet Spark (Php 694,000 – Php 734,888)
If you want a bit more power without spending much, then you can consider the Chevrolet Spark. Powering this small hatchback is a 1.4-liter EcoTec DOHC gasoline engine capable of making 98 hp and 127 Nm of torque for all its two variants. The engine can be paired to either a 5-speed manual or a continuously variable transmission (CVT).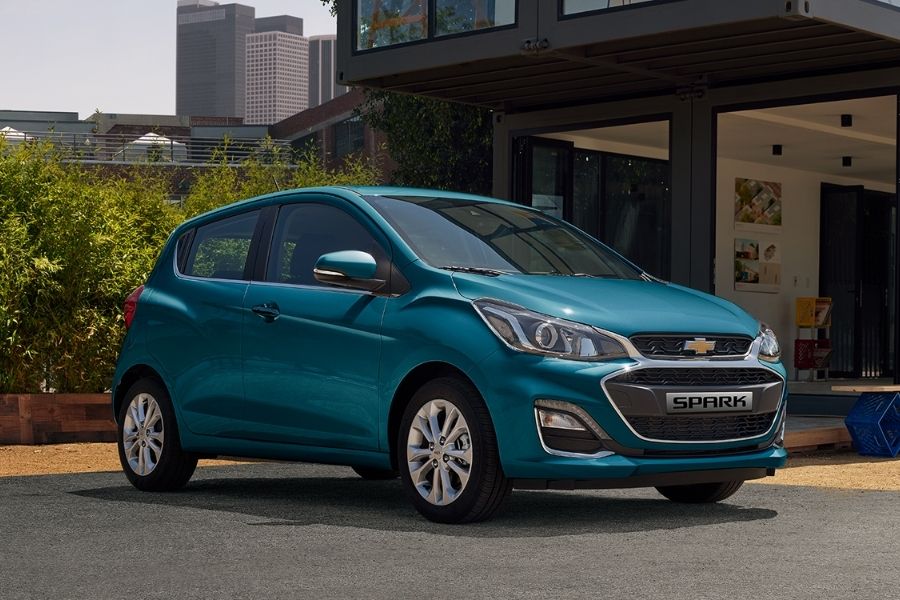 The only American small hatchback off this list
Another factor that the Spark can offer is its good styling. The current version offered in the Philippines is the model's fourth-generation version which comes with a sleeker styling as compared to the previous generation. Some new exterior features include a newly-designed grille, sharper headlight housings, and a chrome-packed front fascia.
7. Mitsubishi Mirage (Php 704,000 – Php 765,000)
It is common knowledge in the local automotive industry that the Mitsubishi Mirage offers some of the best when it comes to fuel efficiency. This feature is contributed by the model's 1.2-liter inline-3 DOHC MIVEC gasoline engine capable of making 77 hp and 100 Nm of torque.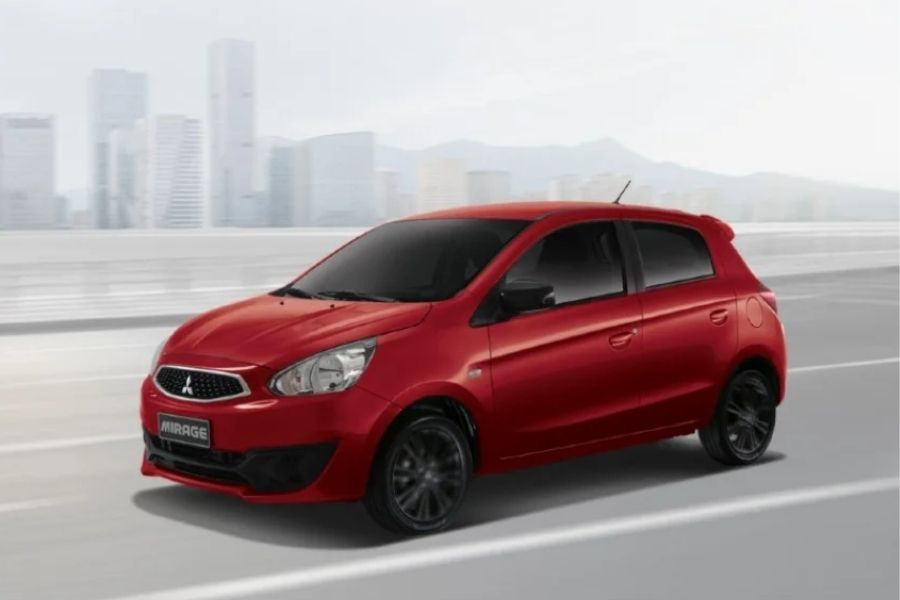 The Mitsubishi Mirage breathes fuel efficiency
The Mitsubishi Mirage is the hatchback counterpart of the Mirage G4 sedan and is Mitsubishi Motor Philippines Corporation (MMPC)'s entry-level vehicle with a starting price of Php 704,000 for the base GLX 1.2 MT variant and goes up to Php 765,000 for the top-spec GLX 1.2 CVT variant.
8. Suzuki Swift (Php 775,000 – Php 819,000)
The third small hatchback offered by the Japanese car brand Suzuki is the Swift. It is 240 mm longer and 135 mm wider than the Celerio, but is lower by 45 mm. This creates a sportier appeal complemented by its sporty-looking front fascia and aggressive character lines.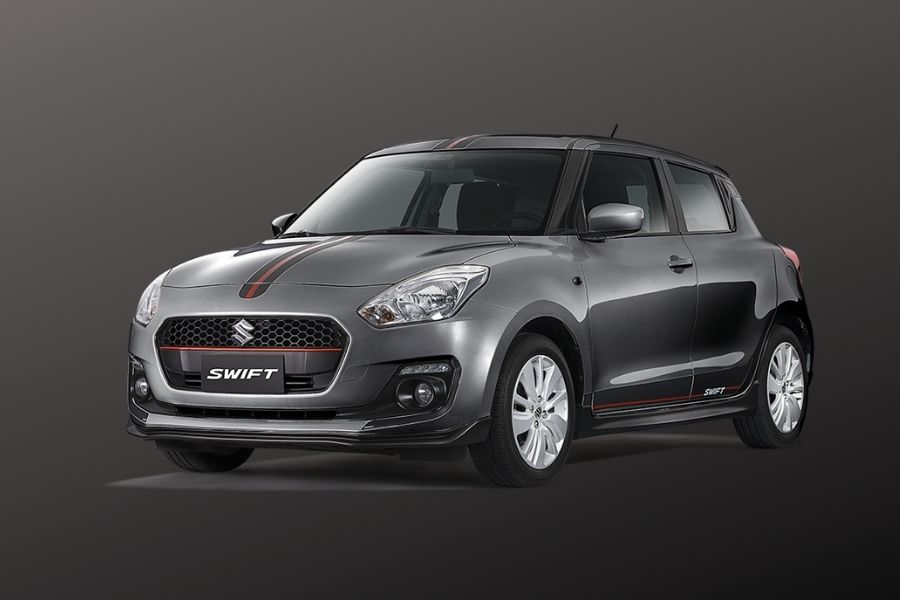 The Suzuki Swift Special Edition
Under the hood, the Suzuki Swift uses a 1.2-liter K12M gasoline engine capable of making 82 hp and 113 Nm of torque. The engine can be paired to either a 5-speed manual transmission or a continuously variable transmission (CVT), depending on the chosen variant.
9. Toyota Yaris (Php 973,000)
In other markets, the Toyota Yaris is a popular option due to its affordability, practicality, and reliability one can expect from a Toyota. But here in the country, this model is not heard of much considering that TMP offers more affordable options such as the Toyota Vios and Wigo hatchback.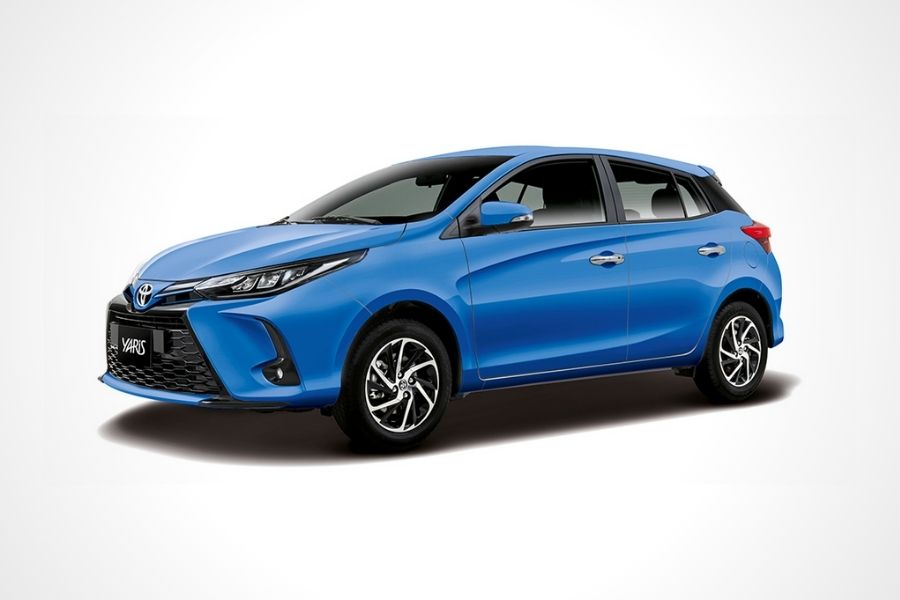 Toyota Yaris in Cyan Metallic
Only the base 1.3 E AT variant is priced under the P1-million mark at Php 973,000. This base variant is powered by a 1.3-liter 1NR-FE gasoline engine that makes 98 hp and 123 Nm of torque. If you wish for a more powerful engine, the brand is offering the S variant which uses a 1.5-liter 2NR-FE engine that makes 106 and 140 Nm of torque. Here on Philkotse, a used Toyota Yaris 2010 is for sale for as low as PHP 175,000.
10. Mazda2 Hatchback (Php 995,000)
Competing as a subcompact car since 2002, the Mazda2 is currently the smallest in the brand's lineup. It is the most expensive small hatchback you can get under the P1-million mark. If you wish for a larger hatchback, Mazda Philippines is offering the Mazda3 Sportsback which is more ideal for family use.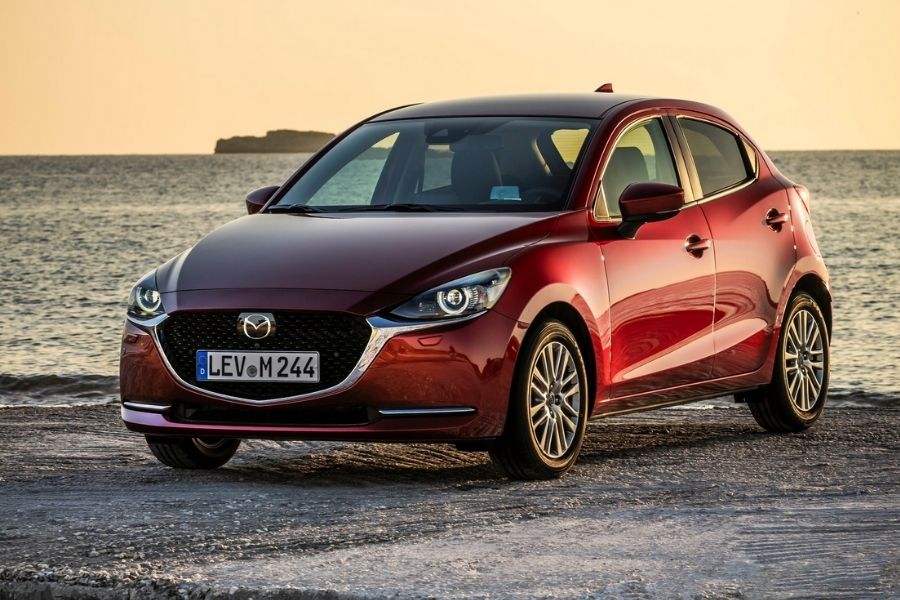 Enjoy a free 5-year PMS if you opt for a Mazda2
The sole variant of the Mazda2 hatchback in the country comes with a 1.5-liter SKYACTIV-G gasoline engine capable of making 110 hp and 141 Nm of torque and is paired to a 6-speed automatic transmission. It is priced the same as its sedan counterpart at Php 995,000.
Visit Philkotse.com for more of the latest in the automotive industry.
Know more about Toyota Wigo 2021

The Toyota Wigo is a small city car powered by an inline-3 gasoline engine. Power is sent to the front either by a four-speed automatic or a five-speed manual transmission. The Wigo is built by Daihatsu, which is one of Toyota's subsidiaries. In other countries, it is known as the Agya.

Rex Sanchez
Author