Read on our full-scale Toyota Wigo Philippines Review, regarding its design, engine, features, specs & price.
In this review...
1. Toyota Wigo Philippines Review: Introduction

Exterior

Interior

Engine & Performance

Safety Review

Price & Variant

Specsheet

FAQs

9. Toyota Wigo 2020 Philippines Review: Conclusion
1. Toyota Wigo Philippines Review: Introduction
The last time we reviewed the Toyota Wigo in 2017, we called it an affordable car, which was true; so much so that the title of that review was exactly that: "An Affordable Car". Well, leave it to Toyota to teach the young guns in the auto industry a thing or two about making cars. Somewhere around the middle of the last decade, gas prices spiked to ridiculously high levels. Largely due to politics, and I will leave it at that.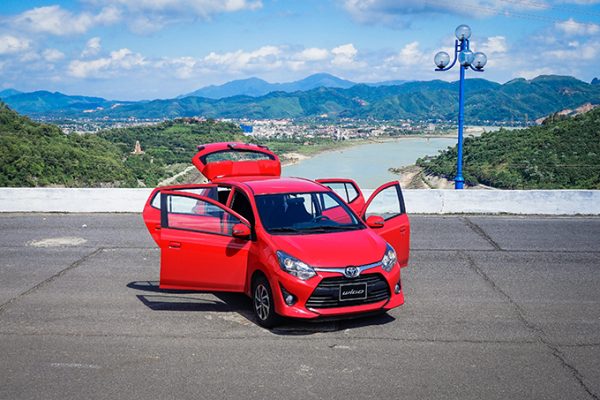 The Filipino market warmed up to the Wigo, in part due to its affordability and versatility
Anyway, the resulting uproar made car companies come up with smaller vehicles and revitalize their mini-subcompact hatchback offerings, led by Korean marques Kia and Hyundai with their Picanto and Getz models, respectively. Other cars companies followed suit, making the subcompact hatchback segment one of the hottest in the Philippines.
Toyota entered the party uncharacteristically late in 2013, yet managed to dominate the market in the succeeding years with the Wigo, a rebadged Daihatsu Ayla. Six years into production and with a heavily stylized facelift, does the 2020 Toyota Wigo have what it takes to earn your attention? Keep reading our expert Toyota Wigo Philippines Review, brought by Philkotse.com to get yourself answered.
2021 Toyota Wigo Philippines Review: Best value-for-money small hatchback?
2. Toyota Wigo Philippines: Exterior Review
While most cars in this segment feature funky, youthful designs taking advantage of a mini-subcompact hatchback's cute dimensions (I'm looking at you Picanto!), Toyota went in another direction with the Toyota Wigo exterior. It doesn't have the Pokemon-Esque air of its contemporaries, instead of going for a sportier, Angry Birds kind of appeal.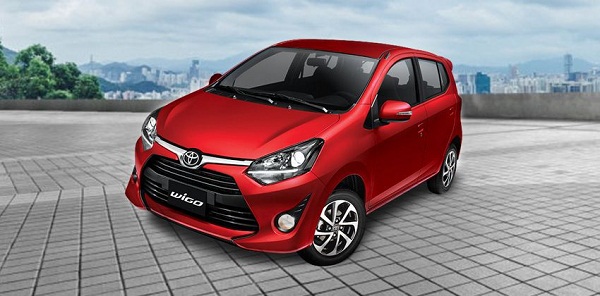 The Toyota Wigo exterior gives off an "Angry Birds" vibe
Large, scowling headlights flank a large air dam and aggressive front chin. Compared to the previous model, you'd be hard-pressed to find curves here, as the sharp body lines on the side panels evoke more athletic aspirations. The 90s-era door handles, however, are a dead giveaway of its econobox nature, yet I don't find anything offensive about them at all.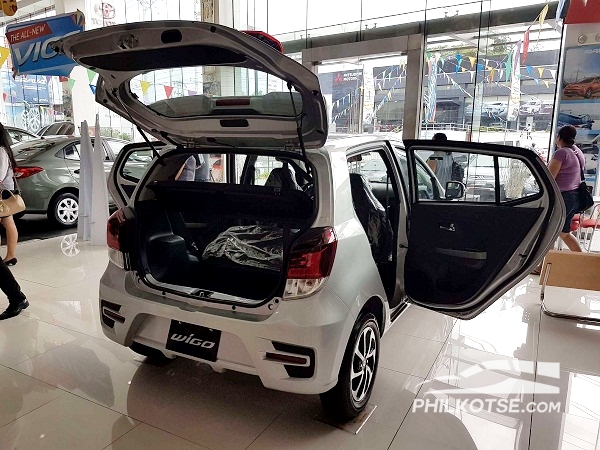 The rear design of the Toyota Wigo
Although the design gets quite fussy at the rear, I'd have to say that the "Nintendo button" tail lamp cluster lends more character and appeal to the car. It's an overall good look, although most people probably won't be doing double-takes. Like a good cup of coffee, it does the job.
>>> More comparison of the Wigo with its rivals the market segment for your reference:
YOU MAY WANT TO READ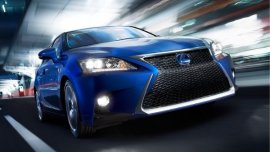 Model Price Philippines
₱ 2,458,000 - ₱ 3,178,000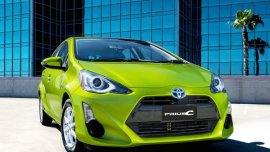 Model Price Philippines
₱ 1,970,000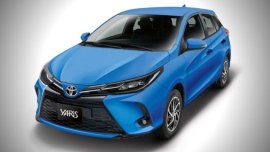 Model Price Philippines
₱ 973,000 - ₱ 1,114,000
3. Toyota Wigo Philippines: Interior Review
Inside the Toyota Wigo, you will find a sea (or a pond, depending on who's looking) of black and plastic materials. Although at par with other vehicles in this segment, the Wigo manages to scratch the bottom end when it comes to interior material and still comes off as inoffensive.
Hard plastics abound, sure, but I have to say that everything about the Toyota Wigo interior tells you Toyota knew what they were doing when they designed the car.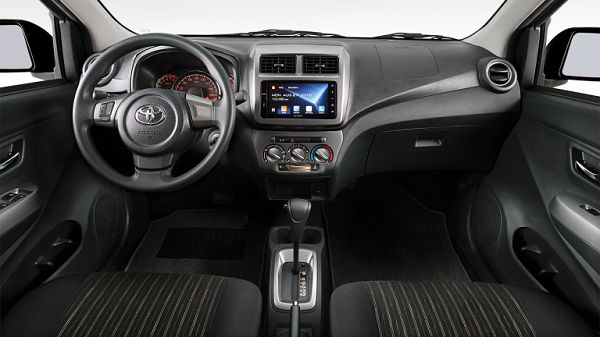 The Toyota Wigo interior is a sea of black and plastic
The instrument panel is well-lit with easily readable fonts, the large touchscreen with built-in navigation on the center stack has being slightly canted towards the driver, and everything within reach. Seats are thinly padded, but you can chalk it up to Toyota's efforts to reduce weight.
I love that the steering wheel has echoes of the FJ Cruiser and GT86, two among many Toyota models. As for driving the car, I have no complaints at all; in fact, I find the spartan interior helps the driver focus more on the drive.
4. Toyota Wigo Philippines: Engine and Performance
The most overused cliché about small cars have always involved the words "dart" and "go-kart". Well, threading the car around the metro did give me the impression that I'm at the helm of a go-kart. There is only so much that 66 horses and 84 Nm of pull can do on a drive, but with just an 860-kg curb weight for the top-of-the-line Wigo G variant, those figures allow the car to fly.
This helps with fuel economy immensely; city driving with horrible traffic nets 10-11km/l. You might sweat the gridlocks, but this car won't.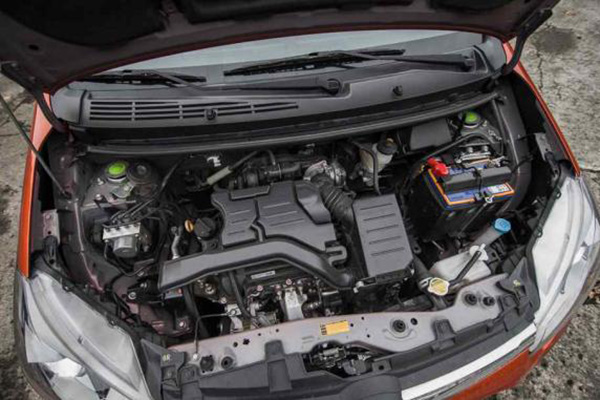 Temper your expectations of the 1.0L engine, and you won't be disappointed
The four-speed automatic transmission is willing to put the power to the front wheels, though drive-by-wire technology now points the engine towards the economy rather than off-the-line acceleration. The Toyota Wigo takes its time with 14 seconds to reach 0-100 km/h, which isn't necessarily bad.
The suspension is compliant, but if you're looking to carve corners, you're better off elsewhere. The MacPherson front struts and rear torsion bar are best suited for urban jaunts. Thanks to that short wheelbase though, you can pretty much chuck this around town, like, well, a go-kart.
5. Toyota Wigo Philippines: Safety Review
Standard safety features aboard the Toyota Wigo are exactly that: standard. You get seat belts, antilock brakes with EBD and dual front airbags. I suppose you should still thank your lucky stars that you get them at all at this price point. A decade ago, these features were nowhere to be found in this class; all you get were seat restraints and a prayer. It's therefore nice to see Toyota offering these features at no extra cost.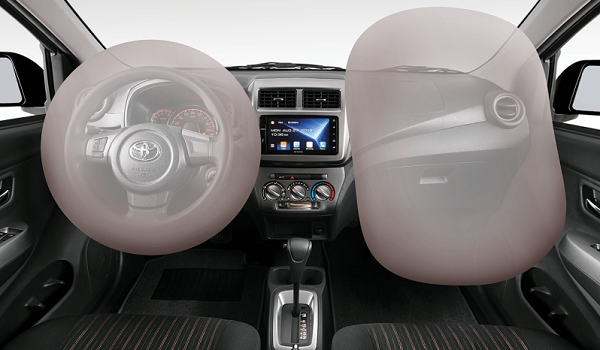 You can thank your lucky stars that the Wigo now comes with more standard safety features
6. Toyota Wigo Philippines: Price & Variant
| Model | Price |
| --- | --- |
| Toyota Wigo 1.0 TRD AT price | P696,000 |
| Toyota Wigo 1.0 G AT price | P631,000 |
| Toyota Wigo 1.0 G MT price | P596,000 |
| Toyota Wigo 1.0 E MT price | P557,000 |
>>> Refer to our Toyota Wigo Philippines price list to get the details on monthly payments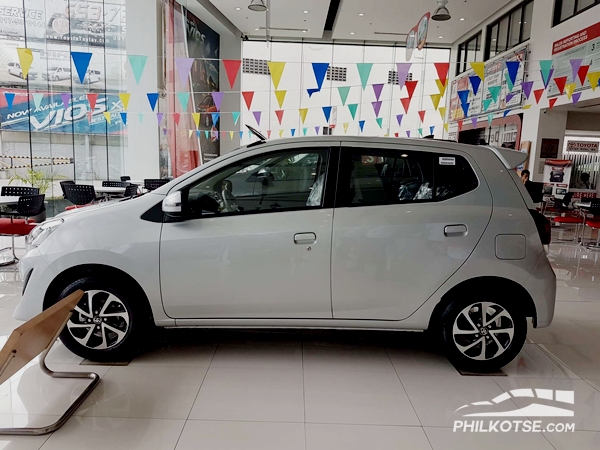 Prepare around P600K and you can drive home this hatch
7. Toyota Wigo Philippines: Specs
 Overall

Name

Toyota Wigo 1.0 G AT

Body Type

Hatchback

Dimensions

Length

3,600 mm

Width

1,620 mm

Height

1,520 mm

Number of Doors

5

Number of Seats

5

Engine

Engine Size

1.0 L

Displacement

998 cc

Number of Cylinders

3

Number of Valves

12

Transmission Category

4-Speed Automatic

Performance

Power Train

Front-Wheel Drive

Max Output

66 hp @ 6,000 rpm

Max Torque

89 Nm @ 4,400 rpm

Fuel Type

Gasoline

Fuel Capacity

33 L

Features

Wheel Material

Alloy

Wheel Size

14 inches

Air-Conditioning System

Manual Dial Cooler

Entertainment System

Navi-ready Display Audio

Connectivity

USB port and Aux-in

Navigation System

Yes

Power Steering

Yes

Power Windows

Yes

Steering Wheel Audio Control

Yes

Safety Features

Driver's Airbag

Yes

Front Passenger's Airbag

Yes

Anti-Lock Brake System

Yes

Immobilizer

Yes

Security Alarm

Yes

Electronic Door Locks

Yes
>>> Schedule a visit at the nearest Toyota Philippines dealerships for more information on the promos, financing options, etc
8. Toyota Wigo: Frequently Asked Questions
Q: Which is the most affordable variant of the Toyota Wigo?
Toyota Wigo 1.0 E M/T is the cheapest variant of the lineup with a price tag of Php 557,000.
Q: What are the available colors of the 2020 Wigo?
There are six colors to choose from when buying a Wigo: Orange Metallic, Gray Metallic, Red, Black, White and Silver Metallic
Q: What is the average fuel consumption of the Toyota Wigo?
The Wigo has a good fuel efficiency with an average of 15.8km/L.
Q: Which Wigo variant should you buy?
If you are driving in a place where traffic is rampant, then the Toyota Wigo G A/T variant best suits you. The automatic transmission will help you rest while driving in traffic and you could make good use of its navi-ready display audio. But if you are planning to save some cash, then the Toyota Wigo E M/T is the variant for you. The added features in the variants higher than the E variant are reasonably unnecessary if you are planning to own a Wigo for the sole purpose of practicality.
Q: What are the alternatives to the Toyota Wigo?
Here are the five best alternatives to the Toyota Wigo in the Philippines: Suzuki S-Presso (Php 518,000), Honda Brio (Php 598,000 - 735,000), Chevrolet Spark (Php 694,888 – 734,888), Suzuki Celerio (Php 558,000 – 598,000), Mitsubishi Mirage (Php 699,000 – 760,000)
9. Toyota Wigo 2020 Philippines Review: Conclusion
Say what you will about the Toyota Wigo 2020 Philippines, but it's a good first car for small families who want to experience the safety, convenience and fuel economy of a well-built Toyota. This won't be the car for you if you are used to driving compact cars, much fewer SUVs. But in a world where function increasingly outweighs form and practicality is the norm, the Wigo is your best bet.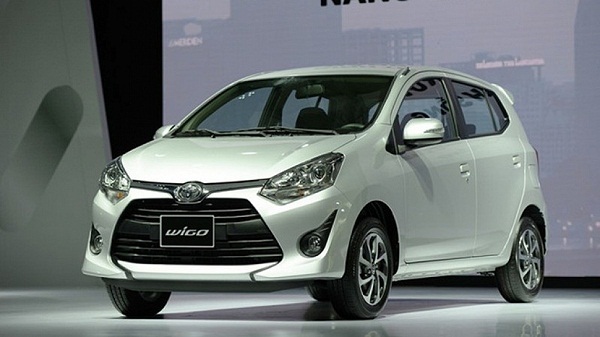 Despite its shortcomings, the 2020 Toyota Wigo is standing big for what it is
Feeling like saving up for a Toyota Wigo or other mini-subcompact hatchbacks? Head on over to our cars for sale section and check out cars from our verified and trusted dealers. Your next car is just a few clicks away!


Roy Robles
Author