The current generation of Ford's midsize pickup has gone through several facelifts.
The Ford Ranger midsize pickup may only be on its fourth generation, but a decade has already passed since the current T6 platform was introduced. Ten years is the standard for a given product cycle, and despite several refreshes, no one can deny that the present Ranger is getting long in the tooth.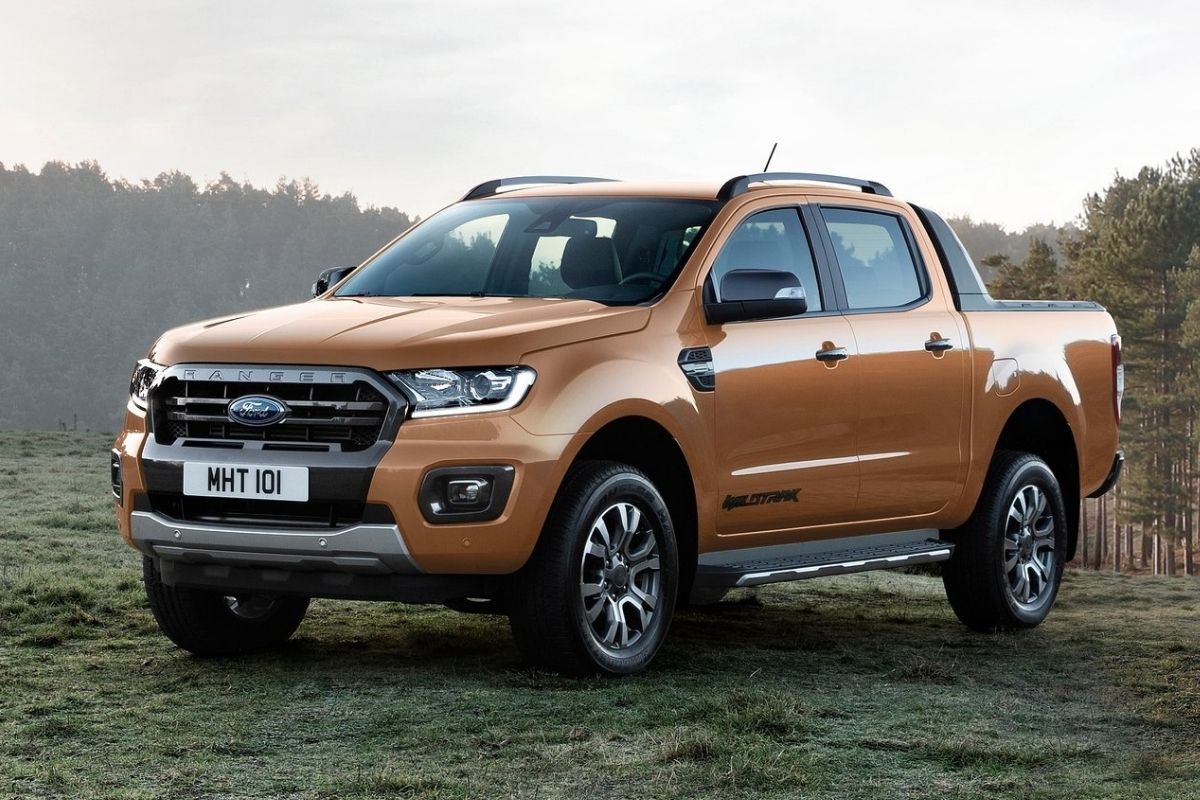 Ten years of the Ranger's T6 platform, and it's still a formidable contender in the midsize pickup category
However, that's not to say that the truck's best days are behind it. There are still plenty of reasons to own a Ranger, if you're on the prowl for a suitable rig that's versatile enough for both business and leisure. There's the 800mm water-wading capability for one, coupled with an ample 232mm of ground clearance.
Spread across five trim levels, most of them available in both two-wheel and four-wheel drivetrains, the Ranger also carries a selection of three capable diesel engines, delivering up to 3,500-kg towing capacity on the range-topping Wildtrak, apart from a maximum load limit of 1,120 kg.
If you've set your sights on having a Ranger in your garage, how much would it cost you on a monthly basis?
>>> Related: 2021 Ford Ranger: Expectations and what we know so far
Ford Ranger XLS 2.2
The base Ranger comes in XLS trim, with a 2.2L diesel engine, 4x2 drivetrain, and manual transmission. With a sticker price of Php 1,032,000, monthly financing would be Php 28,863 for the next 36 months on a 20 percent down payment of Php 206,400.
Doubling the initial deposit to Php 412,400 brings down the monthly amortization to Php 21,647, while extending the payment term to 60 months lowers it even further at Php 14,926.

The base Ranger XLT is already a solid choice
If you prefer the 4x4 version, the asking price is Php 1,181,000. On a down payment of 30 percent or Php 354,300, the monthly payment amounts to Php 28,901 when spread over 36 months, or Php 19,928 for 60 months.
For a higher deposit of 40 percent or Php 472,400, expect a monthly sum of Php 19,937 for 48 months, or Php 17,082 for 60 months.
>>> Related: 2021 Ford Ranger Old vs. New: Spot the differences
Ford Ranger XLT 2.2
The XLT trim gets you 17-inch alloy wheels, projector headlamps, rain-sensing wipers, and a leather-wrapped steering wheel. Expect to pay Php 1,176,000 for the 4x2 with manual transmission, divided into Php 32,890 monthly for 36 months on a 20 percent down payment or Php 235,200.
If you opt to plunk down half of the tag price as down payment, or Php 588,000, the amortization amounts to Php 16,544 when computed on a 48-month term.
For the 4x2 automatic, the price of admission is Php 1,236,000. A down payment of 30 percent or Php 370,800 results in a monthly payment of Php 30,247 for 36 months, or Php 20,857 if you want a 60-month term.
Ford Ranger FX4
The FX4 variant's feature set includes 18-inch alloys, black tubular rear sport bar, an 8-inch touchscreen with Android Auto and Apple CarPlay, and cruise control. Pricing for the 4x2 manual is at Php 1,256,000, with a 30 percent down payment or Php 376,000 returning a monthly amortization of Php 30,737 for 36 months. Extending the payment term to 60 months lowers the rate to Php 21,194.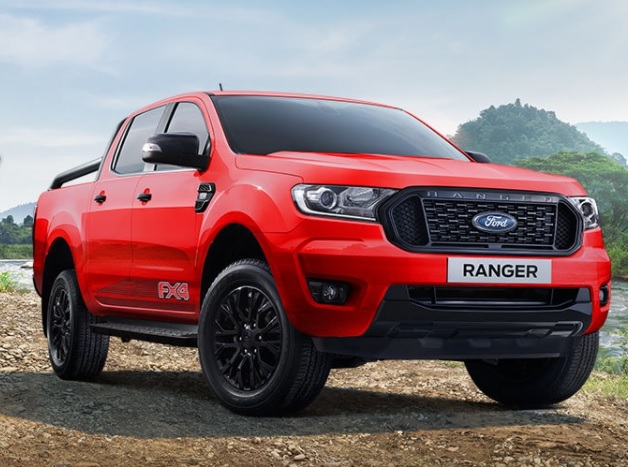 The Ranger FX4 cuts an imposing look with blacked-out exterior accents
Getting the 4x2 automatic priced at Php 1,316,000 costs Php 25,379 for 60 months on a 20 percent down payment or Php 263,200, shrinking to Php 19,034 on the same payment term if the deposit is doubled to 40 percent or P526,400.
>>> Related: Ford Ranger accessories Philippines: Should I add one and what to buy?
Ford Ranger Wildtrak
The range-topping Wildtrak offers the full complement of features, with a 2.0L single-turbo diesel engine for the 4x2 and a bi-turbo for the 4x4, kicking up a maximum 213 hp and 500 Nm of torque. Pricing for the 4x2 starts at Php 1,390,000 for the manual transmission variant, with a 30 percent down payment or Php 417,000 requiring monthly payments of Php 34,016 on a 36-month term.
For the 4x4 variant, the Php 1,455,000 price tag can be divided into 48 monthly payments of Php 28,656 on a 30 percent down payment or Php 436,500. A 50 percent deposit or Php 727,000 drives down the amortization lower to Php 17,537, for the maximum term of 60 months.
Keep in mind that these are estimated figures, exclusive of other relevant costs such as fuel, maintenance, insurance, and registration. You can get more accurate computations when you visit your nearest Ford dealer.
Find more tips that add up to a great car ownership experience at Philkotse.com.

Know more about Ford Ranger 2023

The 2023 Ford Ranger is a 4x4 or 4x2 pickup truck. It is the latest version of the said model, and as of its launch in the Philippine market, it has a total of eight different variants.
These are the top-spec Wildtrak 4x4, Wildtrak 4x2, Sport 4x4, Sport 4x2, XLT 4x2, XLS 4x2 AT, XLS 4x2 MT, and the entry-level XL 4x4. As of 2023, prices for these trims ranges from php 1,213,000 to Php 1,910,000.
Under the hood of the new Ranger are two-different diesel mills. For the Wildtrak 4x4, it uses a 2.0-liter biturbo that can churn out 210 horsepower and 500 Nm of torque. It is also the sole trim that uses a 10-speed automatic tranny.
The rest of the all-new Ranger then gets a 2.0-liter turbodiesel that can produce up to 170 horsepower and 405 Nm of torque. Only the XLS 4x2 and the XL 4x4 may come with a six-speed manual. The other non-biturbo trims then use a six-speed automatic.
Size-wise, the all-new 2023 Ranger is 5,370mm long, 1,918mm wide, and 1,884mm in height. They also offer a wheelbase length of 3,270mm, and a ground clearance of 235mm.
Locally, the 2023 Ford Ranger faces the Toyota Hilux, Nissan Navara, Mitsubishi Strada, Isuzu D-Max, Mazda BT-50, etc.

Joseph Paolo Estabillo
Author