Good news bus fans! Here's a guide to the bus in the Philippines, including the popular brands and models.
In large cities here in the Philippines, buses are as common as ants. And like the humble ant, these mighty (and long) vehicles ply the roads of the country primarily as public transport. It's an all-important role especially here in Metro Manila because of the simple fact that not all areas can be accessed by the Light Rail Transits and jeepneys, and of course, not everyone owns a car.
As such, buses might just be the backbone of Metro Manila's transportation network. And yes, buses are also the most cost-effective and currently the most popular means of getting to the provinces, especially now that our country's inter-island ferries are much reliable now.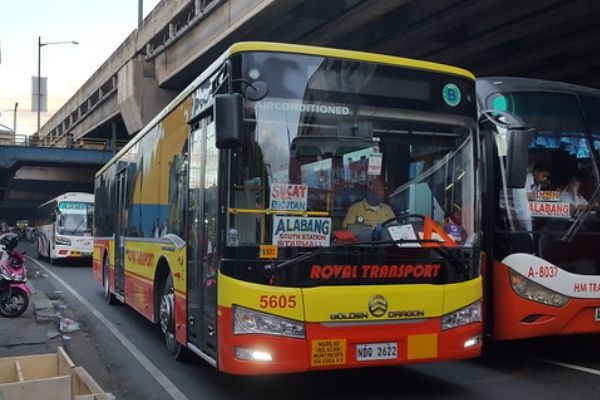 An Alabang bound city bus on EDSA
So, if you're like us, you're probably curious about the buses running around here in the Philippines and guess what, you're in luck because Philkotse.com is going to be talking about the most common bus models we're seeing on our roads on the daily.
Note however that each major bus manufacturer, unlike car manufacturers, actually will allow for a LOT of customization with their products. Each bus will come available in different lengths, can come with different bodies so we'll keep this article simply by choosing the most popular or the most common.
I. Buses in the Philippines: Overview
As we've said before, buses are the most common means for people to move around not only in the Philippines but around the world and the primary reason for this is their flexibility. Unlike trains that require rails, buses can alter their paths and a new route can easily be launched with minimal investment.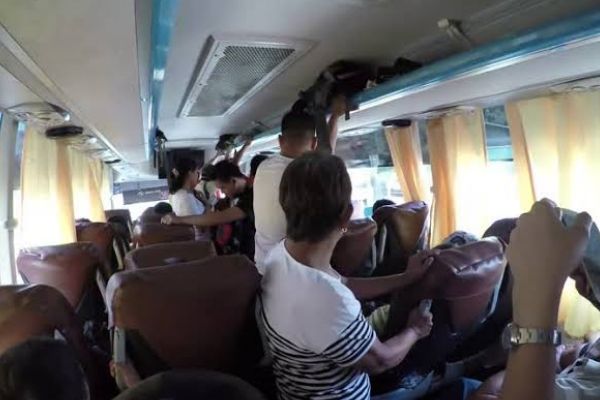 Philippine buses are usually filled up more than it's indicated capacity. It's tough but it works
>>> Must read: Commuting vs driving in the Philippines: Which is more practical for the long term?
Despite being powered by huge diesel engines, buses are also environmentally friendlier than cars. How so? Well, it all comes down to the ratio of a carbon footprint per passenger transported. So yes, it can be argued that the largest 18-meter behemoth buses are the best. These are not that common here in the country.
So which manufacturers have buses here in the country? Which are their most popular models? Let's find out!
II. Buses in the Philippines: List of the most popular bus brands
If you've read on ahead, then you've might've noticed that most of these are Chinese branded buses except for one brand. That's because these listed here are the most established bus brands in the country right now and they do provide reliable machines along with a reliable suite of aftermarket services.
1. Yutong bus in the Philippines
With their headquarters located in Henan Province, China, the Zhengzhou Yutong Group Co., Ltd or simply, the Yutong Group is a company that primarily sells buses. As such, they specialize in making the said vehicle type. Yutong however also makes construction equipment and parts for other smaller passenger vehicles.
Today, The Yutong Group is present in 30 countries all over the world. Included of course is the Philippines where Yutong buses are commonly used for public transportation purposes.
ZK6876H
Classified as a city bus model, this particular Yutong model comes in two kinds of seating configurations, a 2x2, with two seats on opposing sides, and 2x3. For the 2x2, a total of 37 people (excluding the driver) can be accommodated. The interior of this bus comes ready with air-conditioning and it also has an overhead storage compartment for luggage.
This model uses the Yuchai YC6J220-42 which is an inline-6 diesel engine that can make 217 horsepower and 800 NM of torque.
Overall, this bus model measures 8,749 mm long, 2,500 mm wide, and 3,310 mm high.
This model uses a Yuchai YC6J220-42 just like the previous model.
While designated as a city bus, this model is also fit to operate as an airport shuttle.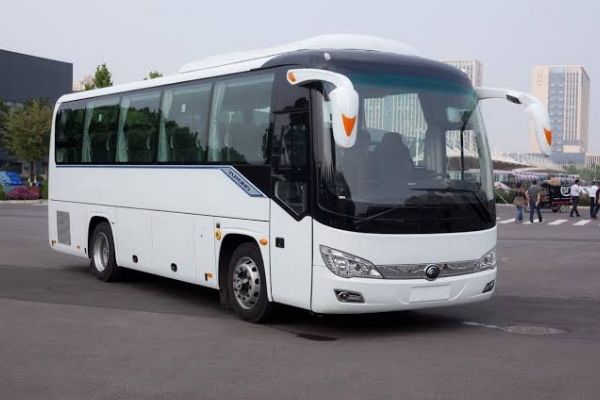 The Yutong ZK6876H
>>> You might like to read: Future Bus - Mercedes Benz's semi-autonomous bus
ZK6122HD9
Unlike the city buses above, the ZK6122HD9 is designed for long travels. As such, it is ideal for provincial operations outside the city. It comes equipped with cargo storage spaces that can be accessed from the sides of the bus.
The ZK6122HD9 can comfortably fit in 51 buses excluding the driver. Air-conditioning is also readily available for this model.
This bus uses the Yucahi YC6L330-42, a Euro 4 compliant inline-6 diesel that can make 325 horsepower and 1280 NM of torque.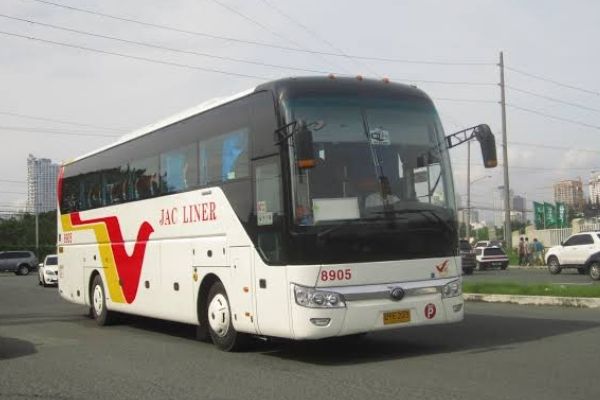 The Yutong ZK6122HD9
ZK6105H
Another common Yutong Bus made for the city is the ZK6105H. It can fit in a whopping 61 passengers. It's also one of the longer Yutong buses currently available as it measures 10,490 mmX2,500mmX3670mm.
Apart from public transport purposes, this model is fit to operate as a shuttle service and as a school bus.
The Yutong ZK6105H
2. Volvo bus in the Philippines
Apart from the famous Volvo Cars, the Swedish car manufacturer is historically known for making buses. And just like their cars, Volvo places an emphasis on safety and efficiency with their bus models.  As such, transport companies, especially those providing point to point bus services here in Metro Manila, tend to prefer Volvo made buses.
B5R LE Hybrid
While it isn't as common as the other bus models in this list, we have to acknowledge that the B5R LE Hybrid bus is available here in the Philippines and we've even seen several examples operating either as a prototype public transport or as a limited point to point bus.
Apart from its really comfortable and very premium interior, the B5R LE Hybrid, by virtue of its hybrid powertrain, is a highly efficient machine capable of giving you up to 39% in fuel savings.
Being a hybrid, the B5R LE has two engines; a Volvo D5F215 inline-4 diesel capable of making 215 horsepower and 918 NM and the Volvo I-SAM electric motor with a maximum output of 160 horsepower and 800 NM of torque.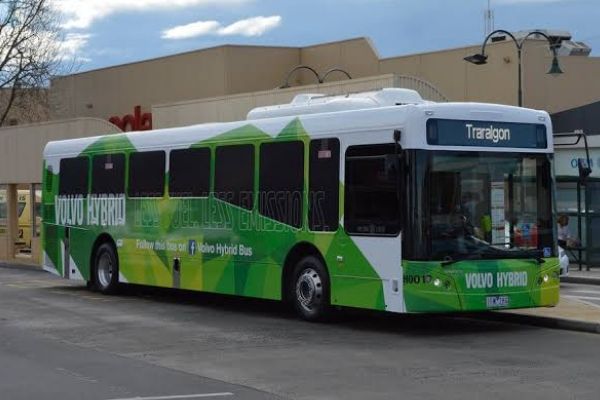 The B5R LE Hybrid
>>> For further reference: 5 facts you should know about the Philippines PUJ Modernization Program
B7R
Despite being one of the older coach chassis from Volvo, the B7R is still a significant presence in the public transport scene due to its versatility and robustness. In fact, here in the Philippines, we actually have two coachbuilders who primarily use this particular Volvo chassis; Autodelta Coach Builders Inc. and the Del Monte Motor Works.
As such, many local transport companies are currently using the B7R usually with the 290 horsepower Volvo D7E diesel engine. The B7R chassis can also accommodate other engines like the Hino J08E, the Mitsubishi Fuso 6D16 and the Nissan FE6B.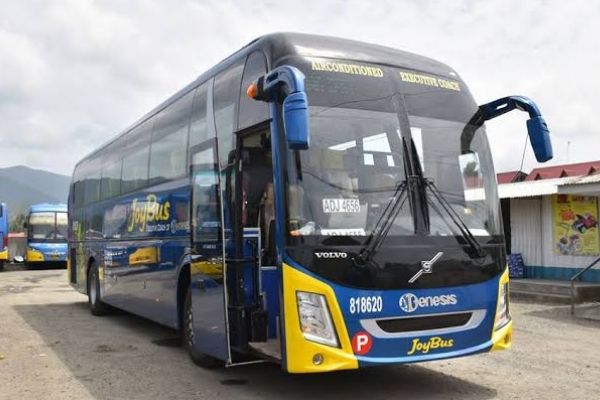 The Volvo B7R
>>> Related post: List of the most popular minibus in the Philippines
B8R
While uncommon still, we here in the Philippines also have the newer B8R. In the beginning, the B8Rs were imported from Boras, Sweden.
Recently, however, Autodelta Coach Builders Inc. have begun to assemble coaches and the chassis itself in Subic beginning in the third quarter of 2019.
For Euro VI markets, the B8R can be fitted with the 250 horsepower D8K. For Euro III/V markets, the B8R comes powered with the D8C whose maximum power output ranges from 250 horsepower and 330 horsepower depending on the version.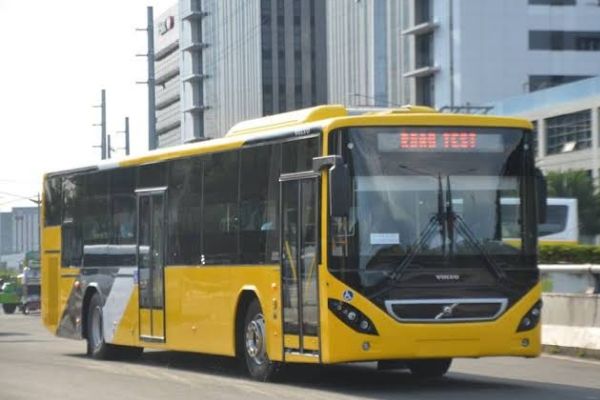 The Volvo B8R
>>> Also check: Hailing a ride or public transportation in the Philippines: An issue of safety
3. Daewoo Bus in the Philippines: BV115, BF106 and BS106
While Daewoo no longer sells smaller passenger vehicles here in the Philippines, their buses are still available here through the Columbian Manufacturing Corporation or CMANC through a technical licensing agreement or TLA.
Currently, CMANC sells three Daewoo bus models; the BV115, the BF106 and the BS106. The first two are commonly used as a city going bus with the BS106 as a provincial route bus.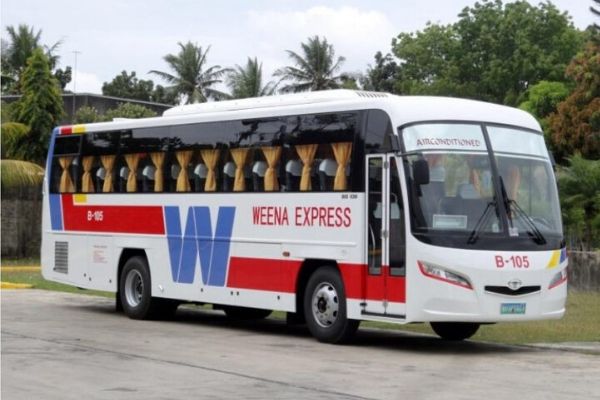 The Daewoo BS106
4. Hino bus in the Philippines
Hino Motors Philippines is a veteran bus company and they actually have the backing of Toyota. As such, it can be said that their vehicles are solid and reliable. Hino also has an extensive dealership network in the country.
FG8JP7A w/ FOH EXT. (Euro 4)
First off is the FG8JP7A model from their "Midi" class. It comes in with a length of 10,500 mm, a width of 2,480 mm, and a maximum height of 3,450 mm. With the J08E-WF engine, this model can make up to 237 horsepower and 716 NM of torque.
Maximum passenger capacity for both the air-conditioned version and non-airconditioned version ranges from 53-55.
RN8J (Euro 4)
Another popular model from Hino is the RM2P. Like most of the buses here, it has its Euro 4 compliant P11C-TH mounted at the back. Maximum horsepower output measures at 297 horsepower and 1,078 NM of torque. The regular aircon variant has a seating capacity of 66 passengers.
The RN8J is utilized by local public transport companies either as a regular public transport bus or a premium point to point bus.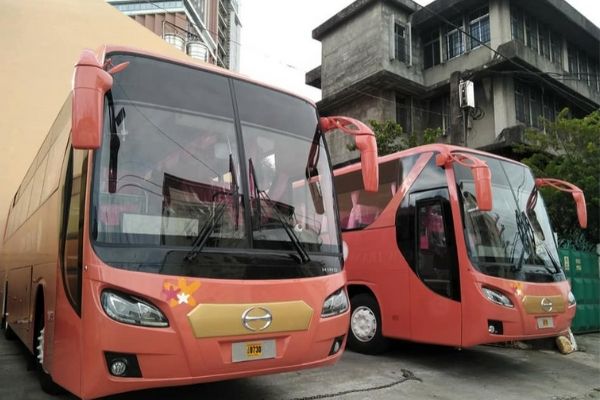 The Hino RN8J
>>> Related news: Hino fulfilling its promise with Filipinos, this time in Visayas
5. Kinglong bus in the Philippines
XMQ6119G and XMQ 117Y
Based on public transit buses, these two models ride low to the ground and have large floor areas perfect for both standing passengers and seated passengers traveling on short trips within the city.
For these models, engine choices range from Yuchai, Cummins, or a Hino engine. The strongest of course is the DongFeng Cummins ISLE+280B, a Euro 3 compliant diesel that can make up to 375 horsepower and 1060 NM of torque.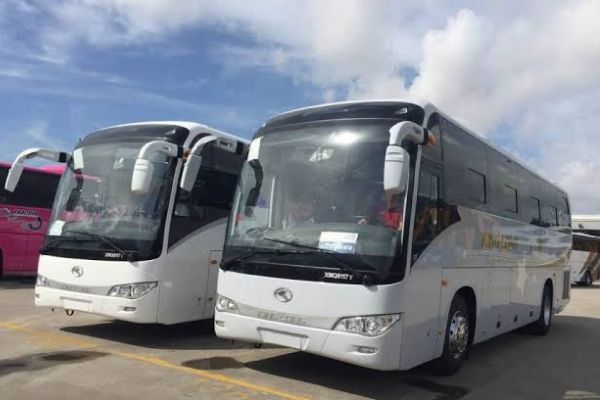 Two Kinglong XMQ117Y buses parked side by side
XMQ6129Y5
This Kinglong coach is commonly used in the country either as a provincial bus or even as a city bus. It comes with a slightly different array of engine choices but most noteworthy is the Euro IV compliant, 320 horsepower ISLE4 320 Cummins.
The XMQ6129Y5 can also comfortably seat up to 45 passengers and it comes with a built-in 17-inch LCD.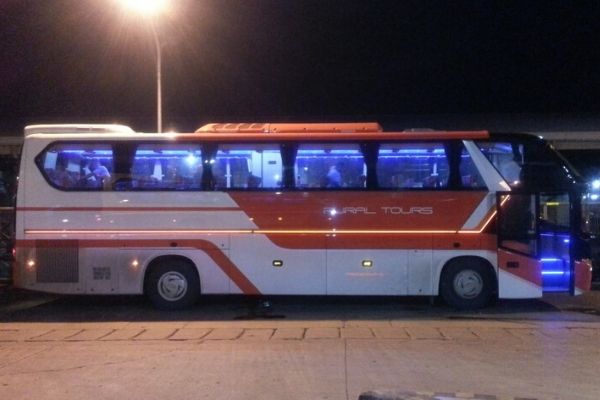 The Kinglong XMQ6129Y5
XMQ6127Y
Going up the ladder in Kinglong's lineup is the XMQ6127Y. Available to it is the ISL8.9E5 400 Euro V compliant diesel engine that can produce up to 400 horsepower and 1,700 NM of torque.
It also has a higher passenger capacity of 53, has disc brakes all around, as well as a 17-inch LCD.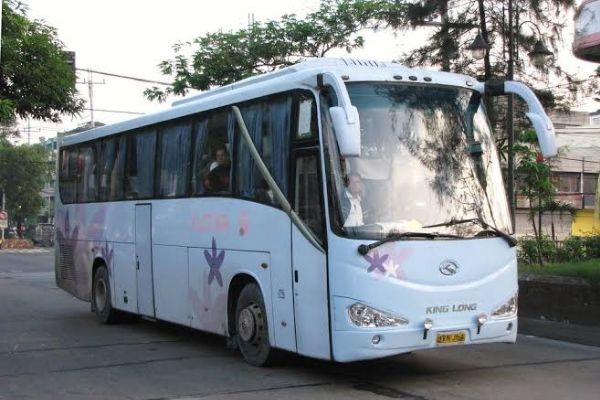 The Kinglong XMQ6127Y
>>> Visit Philkotse.com for more useful tips and advice for smart driving.


Cesar G.B. Miguel
Author