List of the most popular minibus in the Philippines
Philkotse.com lists down the most popular minibus in the Philippines for mid-sized group trips and travel. Check them out!
Do you have the need to haul most of your extended family as well as your immediate family on long trips? Are you the type who owns eleven dogs who you just can't leave behind when you go on vacation? Do you own a business that needs to transport customers? Or are you planning to live out your dream of converting a large or large-ish vehicle into a full-on mobile home?
Well, guess what, you're in luck because for this article, we're talking about the more notable minibus models available in the Philippines right now!
So, to guide prospective buyers, here's a list of popular minibus models available here in the models. Included for each minibus model is a short overview, as well as their prices.
Also included in this list are minivans that already fit in the definition of what a minibus is. 
1. Toyota Coaster: Noticeably popular minibus in the Philippines
First off, from the most popular brand in the Philippines, is the noticeably popular Toyota Coaster. For the one we have here, it comes with a 4.2-liter, diesel drinking, inline-4 engine capable of producing 134 horsepower and 353 Nm of torque. Power is sent to the rear with a 5-speed manual.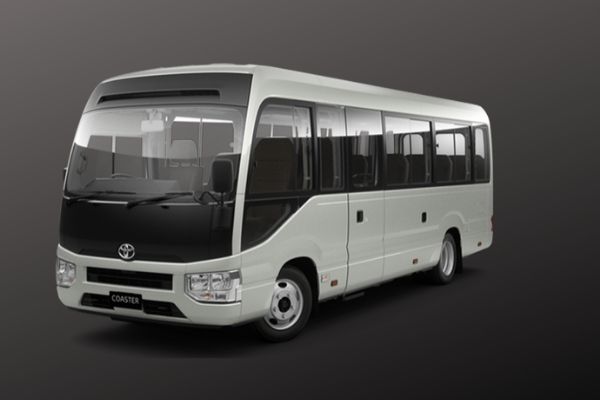 The Toyota Coaster
Sized at a generous 6990 in length, 2035 in width, and 2600 in height, the Toyota Coaster can fit a whopping 29 people (or dogs, or around 40 cats, we're not judging).
Also noteworthy is the Toyota Coaster's ringed body frame which means that the vehicle's floor, sides, and roof are securely interconnected. The Coaster also makes use of high-tensile plates that complies with Rollover global safety standards.
Prices for the Toyota Coaster starts at Php 3,453,000
>>> You might like to read: Bus in the Philippines: List of popular brands and models
2. Mitsubishi Fuso Rosa: 24-seater minibus in the Philippines
While we included the Mitsubishi Rosa here in this list of Minibuses, it's actually much closer to a full-fledged bus. The same is, of course, true of the Toyota Coaster. In terms of passenger capacity, the Mitsubishi Rosa can actually seat up to 24 people with its super long configuration, 30 with its long configuration, and 26 with its short configuration.
For engines, the Rosa makes a bit less at 134 horsepower and 370 Nm of torque. The Rosa does have a back-up camera, a multimedia entertainment system, as well as automatic doors.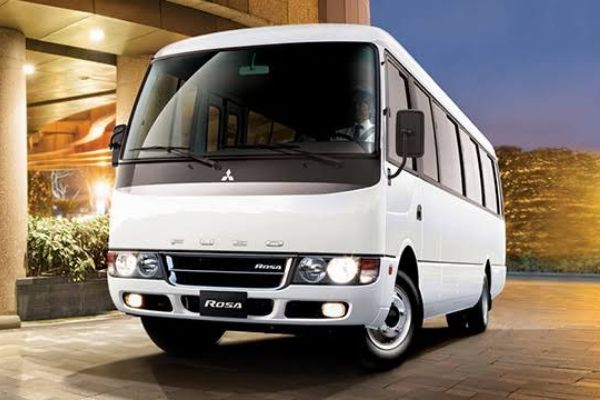 The Mitsubishi Fuso Rosa
| | |
| --- | --- |
| Variant | Price |
| Mitsubishi Fuso Rosa (Short) 29 Seater | Php 3,625,000 |
| Mitsubishi Fuso Rosa (Long) 30 Seater | Php 3,670,000 |
| Mitsubishi Fuso Rosa (Super Long) 36 Seater | Php 4,030,000 |
3. GAZ Vector Next: A Russian minibus in the Philippines
Imported by Gazelle Motors Corporation from Russia (with love), the GAZ Vector Next and the Next Citiline are minibusses that can be used for a multitude of roles, especially with the larger Citiline variant.
Both Vectors are equipped with the same engine, a 2.8-liter Cummins diesel capable of making up to 150 horsepower and 330 Nm of torque.
All in all, if these minibusses have done well on rough (sometimes) Russian roads, well there's no doubt that they can do well here.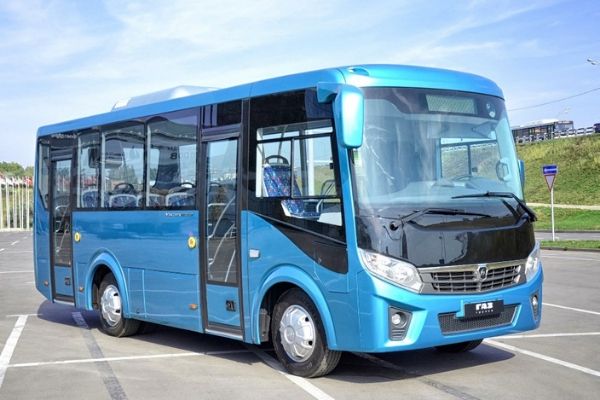 The Gaz Vector
| | |
| --- | --- |
| GAZ Vector Variant | Price |
| Gaz Gazelle Next Citiline | Php 2,500,000 |
| Gaz Gazelle Next Executive Class | Php 3,750,000 |
| Gaz Gazelle Next Premium Class (14-seater) | Php 2,745,000 |
| Gaz Gazelle Next Premium Class (17-seater) | Php 2,800,000 |
>>> For further reference: 6 Best Family-Friendly Vans in the Philippines
4. Hyundai County: Two-door minibus in the Philippines
Introduced as the replacement of the Chorus back in 1998, the Hyundai County is a capable, two-door minibus which has space enough for 30 people at the maximum. We say at the maximum because there are actually two body configurations for the County; a standard body measuring at 6,350 mm, and a long body version measuring at 7,085 mm.
Due to the County's variety in size, the Country has a number of engine choices like the D4DD which can make up to 137 horsepower and 373 Nm of torque.
Like any modern vehicle, the Hyundai County comes equipped with an anti-lock braking system, disc brakes, a brake booster for more hydraulic brake pressure, and an exhaust brake as a deluxe option.
For the Hyundai County's pricelist, we suggest contacting Hyundai Philippines themselves.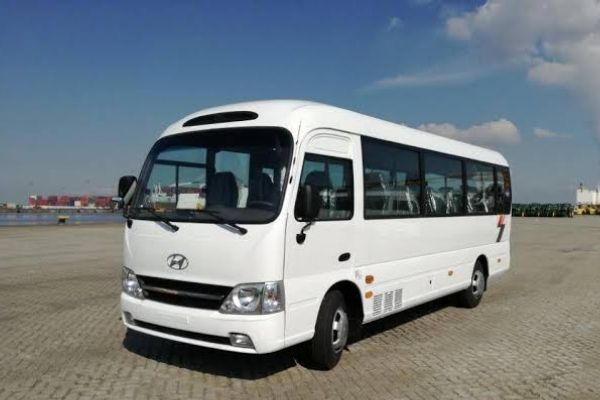 The Hyundai County, the minibus on this list with the largest maximum passenger capacity
>>> Worth to note: [Philkotse pick] Best passenger vans in the Philippines for every ride
5. Isuzu NQR: A capable-looking minibus in the Philippines
Built on the very versatile Isuzu N-series chassis and cab, the Isuzu NQR minibus is a simple but very capable-looking minibus which can come in two different configurations; a 28-seater or a 35-seater. There are also equivalent versions that don't have the air-conditioning system.
Powering the NQR is a 4-liter, turbo-intercooler, Blue-Power diesel engine which can make 103 horsepower and 230 Nm of torque. Power is sent to the rear with a five-speed manual. The said engine is compliant with up to Euro IV standards.
For more details about the Isuzu NQR's pricing, please contact Isuzu Philippines.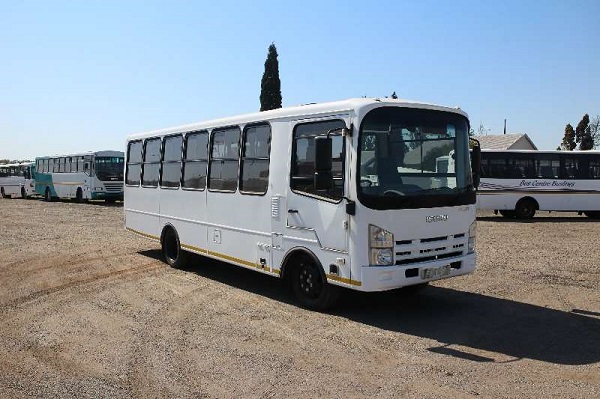 The Isuzu NQR very much looks like the Isuzu truck it is based on
6. Foton Toano: 15-seater minibus in the Philippines
Designed by the same team who made the Mercedes-Benz Sprinter, the Foton Toano is high roofed, and very spacious 15-seater minibus equipped with an automatic electric step-board, LED side-mirrors signal lights, as well as a very wide vertical split rear door.
Under the hood, the Toano, like most Foton vehicles comes with a Cummins engine. With the Toano however, it's the 2.8-liter CRDi Cummins turbo diesel which can make up to 160 horsepower and 360 Nm of torque. The engine is then paired up with a 6-speed manual transmission.
With the Toano EX, passenger capacity is sacrificed for a comfier cabin. Instead of being able to seat 15, the Toano EX can only seat four but it does have captain seats, and better materials used for the interior. The Foton Toano 2.8-L MT starts at Php 1,988,000.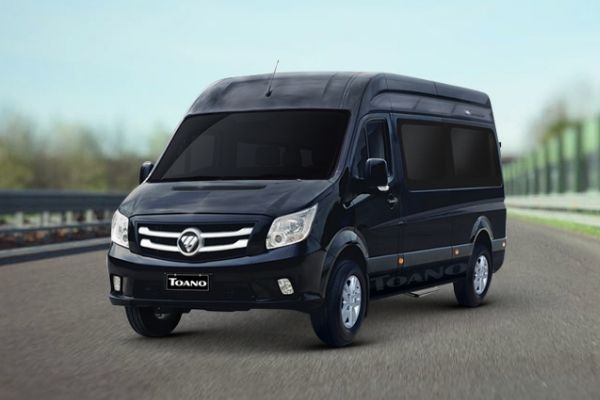 The Foton Toano EX
7. Hyundai H-350: A spacious minibus in the Philippines
Being capable of seating 14 people, the Hyundai H-350 is one big vehicle. Despite having that passenger capability though, it has a great amount of space for legs, heads, and elbows. And get this, even while full, it does have a bit more space for luggage.
Also, it's a vehicle you can stand in, so if you're thinking of converting it into, say…a mobile home, then half of the work is already cut out for you!
Under its hood, the Hyundai H-350 is powered by a 2.5-liter CRDi diesel engine which can produce up to 170 horsepower and 421 Nm of torque. This makes it more powerful even than the humungous Hyundai County.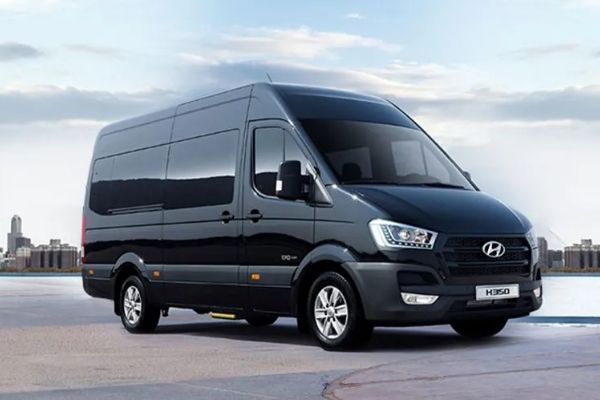 The Hyundai H-350: Light commercial vehicle of the year
For safety, the H-350 comes equipped with stability control ABS and a hill start assist.
>>> Related news: Hyundai H-350 2019: Philkotse's contender for 2019 light commercial vehicle of the year
Hyundai H-350's variants and prices

| | |
| --- | --- |
| Variant |  Price |
| Hyundai H-350 2.5 A2 Minibus DLS | Php 2,688,000 |
| Hyundai H-350 2.5 A2 Minibus DLX | Php 2,728,000 |
8. Ford Transit: A diesel minibus in the Philippines
Last but not least is the Ford Transit which has been around since 1965 but has only reached us here in the Philippines just last year.
With the Philippine-spec version, the Ford Transit is powered by a 2.2-liter Duratorq inline-4 diesel engine which can make 133 horsepower and 385 Nm of torque. Power is sent to the rear wheels through a six-speed manual transmission.
Inside, the Ford Transit can comfortably seat up to fifteen people with room to spare for some pieces of luggage.
For safety, the Transit has dual front airbags, ABS with EBD and an Emergency Brake Warning, stability control, hill start assist and a tire pressure monitoring system.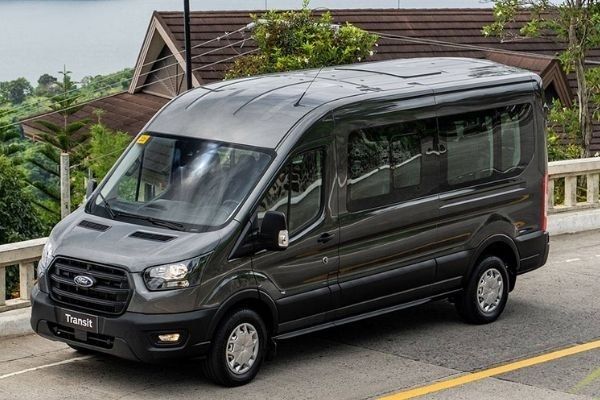 The Ford Transit, arguably one of the most stylish in the bunch
9. Toyota Hiace: Favorite minibus in the Philippines
While a majority of sites have classified the Toyota Hiace as a passenger van, it can also be said, especially with its Commuter Deluxe version, that it has fully entered the realm of minibusses. That's because the aforementioned version can fit in 15 people.
And of course, there's no denying Toyota's supremacy when it comes to reliability, availability of aftermarket and OEM parts, as well as the quality of service of their after-sales.
Toyota Hiace Grandia 2020 Philippines | Full tour review | Philkotse
As with the Hiace itself, it is now in its sixth-generation and it has grown larger than ever before offering much in terms of space. This is especially true with the more premium variants, namely the GL Grandia Tourer which comes with captain seats.
Under the hood, the Toyota Hiace is powered a 2.8-liter inline-4 diesel engine capable of making 176 horsepower and 420 Nm of torque. For the Commuter Deluxe, it provides more torque at 450 Nm in consideration for its larger passenger capacity.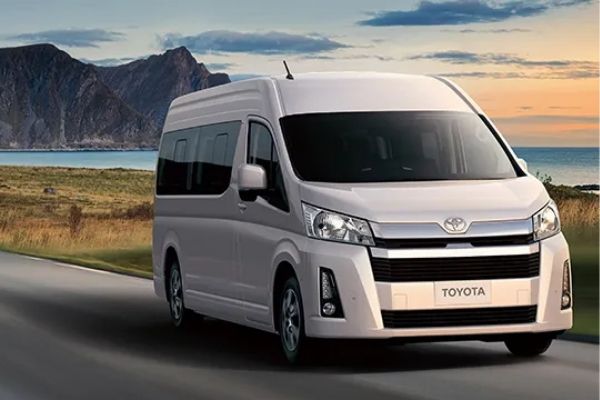 Toyota Hiace: Filipino's favorite way of traveling with the entire family
In terms of onboard toys, the GL Grandia trim comes with a display audio system that's capable of playing Mp3, CD, USB, and DVD. It can even connect to your smartphone via Toyota's T-link system which is great for both Android and Apple phones.
For more guide articles like this one, keep reading here on Philkotse.com!
Author
Cesar learned how to drive a car years before he got his license. Today, he's still looking for that perfect '90s Japanese coupe to drive into the sunset while listening to Crazy Little Love by Nuage. Also has a thing for badass off-road vehicles and weird engine swaps.