Hyundai H-350 is the perfect balance of power, comfort, and capacity. As such, we think it just might be the best LCV of 2019. Keep reading for more!
Hyundai H-350 2019: A contender for the light commercial vehicle of 2019
The engine is one of the most powerful in its class
Upscale interior with lots of soft-touch surfaces and leather seats
Interior storage space is generous
Hyundai H-350 2019 has some really nifty convenience features
Hyundai H-350: The best in class in terms of hauling ass
Currently, the only other light commercial vehicle's (LCV) or comparable size here in the Philippines is the Ford Transit, Foton Toano, Maxus V80 and the Volkswagen Crafter.
The one from Ford makes 133 horsepower and 385 nm of torque, the Foton makes 161 horsepower and 360 Nm of torque, the Maxus makes 134 horsepower and 330 Nm of torque, and lastly, the Volkswagen at 163 horsepower and 400 Nm of torque.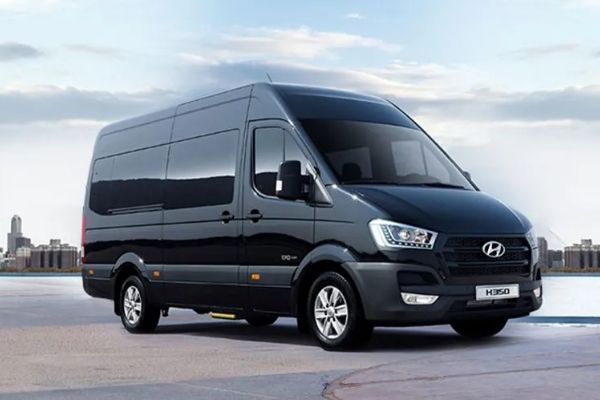 Here's the H-350. It isn't more or less stylish as its competitors but its the size of these vehicles that always gets to you
Compared to those, the Philippine-spec Hyundai H-350's turbo-diesel 2.5 liter inline-4 can make 170 horsepower and 421 Nm of torque. That, of course, means that it can get up to speed quickly from a stand-still as well as reach higher top speed.
To handle what may come due to that power, the Hyundai H-350 also has stability control, an anti-lock braking system. It also has a hill start assist which the Toano doesn't have.
In terms of accessibility, the while the Hyundai H-350's rear door can open wide just like most of its competitors, and its side doors slide wide enough to accommodate even a deployed and in use wheelchair. Pretty useful. What takes the cake however is the vehicle's retractable step board for those with mobility difficulties. Again, pretty useful.
And if you're saying that those other vans from those other brands that Philktose.com has mentioned actually have those, well, these listed features found aboard the H-350 is just the cherry on top of the delicious horsepower and torque cake that it's going for it.
>>> More news on commercial vehicles: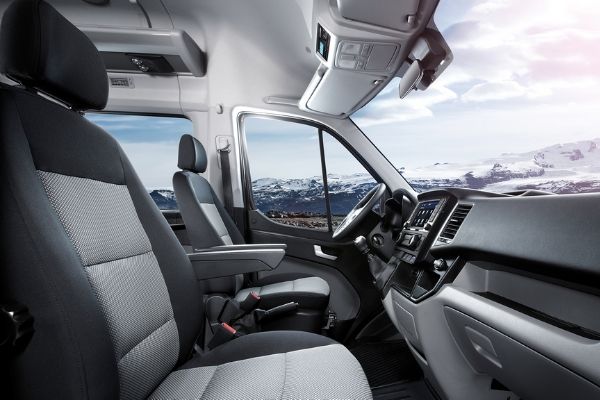 Check out the front. This vehicle offers LOTS of visibility
Hyundai H-350: Immense on the outside, and on the inside as well
While it's one competitor, the Maxus V80, actually has a variant that can seat a whopping 18 people, that comes with some compromises like tighter elbow room. On the H-350 on the other hand, is the perfect balance of spaciousness and capacity. Also, it has an overhead storage compartment.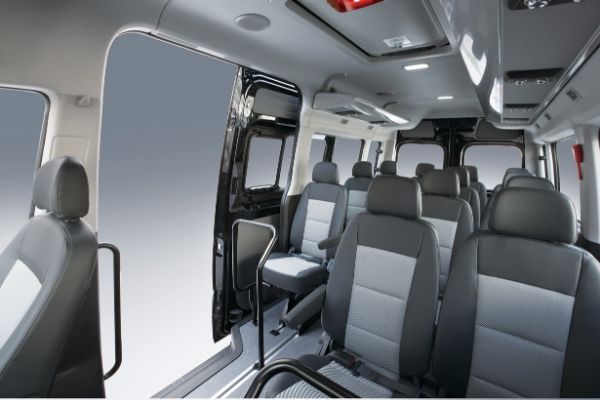 The interior of the H-350 beckons you to sit back, relax, and stretch your legs
Overall, the Hyundai H-350 is the choice for a businessman or a family man who likes to travel together with his extended family while at the same time wants something that can carry 14 people whilst not having to sacrifice power.
For more car of the year articles like this one, keep reading here on Philktose.com. Also, latest updates on upcoming Hyundai cars can be found in our Complete guide to the Hyundai Philippines' local lineup.

Know more about Hyundai H350 2022

The Hyundai H350 is a commercial vehicle (CV) tailored to be a passenger car in the country due to its massive size. It is not available anymore in the Philippine lineup, but Hyundai H350 price ranging from Php 2,688,000 to Php 2,728,000. Under the hood, the vehicle uses a 2.5-liter CRDi turbodiesel engine capable of generating 168 horsepower and 422 Nm of torque. This engine is connected to a 6-speed manual transmission.
In terms of dimensions, the H350 spans 6,096 mm long, 2,865 mm wide, and 2,042 mm high. Locally, this Hyundai vehicle competed against the likes of the Ford Transit.

Cesar G.B. Miguel
Author