With 2019 coming to a close, we here at Philkotse will be nominating several vehicles as the top dogs in their respective categories. Here is one contender for the subcompact B-segment car of the year.
Hyundai Reina 2020: Subcompact of the year contender (B-Segment)
Roomy interior
Refined ride quality
More powerful than you think
Affordable
Value for money, bang for your buck!
Look better in the metal
>>> Check out: Hyundai Reina 2019 Philippines Review: A pocket-friendly car for you.
Hyundai Reina 2020: The new queen of the subcompact car segment
When I drove the Hyundai Reina for a video review we had a few weeks ago, I was totally surprised. Surprised is a weak word actually, I'm more dumbfounded actually. Taking a look at the technical specifications of the Hyundai Reina I can't believe that there was "only" 94 hp in it.
Hyundai Reina is lightyears away from the quality of Hyundai cars of old
It had so much pull and gusto with every touch of the accelerator pedal. Have new cars taken a quantum leap in quality performance over just a few months? The clutch action was precise, throttling the car, rev-matching at every turn and downshifting out of the apex, is this the kind of car we can expect from China made Korean cars? Sign me up!
Hyundai Reina 2020: The interior is really well put together
Hyundai Reina 2020 sports a classy all-black, albeit all plastic interior. I most especially like the way the dashboard stacks on each other molded in a way to avoid being boring, the AC vents that look like lips add a flair of sophistication instead of boring slats.
It has a chunky, small-diameter three-spoke steering wheel does a great job mimicking the Veloster's and has well-placed nubs to put your thumbs in for the perfect 9 and 3 driving positions. You won't hear any cracks or ticks when driving, It almost gives you a smooth Euro feel to it.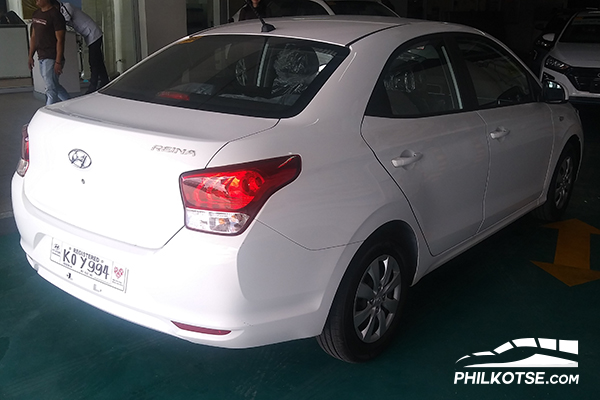 The Hyundai Reina looks quirky in pictures but actually looks quite nice
>>> Grab the chance to have a Reina at our Hyundai Promo.
Hyundai Reina 2020: About that performance
I've read up on reviews on the Hyundai Reina and the consensus has been unanimous. That Hyundai Reina is an under-powered econobox that you can't expect much from.
I drive the mid-2000s supposedly sporty 4 door sedan and I have to tell you, I think the current crop of cars especially the Hyundai Reina 2020 have some sort of magic in them because there is a power beyond the numbers and figures. 
It is so fun to drive thanks to its small wheelbase, light 1000 kg weight, and early power delivery. You won't find any power up the rev range but the fun lies in the bottom. Drive a slow car fast and magic happens.
>>> Latest updates on upcoming Hyundai cars can be found in our Complete guide to the Hyundai Philippines' local lineup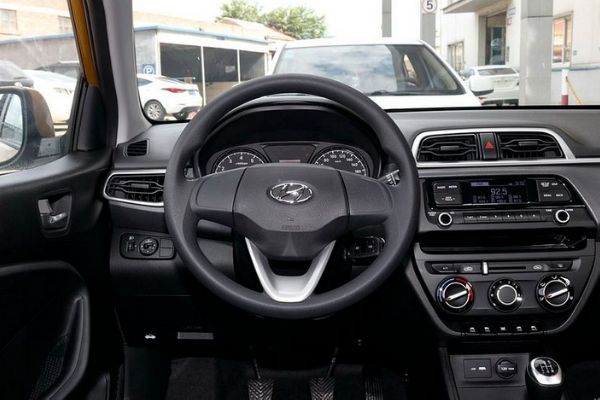 The interior is pretty well built and is sculpted to look more engaging
Hyundai Reina 2020: Value-oriented and a looker in person
Hyundai Reina Philippines is now one of the cheapest brand-new sedans out there. It even undercuts its twin sister the Kia Soluto in pricing. I cannot stress enough, how much of a steal the Hyundai Reina is.
You get all the power amenities you can possibly want like Power Windows, Airbags, ABS and what have you all for a starting price of P 638,000! This is my bet not just for sub-compact of the year, but an overall car of the year! Yes, ladies and gentlemen, It is that good.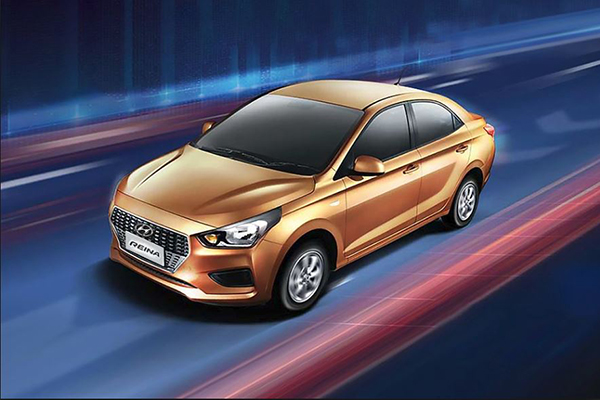 Hyundai Reina is a once in a lifetime vehicle. Grab ahold of it before they raise prices
Follow us at Philkotse.com to find out how the Hyundai Reina stacks up against some tough competition for our Car of the Year Awards!

Know more about Hyundai Reina 2022

The Hyundai Reina is a four-door, subcompact sedan for the Philippine market. Locally, this sedan has four different variants. These are the Reina GL 1.4 MT, Reina GL 1.4 AT, Reina GL 1.4 MT (w/ Apple CarPlay/Android Auto), and the Reina GL 1.4 AT (w/ Apple CarPlay/Android Auto). The Hyundai Reina 2022 Philippines price ranges from Php 683,000 to Php 783,000.
Under the hood of the Reina is a 1.4-liter inline-4 gasoline engine paired with a five-speed manual tranny, or a four-speed automatic gearbox. At maximum, it can make up to 94 horsepower and 132 Nm of torque. All power is then sent to the car's front wheels.
Size-wise, the Reina is 4,300mm long, 1,705mm wide, and 1,460mm in height. It also has a wheelbase length of 2,570mm, and a ground clearance of 150mm.
Locally, the Hyundai Reina's direct rivals is the Suzuki Dzire and Kia Soluto. Other vehicles in its class also include the Toyota Vios, Mitsubishi Mirage G4, Nissan Almera, Suzuki Ciaz, etc.

Roy Robles
Author