The Hyundai Reina 2019 is Hyundai's latest entry-level sedan. It is affordable and has loads of cargo space and can function well as a daily driver in the city.
In this review...
Introduction

Exterior

Interior

Technology

Performance

Safety

Specs

Variants & Price list

Conclusion
1. Hyundai Reina 2019 Philippines Review: Introduction
Positioned a little bit below the Hyundai Accent, the Hyundai Reina is a front wheel drive, four-door B-Segment sedan manufactured in plants owned by the Beijing Hyundai Motor Co., Ltd. The Reina is based on the Hyundai-Kia PB platform which it shares with the Kia Soluto, Kia Rio 2011, and the Hyundai Accent (RB) 2010 – 2017.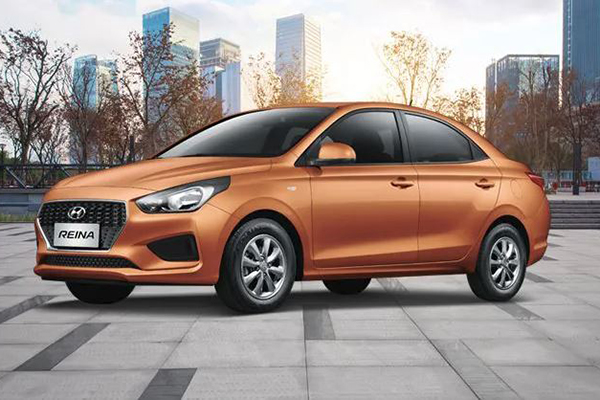 The Hyundai Reina shares the PB platform with numerous Hyundai and Kia vehicles
Introduced recently here in the Philippines in March 2019, the Hyundai Reina first debuted at the 2017 Chongquing Motor Show and since then, at least here in the Philippines, the Hyundai Reina is a very new subcompact car which is favored by some due to its relatively affordable price.
So does the affordable price mean more bang for your pocket or is it another boring vanilla mobile? Let's have a general look at this car with Philkotse.com in Hyundai Reina 2019 Philippines Review!
2. 2019 Hyundai Reina Review Philippines: Exterior
At a glance, the Hyundai Reina indeed follows other Hyundai cars with typical current design language to some degree. Some of its parts even look strikingly similar to the Accent which it shares the PB platform with. As such, one can see from the Hyundai Reina 2019 a fluid, flowing quality to it especially with regards to its character lines flowing the length of its sides to the front fascia which has that very recognizable grille.
As an entry-level vehicle, however, not much frills like chrome can be gleaned from the Reina however, one can still appreciate the presence of the patterned intake located on the lower lip.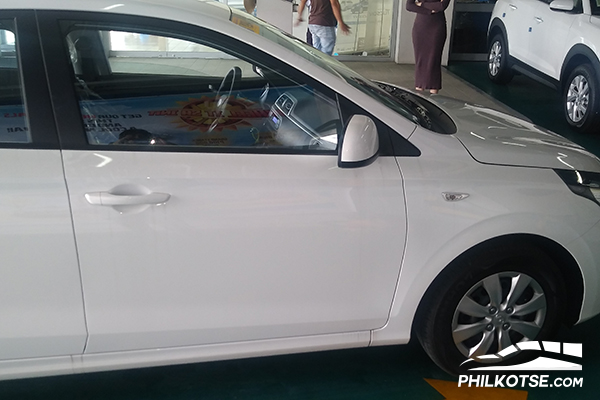 The Hyundai Reina's side profile is typical of a sedan. Note the steel wheels.
As with most modern vehicles today, the front of the Reina also uses fake vents in place of fog lights which some might appreciate while others with a more discerning taste would not. Overall though, the front of the car is decent looking and is an excellent representative of the Hyundai brand despite its barebones appearance.
From the sides, the Spartan feel of the Hyundai Reina exterior continues with its basic door handles which do not have chrome. The car even comes equipped with 14-inch steel wheels that come with a decent looking cover.
At the rear of the car, the Reina has a somewhat very un-Hyundai design which contrasts greatly with the front. For functionality, however, the one-piece trunk lid does its job well as does the very basic looking tail-lights.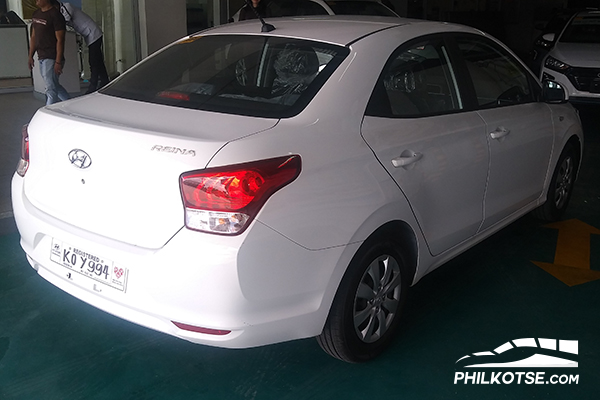 The rear of the Reina has some generic looking tail-lights but they perform their functions well.
Overall, there's nothing wrong with how the Hyundai Reina looks because, for an entry-level no-frills vehicle, its stance is actually quite acceptable.
Also, the paint job that Hyundai gave the Reina is noticeable in good quality and craftsmanship. Keep in mind though that the Reina is poised to be even more basic than the Hyundai Accent so one should have the appropriate expectations with regards to the look of the car.
YOU MAY WANT TO READ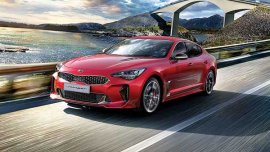 Model Price Philippines
₱ 3,235,000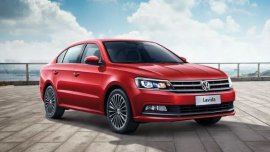 Model Price Philippines
₱ 1,251,000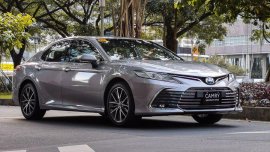 Model Price Philippines
₱ 2,442,000 - ₱ 2,457,000
3. 2019 Hyundai Reina Review Philippines: Interior
Inside, the Hyundai Reina 2019 interior looks to be posher looking that it really is. Everything from the dash, the steering wheel, and center console to the seats, everything looks well-built and are up to modern standards.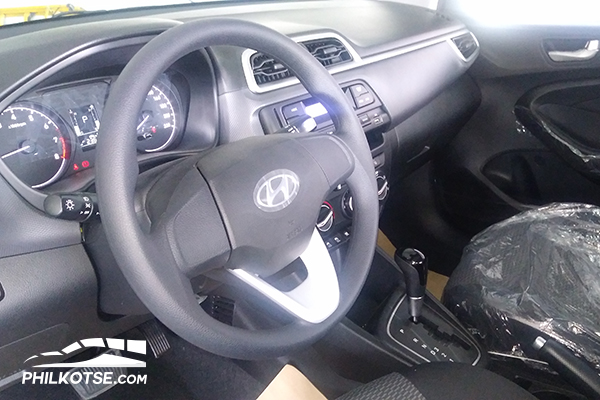 For a car of its price, Reina's interior is modern and comfortable
Despite the evidently plastic material that's common with entry-level vehicles today, most of Hyundai Reina interior panels are textured as such doesn't feel like cheap at all. We also appreciate the chrome which surrounds the a/c vents and also on the steering wheel. As for the steering wheel itself, it feels chunky yet comfortable enough for both long and short drives.
The way Hyundai also positioned Reina's controls is also acceptable as these are easy to reach and easy to use. The position of the front window controls, however, are found under the a/c controls and might take getting used to for some people. The part of the door where the window controls are usually found however instead has a large and useful pocket for storage.
Hyundai Reina vs Mitsubishi Mirage G4: Battle of the subcompact sedans!
And speaking of storage, the trunk-space inside the Hyundai Reina 2019 is a pretty huge 475 liters. For a car of its size, this is pretty impressive and will provide it would be owners a ton of functionality.
For the typical Filipino, space headspace and legroom are adequate. For larger folk, however, Reina's interior can get a little tight. The rear passenger seats are comfortable for two but as we've said earlier, three at the back might be a tight squeeze.
4. Hyundai Reina 2019 Philippines: Technology Review
The onboard technology that comes with the 2019 Hyundai Reina is actually quite impressive for an entry-level vehicle.
For one thing, there's a 2.8 inch LCD trip meter and an automatic door lock that can sense how fast you're going. Also present are a number of driving modes and a handy little device which tells you when to shift.
As an entry-level vehicle though, the Hyundai Reina also gets a 1-DIN FM/AM head unit with a USB port which can only charge phones and a two-speaker setup which is okay for many but is quite lacking for those used to a 4-speaker or more setup. There is however an available touchscreen from Hyundai dealerships if you can cough out an additional Php 28,000 that is.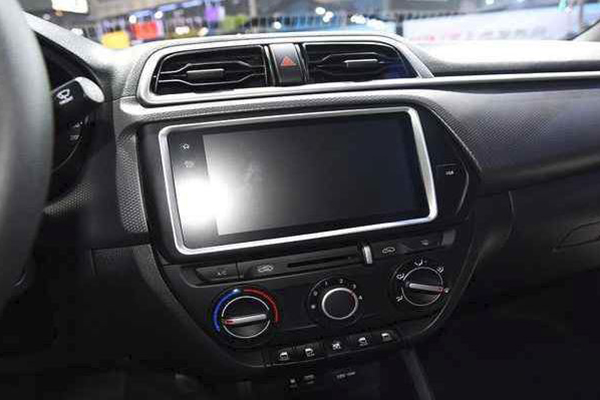 The optional touchscreen multimedia display for the Hyundai Reina
5. Hyundai Reina 2019 Philippines: Performance Review
The 2019 Hyundai Reina performance has the usual 1.4 liters Kappa MPI Inline-4 gasoline engine which is mated to either a 5-speed manual transmission or a 4-speed automatic. As such the Reina shares the same engine with many other vehicles sharing the PB Hyundai-Kia platform. There is however a turbocharged version for the North American market that can make quite a bit more power than what we have here in the Philippines.
As for the local variant, however, it makes about 94 horsepower and 132 Nm of torque. And yes this is quite a bit lower in comparison with the Accent. Despite that fact, the 2019 Reina actually runs quieter than its older cousin and is actually more economical as it can use lower octane fuel.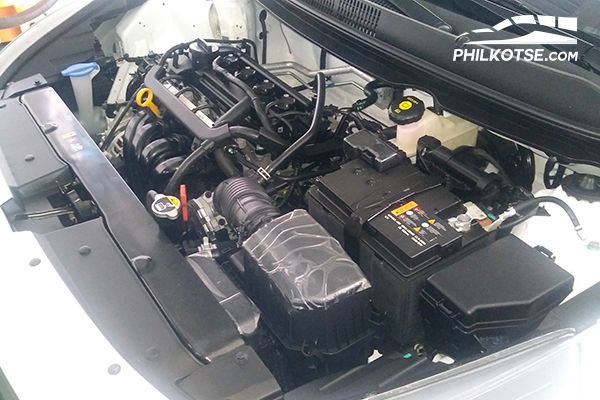 The Hyundai Reina is powered by a 1.4-liter inline-4 engine
As for handling, the Reina as we've said is quiet and has little body roll at all and the steering on is actually quite responsive even through tight turns. The suspension, however, can sometimes can felt to be stiff. That might be appreciated by some as stiffness can be attributed to sportiness in a car with "driver feedback", "road feel" and all the stuff but some others might disagree as it does affect comfort a little bit.
Another point of contention for the Hyundai Reina is its relatively sluggish automatic gearbox which tends to take a second or two to deliver power. It also seemingly "sleeps" from first gear which can be quite stressful to the vehicle especially if driving around the city as you actually need to mash the accelerator for downshifting. The fourth gear on the AT, however, performs well enough on the highway. In contrast, the 5-speed manual is great to use and is very reminiscent of how the older Hyundai Accent feels.
6. 2019 Hyundai Reina Review Philippines: Safety
For an entry-level sedan, the Hyundai Reina 2019 comes with what you'd expect. It has a driver and front passenger airbag, an anti-lock braking system, auto door locks, and ISOFIX. Barebones but adequate.
7. Hyundai Reina 2019 Philippines: Specs
Hyundai Reina Philippines Specs

Name

2019 Hyundai Reina

Body Type

5-door sedan

Dimensions

Length

4300 mm

Width

1705 mm

Height

1460 mm

Wheelbase

2570 mm

Number of Seats

5

Engine & Performance

Machine Type

Kappa MPI Inline-4 gasoline

Engine Size

1.4 liters

Number of Cylinders

4

Number of Valves

16

Transmission Category

5-speed manual and 4 speed automatic

Max Output

94 horsepower

Max Torque

110 Nm

Drive Type

Front-wheel drive

Safety Features

Driver and passenger airbags

Child safety locks

ABS

Electronic Door Locks

ISOFIX

Other features

Front Suspension

MacPherson Strut with stabilizer

Rear Suspension

Coupled torsion beam axle

Front Brake

Disc

Rear Brakes

Drum
8. Hyundai Reina 2019 Philippines: Variants & Price list
Hyundai Reina Price Philippines 2019

| | |
| --- | --- |
| Model | Price |
| Hyundai Reina GL 5 MT | Php 638,000 |
| Hyundai Reina GL 4 AT | Php 688,000 |
9. 2019 Hyundai Reina ReviewPhilippines: Conclusion
All in all, the current Hyundai Reina is the perfect vehicle for someone who just wants to go from A to B while in being reasonably comfortable and being able to carry a lot of stuff. As such the car can be useful to someone who travels a lot with cargo like a salesman, a medical representative, or a mobile bank teller.
It can also be a good city roundabout for just about anyone as its economy for both city and highway driving are actually pretty good. For practical, functional, no-frills car starting at Php 638,000, one cannot go wrong with the 2019 Hyundai Reina.
So to answer the question we posed before; the Reina isn't exactly a plain old boring vanilla mobile but rather a useful and very practical car which can handle quite well. What are you waiting for? Let's find your nearest Hyundai dealerships in the Philippines.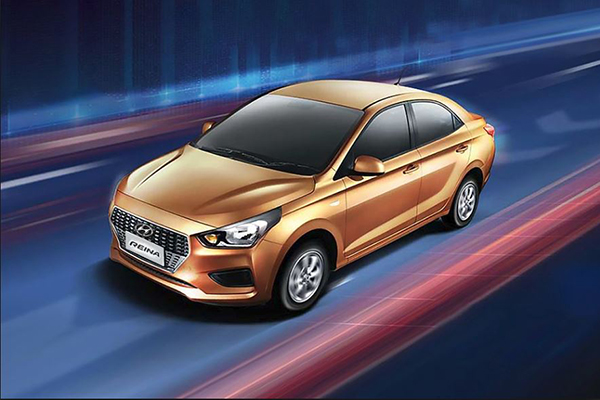 The Hyundai Reina is an economical vehicle to run and maintain
If not, you can search for other cars which can be useful to travel a lot. Don't hesitate to refer to our cars for sale in the Philippines to get the best deals right now!


Cesar G.B. Miguel
Author