Affordable, lightweight, and compact, the Suzuki Dzire 2018 Philippines has great things to offer. Find out in this Philkotse review.
In this review...
Introduction

Exterior

Interior

Engine & Performance

Specs

Price

Conclusion
1. Suzuki Dzire 2018 Philippines Review: Introduction
Many of us have always believed in the saying "You get what you pay for." However, such is not true in every little thing that we buy, just like the Suzuki Dzire 2018 Philippines, which was introduced during the Manila International Auto Show and officially launched in the market last July 2018.
Coming in at an affordable price, this unit is the upgraded version of the Suzuki Swift Dzire that has a somewhat broad rear and awkwardly looking body. That said, it now has its own signature sub-compact sedan design with sleek, elegant, and flowing lines.
Packaged smartly in a very compact body, this new generation of Dzire will not fail you in terms of space and storage capacity. Additionally, although it went away with the typical hatchback-type look, some of the most outstanding features of the previous model have been retained.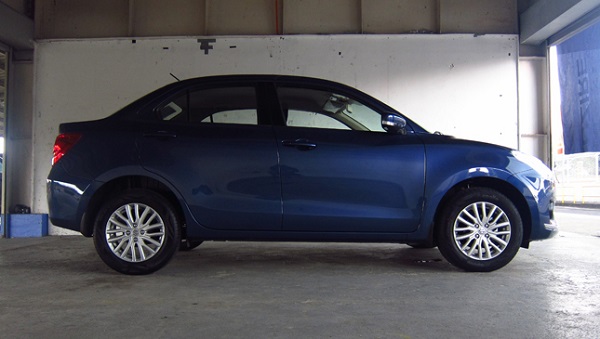 The Sleek Suzuki Dzire 2018 Philippines has a Lot to Offer
A Quick Look at the All-New Suzuki Dzire
Hence, this 2018 Suzuki Dzire review Philippines on Philkotse.com will look at the interior, exterior, and specs of the All-New Suzuki Dzire to help you decide whether it is worth buying or not.
2. 2018 Suzuki Dzire Review Philippines: Exterior
This 3,995 mm (L) x 1,735 mm (W) vehicle's exterior has been painted in extremely elegant colors that will turn heads when it is moving on the Philippines roads or parked somewhere. The GL variant is available in three colors while the GL+ version is available in five.
Complementing its well-painted body are the smoothly flowing roofline, cabin, and surrounding area that begin with an A-pillar that is slanted sharply and end with a C-pillar that slopes forward. The front area of the unit has a wide-open, silver-accented grille that is supported by an aggressively looking bumper and multi-reflector headlamps.
For the GL+ version, it has fog lamps that are located on the sides, just between the bumper and the grille. Coming towards the back of the unit, it has a skirt-like bumper and combination LED lamps.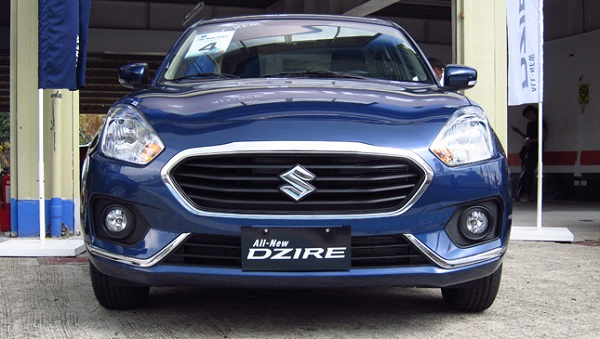 Front Grille with Silver Accents, Headlamp with Multiple Reflectors, and Fog Lights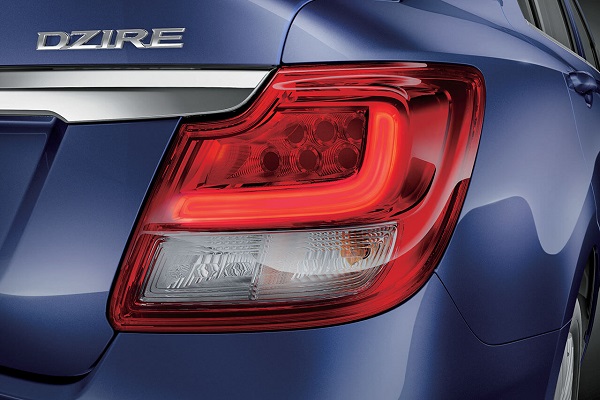 Combination LED Lamps at the Back of the All-New Dzire
>>> Click to find in-depth reviews for other models in Suzuki PH line-up
YOU MAY WANT TO READ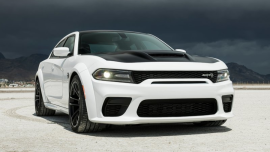 Model Price Philippines
₱ 4,990,000 - ₱ 7,990,000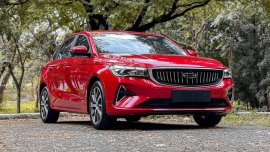 Model Price Philippines
₱ 753,000 - ₱ 999,000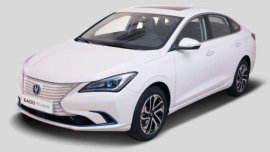 Model Price Philippines
Price available upon request
3. 2018 Suzuki Dzire Review Philippines: Interior
Once you open the driver's door, the first thing that you would notice in this Suzuki model for sale is the D-shaped or flat-bottom steering wheel. Commonly found in sports or race cars, this kind of steering wheel can help you get in and out of the driver's seat more comfortably and faster. Another thing that caught our attention is the consistent black and silver Suzuki Dzire Interior.
For one, the instrument panel with wide contours is equipped with silver accents and the 7" Multimedia Audio System of the GLX has a black interior and has dark silver ornaments. Similarly, the black meter cluster and tachometer also have silver highlights. These two are also illuminated with the help of dazzling white light that will ensure that you can watch your speed and fuel while driving at night.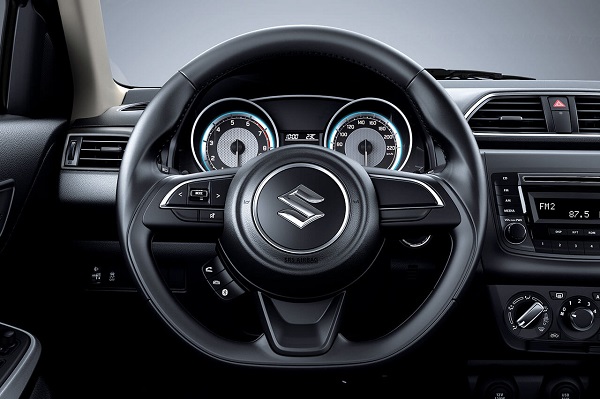 D-Shaped Steering Wheel for More Space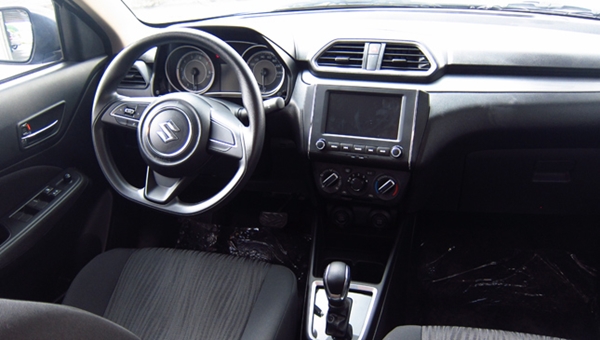 Black and Silver Give the Suzuki Dzire Interior a Sophisticated Look
Both the front and the rear seats are also upholstered with black and silver fabric, with willow riverside patterns, which we think gave it a more sophisticated look. Special attention has been given to the front seats as special springs and enough cushion have been integrated for better fit and shock absorption. That is advantageous especially in the Philippines where roads are almost always bumpy!
Well, we also can't leave the fact that the rear seats have been designed to provide the passengers comfort and convenience while riding. That is because the seats have been integrated with head restraints. Likewise, as compared to the unit's predecessor, the leg room is already so much wider, specifically 69mm.
However, this might not be enough for individuals who have longer legs. Nonetheless, with its high head clearance, tall individuals will still feel comfortable as they can still move freely.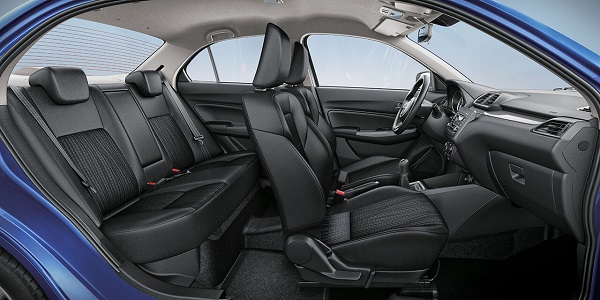 The Well-Designed Seats of the 2018 Suzuki Dzire
Speaking of comfort, you no longer have to sweat out when faced with a heavy traffic or when the sun is out since Suzuki Dzire Interior has an AC system that has an easy-to-control knobs and buttons. What is better is that there is also a rear AC ventilation system and a rear console tray with a 12-volt socket, allowing your back passengers to charge their mobile devices without disturbing anyone in the front seats.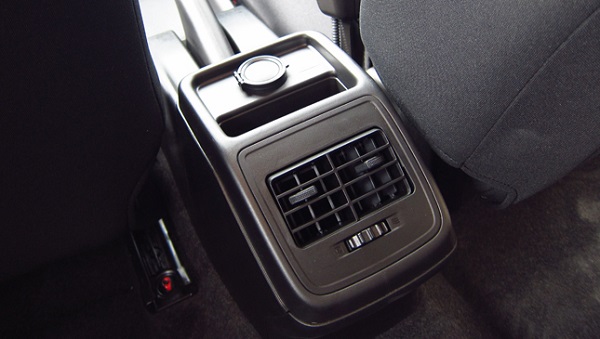 Rear AC with a 12V Socket and Console Tray
Additionally, the car would remain clutter-free and spacious because of the numerous storage compartments provided such as a front console box, glove box, door pockets, and cup holders, as well as rear door pockets and passenger seat back pocket. Lastly, the boot space of trunk of the Suzuki Dzire has a 73-liter more capacity than the old model, giving you a maximum capacity 378 liters of items.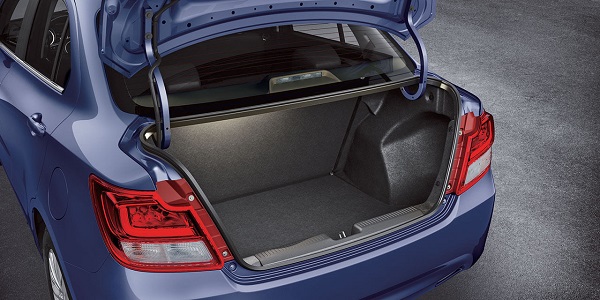 Spacious Trunk for Luggage
>>> Related: SUZUKI DZIRE 2019 FOR SALE
4. 2018 Suzuki Dzire Review: Engine & Performance
As we have mentioned, some of the key features of the old model has been retained in the All-New Dzire and one of which is the 1.2L K12M 4-cylinder, DOHC, 16-valve engine. However, it has been improved in a way that the size is smaller and is now more fuel efficient.
We can surely say that this engine performs well since at its maximum speed, it delivers 82HP of power and 113Nm of torque. Additionally, its turning radius reaches a minimum of 4.8m, which means that there is still great maneuverability even if you are traversing narrow lanes.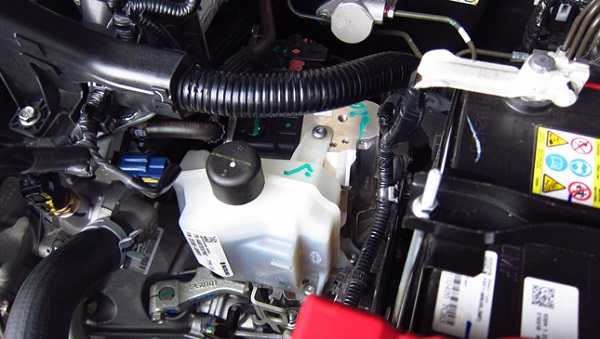 Inside the Suzuki Dzire's Hood
On the other hand, the gearbox for the All-New Dzire GL+ 1.2L Auto Gear Shift (AGS) model is somewhat different from the usual transmissions that you encounter. As the name implies, the manufacturer incorporated five-speed AGS.
To give you a clear understanding, it functions like a traditional manual transmission; the difference is that it comes with a clutch that is controlled by a computer so that the will engage or disengage whenever you change gears. This is quite helpful when you are facing traffic or traversing up-hill and down-hill terrains.
Another great thing that we have noticed about the AGS is that when you are caught on traffic, you no longer have to constantly step on and off the accelerator! Do take note though that you would need to get used to it if you are used to driving AT-transmission loaded cars.
On another note, the gear is also quite different since it only has RND (Reverse, Neutral, Drive), which can be conveniently moved even when the engine is off. Scary? Nopes! That is because you can only start the car when you are on Neutral gear and you are stepping on the brakes!

A Glimpse at the Suzuki Dzire's Gear (MT and AGS Models)
>>> Related: Check out the Suzuki Dzire 2017 for sale in the Philippines
5. Suzuki Dzire 2018 Philippines: Specs
Suzuki Dzire 2018 Philippines Specs
Summary
Name 
Suzuki Dzire GL+ 
Body Type Sedan
Sedan 
Price 
₱698,000 
Transmission Type 
Automatic 
Engine
Engine Size 
1.2 L 
Displacement 
1,197 cc 
Number of Cylinders 
4 
Number of Valves 
16 
Transmission Category 
5-Speed Auto Gear Shift Transmission 
Performance
Power Train 
Front-Wheel Drive 
Max Output (HP) 
82 hp @ 6,000 rpm 
Max Torque (nm) 
113 Nm @ 4,200 rpm 
Acceleration Rate 
n/a 
Top Speed 
n/a 
Economy & Environment
Fuel Type 
Gasoline 
CO2 Emission 
n/a 
Fuel Capacity 
37 L 
Fuel Consumption 
n/a 
Range 
n/a 
Dimensions
Length 
3,995 mm 
Width 
1,735 mm 
Height 
1,515 mm
Wheelbase 
2,450 mm 
Turning Circle 
9.6 m 
Ground Clearance 
145 mm 
Wading Depth
n/a
Trunk Capacity
378 L
Max Cargo
378 L
Number of Doors
4
Number of Seats
5
Safety features

Driver's Airbag
Front Passenger's Airbag
Electronic Brake Distribution
ABS
Immobilizer
Security Alarm
Electronic Door Locks
ISOFIX
6. Suzuki Dzire 2018 Price in the Philippines
With the implementation of excise tax law as well as the current inflation that the Philippines is facing, the Suzuki Dzire cost is not as high as we would expect. This is a bit surprising, especially since this is a current model that is loaded with great features and designed with a great-looking exterior and interior.
As of writing this post on Philkotse.com, the Suzuki Dzire price in the Philippines 2018 are as follows:
 Model
Price 
 

All-New Dzire GL 1.2L, M/T

 

₱638,000

 

All-New Dzire GL+ 1.2L Auto Gear Shift (AGS)

 

₱698,000
>>> View full pricing details of the Suzuki Dzire with SRP and installment
7. Suzuki Dzire 2018 Philippines review: Conclusion
After looking at what the Suzuki Dzire 2018 Philippines has to offer, we can end this review with a clear-cut decision that the vehicle is a well-designed product that can service individuals, couples, and small families comfortably, safely, and comfortably.
With its fuel-efficiency and quality meter systems, you would surely not worry about the heavy traffic in the country as you would have a clear indication and estimate as to how long your fuel will last. Do take note though that the car might be appropriate for too tall individuals. Nevertheless, the All-New DZIRE is a practical and reliable partner that you can take on the highways of the Philippines!
Navigate to our cars for sale section now to find the best deals for Suzuki Dzire 2018 in the Philippines!