Ford Philippines introduces the 2020 Ford Transit to the Philippine market. It's about damn time!
Ford Philippines Introduces the 15-seater transit
If you like Ford vehicles but you're in need of a vehicle that can fit in a good chunk of your extended family, then we've got good news for you! Ford Philippines has just launched the Ford Transit MPV. It can fit in a whopping 15-people in total.
While you might be scratching your head while wondering what in the world a Transit is, it's actually a well-known model particularly in Europe where it was first introduced back in 2007. It is very fuel-efficient, roomy, and powerful.
Also, it's one of Ford's best selling commercial vans the world over. Also, Ford Philippines recognizes the growth of the commercial bus and van segment in the Philippines as such it's the right time to introduce the Ford Transit to Filipinos.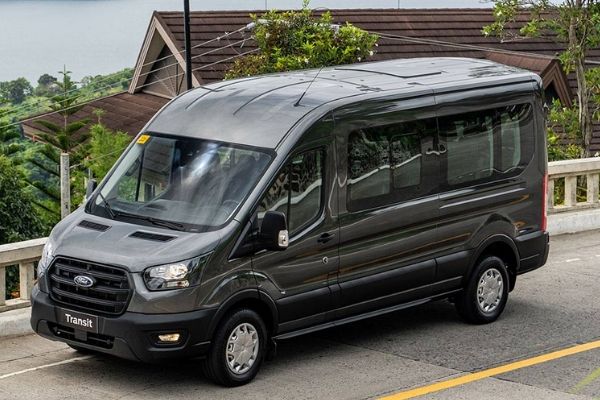 Despite being a van, the Transit has this utilitarian appeal to it that we rather like
The Ford Transit 2020
As we've said earlier, the Ford Transit and its friend, Ford Transit Connect for sale, is mainly used as a commercial vehicle in other parts of the world. Aside from hauling stuff, the Transit can also do well as a company transport or tourist vehicle.
Under the hood, the Ford Transit is powered by the 2.2-liter Duratorq engine which it shares with the Ranger XLT. On the transit, the 2.2 liters can make 135 horsepower and 385 Nm of torque. Power is sent to the rear wheels with a six-speed transmission.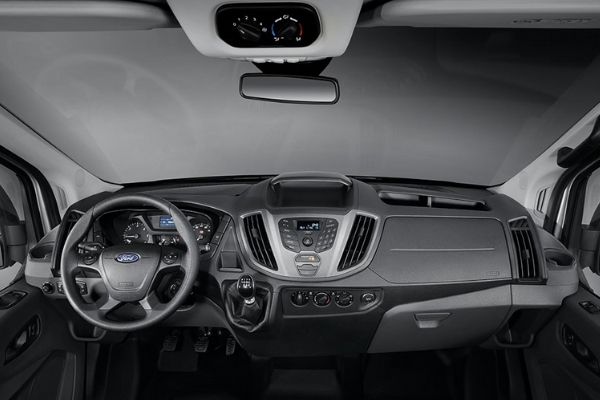 Check out the centerpiece of the Transit's dashboard. Looks very familiar right?
Measuring at 5,981 mm long, 2,474 mm wide, and 2,517, the 2020 Ford Transit offers lots of space. As we've said, it can comfortably seat 15 people and everyone will be kept comfortable with individual headrests, 12 cup holders, a lot of power sockets, and a whopping 21 storage bins.
The very wide doors, the even wider rear doors, and the power side step are also worth mentioning as it makes the Transit an ideal vehicle for differently-abled people.
>>> If you care about Ford, visit our Ford Philippines reviews for a proper look!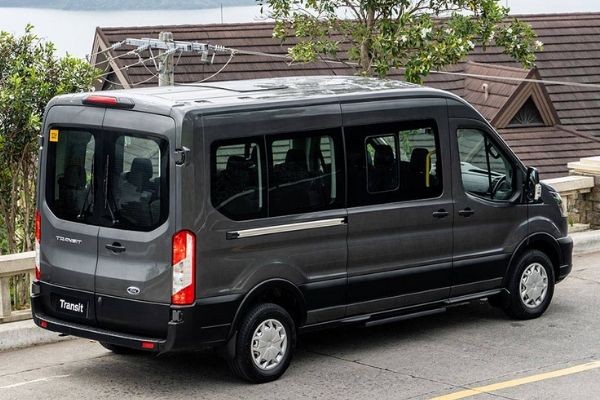 The rear of the Transit. Yep, those side doors can slide all the way back and the rear doors can open WIDE
For safety, the Ford Transit comes standard with an Electronic Stability Program, a hill launch assist, tire pressure sensors, Anti-lock Braking System, an emergency hammer and an emergency escape hatch. The all-new Ford Transit is priced at Php 2,300,000.
For more news and the latest car releases, keep reading here on Philkotse.com.
Know more about Ford Transit 2021

In 1965, Ford produced a light commercial vehicle - the Ford Transit. Initially, it was used as a cargo van; however, due to its versatile platform, it is now being used for other roles as well. One of its most known functions is being a passenger van. The fourth-generation Ford Transit can be capable of accommodating 15 occupants as a hauler. The Ford Transit is the American carmaker\s second attempt at providing a people-mover after its first venture at its Ford E-150 a few years ago. On November 27, 2019, the vehicle was launched under the Light Commercial Van & Bus segment (LCVB), which aims at certain businesses that require an automobile that can be used as a crew, passenger, even as a cargo van if the rear seats are all removed. The Ford Transit goes with the same price range as the Hyundai H350, Foto Toano, and Toyota HiAce GL Grandia Tourer at a P2M mark. The Ford Transit guarantees a practical package that is also not bare-bones as what vans are thought to be compared to all the passenger-ferrying vehicles. The 15-seater Ford Transit is offered in three color options - Magnetic Metallic, Moondust Silver, and Frozen White. It also comes with a single powertrain option.

Cesar G.B. Miguel
Author