The Ford Everest 2020 is just released a few days ago and it now has a 210 horsepower Raptor engine. A little curious? Keep reading for more!
Like the Ford Ranger which got an update last year, Ford Philippines has finally been officially launched the 2020 Ford Everest here in the Philippines.
This is also after its world debut which was held in Thailand back in 2018 and boy Ford sure gave the new Everest a lot of new stuff appearance-wise and more importantly, it's also got something with more grunt under the hood. Let's update with Philkotse.com.
1. Ford Everest 2020: Subtle but still substantial makeover
Rather than having major changes appearance-wise, the Ford Everest 2020 has undergone some updates that are hard to spot if you don't look closely enough or if you don't take a look under the hood.
First up, is up-front where Ford gave the new Everest a slightly different three-piece chrome grille which is positioned over a honeycomb pattern covering the radiator. Likewise, the bumper is also different looking especially if you peer into that intercooler intake.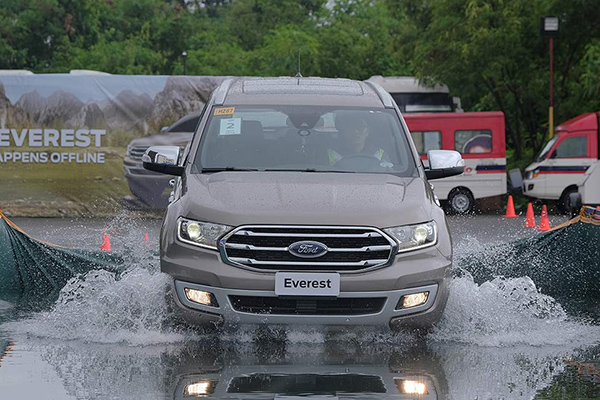 Here's the all-new 2020 Ford Everest testing it's water fording ability [Source: Topgear.ph]
From the sides, the first thing you will notice is a much more elegant spoke type 20-inch alloy wheels and when it comes to the rear, the tailgate now opens up automatically with a sensor underneath the rear bumper which you can trigger by either sweeping a foot underneath or just standing nearby with a foot or two underneath the said sensor. This we think is a very useful addition especially when you're carrying a lot of stuff alone.
All in all though appearance-wise, the new Ford Everest 2020 doesn't look that much different from the previous version. They didn't change anything to the dimensions of the vehicle and it's still a macho yet somewhat elegant SUV from whichever side you look.
Also, instead of the usual key fob which still has a retractable key, the new one is pushed to start and will presumably have other features like keyless entry as well.
2. Ford Everest 2020: Ranger power!
While a lot has remained the same with the looks and even the interior of the 2020 Ford Everest, the two largest updates come with the new engine and a new transmission.
Here's the 2.0 liter Bi-Turbo on the Ranger Raptor which is now available on the 2020 Everest
First off the engine. Now as you might remember, Ford Philippines also launched the Ford Ranger Raptor a couple of months ago and its engine and performance are currently lusted over by a lot of people. 
Guess what folks, the all-new 2020 Ford Everest's new engine is the same engine that comes with the Ranger Raptor; A 2.2-liter EcoBlue Turbo-diesel.
This new engine comes in two variants; a bi-turbo which produces a significant 210 horsepower and 500 Nm of torque, and one with only a single turbo which can make around 177 horsepower and 420 Nm of torque.
Now regardless of single turbo or not, this now places the Ford Everest on the top as one of the most powerful mid-size SUVs currently available right now. Even the single turbo Ecoblue engine is as powerful as the one found on the Nissan Terra.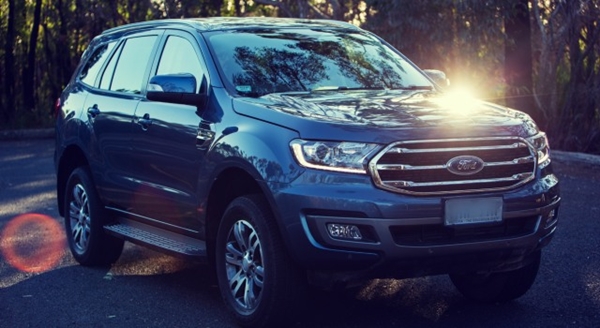 The second significant update on the 2020 Ford Everest, is a ten-speed automatic tranny
The second really significant update on the Ford Everest is a ten-speed automatic tranny which of course replaces the old six-speed. While theoretically, a ten-speed will take good advantage of that added power the Raptor engine provides, we are curious to see how well it will perform in real-world driving conditions especially on the highway.
Here are the prices of the all-new Everest.
| | |
| --- | --- |
| Variant | Price |
| Ford Everest Titanium 4x2 2.0 Bi-Turbo | P1,995,000 |
| Ford Everest Titanium 4x4 2.0 Bi-Turbo | P2,299,000 |
>>> Check out our frequently updated Ford Everest price list of all currently available variants
Also, we are sure that more variants of the all-new 2020 Ford Everest will eventually come out. So, stay tuned!

Know more about Ford Everest 2023

The Ford Everest 2023 is a ladder-frame, rear-wheel-drive or four-wheel-drive, midsize, seven-seater SUV. In the Philippine market, this model has five different variants. The Trend 4x2 AT, Limited 4x2 AT, Sport 4x2 AT, Titanium+ 4x2 AT, and the Titanium+ 4x4 AT. Locally, its price ranges from Php 1,799,000 to Php 2,495,000.
Size-wise, the 2023 Everest is 4,904mm long, 2,201mmwide, and 1,884mm in height. It also has a wheelbase length of 2,900mm, and a ground clearance of 223mm.
Powering the all-new Everest are two engines. For the Titanium+ 4x4, it uses a 2.0-liter bi-turbo diesel engine four-banger capable of outputting 210 horsepower and 500 Nm of torque. The rest meanwhile uses a 2.0-liter turbodiesel that can dish out 170 horsepower and 405 Nm of torque. Only the top-spec trim gets a 10-speed automatic gearbox paired with a 4x4 drivetrain. The rest then gets a 4x2 drivetrain and a six-speed automatic transmission.
Locally, the 2023 Ford Everest Philippines competes against the likes of the Toyota Fortuner, Nissan Terra, Isuzu mu-X, Mitsubishi Montero Sport, among others.

Cesar G.B. Miguel
Author