The K2500 is a light commercial vehicle recently, re-launched by Kia Philippines. As a part of its re-introduction, it even gets a new name: The Karga!
Back in January of this year, Kia Philippines have come under new management which was cemented in an event held in Makati. Now under that management of the Ayala Corporation, specifically their subsidiary: AC Industrials, Kia Philippines is hard at work in further expanding the Korean marque's foothold on the Philippine automotive market.
Along with the new management, Kia has also re-launched its model line-up of passenger vehicles this year. And aside from that, they are also re-launching their Commercial Vehicles and one of those excellently robust Kia made vehicles is the Kia K2500.
1. Kia K2500 (Kia Karga): The look
The Kia K-series which includes the K2400, the K2700 and the K2500 were first launched back in 1980 under the name Bongo. Since then, the Kia made light commercial has gone through four generations with the fourth one the current which was launched back in 2005.
With the fourth generation K series commercial vehicles, Kia has made them more modernized and unlike previous iterations have equipped these vehicles with a common rail fuel injection.
Also, the K series overtime was able to keep up with the ever-changing emissions standards making them as environmentally friendlier as more and more versions come up.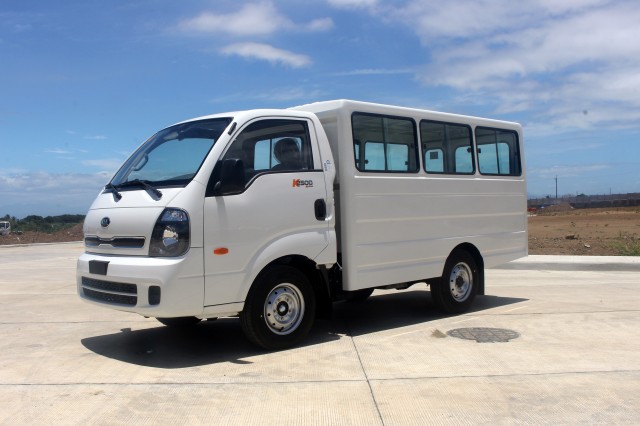 Here is the Karga itself basking under the sun. Sure it looks utilitarian but it's also most definitely durable
Here in the Philippines, the Kia K2500 has indeed become a common sight as it had been a good choice to fulfill a myriad of transport roles. From utility vehicle to people carrier, and even as a rescue vehicle, the K-series has proven itself well.
Now with its re-introduction, the numerically designated K2500 with passenger cab now calls itself the Karga which means carry in Filipino and it does really fit its most common vehicle layout: the very durable and very affordable 18 passengers "jeepney" like setup which has foldable seats to provide a massive cargo capacity.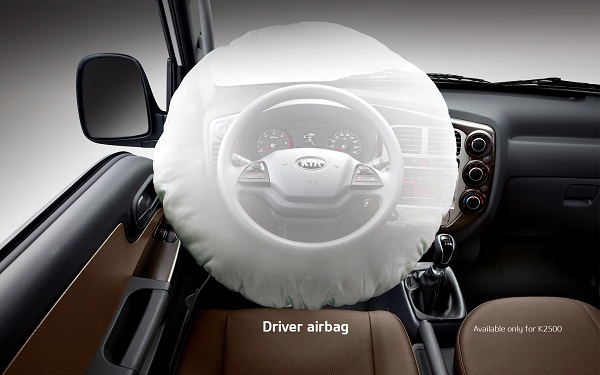 Driver airbag is available for Kia K2500
2. Kia K2500 (Kia Karga): Features and Engine
Currently, the Kia K2500 is available for sale with a 2.5 liter CRDi engine mated to a 6-speed manual with power sent to the rear wheels. It is rated to make about 128 horsepower and 255 Nm of torque. It's also of note that this engine is Euro-4 compliant as such it runs cleaner and is much friendlier to the environment than previous versions.
According to the latest car news, Kia K2500 currently comes in two additional layout options, a closed van type capable of carrying loads up to 835 kg maximum and a cab & chassis which can be customized to whatever you want it to be.
In some other countries where the K2500 is available, some have even made mobile home type vehicles with this platform. So yep, very versatile.
Further adding to that versatility is that the Kia K2500 Karga also comes with two transmission choices, a 4x2 which does its job well and also a 4x4.
This enables a K2500 to navigate the gnarly back roads of the Philippine countryside and as we've said earlier, can make it suitable as a rescue vehicle or a utility vehicle especially for those from far-flung places in the country.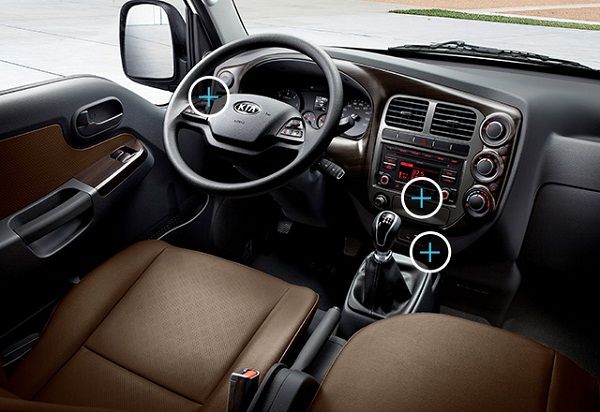 The cabin is spartan but it is well arranged and decently comfortable
3. Kia K2500 (Kia Karga) Philippines Pricelist 
Surprisingly, the Kia K2500 2019 comes at an affordable price for its capabilities.
| | |
| --- | --- |
| Variant | Price |
| Kia K2500 Cab and Chassis | Php 810,000 |
| Kia K2500 Karga 18 seater | Php 998,000 |
| Kia K2500 Closed Van | Php 910,000 |
So if you're in the market for a durable and very versatile commercial vehicle, you might want to check out the Kia K2500 and its variants. 

Know more about Kia K2500 2023

The K2500 is a commercial vehicle from Korean car brand Kia Motors Philippines. It is built to cater to business requirements such as transporting passengers and moving cargo. In the Philippines, the K2500 is offered with a wide range of variants to choose from. It includes the K2500 4x4 Single Cab and Chassis, K2500 4x4 Single Cab dropside, K2500 Kargo Plus 4x2, K2500 Karga Plus 4x2, K2500 4x4 doube-cab dropside, K2500 Kargo 4x4, and K2500 Karga 4x4.

Cesar G.B. Miguel
Author