Strikingly elegant without trying too hard.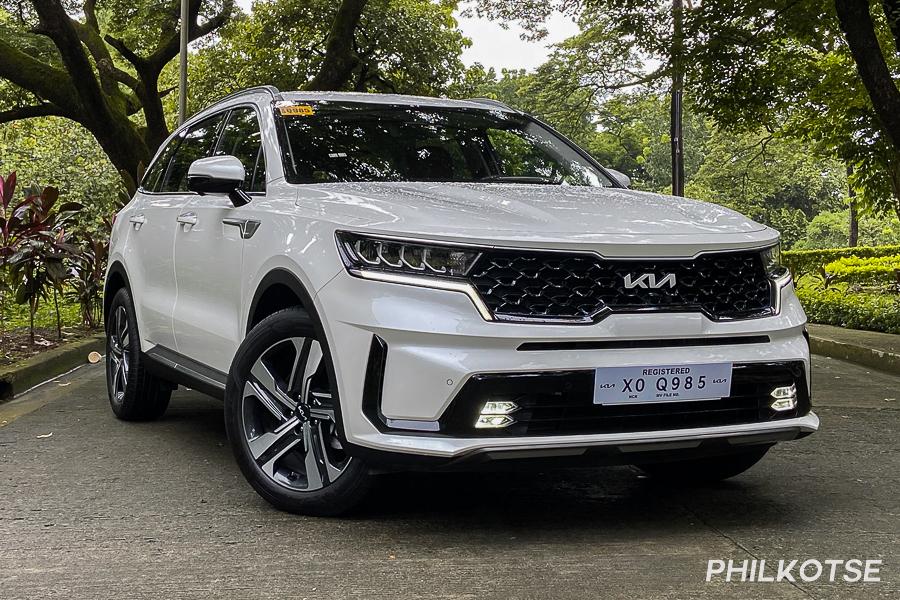 In this review...
Introduction

Exterior

Interior

Tech & Safety

Engine & Performance

Fuel Efficiency

Verdict

Variants & Price

Color Options

Specs
2022 Kia Sorento SX Review: Introduction
The love for seven-seater vehicles equipped with a diesel engine is a combination that would most likely pique the interest of car buyers in the Philippines. Since most Filipinos love to travel in groups, having a car that can seat several individuals is a must while having an efficient engine is a big plus.   
Is the 2022 KIA SORENTO as impressive as it looks? | Philkotse Reviews
Kia Philippines understands the said idea, which is why it has decided to offer the all-new fourth-generation Sorento. The Kia Sorento is an SUV that has contributed to the Korean wave of cars in the Philippines. It's one of the vehicles that appealed to individuals who want to go against the grain by owning a car that's not under a Japanese brand like the Toyota Fortuner, Mitsubishi Montero Sport, Isuzu Alterra, among others.  
 
With that in mind, what can the all-new Kia Sorento offer? Does it have what it takes to go up against its segment rivals? Read Philkotse's 2022 Kia Sorento SX full review to find out.
Overall exterior & Interior design, build quality, form vs function

Number of safety & tech features, consistency during usage

Power delivery, acceleration, transmission, suspension, handling

Overall Ride Comfort, Space, Storage Areas

Sticker price vs overall package
2022 Kia Sorento SX Exterior Review: Elegantly striking with a surefooted demeanor
The fourth-generation Sorento clearly shows Kia's design progression when it comes to making its cars more appealing, unique, and even striking. Up front, its lighting system comes in all LEDs as seen on the headlights, daytime running lights, indicator lights or turn signals, and fog lamps. 
2022 Kia Sorento
Its fascia also has a large black mesh grille that's complemented by a dark chrome trim surround. The black grille is a perfect design to make the new Kia logo stand out at first glance. Then, the glossy black trim on the bumper gives the Sorento a premium look without trying too hard.  
I like the design of the 2022 Kia Sorento's front end as it has the right balance of assertiveness and an elegant look. Its surefooted demeanor is further emphasized by the angular bumper that's accented by glossy black trims. While the Sorento SX's Pearl White exterior color complements the black accents, giving a monotone yet distinctive finish.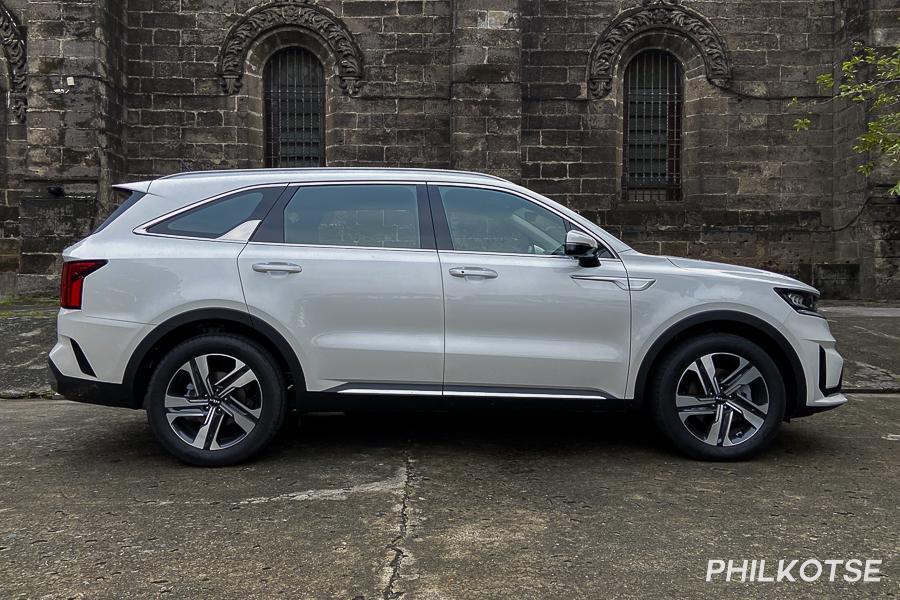 The Sorento comes with sharp character lines
While the front end comes with a smooth yet assertive design, the side profile is where Kia brought in the Sorento's sharpness. It comes with crisp character lines that make the overall look chiseled rather than rounded. 
The Sorento also has prominent wheel arches that are integrated with black cladding, which gives a subtle color break to the White Pearl exterior paint. Black cladding can also be seen on the bottom part of the door panels, which is nicely complemented by a flat silver accent. 
The Sorento's side profile gives a similar confident look as to its front end. Add to that, it sits on a set of 19-inch alloy wheels with disc brakes on all corners. The 2022 Kia Sorento only comes with a ground clearance rated at 176mm, which is not on par with the seven-seater midsize SUVs in the Philippines. But then again, you have to remember that the Sorento is more of a crossover SUV rather than a pickup-based SUV.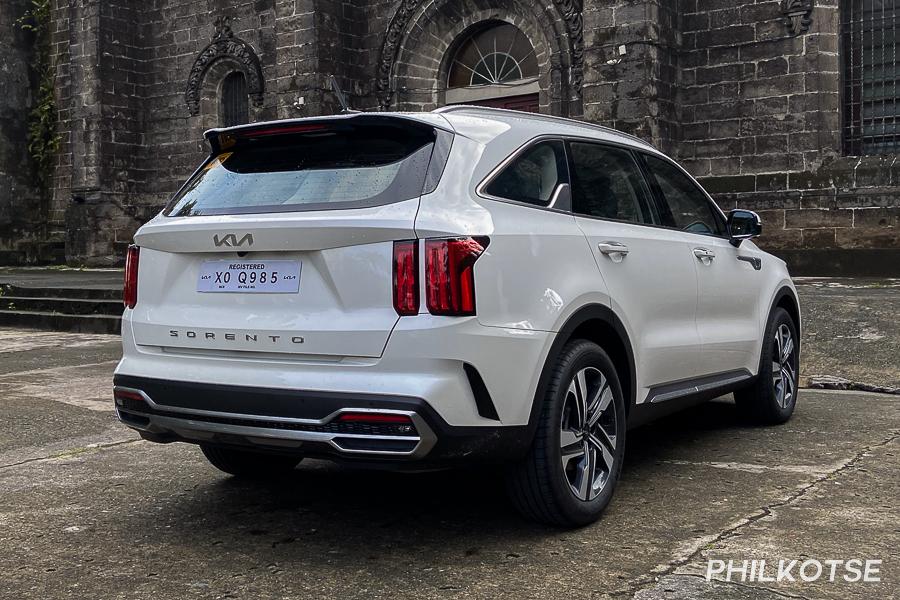 It can also hold its own when viewed from the rear
The confident and assertive demeanor continues to be seen at the rear with the integration of modern styling as seen on the LED taillights. The taillights are split in two, which gives the Kia Sorento a unique look when viewed from the rear. 
I also like that the power tailgate features dominant character lines, adding thickness to the Sorento's rear. The lower bumper then comes with a dark chrome finish, which makes it more appealing as compared to having it in a shiny or polished finish. To add, it also has a rear spoiler with LED third brake light.
YOU MAY WANT TO READ
Model Price Philippines
₱ 1,368,000 - ₱ 1,885,000
Model Price Philippines
₱ 998,000 - ₱ 1,332,000
Model Price Philippines
₱ 1,209,000 - ₱ 1,509,000
2022 Kia Sorento SX Interior Review: Premium cabin with a twist
There's a lot going on inside the Kia Sorento but in a good way. It has a plush interior featuring a dark interior theme along with splashes of piano black trims, satin silver accents, and matte wood.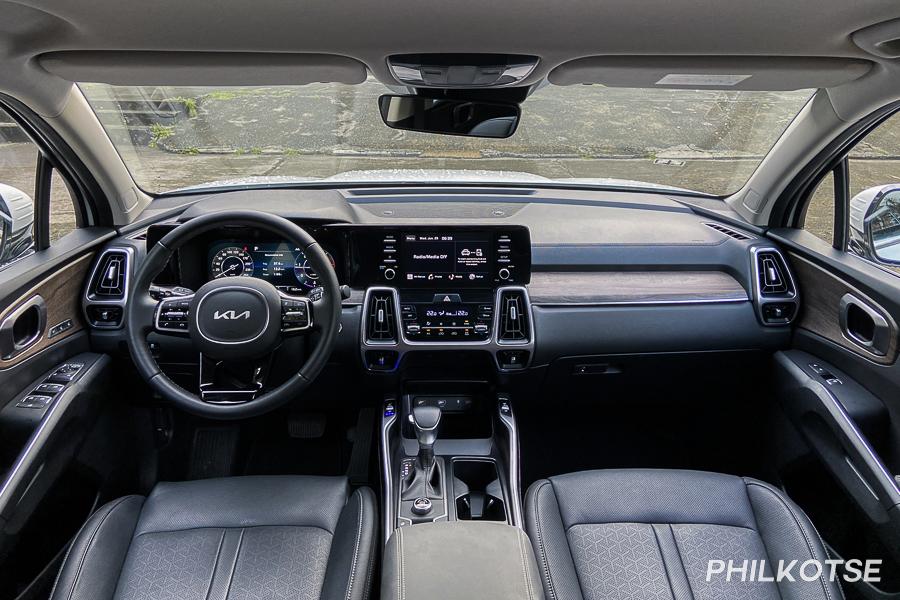 The Sorento's dashboard has a distinct design
The dashboard layout might overwhelm some individuals but not to the point that they will disregard the Sorento's cabin. The aircon vents are split in two, giving a distinct appeal as well as a modern look to the Sorento's cabin. The infotainment touchscreen sitting in the middle of the dash adds to the modern styling of the vehicle. 
Despite having those modern touches, Kia still opted to make use of tactile buttons. The Korean car brand did not place or integrate vehicle controls or functions into the infotainment system, which is a good move since nothing beats having tactile buttons for functions such as climate control, drive mode selector, hill descent control, among others.     
Another thing you'll appreciate is the nifty use of soft-touch materials, giving the cabin a premium feel. There are still hard plastic materials present inside but are placed to non-touch points, which you would most likely not notice unless you're looking for it. 
The seats all come in leather with an 8-way power adjust with 4-way lumbar support for the driver. The driver's seat also has a memory seat function with up to two configuration setup.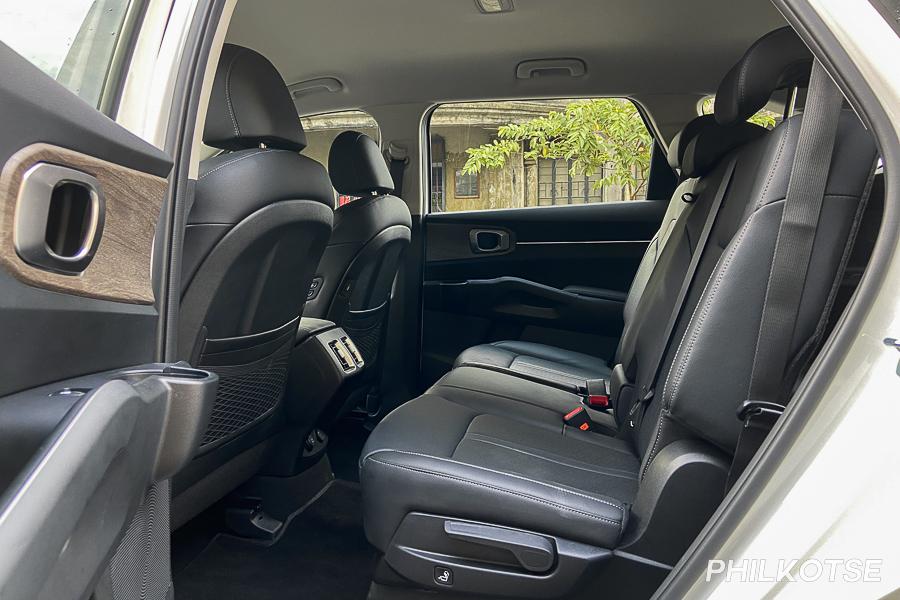 Second-row passengers are treated with generous leg- and head-room
The 60:40 split-folding second-row seats can accommodate up to three passengers. It has generous leg- and head-room for individuals standing 5'5". The second-row seats also come with a slide and recline function, which allows the Sorento to have added legroom. 
Another trick up its sleeves is that the second-row passenger sitting behind the front passenger seat can have abundant legroom with just a simple push of a button. He/She can effortlessly toggle it at the upper left side of the front passenger's seat.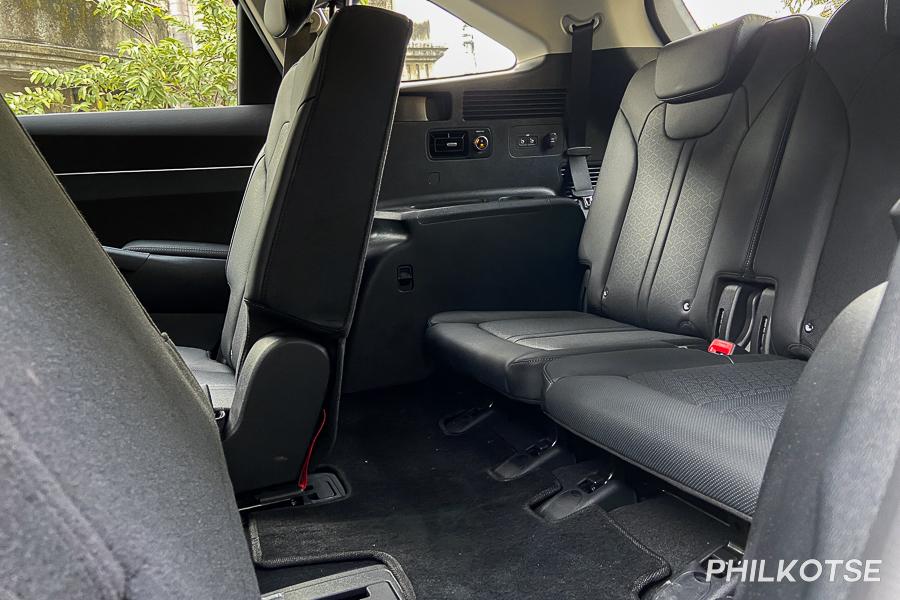 Third-row passengers come with dedicated aircon vents
The third-row seat comes with a 50:50 flat folding option, giving you cargo versatility. Third-row passengers are also treated with air vents, placed on either side of the cabin. Aside from the AC vents, third-row passengers are also given storage compartments on either side. A 12-volt socket is also present so that passengers have the ability to charge their mobile phones. Of note, the third-row seat of the Sorento can be folded via a push of a button.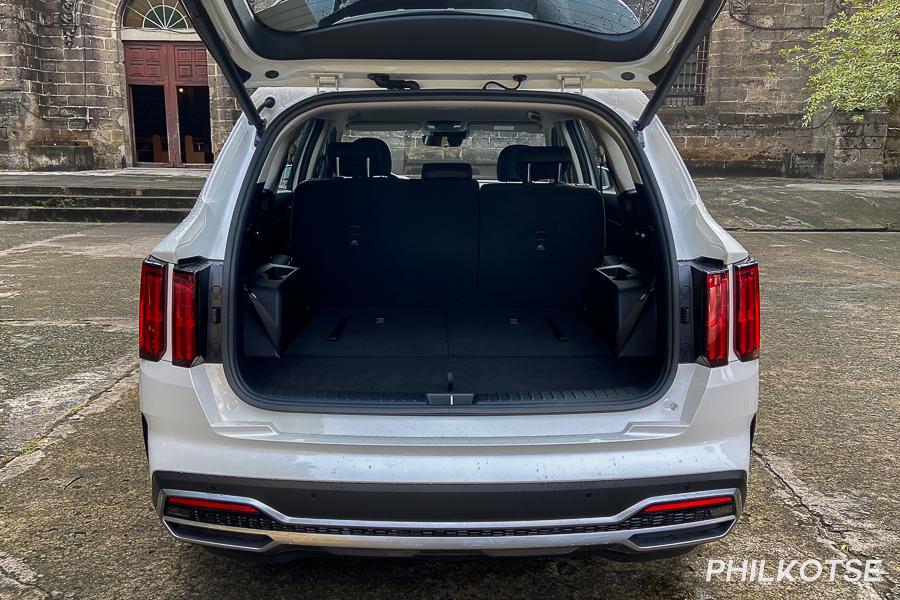 The Sorento comes with a lot of cargo space especially when the third-row seats are folded
With the third-row seats up, you can load up to two small-sized luggage. You can also fit in a week's supply of groceries or up to five overnight bags without a problem. Fold the third-row seats, then you'll have an abundant cargo space where you can easily load three to four large-sized luggage.
2022 Kia Sorento SX: Tech & Safety
The Sorento has a lot to offer when it comes to tech and safety but it has an Achilles heel, which I'll get to in a bit.
This car comes with a 12.3-inch digital instrument cluster that has the option to change the interface depending on the selected drive mode, which are Comfort, Eco, Sport, and Smart. Aside from having a crisp display, the digital cluster also transforms into a blind spot camera, which depends on where you point the indicator or turn signals. 
If you flick it to the right, the tachometer will give way or switch to the camera view. This is a nice feature but you might miss it the first time you drive the Sorento as it is not in the driver's line of sight. But it does give you an extra set of eyes while you're out on the road.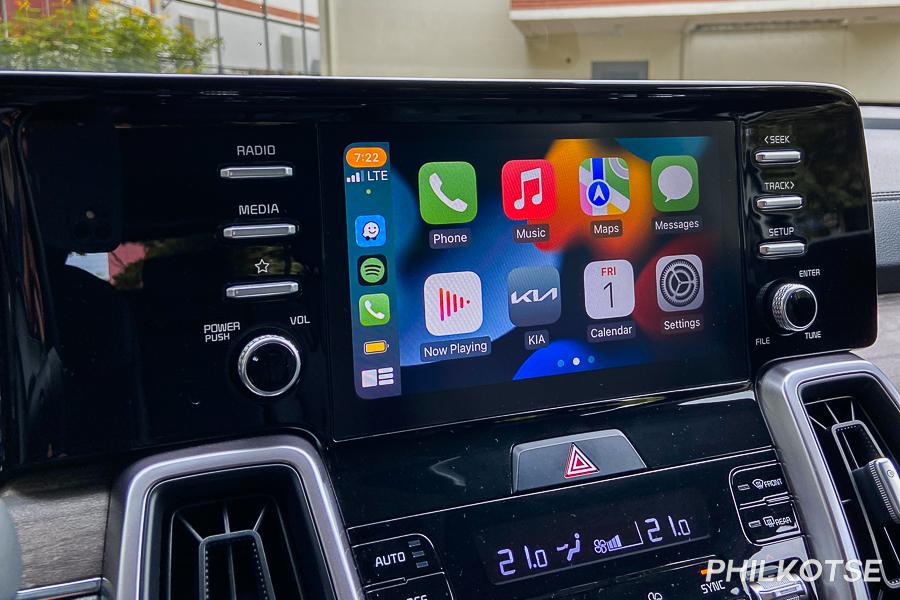 It has wireless Apple CarPlay and wireless mobile phone charger
The 2022 Kia Sorento also has an eight-inch infotainment touchscreen with wireless Apple CarPlay and Android Auto. The wireless Apple CarPlay is complemented by a wireless mobile phone charger, which I find very useful and convenient. The wireless connectivity eliminates the use of cable chargers, which results in a clutter-free dashboard. 
It also has multiple USB ports such as on the driver's seat and front passenger's seat, allowing second-row occupants a comfortable way of plugging in their phones. Aside from the USB ports, the Sorento is equipped with an electronic parking brake with auto brake hold.
While all the tech features mentioned so far are good, the Sorento has a missing component that could increase its overall drive comfort. The one I'm pertaining to is the lack of adaptive cruise control. It's not much of a problem since the Sorento has a standard cruise control. But, it could have been better if it already comes with the adaptive version to make it better equipped in comparison with its segment rivals.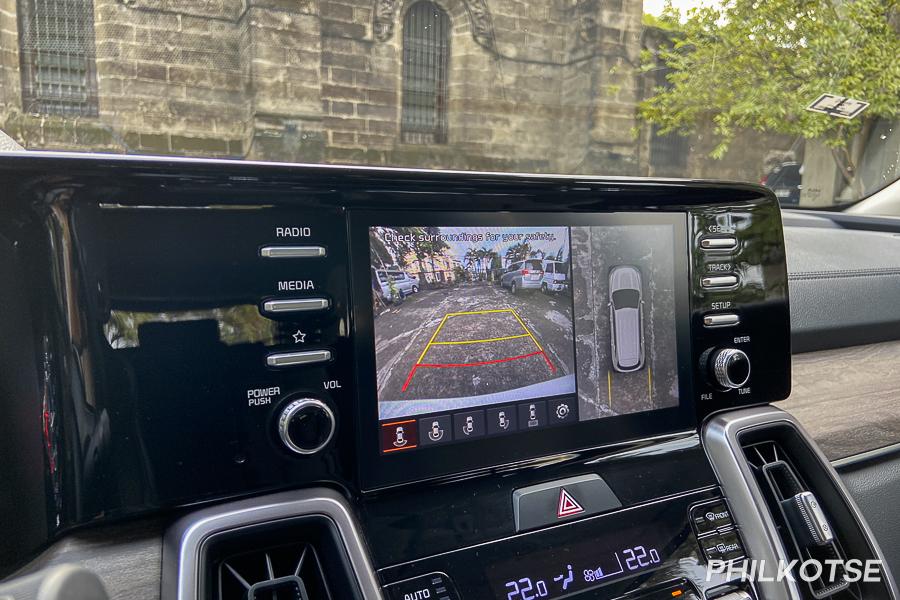 The Sorento is equipped with a 360-degree camera
When it comes to other tech and safety features, the 2022 Sorento is loaded with the following: airbags (front, side, and curtain), lane keep assist, forward collision avoidance assist, rear cross-traffic alert, 360-degree camera, front and rear sensors, anti-lock braking system, among others.
2022 Kia Sorento SX: Engine & Performance
Both variants of the 2022 Kia Sorento are powered by a 2.2-liter turbodiesel engine that puts out 199 hp and 441 Nm of torque. The engine is connected to an eight-speed dual-clutch automatic transmission.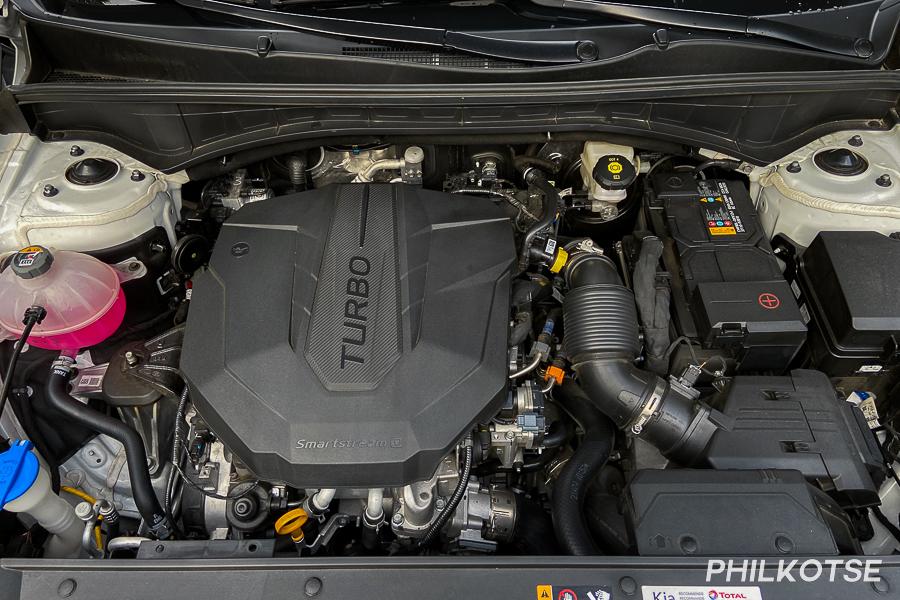 Powered by a 2.2-liter turbodiesel engine
The Sorento's turbodiesel engine delivers a good amount of power. It also offers relatively quick acceleration, giving you a pleasant drive. The throttle response is also one of the things that you'll appreciate in the Sorento even when you're driving with the Comfort mode engaged. The acceleration and throttle response is muted for a bit when you engaged the Eco mode, which is why I opted to place the driving mode in Comfort more often during the duration of this test drive. 
Another thing I like about the Sorento is its light steering wheel. Yes, it has a light feel but is not too feather-like, giving you enough road feedback. It then gets firm when you start to gain speed, giving you confidence especially when you're driving on the expressway. This also allows the Sorento to be stable and planted on the open highway, resulting in a smooth drive.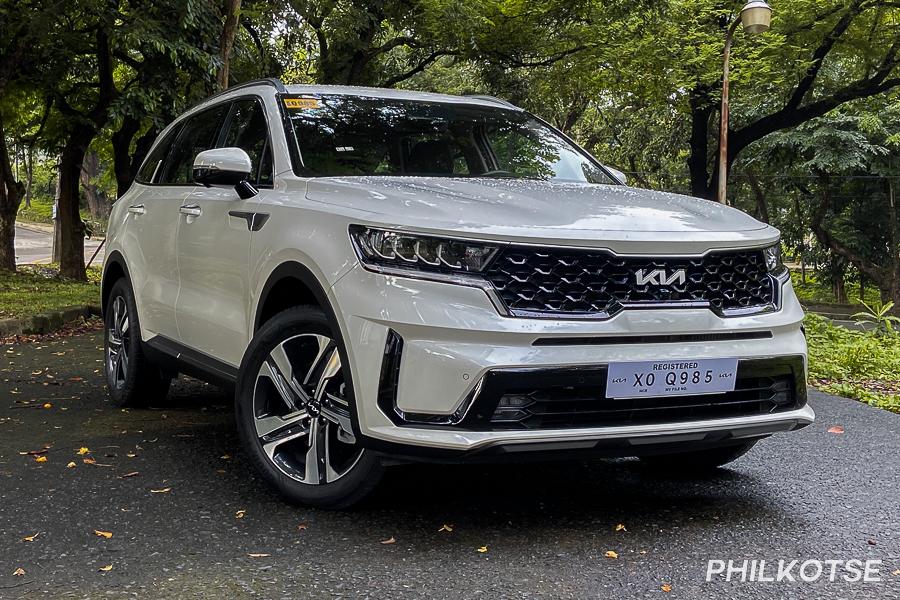 It drives smooth on the open highway
Overtaking slower vehicles is also not a problem as the Sorento can get up to speed with ease, allowing you to execute the maneuver with confidence. Although, I noticed that the suspension feels a bit on the stiffer side, which can be felt when you're driving in the urban jungle. But don't you worry, it's not that bothersome as the Sorento can still handle the dilapidated roads of EDSA. 
The Sorento's noise insulation is nice, minimizing outside noise to a minimum. This shows that Kia is gunning to make the Sorento a premium vehicle that can also be meant to transport executives or VIPs. Coupled with premium interior amenities, the Sorento could indeed be up for that task.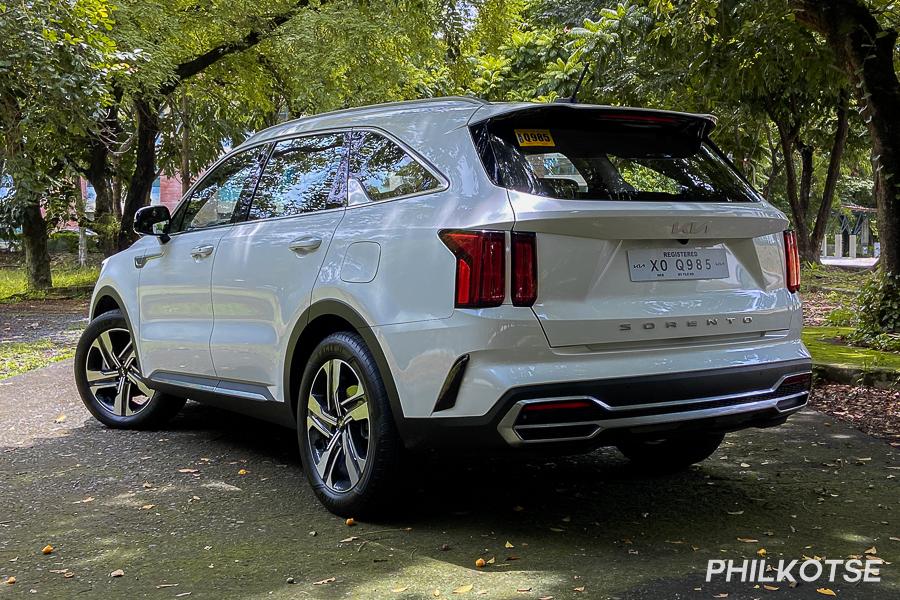 Outside noise is reduced to a minimum
As I've mentioned earlier, the Sorento comes with a blind spot camera that appears on the digital gauge cluster. While it does the job of giving you an extra set of eyes, I think it could have been better if the live feed from the camera is shown on the infotainment touchscreen since it's more visible.
2022 Kia Sorento SX: Fuel Efficiency
When it comes to fuel economy, the Sorento delivered good results. In the city, I was able to get 13.5 km/l while driving at an average speed of 20 km/h. Then, in stop-and-go rush hour traffic, the Sorento posted 8 km/l. 
On the highway, the Sorento continues to impress in terms of fuel economy. Driving at an average speed of 90 km/h, it returned at a fuel eco of 21 km/l. To put things in perspective, the 2022 Kia Sorento got better fuel eco in highway driving as compared to the Toyota Fortuner LTD (17 km/l), the Isuzu mu-X (17 km/l), and the Nissan Terra (15 km/l).  
2022 Kia Sorento SX: Verdict
The Sorento gives several reasons that can sway you into driving home one. The striking exterior design makes it one of the best-looking vehicles on the market today. It also has a premium-looking interior that's filled with leather padded materials. 
The Sorento also boasts a lot of safety and tech features that you can't just ignore. The 2.2-liter diesel engine's fuel efficiency can also be a deciding factor in choosing the Sorento over its rivals. 
The problem that the 2022 Kia Sorento is facing is probably its price tag as it sits at the upper end of the pricing spectrum. It retails at Php 2,618,000, which is more expensive compared to other sever-seater midsize SUVs such as the Toyota Fortuner LTD (Php 2,475,000). But then again, you can't hide the fact that the 2022 Kia Sorento SX is a good offering.
2022 Kia Sorento: Variants & Price
Kia Sorento Variants & Price in the Philippines

Kia Sorento EX 4x2 AT

Php 2,418,000

Kia Sorento EX 4x2 AT Pearl Color

Php 2,428,000

Kia Sorento SX 4x2 AT

Php 2,608,000

Kia Sorento SX 4x2 AT Pearl Color

Php 2,618,000
2022 Kia Sorento: Color Options
Kia Sorento Color Options
Silky Silver, Snow White Pearl, Aurora Black Pearl
2022 Kia Sorento SX: Specs
Overall

Make

Kia

Name

Sorento SX

Body Type

Crossover SUV

Dimensions & Weight

Lenght

4,810mm

Width

1,900mm

Height

1,700mm

Wheelbase

2,815mm

Ground Clearance

176 mm

Seating Capacity

7

Engine & Transmission

Type

2.2-liter SmartStream Turbo

Fuel Type

Diesel

Displacement

2,151 cc

Transmission

8-speed Dual Clutch Automatic

Horsepower

199 hp

Torque

441 Nm

Exterior

LED Multi-Reflector headlights

LED daytime running lights

LED fog lamps

Silver Skid Plate (front and rear)

LED indicator lights

Roof rail

LED taillights

Power tailgate

Lip spoiler

Trunk open handle

19-inch alloy wheels

Interior

12.3-inch digital instrument cluster

Tilt and telescopic adjust for the steering wheel

Leather Steering Wheel

Electronic parking brake with Auto Hold

6.2-inch touchscreen infotainment (no Apple CarPlay and Android Auto)

Leather Seats

Engine Push Start

60:40 Folding Second Rear Seats

50:50 Folding Third Rear Seats

8-inch infotainment touchscreen with wireless Apple CarPlay, Android Auto

Wireless mobile phone charging

4 speakers + 2 tweeters

Safety & Tech

Standard Cruise Control

Blind Spot View Monitor

Lane Keeping Assist

Forward Collision Avoidance Assist

Rear Cross Traffic Alert

360-degree camera

Front and Rear sensors

Front, side, and curtain airbags

Anti-lock Brake System

Electronic Stability Control

Downhill Brake Control

Hill-start Assist Control

Trailer Stability Assist

Isofix

Child lock

Suspension

Front

McPherson Strut & Stabilizer

Rear

Multi Link

Brake

Front

Disc

Rear

Disc


Martin Aguilar
Author
Recommended articles