Isuzu shows the world the special Isuzu D-Max XTR 2019 at the Commercial Vehicle Show.
At the 2019 Commercial Vehicle Show at Birmingham UK, Isuzu has displayed to the world what they can do to the Isuzu D-Max if they turned it up to eleven in terms of being capable both in off-road scenarios or just being plain comfortable.
The one fact about the Isuzu D-Max XTR 2019 that we must get out of the way first is that the one being displayed at the 2019 CVS is still a prototype. However, Isuzu has said that a production version of the XTR will come shortly for the European market with a price of 34,000 British Pounds making the Isuzu new truck much cheaper than the Ford Raptor at least in the UK auto market.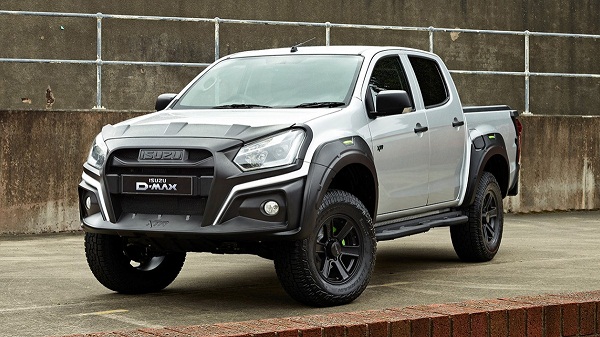 The D-Max XTR features very cool exterior parts that make the truck tougher looking than ever
1. Isuzu D-Max XTR 2019: Upgraded to look tough
Well, for one thing, the XTR gets a different suspension, a different body kit, and many new and improved onboard stuff, especially with the truck's interior. What's really striking, appearance-wise is the XTR's mask-like front bumper guard which will definitely remind you of a fictional character whose main shtick is brute force.
To the side, the new truck is also clad with very beefy fender flares which could definitely look like they could take a hit. Aside from that, the D-Max XTR is also equipped with side steps, black door handles, darker mirror covers tinted windows, and four huge Pirelli Scorpion all-terrain tires.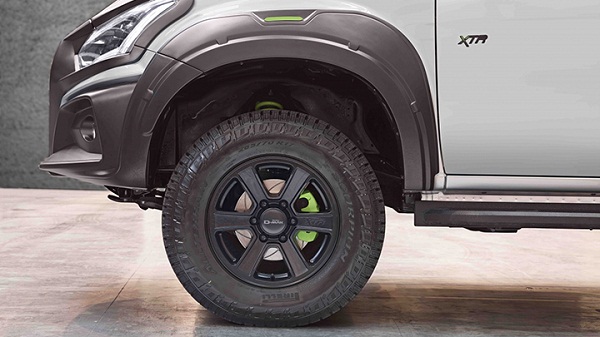 Show here are the XTR's beefy wheels, tires, and front bumpers. Note the green brake caliper
Lastly, and aside from functional additions, the XTR also has splashed here and there of additional styles like those found on the fender flares and the green colored brake calipers. Overall, these enhancements give the special Isuzu D-Max an aggressive, tough appearance that is backed up by several off-road parts that Isuzu has given the vehicle.
>>> Related: Complete guide to the current Philippine-spec Isuzu D-Max
2. Isuzu D-Max XTR 2019: It's actually tough
What makes the D-MAX XTR really capable off-road, aside from the massive Pirelli Scorpions we already mention is a set of Pedders suspension which is raised to give the XTR and impressive ground clearance of 250 mm.
This suspension set-up will then work in conjunction with the D-Max's already powerful stock, 3.0-liter diesel engine which can produce up to 175 hp and 380 Nm of torque mated to a 4x4 automatic transmission at least with the unit on display at the 2019 CVS.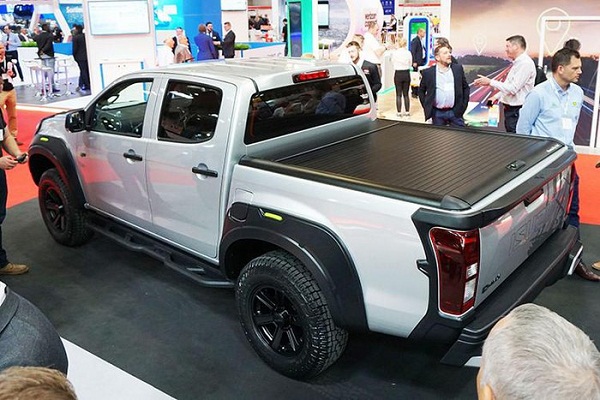 Isuzu D-Max XTR 2019 can produce up to 175 hp and 380 Nm of torque
While evidently a vehicle made for the rough and tumble of off-roading, Isuzu has tuned the D-Max XTR to be also capable of giving a comfortable, quiet ride on the highway.
>>> Find more information about Isuzu D-Max series:
3. Isuzu D-Max XTR 2019: Hard outside, comfy inside
While XTR definitely looks like it could chew nails, the interior of the vehicle just like its regular versions are comfortable and roomy. The seats of the XTR are covered in an exquisite combination of black leather and suede and is contrasted by green stitching.
The Isuzu D-Max XTR also has the creature comforts one would expect from a modern vehicle like air conditioning, heated seats, a reversing camera, Bluetooth and USB connectivity and of course numerous XTR badging.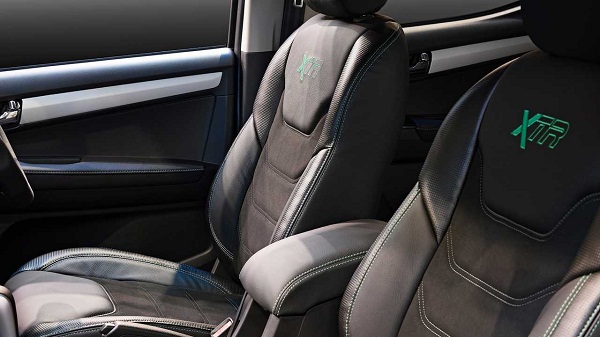 The seats are covered in luxurious leather with green stitching. Very cool!
As of now, the Isuzu D-Max XTR 2019 is a UK exclusive version of the Isuzu pick-up truck which William Brown, Isuzu Uk's managing director says to be a "unique and sophisticated truck with off-road 4x4 capability". He also says that will definitely fill the gap in the Isuzu truck line-up.

Know more about Isuzu D-Max 2023

The Isuzu D-Max 2023 is a 5-seater pickup truck that is available in several variants with various options for a 4x2 or 4x4 drivetrain. Isuzu Philippines Corporation (IPC) is offering this truck at a price that ranges from Php 917,000 to Php 1,9055,000. There are two engine options powering the D-Max. One is a 1.9-liter RZ4E-TC inline-4 turbodiesel engine that makes 148 horsepower and 350 Nm of torque, while the other is a 3.0-liter 4JJ3-TCX inline-4 turbodiesel engine that delivers 187 horsepower and 450 Nm of torque. Either a 6-speed manual or 6-speed automatic transmission can be paired to the said engines.
In terms of dimensions, the D-Max spans 5,277 mm in length, 1,880 mm in width, and 1,810 mm in height. It boasts a ground clearance rated at 240 mm, as well as a wheelbase of 3,125 mm. Some of the competitors of the Isuzu pickup truck in the Philippines are the Toyota Hilux, Nissan Navara, and Mazda BT-50.

Cesar G.B. Miguel
Author
Recent posts