You don't have much time to change your expired license card. Equip yourself with the detailed guidance to renew drivers' license online in the Philippines.
Since 2017, Land Transportation Office (LTO) in the Philippines has extended drivers' license validity to 5 years. It is mandatory that every driver have to renew their license before it expired, in order not to pay extra money for tickets and fines.
However, the process is hardly quick and easy. And in fact, it is always a hassle to deal with the crowded at the LTO branch. Fortunately, the drivers now can avoid this headache thanks to the entrance of online drivers license renewal in the Philippines. Having an LTO renewal online, it not only simplifies the procedures but also reduces the processing time as fast as ever.
So, how to renew drivers' license online in the Philippines? Let's find out the comprehensive instructions in this article on Philkotse.com!
24 Oras: Mga magpapa-renew ng lisensya at rehistro ng sasakyan, pwede nang magpa-appointment online
1. LTO drivers' license renewal online: Overview
It is undeniable that renewing the driving license is a daunting task, especially when it comes to visiting a crowded LTO office. But now, all those unpleasant experiences are eliminated under the new online portal that was introduced in April 2018, a more efficient way of renewing driver's license and vehicle registration has been brought into public service.
This online booking system allows users to schedule appointments for LTO license renewal or LTO online application for a new driving license. The authority department acknowledges that the new procedures will decrease the total duration of processing to 30-45 minutes, much faster than the previous process of walk-in applications.
LTO will designate a special lane in all its district offices to accommodate those who have online appointments, no need to move from one window to another. At the moment, LTO branch at five districts: Quezon City, Pasig, Central Office, Muntinlupa, and Novaliches has engaged in applying new online system.
Unfortunately, the online booking system is sometimes overloaded due to a large amount of traffic accessing the portal.
>>> Worth to note: Renewal of LTO driver's license: The Ultimate guide for Filipino Drivers.
2. What is the general terms and conditions to renew drivers license online?
Below are some things to take note before having your drivers' license processed with LTO online driver's license renewal portal:
Online booking system can only be applied to schedule appointments for Motor Vehicle (MV) Renewal and DL Renewal
There are limited slots available so the system follows the basis as first come, first served
Users are required to present printed appointment confirmation slips.
Applicants must be responsible for the accuracy of information provided to the online portal
Only the online scheduled appointment will be processed. If clients want to take other added MV/DL transaction, they have to take a regular queue and process as usual.
All clients who show up late at the LTO offices will lose their slots.
All appointments scheduled on national or special holiday may be valid and processed on the next working day.
Applicants who are intended to hack the online system or block appointment slots might be refrained from using it.
3. How to renew drivers' license online: 7 steps
#Step 1: Access to the LTO license renewal online portal
The LTO online booking is available with three options: Driver's License Renewal, Motor Vehicle Renewal, and Check Existing Online Appointment. Choose the first one, tick the Captcha and process to the next step.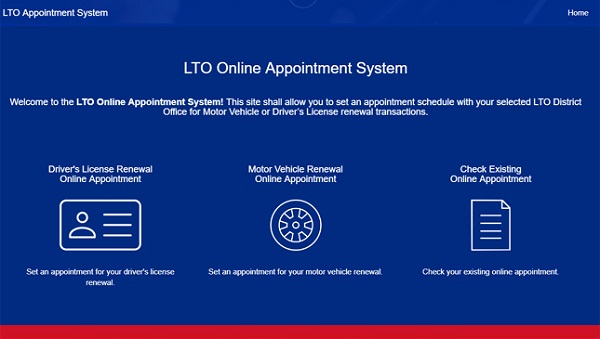 Head up to the server and choose the first option
#Step 2: Fill in LTO driver's license renewal form
Complete the renewal by providing your personal information including first and last name, BOD, address, email address, phone number and driving license number. Click next.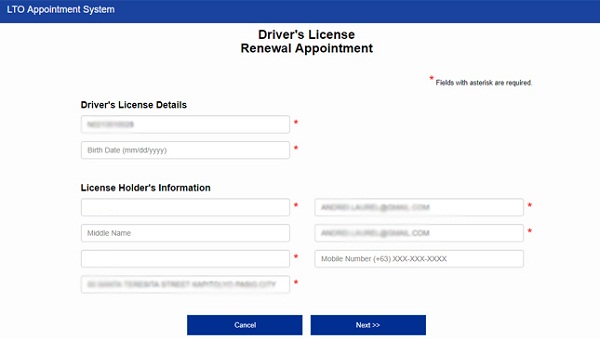 Complete the renewal form with accurate personal information
#Step 3: Select suitable LTO branch
Choose your region and district on the box, your full address will be displayed on the left boxes.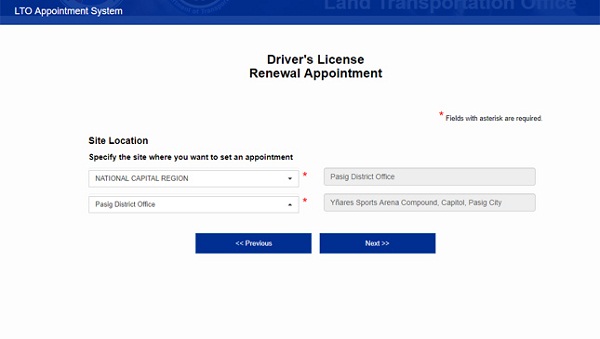 Choose your preferred LTO branch
#Step 4: Pick a time
Simply choose the available dates which are marked green on the portal.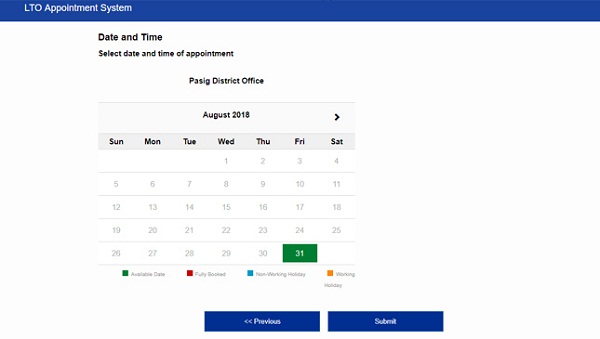 Pick an available slot for your appointment
#Step 5: Success!
A pop-up will appear to state that you've successfully booked the appointment. A confirmation link will be sent to your e-mail. Attention: You have to confirm your booking within three days, otherwise it will be canceled.
Also in the confirmation e-mail, a list of the document to accomplish online LTO renewal requirements is provided:
Completed driver's license application form
Current/ expired license card
The medical paper issued by an LTO-licensed physician
A valid ID
A printed copy of your appointment slip after confirming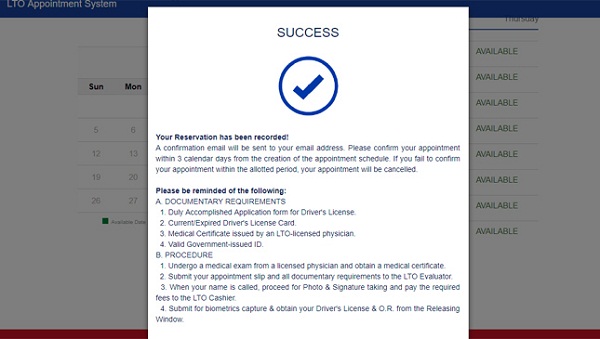 Congratulations! Your booking has been recorded
#Step 6: The day at LTO office
Show up at the LTO office on the date you've booked with all the required documents ready.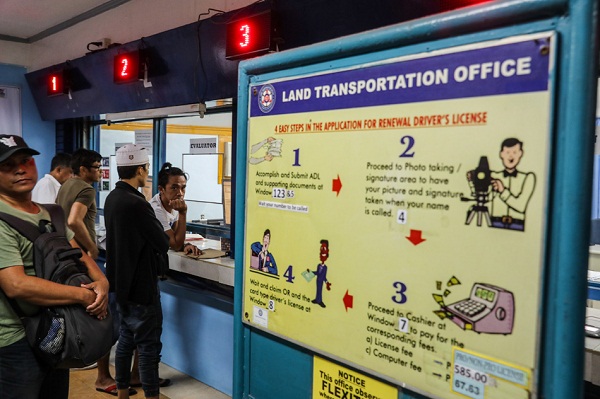 Visit the chosen LTO branch and wait until the officer call your name
In fact, at this phase, you will still have to complete all steps to get your driver license renewal done including:
Having medical clearance done (this phase normally takes about 10 minutes, depending on the number of clients ahead of you)
Handing over your expired license card.
Taking photo
Paying LTO license renewal fee. If you are driving with an expired license, make sure to check out how much is involved. Or just have more than enough when going to renew your license.
Taking fingerprints.
Double-checking your personal information filled in the driving licence application form
#Step 7: Claim your license card
Instead of heading home and waiting for a few weeks to get your card released, thanks to the online portal you are able to claim your license card immediately after 5-MINUTE! Surprising, eh?
Note that, the speed of processing with an online booking will probably vary depending on what LTO branch you head to.
While the online appointment booking system is just introduced, the process is speedy, simple, efficient and well-guided by LTO staffs. Plus, with the in-office steps taking only 30-40 minutes, enhancing our services by utilizing this online platform to bring more convenience to the public in line with President Duterte's directive to bring more convenience to the public.
>>> Learn essential tips about driver license in the Philippines: