Here's a step-by-step guide on how to get the renewal of driver license at LTO done with the least hassle, covering its 2019 fees, requirements, and some helpful tips.
1. Renewal of Driver's license at LTO: Overview
For this article, we at Philkotse.com will guide you on the LTO driver's license renewal process. While some of you might already be familiar with the process, some of you who just got your driver's license only recently might be looking for more information regarding the matter, as such you are in luck.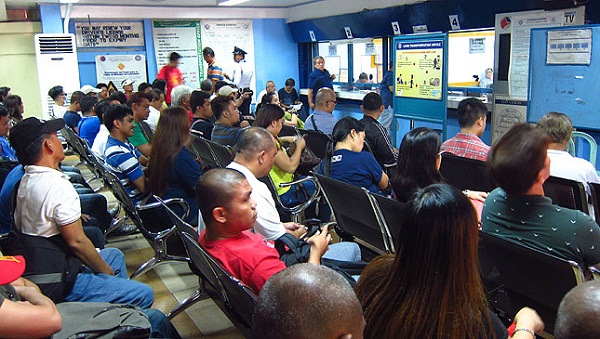 Renewing your LTO driver's license can be a daunting experience especially if you don't know what to do
Before even talking about how driver's license renewal in the Philippines works, let us talk first about tips to remember before going to the nearest LTO driver's license renewal center.
Be aware of your Driver's license expiration date. It can easily be viewed on the front of the card and even on the official driver's license receipt. Read more: What Pinoy drivers need to know about LTO OR/CR
Because it is known that a lot of people at any given time in these LTO offices or renewal centers, schedule your LTO visit in advance. You can also set up a schedule online in order to get your driver license renewal done with least hassle.
Bring loose change for photocopy services.
Bring drinking water, an extra handkerchief or even a spare shirt.
Even with an online schedule, come early because you never know what might transpire during the day.
Once you've started the process, do NOT leave the building or beyond earshot of the assigned LTO personnel as you might miss their announcement for you to take your turn on certain parts of the renewal process.
Avoid fixers at all cost. Make sure the person you're talking to is an official LTO employee as some particularly wily examples of these guys sometimes manage to get in the LTO office itself. Also if offered with something too good to be true, like no wait time at all for a certain amount of money, avoid those as those are highly illegal.
Renew your license at least a few months before it actually expires. This saves you times and helps avoid a ton of stress. Trust us.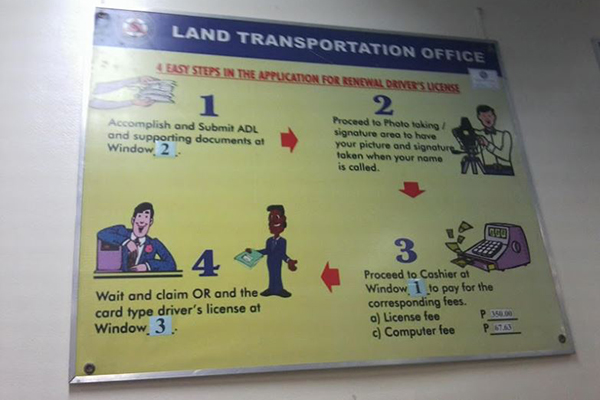 Here's the driver's license renewal process poster typically displayed in LTO branch offices
It is also useful to remember that driver's license validity in the Philippines will now last for five years so there are few excuses for you to actually drive around with an expired LTO driver's license.
This includes the conductor's licenses, non-professional driver's licenses, and the professional driver's licenses. This is thanks to the Republic Act No. 10930 which amended Section 23 of the LTO, increasing the valid time period of the aforementioned LTO licenses.
2. LTO Renewal Requirements 2020
Listed here for your convenience are the requirements for renewing your LTO driver's license.
Duly-accomplished LTO renewal form for Driver's license
Medical Certificate – This serves as proof that the applicant is healthy enough and/or capable of operating a motor vehicle. Typically this costs around Php 100 to Php 200 depending on the clinic. If you have access to a medical professional who does this for free or for minimal cost like a barangay health center that's also accepted. Take note also that LTO licensing sites within the National Capital Region and other regions around Luzon will only accept medical certificates submitted online as per Memorandum Circular No. 2018-2157. All LTO renewal centers will have a list of accredited clinics and registered Physicians.
3. Renewal of drivers license: Step-by-step process
Step by step process on how to renew driver's license in the Philippines
Step #1:
Present all your documents and requirements to the person-in-charge (typically on window 1).
Your documents and requirements will be checked by the assigned LTO personnel so this might take a while. If there are no problems regarding your requirements, you will then be called to the photo booth.
Most often than not, you will have to wait again. As for the requirements themselves, please see part 4 of this article.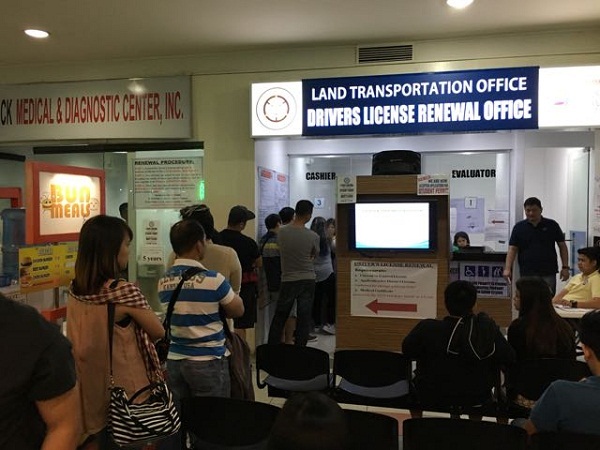 Keep calm and wait until your turn!
Step #2:
When called, approach the photo booth. For the photo-taking itself, it is advisable to prepare beforehand; comb your hair, wipe your face, etc. for that good looking license photo. A sample of your signature will also be taken by way of a digital signature device.
Step #3:
After the photo booth, you will then have to pay the necessary fees. Like the steps before, you will definitely have to wait to be called. Also, it might be a good idea to prepare the exact amount or an amount close to it. For specifics on the LTO renewal fee, please check the next part of this article.
Step #4:
Wait for the release of your freshly printed driver's license card along with the receipt and the expired card. For record keeping's sake, they will ask you to write your name and signature on a releasing form.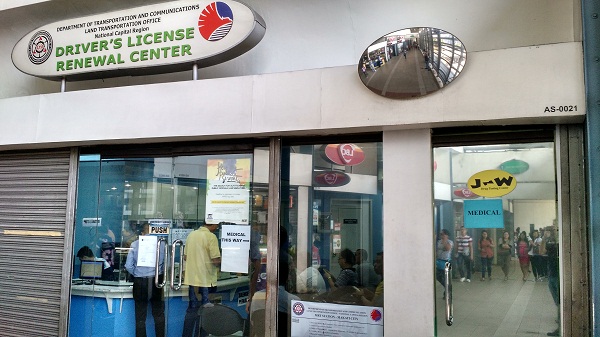 When to renew your driver's license? Well, to avoid stress and to save time, renew it at least a few months before it actually expires
4. Where to renew your driver's license in the Philippines? At LTO Renewal Centers of course!
4.1. LTO Renewal Centers
Typically, official branch offices of the Land Transportation Office also have the facilities to accept those who want to apply or renew their driver's licenses. As you might already know, these said LTO offices are packed with people all the time.
In recent years, several LTO driver's license renewal centers have been opened up in order to reduce wait times, increase efficiency, and of course to assure customer comfort.
These aforementioned LTO license renewals centers open on Saturdays are those located in malls, specifically, those in Robinsons found all across the country.
This is thanks to LTO's Memorandum Circular No. 2019 – 2167 which seeks to maximize accessibility and availability of their services. For your convenience, we also have a list of LTO Renewal Centers located in Metro Manila.
4.2. LTO Business Hours
Like any government institution in the Philippines, LTO offices typically open at around 8 a.m and close at around 5 p.m. Like we've said before, it is advisable to go earlier than the LTO opening hours to avoid long wait times.
As for LTO renewal centers located in malls, they open as soon as the mall does which is usually on 10 A.M. It is also advisable to go to these renewals centers an hour early than its 10 a.m. opening time.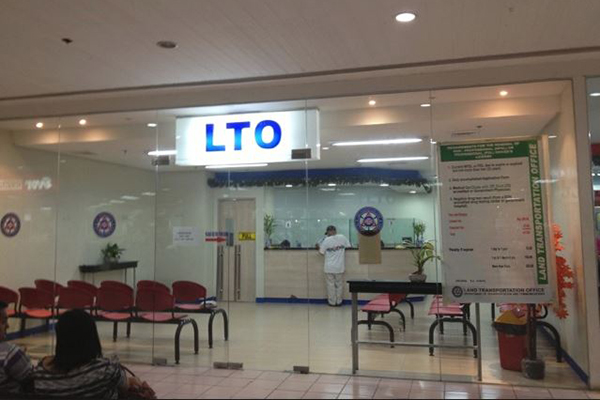 LTO business hours typically start at 8 a.m. For LTO renewal centers found in malls, they start around 10 a.m
5. Driver's License Renewal Fee
A common question among those who just got their license is; how much to renew your driver's license? To answer that question, here are is the breakdown of the fee's you have to pay for your driver's license renewal.
Fees

Standard Pro/
Non-Pro/
Conductor

1 day to 1 year expired

More than 1 year to 2 years expired

More than 2 years expired (re-exam)

License Fee

Php 585

Php 585

Php 585

Php 585

Penalty

 

Php 75

Php 150

Php 225

Computer Fee

Php 67.63

Php 67.63

Php 67.63

Php 67.63

Application Fee

 

 

 

Php 100
6. Driver's License Renewal Online
In this modern day and age, almost anything can be processed and accomplished on the internet. As such, the Philippine Land Transportation Office has also strived to enable LTO online driver's license renewal service.
Ideally, this system will seek to reduce a lot of waiting times and further increase accessibility and convenience for their clients but it has been reported that wait times and crowding in some LTO branches and renewal centers remain largely the same, so be early.  
Regardless of applying online will indeed be a useful time-saving tool especially when the time comes when LTO manages to further streamline their overall driver's license processing procedures, and protocols.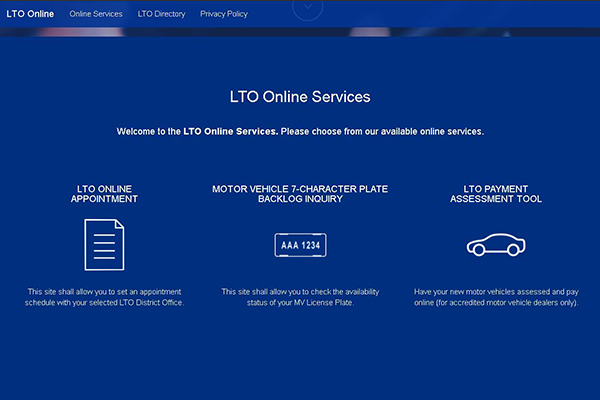 Here's the front page of the LTO online services portal
For further details on the specific steps for the aforementioned online process, you can visit our article for the LTO online driver's license renewal service.
As we've said before, your driver's license validity will last up to five years so you will definitely have a lot of time to schedule ahead and prepare all the things you need to renew your driver's license.
Also, the details listed above are fairly accurate as most are sourced from the LTO website itself. However, if you want further clarifications, there are contact details listed on the list of LTO renewal centers we also have on our site.
Visit Philkotse.com for more tips and advice.


Cesar G.B. Miguel
Author