Are you ready to get a driver's license? Read on to know full details about LTO student license requirements, form for student license, required fees.
Before you can drive on Philippine street, you need to get your own driver's license first. There are three types of driver's license, which are:
Student's permit;
Non-professional license;
Professional license.
For those who have never taken the driving exam, you will start at the student's permit level. Owners of the LTO student's permit driver's license can then upgrade to non-professional after only one month. Or you can wait for five more months to upgrade to a professional level.
In order to guide you on how to get a student license/permit and detailed requirements of student license for 2021, Philkotse.com provides the following instructions. Make sure to study them carefully.
1. LTO form for student license for 2021
Before 2017, the minimum age for an applicant is 16. However, it has been recently raised to 17. Keep in mind the following 4 up-to-date and official LTO student license requirements for 2021:
Be at least in the age of 17;
Physically and mentally qualified to control a car;
Be able to read and write in English or Filipino;
Not use alcohol or drug.
If you consider yourself qualified for all the items mentioned above, you will be able to accomplish the documents below:
A copy of your birth certificate and an original one;
Taxpayer's Identification Number (if employed);
Driver's license application;
Marriage certificate (if you are female and married).
You can then submit these documents to the LTO location nearest or most convenient to you. The LTO driving license application form could be found widely on the Internet, or you can get it at any LTO location nationwide.
If you are under 18, you must include your parent's or guardian's consent along with any identification and validation as part of the LTO student license requirements. If your parents or guardians are not available, you can get consent from any notary or lawyer.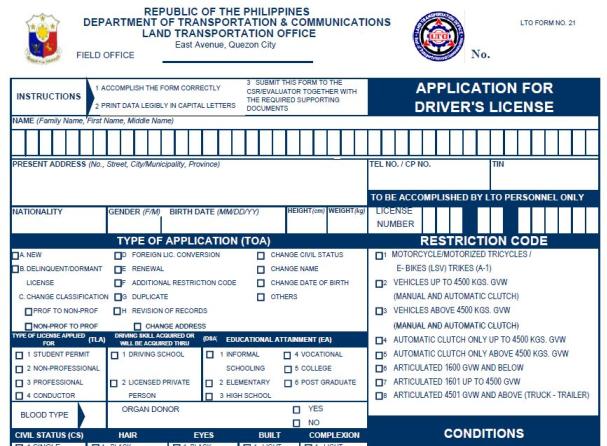 One of the LTO student license requirements is to fill out the driving form for a student license
>>> Make sure you have read our detail guidance on driver's license in the Philippines here
2. How to get student license: Application procedures
There is a required thing you need to prepare at home. Showing up neat, tidy, and polite at the LTO office is a must. Any clothes such as shorts, slippers, and tank tops are absolutely prohibited. It would be best if you wear a decent shirt, pants, and shoes. Besides, dressing appropriately will help you have a better picture on your student license.
That would be good enough, let's go to the procedure.
Step 1: With your profile completed as mentioned, go to the nearest or any LTO branches you feel convenient. Look for the customer service window. You will be handed a number that represents your turn to be called.
Step 2: When your turn comes, reach to evaluator counter and hand all the documents you prepared in. The evaluator will consider your profile's completeness and validation. If it is qualified, you will be asked to sit down and wait for your number again.
Step 3: After being called again, you will be directed to a booth in which they will take your picture and your signature.
Step 4: Finish all the required payments. Remember to keep the receipt.
Step 5: You will obtain your student's permit at releasing counter. They will ask for the receipt above.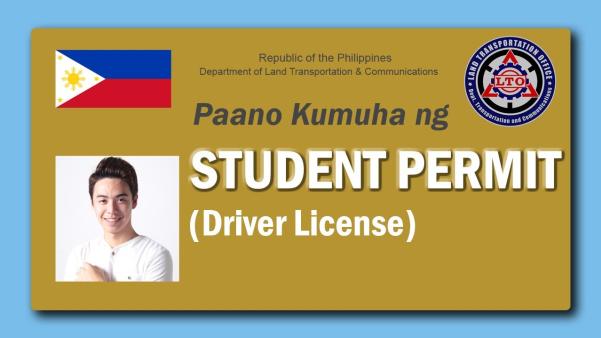 Though not being one of the requirements for a student driver's license at LTO, dressing appropriately should be practiced
If you lose your driver's license, we have a detailed guide on how to submit for a replacement for your lost license LTO.
3. How to get student license: Required fees & payments
There are three types of payments you must make as a requirement in obtaining a student's permit at LTO. See the list below for reference.
| | |
| --- | --- |
| Fee | Cost |
| Application Fee | P100 |
| Computer Fee | P67.63 |
| Student Permit Fee | P150 |
| Total | P317.63 |
Tip: To quickly finish the procedure, it would be better if you bring an exact amount of money.
4. How to get student license: 4 more things you need to pay attention to
#1. You should regularly check for locations of LTO branches or offices because they could be changed. All information about that is spread out to the public. You could find the location on the Internet. Additionally, reference from your friends or relatives is also a good idea.
#2. Before you leave home, make sure you are bringing all the necessary documents and LTO student driver requirements with you. Remember about clothes. Don't let them send you back home.
#3. Some of the LTO branches or offices do not provide applicants ballpoint pens. Keep in mind to bring one.
#4. Nowadays, many improvements have been made that fasten the process of finishing a driver's license application. If everything goes well, it will take you only 30 minutes to get a student license. But you will never know what problems are about to happen. Besides, there is not only you coming to apply. That said, it could take much longer than you predicted. Therefore, it will be careful of you to spare some more money besides the payments for the license.
#5. If you have any questions even about the LTO student permit requirements or LTO form for a student license, feel absolutely free to ask for help at the information desk. They will be pleased to help you out. There are many people outside of the office considering themselves as helpers. But, they are actually trying to draw your money as they save you more time to get the license. This is not what you should do. Doing it yourself helps you understand the procedures and requirements of a student license and give you experience for the next license upgrades.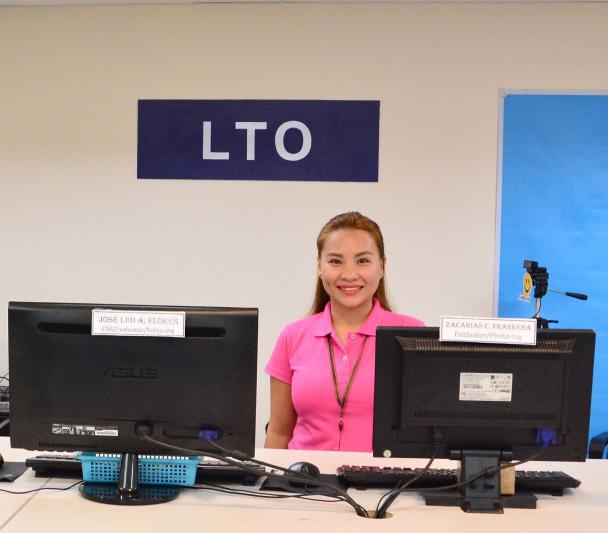 Don't hesitate to ask officers for instant help regarding student drivers license requirements and other concerns
We have now gone through what you need to know about the requirements for a student permit. There's no difference between student license requirements in 2020 versus this year so you can ask people who recently acquired the said license for a faster transaction. Wish you luck in the process.
Read more helpful driving tips at Philkoste.com