In the land of the Kiwi, a shark rises to challenge a dinosaur.
For two years now, the Ford Ranger Raptor has reigned supreme in many automotive markets. Toyota New Zealand however, is set to challenge the ferocious Raptor with its release of the Toyota Hilux Mako.
However, only 250 units of this beefy looking Hilux will be built and all of them are meant for the New Zealand market. But what's so special about this Hilux variant named after a shark?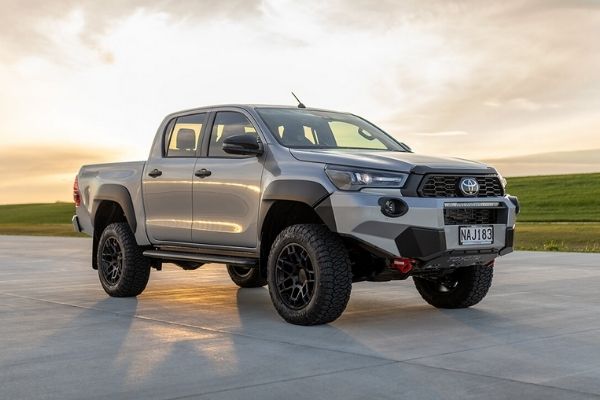 Like it's namesake, the Hilux Mako is one angry looking truck
For starters, the Hilux Mako comes from the factory with everything you'd need to go off-road. Its suspension has a 40 mm lift at the front and 50 mm lift for the rear end. Its dampers are also adjustable. So apart from being an off-road brute, one can actually adjust the Hilux Mako to make it behave on paved roads.
To turn the regular Toyota Hilux into the Mako, the exterior was also given an extensive make-over. The front end now sports an aggressive steel bumper, as well as an LED light bar. Down below, the Mako also comes with thicker armor in the form of Toyota-branded skid-plates.
Towards the sides, it has been given a set of brusque looking Black Rhino off-road alloy wheels, very knobby all-terrain tires, and a set of beefy looking fender flares. Toyota NZ also equipped the Hilux Mako with thicker, more durable braided brake lines.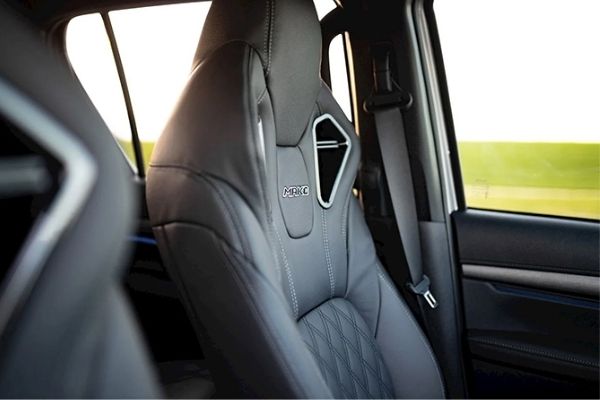 The Hilux Mako gets a lot of "Mako" badges inside and out
The Mako's interior is also a bit different from the regular NZ-Spec Hilux. Its seats are all clad in leather, complete with Hilux-Mako badging. Apart from that, however, not much has been done to change the interior.
The engine of the Hilux Mako is also identical to the 2.8-turbo diesel powering the top-spec Hilux variants available in NZ, as well as the Toyota Hilux Conquest 2.8 4x4 AT for the Philippines. It can churn out a maximum of 201 horsepower and 500 Nm of torque. Compare that to the Ford Ranger Raptor, which can produce a maximum of 213 horsepower and 500 Nm of torque.
Despite its limited 250 unit production run, we're certain that the Hilux Mako will do well in its local market. That's because just like the Philippines, the Hilux has a significant market presence in New Zealand. The "tuner culture" surrounding it in NZ is also very large, so there's that.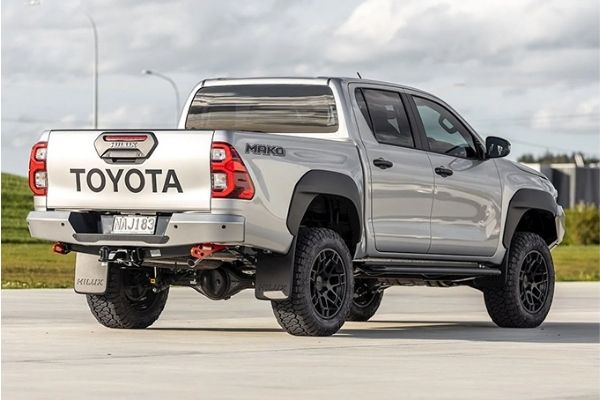 The Hilux Mako retails at $79,990 in Kiwi dollars. That's around Php 2,583,307 in current exchange rates
Remember also that there's talk that Toyota is currently working on a Gazoo Racing version of its pickup truck model, which will eventually pose a greater threat to the Ranger Raptor. That however, won't be coming out until 2023.
For more automotive news, car reviews, and useful car maintenance tips, keep reading here on Philkotse.com.
Know more about Toyota Hilux 2021

<p>The Toyota Hilux is a pickup with a globally known nameplate for being one of the reliable workhorse vehicles. It was 1968 when Toyota&#39;s pickup truck started building a reputation for being rugged and dependable, and it continues until today with the facelifted model launched in 2020. This popular pickup continues to evolve and slowly move upmarket after gaining luxuries. The most significant revolutionary jump of the Hilux happened in 2004 when the seventh-generation of the model was introduced. It was the first 21st-century iteration of Toyota&#39;s pickup. It is also the first generation to ride on Toyota&rsquo;s new Innovative Multi-purpose Vehicle architecture. It provided improved safety, better ride comfort, modern D-4D diesel engines, more interior space, and a more modern aerodynamic body. The current 8th generation offers a more refined and stylish design than its predecessor, but the tradition of being a tough pickup continues. It gets a much-awaited refresh in 2020 inline. Aside from improved looks, the Philippine iteration also comes with more powerful engine options. The Toyota Hilux is available in 4x4 and 4x2 variants. In the Philippines, the pickup truck is offered with diesel engines. It is available with automatic or manual transmission depending on the variant.</p>

Cesar G.B. Miguel
Author