Yep, 2018 marks the 50th birthday of the legendary Toyota Hilux!
Despite some recent changes to appeal to some SUV-minded purchasers as well as the usual commercial market, the Toyota Hilux has lost none of its go-anywhere, over-anything ability. This renowned pickup is 50 years old next year.
To celebrate of the hard-as-nails Hilux's impressive dominance in many markets worldwide for such a long time, the leading Japanese auto maker has made a special version aptly named the Invincible 50. The new and unstoppable model sure has a good-looking appearance and is worthy of the new moniker.
>>> View more: Next-gen automated driving features to appear in Toyota cars by 2020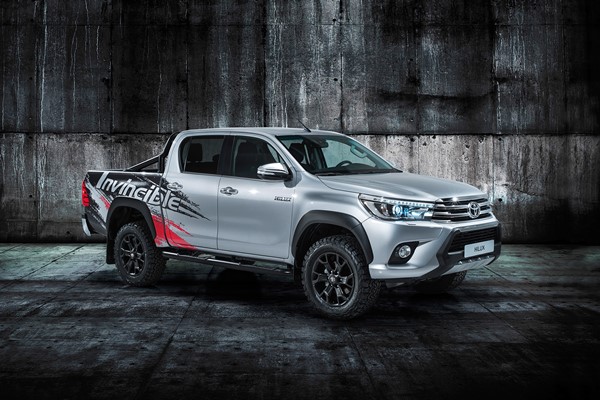 2018 marks the 50th birthday of the legendary Hilux! 
The Toyota Hilux Invincible 50 will be introduced at the 2017 Frankfurt Motor Show.
The tough-as-nails Hilux is popular for its reliability, endurance and quality and has been put to the trial run in some of the world's most demanding environments. All the components of the Toyota Hilux are designed to withstand the most rigorous tests. It has conquered the Dakar, the Antarctica, and the North Pole. In the Philippines, the Hilux is one of the Filipino best buddies on the road as it's suitable for carrying your whole family and all the gear you need in the back.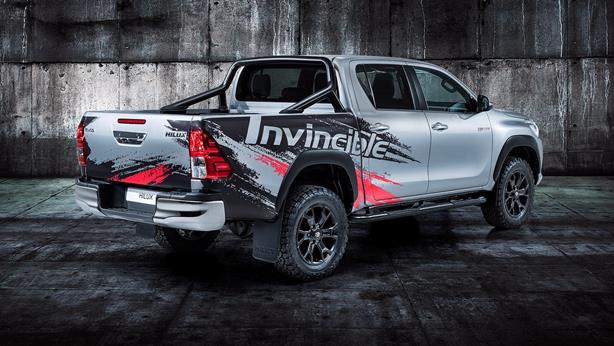 The tough-as-nails Hilux is popular for its reliability, endurance and quality 
The Hilux Invincible 50 is expected to be on sale in the European market in 2018. It embraces the increasing market preference for multiple-use street warriors that serve equally well for day-to-day transport, for driving pleasure, and for work. A range of special features signal the Invincible 50's status as a bespoke version, but also show how the pickup can be made to achieve the right balance of play and work. 
>>> Click here to find out more information about Toyota Isis, an unfortunately-named vehicle
Outside, the 50th anniversary version is equipped with black high-over and side bars. It rolls on 18-inch matte black alloys with solid All Terrain tyres from BF Good rich. In the bed, there is also a large tool box and a plastic bed liner. Stepping inside, the Hilux Invincible 50 comes with the handbrake lever, floor mats, and scuff plates. As for the operation, the bespoke and new Toyota Hilux is powered either a 2.4-liter D-4D turbo diesel engine or 2.8-liter D-4D turbo diesel engine. The former delivers an output of 150 PS and 400 Nm of torque, while the latter produces 177 PS and 450 Nm of torque.
Since its introduction in 1968, the iconic Hilux pickup has amassed over 18 million units sold and has become one of the most favorite pick-up.
>>> Have a look at our list of top 5 most favorite Toyota cars in the Philippines
2018 Toyota Hilux Invincible 50 Debut At Frankfurt Motor Show 2017
>>> Click to read expert review on Toyota Hilux Invincible 2016
Know more about Toyota Hilux 2021

<p>The Toyota Hilux is a pickup with a globally known nameplate for being one of the reliable workhorse vehicles. It was 1968 when Toyota&#39;s pickup truck started building a reputation for being rugged and dependable, and it continues until today with the facelifted model launched in 2020. This popular pickup continues to evolve and slowly move upmarket after gaining luxuries. The most significant revolutionary jump of the Hilux happened in 2004 when the seventh-generation of the model was introduced. It was the first 21st-century iteration of Toyota&#39;s pickup. It is also the first generation to ride on Toyota&rsquo;s new Innovative Multi-purpose Vehicle architecture. It provided improved safety, better ride comfort, modern D-4D diesel engines, more interior space, and a more modern aerodynamic body. The current 8th generation offers a more refined and stylish design than its predecessor, but the tradition of being a tough pickup continues. It gets a much-awaited refresh in 2020 inline. Aside from improved looks, the Philippine iteration also comes with more powerful engine options. The Toyota Hilux is available in 4x4 and 4x2 variants. In the Philippines, the pickup truck is offered with diesel engines. It is available with automatic or manual transmission depending on the variant.</p>
Recent posts