Toyota Hilux 2020: Pickup contender for Car of the Year
There is an ongoing truck war in the Philippines, leading the charge for Toyota is their venerable Hilux Pick-up truck. SUVs may be the "in" thing but trucks aren't going anywhere.
Toyota Hilux 2020: Pickup contender for Car of the Year
Rugged without even trying
No longer lags in power and pull
You can actually use that bed for stuff
Practically Bullet-proof engine
More affordable than you think
Toyota Hilux 2020: Leading the Truckassance
Trucks are enjoying a renaissance of sorts the past year in 2019. The so-called truck wars have only escalated even more thanks in part to the passing of the TRAIN law. Because of the tax restructuring scheme, commercial trucks were granted some leeway when it comes to paying tariffs and taxes.
The so-called truck wars have only escalated even more thanks in part to the passing of the TRAIN law
This gives car companies an opportunity to introduce more powerful, more luxurious and value-packed passenger trucks since they are classified together in the same vein as commercial trucks.
You can actually find fully loaded trucks to be much cheaper than their mid-sized SUV counterparts.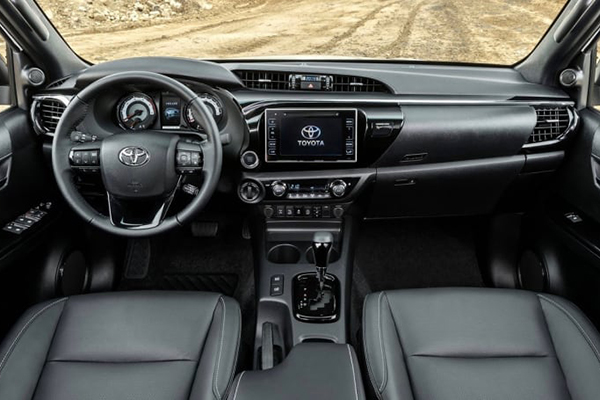 The interior leveled up a few notches from the last model
One truck stands above the rest thanks to its heritage and bulletproof reputation. The Toyota Hilux proves that a truck can stand on its own credibility and legitimacy.
Toyota Hilux 2020 continues to be the leader and the go-to truck for everyone looking for a business and commercial solution and a car to represent your own style and personality.
There is a difference between being handsome and rugged, handsome looks at itself and admires the reflection, rugged is where you look at it and you admire.
Toyota Hilux 2020: Effortless styling – Power on tap
Trucks have traditionally been seen by the general public as a commercial vehicle. By the time the late 90s came in only did we realize that they can actually be a good alternative to sedans as a family car.
It can seat 5 and you can also look good in it! The 2020 Toyota Hilux looks great even without the TRD go-fast bits. Thanks to muscular body lines and the adoption of a front fascia that puts it in line with many of Toyota's iconic trucks and SUVs more specifically the US-based Toyota Tacoma Truck.
>>> Check out how experts reviewed on Toyota Hilux 2020 Philippines version right here!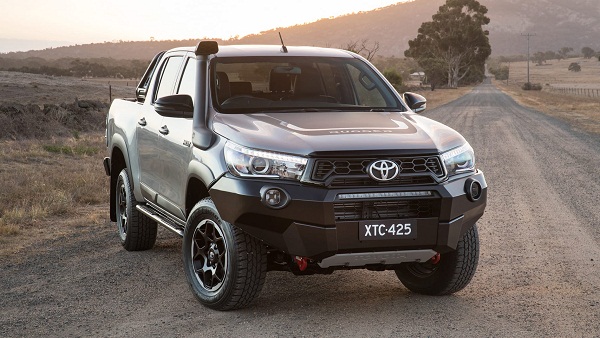 Looking rugged shouldn't need effort
This is one truck I wouldn't mind bringing along with me to the rough roads of Bicol and drive along the swanky streets of BGC.
It can also keep up with the rest of them thanks to Toyota's 2.8-liter turbo diesel engine that makes 175 hp and 450 Nm of torque. Power was the main complaint with the last generation, so for this model, Toyota gives us a surplus of it. Definitely useful if you want to use your truck for truck stuff like hauling.
>>> Maybe you want to find out more about the Toyota Hilux? We have you covered!
Toyota Hilux 2020: Another value-packed Toyota that resists inflation
For those who consider the economics of buying a vehicle in their purchases, the Toyota Hilux is a god-send. The Hilux keeps a large chunk of its value even after 5 or 10 years into ownership.
It requires the most basic of care and maintenance thanks to its rugged construction and availability of spare parts. It may have some electronic bits but they are at a minimum so all you have to worry about is making sure you follow the prescribed PMS schedule and you can be ensured that this truck will last you for a very long time.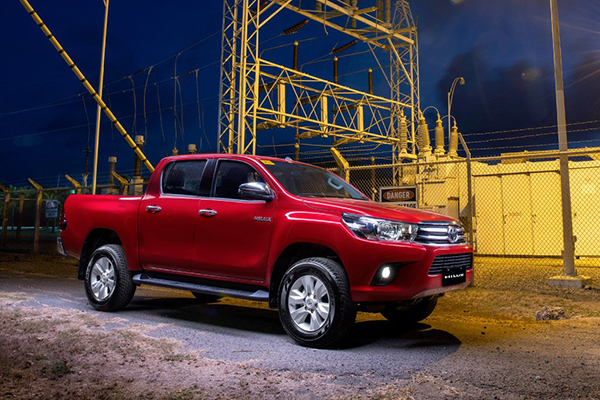 Everyone and their dad will tell you that Toyotas are bulletproof
>>> Click here to update the monthly-updated Toyota Hilux price list in the Philippines
Many car companies have this misconception that trucks should be more like sedans or SUVs. They put amenities and creature comforts that they tend to go overboard with it. The Toyota Taco, I mean Hilux gives us the right balance of all the good stuff but never falters away from the fact that this is still a truck. Just better.
For more car of the year articles like this one, keep reading here on Philktose.com.
Author

Sleek, Sexy, Athletic and Fast. These are words that were never used to describe our resident claustrophobe Roy Robles. After spending 10 years counting other people's cash in banks, he is just happy to be at Philkotse.com. Catch his articles everyday and make sure to honk if you see him.