Toyota finally announced the reveal date for the much-awaited Toyota Supra 2019!
After a myriad of astounding teaser photos and a timely unveiling of the GR Supra Racing concept earlier this year held at the Geneva International Motor Show, the prestigious Toyota Motor Corporation finally announced the reveal date for the much-awaited Toyota Supra 2019/2020.
Its world premiere can be witnessed various car enthusiasts at the annual 2019 North American International Auto Show (NAIAS) located in Detroit from these following dates, January 14-27.
It is said that this 5th generation Toyota Supra model is highly-anticipated. Toyota wasted no efforts of producing teasers for the promotion of the upcoming model. To satisfy the show-goers' appetite for the mystery that Toyota Corporation has embedded, they brought a camouflage-design of Supra's prototype to the Goodwood Festival of Speed. The audience was given a chance to witness as to how the model would perform and what could it offer.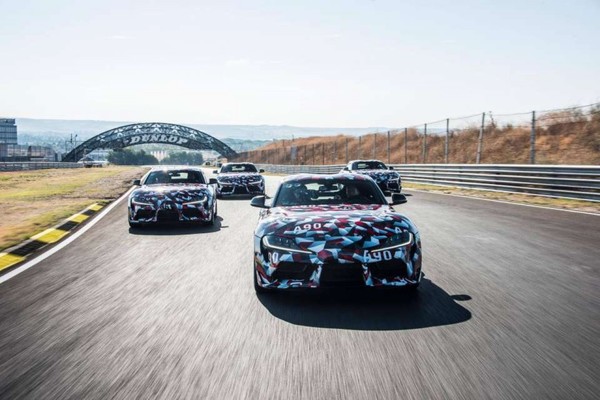 The 5th generation Toyota Supra 2019 model is highly-anticipated
In the month of October, the said-Supra raced in VLN Endurance Championship Nurburgring, Race 9 in the efforts of seeing the vehicle's development activities. A lot of questions were raised as to what Supra will possess under its hood, or whether it will be produced with a model with a manual transmission.  
If the model would be developed following another company's (BMW) model Z4's powertrain, options of a four-cylinder and six-cylinder engines would be available. In the current market, Z4 offers a 20i, 30i and best performing 40i option that produces a 390 PS and 500Nm of torque. With that in mind, Toyota will have to develop and improve the engine for the upcoming Supra to produce a more powerful performance.
According to the latest car news, the Toyota Supra 2019/2020 is said to be globally distributed at the first half of 2019. It is not clear yet as to whether Toyota Motor Philippines would bring in the highly-anticipated sports car in the country as well.
Know more about Toyota Supra 2021

<p>After years of waiting, the all-new Toyota Supra has finally arrived. Thanks to Toyota Motor Philippines, this highly anticipated sports car is brought to the Philippine market. In terms of sports cars, the Supra has long been considered as the brand&#39;s ultimate. The current generation Supra has finally been revived with German DNA into its parts. It&#39;s no wonder the overlook of the Toyota GR Supra is very impressive. The aesthetics are also geared towards tuners, modders, and enthusiasts. Its dimensions and chassis are similar to that of the Z4. However, the brand provided twists in terms of styling, design, and everything else in between. The interior of the MkV Supra is absolutely a collaborative effort but with traces of the Toyota brand. The Supra available in the Philippines comes with a 3.0L twin-scroll turbocharged in-line 6-cylinder engine. The fifth-generation Toyota GR Supra has remarkable design elements, including LED headlights with six lenses, a 19-inch forged aluminum, as well as, dual exhaust pipes. It also comes with a list of standard features, such as a heads-up display, touchscreen infotainment setup, multi-information display gauge, and a sound system composed of 12 speakers. The current generation is the 5th generation of Toyota GR Supra. In the Philippines, the prices of the supra depend on the variant color. It is available in eight colors: Matte Storm Gray, Deep Blue Metallic, Ice Gray Metallic, Silver Metallic, Lighting Yellow, Black Metallic, White Metallic, and Prominence Red.</p>

Hanna Sanchez
Author
Recent posts