Far from perfect but a car worthy of excuses.
In this review...
Introduction

Exterior

Interior

Tech & Safety

Engine & Performance

Fuel Efficiency

Verdict

Variants & Price

Color Options

Specs
2022 Toyota GR Supra Exterior Review: Introduction
Toyota Motor Philippines lent its flagship sports coupe at the most inconvenient time; I was suffering from gouty arthritis – a painful medical condition that makes me feel like I'm 20 years older than my actual age is. Not the company's fault, mind you, as gout strikes us sufferers without warning.

But the suffering at every step on the accelerator didn't stop me from driving the MKV Toyota GR Supra for this review. A car that's equally lauded and hated for its association with BMW, I had to know for myself: is it any good for its price? And more importantly, is it worthy of the legendary Supra name? Here's my take.
Toyota GR Supra Full Review: The legendary, sacred nameplate
Overall exterior & Interior design, build quality, form vs function

Number of safety & tech features, consistency during usage

Power delivery, acceleration, transmission, suspension, handling

Overall Ride Comfort, Space, Storage Areas

Sticker price vs overall package
2022 Toyota GR Supra Exterior Review: A bold statement
The Supra has retained its recipe since its first inception in 1978 – a long hood, liftback coupe body that carries an inline-six power plant. That stays true with the A90 model, except that the new-generation Supra trades its usual clean styling with a bold statement that comes with the GR badge.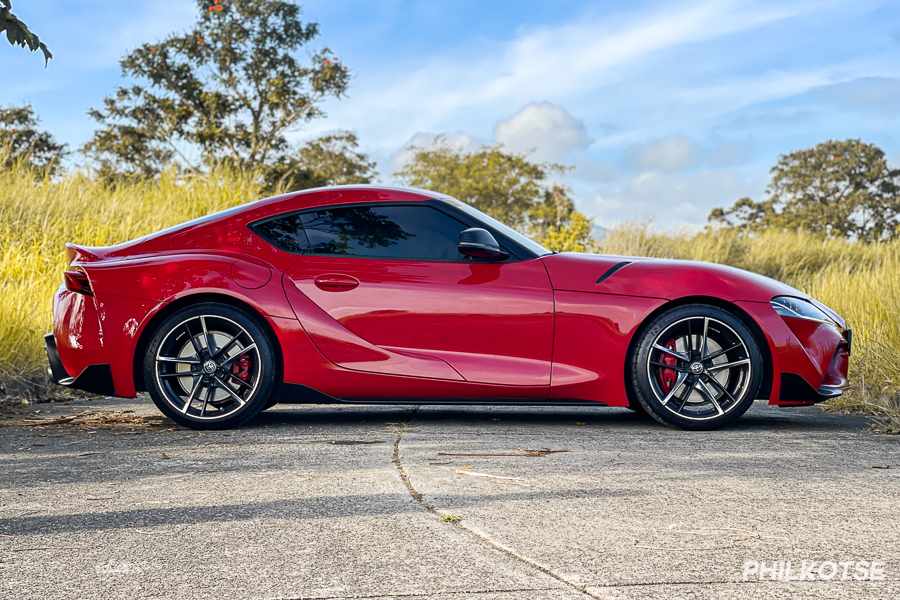 The GR Supra from the side
There were no clean lines; you'll see more curves and aggressive design executions that only a sports car can pull off. The 115mm ground clearance may sound low but it aids in giving the GR Supra a divine, imposing stance.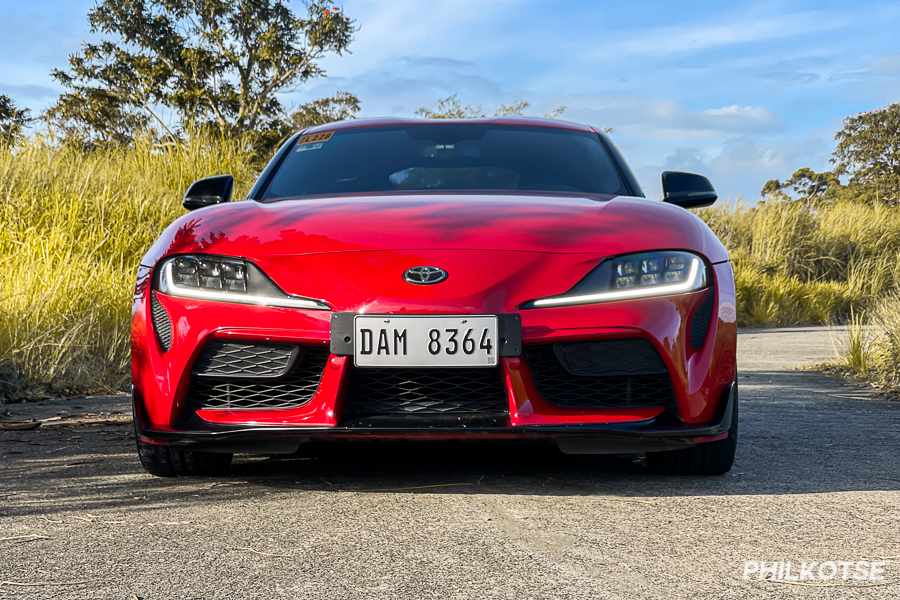 That divine, imposing stance
Sure, there are some fakeries here and there in the form of faux vents, but Toyota said that they're there for owners to convert if they decide to tune the car. The dual bubble roof, no matter how weird they look at times, has a noble purpose – but more on that later.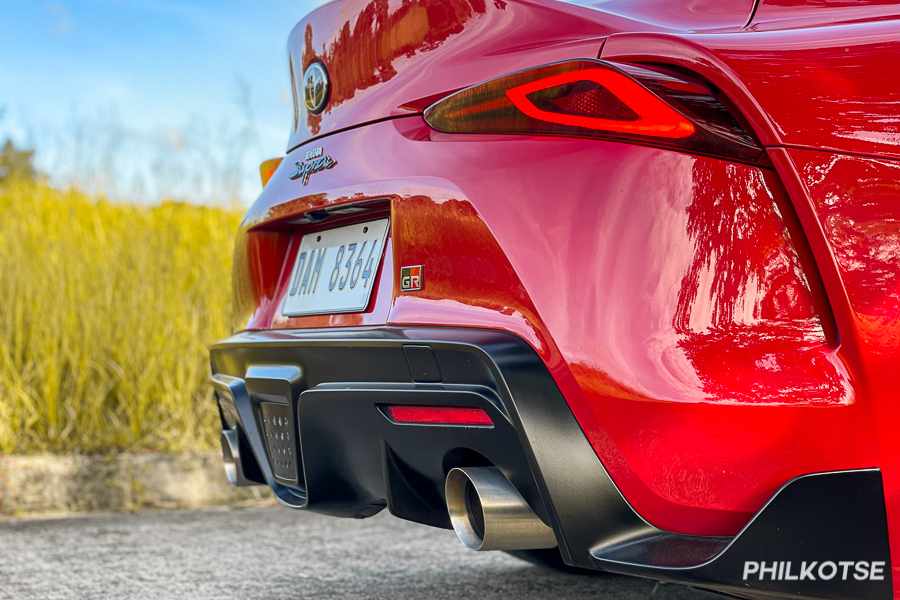 The GR Supra's rear features a pair of large exhaust tips
Perhaps my favorite part of the Supra, apart from those gorgeous-looking 19-inch forged aluminum alloys with red brake calipers, are the wide hips. It doesn't matter whether you're looking at it from the front, at the sides, or from the back, they look really good – almost borderline sensual.
YOU MAY WANT TO READ
Model Price Philippines
₱ 2,328,000 - ₱ 2,499,000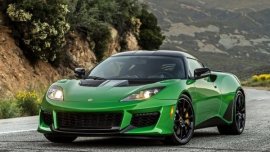 Model Price Philippines
Price available upon request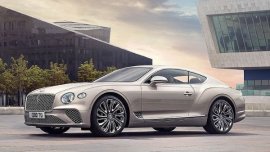 Model Price Philippines
Price available upon request
2022 Toyota GR Supra Interior Review: Quite familiar
I'd lie if I say that the GR Supra's interior isn't familiar. If you've been inside the latest BMWs, you'll know what I mean. The switchgear, the knobs, the buttons, the 8.8-inch iDrive infotainment, even down to the very font used inside the cabin were all from Bavaria – and that fact isn't exactly a bad thing.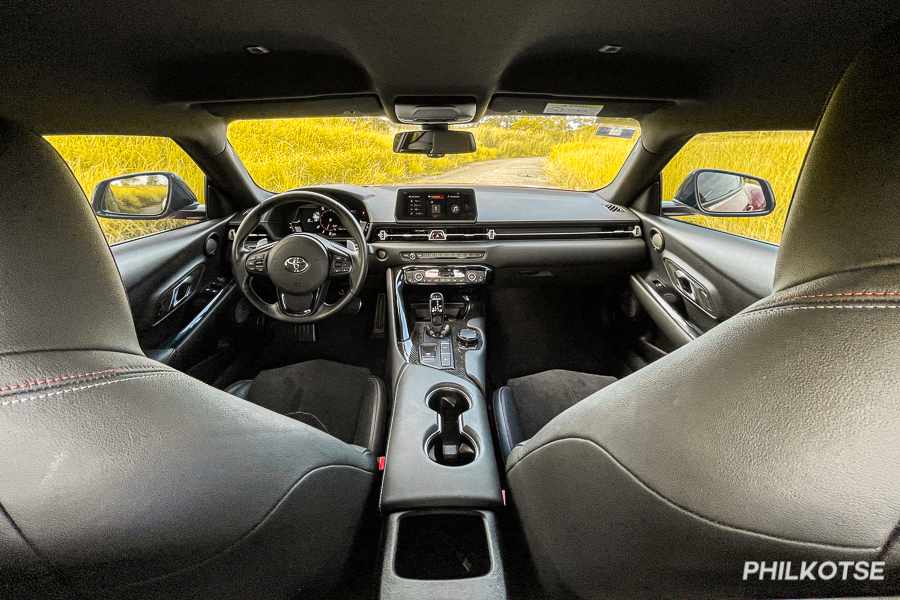 The GR Supra's sensibly arranged interior
BMW's intrusion with the Supra's development employs more benefits for the Japanese rather than the German. The dashboard and other cabin appointments are mostly covered in cowhide, except for the center console and its tasteful carbon-fiber finish. The luxurious air within the car's cabin is evident, mostly felt when seated in the Alcantara-lined leather sport seats.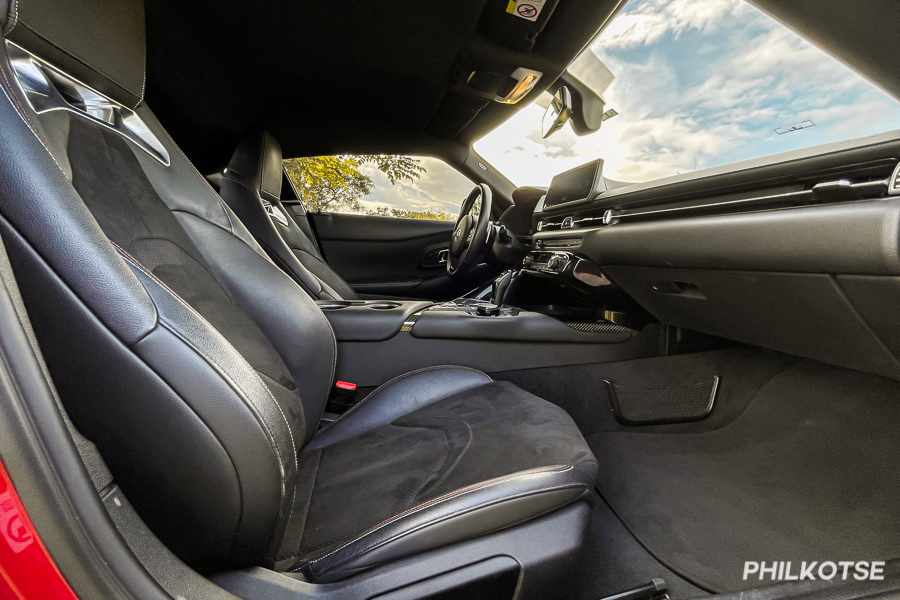 The Toyota-made coupe's Alcantara-clad sports seats
Practicality isn't exactly the GR Supra's greatest virtue, but it isn't devoid of it completely. The dual-bubble roof meant great headroom (at least for my 5'6" height), while horizontal space is adequate for my heavy build. You still get huge cupholders, some cubbyholes for storage, and a fairly-sized trunk that's made practical with its liftback hatch – though admittedly it's hard to find an accessible spot for huge smartphones within the cabin.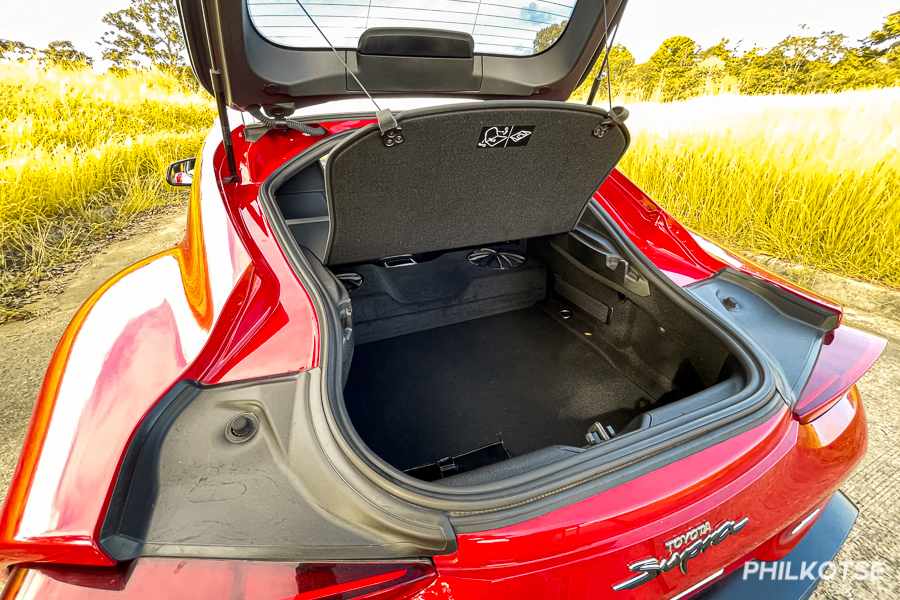 The GR Supra has a 290-liter trunk capacity
2022 Toyota GR Supra: Tech & Safety Review
As a P5-million coupe, the GR Supra comes equipped with a bevy of tech and safety features expected at the price point. Everything's power-adjustable (except the steering wheel), the cabin is equipped with multiple airbags all around. There isn't wireless charging but at least smartphone pairing's a cinch even without Apple Carplay/Android Auto. You also get parking sensors and a high-quality camera for rear parking.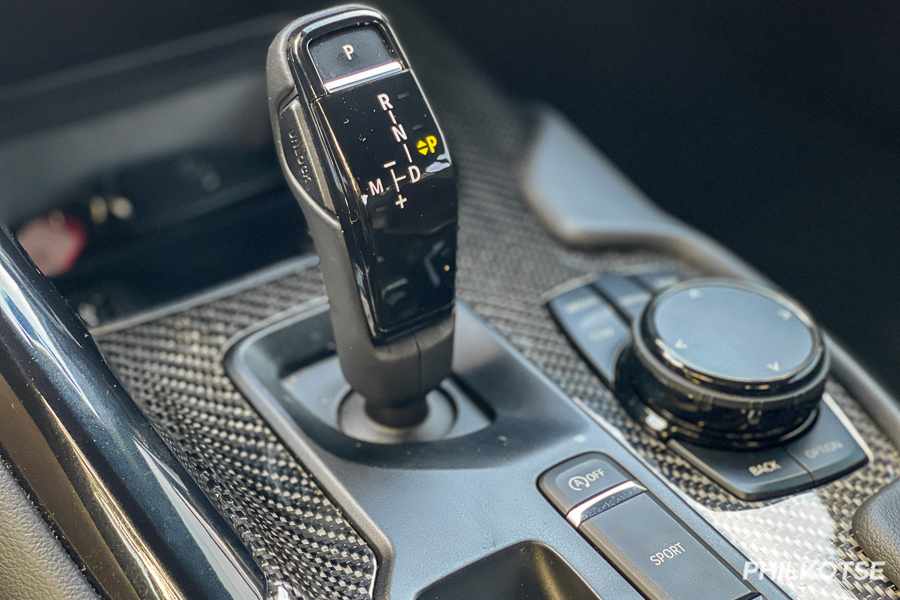 The GR Supra's gear shift lever's design looks very BMW
One annoyance – and I also felt this with some BMWs – is the absence of auto-brake hold function despite having an electronic parking brake. I would appreciate it better with this feature rather than the useless and wildly annoying auto start/stop function.

Also, I'd be completely honest and disclose that I expected the GR Supra here to come with the Toyota Safety Sense package that's found in other countries. Or at least Toyota should have included a blind spot monitor and rear-cross traffic alert in a car that has very limited rear and side visibility.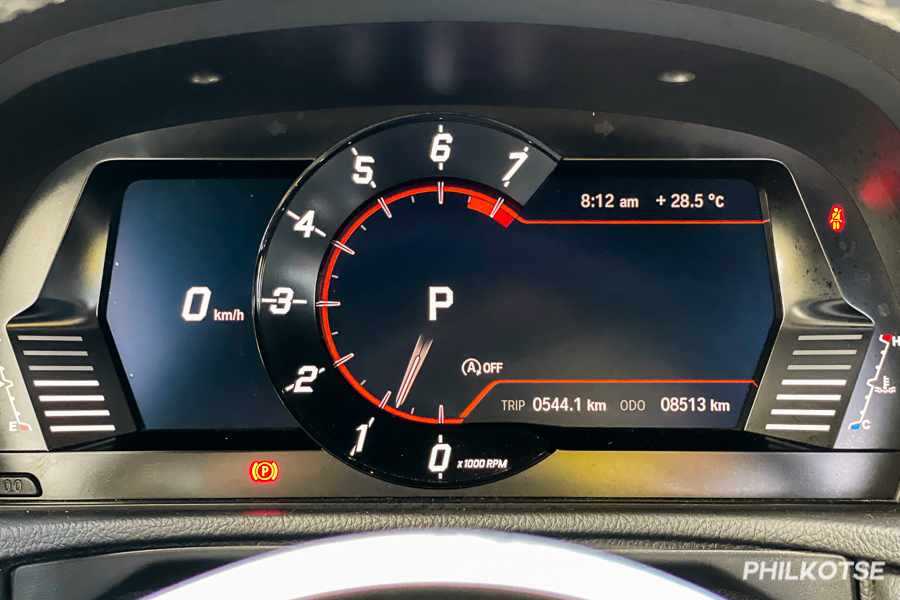 As with most Gazoo Racing models, the GR Supra's gauge cluster features splashes of red
But to be fair, Toyota has already given more than just basic toys in this model, so there's that. And oh, that 12-speaker JBL sound system is one of the best-sounding at this price point.
2022 Toyota GR Supra: Engine & Performance Review
To test the GR Supra amid slightly tight GCQ restrictions and an unbearable (now bearable) gout attack, I had to find several excuses. I bought a loaf of bread from a nearby grocery (and took Skyway four times to get there); I had to see for myself if Enchanted Kingdom was still operating; I had to check whether the newly installed LEDs along NLEX were indeed bright.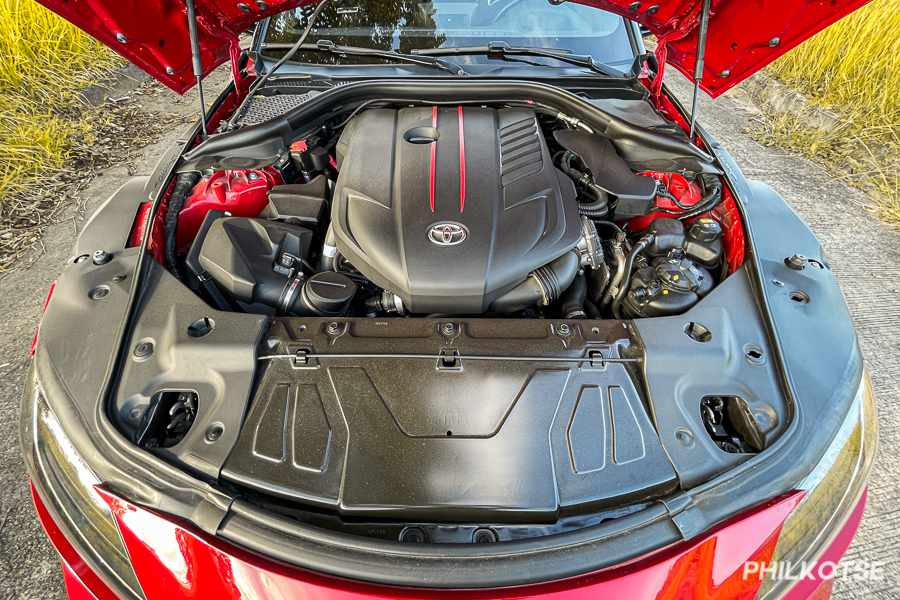 The MKV GR Supra's 3.0-liter B58 inline-6 engine
The biggest elephant in the room would be the BMW-sourced 3.0-liter B58 straight-six gasoline engine armed with twin-scroll turbochargers. It produces a healthy 335hp and 500Nm torque at the crank, exclusively sent to the rear wheels via a ZF 8-speed automatic transmission – the same one found in the Z4 and 3 Series.

Power delivery's out of the question, and despite the Philippines still not having the more powerful version of the engine (available in the US for the 2021 model year), I didn't feel any desire to have more. Brakes bite hard as they're supposed to, but nitpickers and serious track frequenters would argue an upgrade.

Downshifts, whether via the paddles or on their own, were intuitive and immediate; it won't take a while before you can adjust to this coupe's predictability. As a bonus, pops and crackles heard at every downshift were a welcome aural sensation, which will make you stay at Sport mode despite this car's gas-guzzling nature.

Handling's equally amazing on both work and play, though your biggest foe would be steep ramps and ridiculously high village speed bumps. But if you think that the GR Supra's disposition as a sports coupe compromises overall ride comfort, you'd be sorely mistaken. It was a comfortable cruiser, whether after several hours within the city or on a long relaxing drive outside Metro Manila. And that's all while you can still play around with the car without an unappreciated throw-around inside the cabin.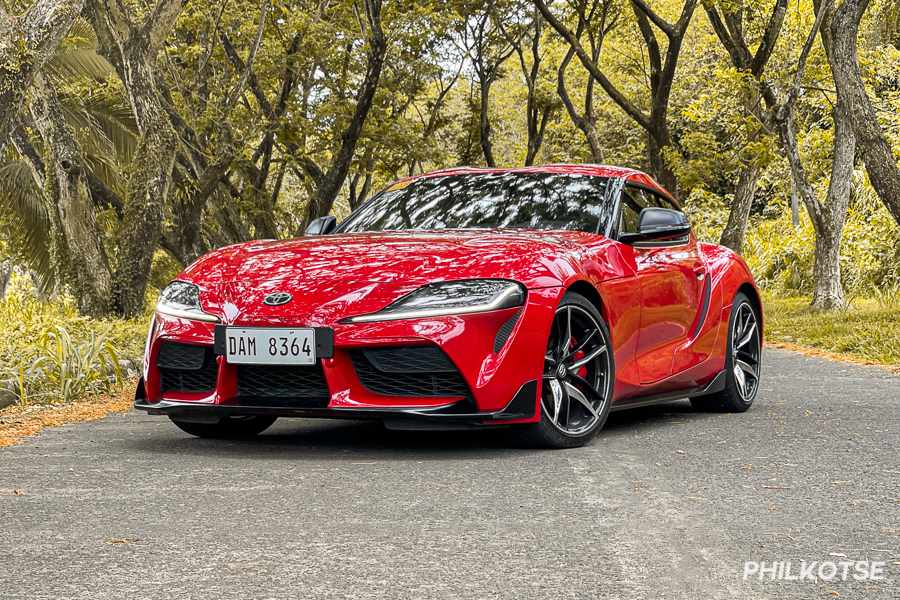 The GR Supra's rear wheels and tires are slightly wider than those on its front
The adaptive variable suspension, which supplements the double-jointed McPhersons at the front and the multi-link at the back, is the main hero for this duality. If only it has better front and rear visibility, I would say that this impractical two-seater is a worthy daily driver.
2022 Toyota GR Supra: Fuel Efficiency
If you're reading this review and consider fuel economy as a deal-breaker, then you're obviously not the market that Toyota's aiming for with the GR Supra.

But just for this review's sake, the GR Supra recorded a dismal 6 km/L (15 km/h average) on a frustrating drive amid heavy traffic, while a leisurely stroll on the highway at 90 km/h average (yes, I tried) returned 14 km/L.

Yes, I was on Sport mode the whole time. Can you blame me, though?

2022 Toyota GR Supra: Verdict
Collaborations within the automotive industry aren't new. They exist because sharing costs to develop a vehicle is a smart move. As with the case of the MKV GR Supra, Toyota had to join hands with BMW to accelerate its introduction into the market – something that fans have been clamoring about for decades.

For its current price (P4,990,000 for Prominence Red, P60,000 higher for other colors), the new GR Supra is already a bargain considering all the points I've covered in this review.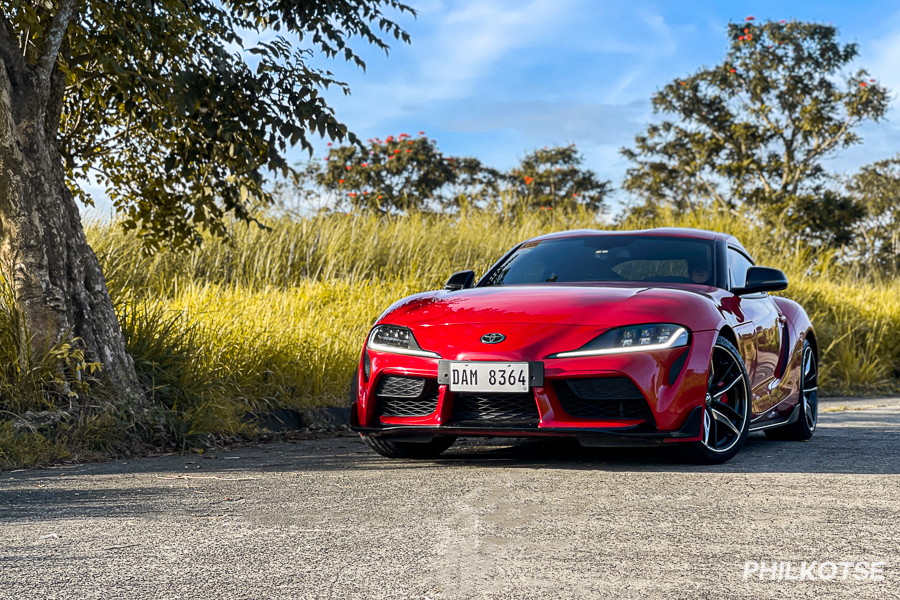 So, do you dig this Japanese sports car with some German DNA?
While I would agree to some extent that calling this two-seat sports car a Supra is sacrilege, you need to consider this: those people I know who actually bought (and has been planning to buy) the new Supra don't mind its BMW roots, while those who heavily criticize the car don't even plan to buy one in the first place. So really, who's at lost on this one?

Besides, with a car that looks this great and drives even greater, to the point that I chose to endure unimaginable pain just to test the car, how can you fault the automaker for that?
2022 Toyota GR Supra: Variants & Price
| | |
| --- | --- |
| Toyota Supra Variants | Price |
| Supra 3.0 Turbo AT Prominence Red | Php 4,990,000 |
| Supra 3.0 Turbo AT Black Metallic 2 | Php 5,050,000 |
| Supra 3.0 Turbo AT Lightning Yellow | Php 5,050,000 |
| Supra 3.0 Turbo AT Silver Metallic 5 | Php 5,050,000 |
| Supra 3.0 Turbo AT Ice Gray Metallic | Php 5,050,000 |
| Supra 3.0 Turbo AT Deep Blue Metallic | Php 5,050,000 |
| Supra 3.0 Turbo AT White Metallic | Php 5,050,000 |
2022 Toyota GR Supra: Color Options
2022 Toyota GR Supra Color Options
Prominence Red, Black Metallic 2, Lightning Yellow, Silver Metallic 5, Ice Gray Metallic, Deep Blue Metallic, White Metallic
2022 Toyota GR Supra: Specs
Overall

Make

Toyota

Name

GR Supra

Body Type

3-door liftback coupe

Dimensions and Weight

Length

4,379mm

Width

1,854mm

Height

1,294mm

Wheelbase

2,470mm

Ground Clearance

115mm

Curb Weight

1,815 kg

Engine and Transmission

Type

3.0-liter inline-6 Twin-Scroll Turbocharged

Max Power

335 Horsepower

Max Torque

500 Nm

Transmission

Eight-speed automatic w/ Paddle-shifters

Chassis and Suspension

Brakes (Front/rear)

Disc/Disc

Suspension (Front/rear)

Double-Joint McPherson Strut/Multi-Link

Wheels and Tires

255/35 R19 (Front) / 275/35 R19 (Rear)

Exterior

LED headlamps

LED Daytime Running Lamps

Auto high-beam headlamps

Side-mirror integrated turn signals

Auto-dimming outer mirrors with heater and memory function

LED taillights

LED rear fog lamp

LED Back up lamp

High mount stop lamp

Interior

8.8-inch TFT LCD Display with tachometer and trip computer

Heads up display

Dual-zone push-type air-conditioning system

8.8-inch Widescreen TFT LCD with USB and Bluetooth

JBL 12-speaker HiFi Surround Sound System

3-Spoke Leather Steering Wheel with Paddle Shifters

Multi-function steering wheel with Audio, Phone and Cruise Control

Tilt and Telescopic adjustable steering column

Auto Day & Night rear-view mirror

Alcantara sport seats w/ lumbar support and eight-way electronic adjustability

Push to start button

Integrated Sport Drive w/ Sport Mode

Electronic parking brake

Safety and Security

Hill-start assist

Reverse Camera

Parking sensors

Seatbelt reminder

Driver, Driver Knee, Passenger, Side and Curtain Shield Airbags

Anti-lock braking with electronic brake-force distribution

Traction Control

Speed-sensing door locks

Engine Immobilizer

Car Alarm

Stability Control

Tire pressure monitoring


Jacob Oliva
Author